The Jewish Traveler: Kansas City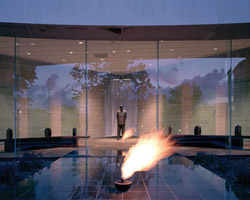 World-class art, authentic jazz, landmarks of American history—this sprawling Midwestern destination offers all these and an active Jewish population.
Kansas City has two signature songs, and just like the Jewish man who has one synagogue he goes to and one he wouldn't set foot in, every Kansas City resident has a musical preference. The majority opt for "Goin' to Kansas City," but a minority believes that "Everything's Up to Date in Kansas City," as the musical Oklahoma insisted. a What makes this rivalry a Jewish story is that the composers and lyricists who created both songs—Jerry Lieber and Mike Stoller for the 1950's R&B hit, Richard Rodgers and Oscar Hammerstein for the Broadway tune—were all Jewish.
History
Kansas City not only has two songs, its metropolitan area also spreads across two states, and Jews have been prominent on both sides of the Missouri-Kansas line.
The core of the metropolis of nearly two million is Kansas City, Missouri, which began to develop in the 1850's thanks to its proximity to three westward trails and the confluence of the Missouri and Kansas Rivers. Because Missouri was a slave state next to Kansas, a territory where slavery had yet to be voted on, Kansas City became a jumping-off point for pro- and anti-slavery advocates. At least three Jews fought alongside John Brown in Kansas in the 1850's, and some of their battles were within today's Kansas City metropolitan area. The most notable of Brown's Jewish lieutenants was August Bondi, who went on to fight in the Civil War and became a prominent citizen of Salina, Kansas. Also during the Civil War, Lt. Col. Reuben Hershfield was commander of Fort Leavenworth, 24 miles north of Kansas City.
Jewish community organizations began forming in the 1860's, and in 1870, B'nai Jehudah, a Reform congregation, became the city's first synagogue; ever since, Reform has been the dominant movement. The Orthodox Kehilath Israel and Conservative Congregation Beth Shalom soon opened as well.
Early Jewish immigrants came mostly from Germany, Austria and Poland, followed by more from Russia and Romania. The city's Jewish population got a major boost after 1907 from the Galveston Plan, devised by Jewish leaders in New York who wanted to spread immigrants more evenly throughout America as a way of avoiding anti-Semitism; the plan called for Jews entering the port of Galveston, Texas, to settle between the Mississippi and the Rockies.
Jews followed typical employment patterns in Kansas City, many starting as peddlers and then moving into retail businesses. Eventually, some became prosperous in the enterprises Kansas City was best known for—grain and flour, cattle and meatpacking. Jews sat on the town's board of trade as early as 1869 and were active in city politics by the early 1900's. Richard Berkley was elected Kansas City's first Jewish mayor in 1979. Despite successful integration, however, pockets of discrimination existed. As recently as 1990, the Kansas City Country Club refused to admit Henry Bloch (the "H" in H&R Block) as a member. Professional golfer Tom Watson, who had learned to play golf at the club, resigned in protest.
Perhaps the most important Jewish figure to emerge from Kansas City was Eddie Jacobson, who came home from World War I and went into the clothing business with his army buddy, Harry S. Truman. The Truman-Jacobson friendship would ultimately play a pivotal role in America's granting diplomatic recognition to Israel.
Community
Kansas City's first Jewish neighborhood was in the city's North End, but by the 1930's, most Jews had gravitated toward the south side, around Linwood and Paseo Boulevard. Since the 1960's, the movement has been toward the southwest, across the state line into the Kansas suburbs. Of today's metropolitan Jewish population of 20,000, some 80 percent live in Kansas. The heaviest concentration of Jewish residents and institutions is in Overland Park, Kansas, and in neighboring Leawood and Prairie Village.
If the community can be said to have a nerve center, it is the Jewish Community Campus, located at 5801 West 115th Street in Overland Park. Among the institutions on the grounds are the Jewish Community Center of Greater Kansas City (913-327-8000;www.jcckc.org), the Jewish Federation of Greater Kansas City (913-827-8100; www.jewishkansascity.org), a day school, a theater, an art gallery and a Holocaust education center and memorial. Many of the Kansas City-area synagogues as well as the Menorah Medical Center and other communal organizations are within a two-mile radius of the campus.
In addition to Orthodox, Conservative and Reform synagogues, the Kansas City area has Chabad, Reconstructionist, traditional (similar to Orthodoxy but more egalitarian) and nondenominational congregations. Contact information for all the synagogues as well as news of community events can be found in the weekly Kansas City Jewish Chronicle (www.kcjc.com).
Hadassah arrived in Kansas City in 1913, one year after the organization's founding. Today, the Greater Kansas City Chapter of Hadassah (913-381-1664; gkc@hadassah.org) maintains an office at 8900 State Line Road in Leawood.
Sights
While Kansas City's Jewish community has moved southwest, the most important sight of Jewish interest is 12 miles east of Kansas City in Independence, Missouri—the hometown of President Truman and location of the Truman Library and Museum (500 West U.S. Highway 24; 816-268-8200; www.trumanlibrary.org).
The museum chronicles the life of America's 33rd president. Among the exhibits is "The Recognition of Israel" section (referred to by visitors and staff alike as the "Israel Gallery"). Included in the artifacts on display are the original statement of American recognition of Israel, signed by Truman on May 14, 1948; a Torah presented to Truman by Chaim Weizmann; a menora from David Ben-Gurion; and a miniature silver piano given to Truman by a Holocaust survivor. Of equal importance as the items on display are the stories told by the highly knowledgeable museum guides. In early 1948, according to one guide, Truman was refusing to meet with anyone to discuss the Palestine question. One day, his old friend Jacobsonshowed up at the White House and asked him to see Chaim Weizmann. Truman's reply: "O.K., you old baldheaded son of a bitch." It was after his meeting with Weizmann that Truman decided to overrule the State Department and recognize the new nation.
The museum's "Home From the War" exhibit tells the story of the future president's friendship and partnership with Jacobson; in addition to photographs, the display cases contain artifacts from the Truman-Jacobson haberdashery, including business cards, a tie label and a hat stretcher.
No trace remains of the Truman-Jacobson store in downtown Kansas City. In 1931, the Hotel Phillips rose on the site, at 12th and Baltimore. For many years, the Art Deco hotel housed the Haberdashery Bar, named in honor of the old business, but even that remnant is gone. Nevertheless, some visitors stop by the hotel and walk around the lobby just to get a sense of the location.
The Nelson-Atkins Museum of Art (4525 Oak Street; 816-751-1278;www.nelson-atkins.org) has one of the Midwest's premier art collections and can typically be found on short lists of the best museums in America. The Ancient Near East collection contains items from Ur, Abraham's hometown, including gold earrings, a gold-leaf bracelet and a lapis lazuli perfume dropper. Among notable works of art on Jewish and biblical themes are "David With the Head of Goliath" by Giovanni Francesco Barbieri; Alessandro Magnasco's "Elijah Visited by an Angel"; Sebastiano Mazzoni's "The Sacrifice of Jephthah's Daughter"; Peter Paul Rubens's "The Sacrifice of Isaac"; and Frederic Edwin Church's "Jerusalem From the Mount of Olives." Jewish artists whose works are exhibited include Camille Pissaro, Jacques Lipchitz and Adolph Gottlieb.
This month, the museum is greatly expanding its exhibit space with the opening of the Henry and Marion Bloch Building. And no visit to the Nelson-Atkins is complete without a stop for coffee or lunch in the Rozzelle Court, an indoor Italian-style courtyard.
Many landmarks from Kansas City'd mid-20th century Jewish neighborhood—today predominantly African American—still stand. The old Beth Shalom Synagogue, a Moorish-style building with twin Arabesque domes, is at Paseo Boulevard and 34th Street; it is now the Christ Temple Church. The former B'nai Jehudah, now the African Methodist Episcopal Church, is at 1701 Linwood. Kehilath Israel's 1958 building is at Meyer Boulevard and Rochkill.
Two synagogues in the city's middle-class neighborhoods close to the state line still cling to Missouri. The New Reform Temple, a red-brick structure at 7100 Main Street (816-523-7809; www.nrtkc.org; Friday-night services only), has a simple interior with wooden pews and yellow cushions, brass lamps hanging from a low ceiling and a Lalique ner tamid.
Congregation Beth Shalom's main sanctuary is in a tent-like modern structure at 9400 Wornall Road in Missouri (www.bethshalomkc.org), but the Conservative synagogue has a new campus on the Kansas side of the frontier (14200 Lamar Avenue in Overland Park) and plans eventually to sell its Missouri building.
Firmly ensconced in Kansas is the modern Temple, Congregation B'nai Jehudah at 12320 Nall Avenue in Overland Park (913-663-4050; www.bnaijehudah.org). Its most striking feature is a series of domes with skylights, the largest of which caps the sanctuary. It also has the biggest Judaica shop in the area.
Congregation Beth Torah, also Reform, is at 6100 West 127th Street in Overland Park (913-498-2212; www.beth-torah.org). It features a circular sanctuary with light wooden pews and a central lobby of Jerusalem stone.
Kehilath Israel Synagogue, originally Orthodox but today traditional, is at 10501 Conser Street in Overland Park (913-642-1880;www.kisyn.org). Its slanted roof is designed to catch rainwater for the community mikve inside. Its main sanctuary has a large central bima and circular seating.
Culture
The Lewis and Shirley White Theatre has a year-round calendar of musicals, dramas and concerts. In the past year, its stage has hosted performances of Angels in America, A Chorus Line, West Side Story, Israel's Batsheva Dance Company and comedian Judy Gold. The theater, under the aegis of the Jewish Community Center, also sponsors the spring Kansas City Jewish Film Festival and the fall Jewish Arts Festival.
Near the campus, the Epsten Gallery at Village Shalom (5500 West 123rd Street; 913-266-8413; www.epstengallery.org) has regular exhibits, many on Jewish themes. Though designed to serve the residents of the Village Shalom Senior Center, shows routinely attract a wider audience.
Benaroya Hall is named for Jack Benaroya, the son of immigrant Jewish parents from Lebanon. He made his fortune in real estate. In 1993, he donated money to the Seattle Symphony (www.seattlesymphony.org) to build the music hall downtown.
Kansas City has long been a great jazz center, home to Count Basie and Charlie Parker, among others. In the 1920's, the focal point of the jazz scene was 12th Street and Vine, the corner immortalized in "Goin' to Kansas City." Those clubs are long gone, but a memorial to the Lieber-Stoller song and the city's jazz tradition stands at the edge of a park that now occupies the historic corner. Six blocks away, on East 18th Street near Vine, is the American Jazz Museum (www.americanjazzmuseum.com), with exhibits on the life and music of jazz musicians such as Louis Armstrong, Duke Ellington and Ella Fitzgerald. The museum also houses a working jazz club, The Blue Note. Another good place to hear jazz is Jardine's Restaurant and Jazz Club at 4536 Main Street (www.jardines4jazz.com.)
The jazz museum shares a building with a unique history center, the Negro Leagues Baseball Museum (www. nlbm.com), which is a must for any baseball fan or anyone who appreciates stories of dignity amid adversity. The Kansas City Monarchs—the team of Satchel Paige and Cool Papa Bell— were the Yankees of black baseball in the 1920's and heroes to their city's African-American community.
Located opposite Kansas City's downtown River Market, the Arabia Steamboat Museum (www.1856.com) offers a fascinating look at American life in the mid-19th century with its collection of china, jewelry, hardware, food and household furnishings. All the items came from a steamboat that sank in the Missouri River in 1856 and was then buried under silt when the river changed course.
Personalities
Many of Kansas City's Jewish sons and daughters have made a mark on the city and on the world. H&R Block has its world headquarters here, and brothers Henry and Richard Bloch have been major benefactors of local education and cultural and medical projects.
Barnett Helzberg, long-time owner of Helzberg Diamonds (eventually sold to Warren Buffet), has also given to cultural projects and was the largest contributor to the renovation of Kansas City's classic Union Station; the station recently hosted an exhibit of the Dead Sea Scrolls.
The city was also home to Phillip Klutznik, who was President Jimmy Carter's secretary of commerce and president of B'nai B'rith International.
Though none of the composers or lyricists responsible for Kansas City's signature songs were locals, the city has produced its own Jewish composers, including John Kander, who wrote the music for Cabaret and Chicago, and Burt Bacharach.
The city spawned actors Ed Asner, Paul Rudd and Lynn Cohen as well as the novelist and journalist Calvin Trillin.
Esther Brown was a civil rights activist who was instrumental in formulating legal challenges to segregation in Kansas—to the extent that many today believe (mistakenly) that she was the "Brown" in Brown v. Board of Education.
Reading
Trillin's memoir Messages From My Father (Farrar, Straus and Giroux) recounts his childhood as the son of an immigrant Jewish grocer in Kansas City. Mid-America's Promise: A Profile of Kansas City Jewry (Jewish Community Foundation of Greater Kansas City) by Joseph P. Schultz, is a community profile published in 1982. Roots in a Moving Stream (published by Congregation B'nai Jehudah) by Frank Adler recounts the origins of the Reform movement in Kansas City. The Insiders' Guide to Kansas City (Globe Pequot) is an extremely thorough guidebook.
Recommendations
There are kosher restaurants on the Jewish Community Campus and at Village Shalom (Rachel's Café; 913- 317-2600). The Hen House Market in Leawood (11721 Roe Avenue; 913-338-0600;www.henhouse.com) offers kosher sandwiches and tables at which to sit. The Subway chain plans to open a kosher outlet near the Overland Park convention center this summer. For further information or names of hotels that can offer kosher meals, contact the Vaad HaKashrut of Greater Kansas City at 913-649- 4300 orvaadkc@kc.rr.com.
The sprawl of Greater Kansas City can present a challenge over where a visitor should stay. There are several hotels in and around the Country Club Plaza, a charming commercial and cultural center on Kansas City's south side, convenient to downtown, the city's main museums and some jazz clubs. To be closer to the center of the Jewish community, a hotel in Overland Park would be a good choice.
Wherever you stay, make sure to listen to the music. Whether you choose one of the city's legendary songs or one of its jazz clubs, you are likely to head home humming a Kansas City tune.