Medicine: Four-Star Hospital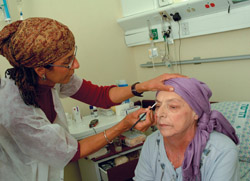 An increasing number of nonmedical programs are lightening the atmosphere at Hadassah, providing a comforting, human face to the hallowed medical institution.
Valet parking, a beauty parlor, electronic bulletin boards, movies, an in-house entertainment system and free Internet access sound more like the services of a four-star hotel than a hospital. Yet all these and more are being introduced into Israel by Hadassah as integral to hospital care. a "A hospital can be intimidating for patients and their families, however friendly and empathetic the staff," says Yaacov Schreibman, associate director general of the Hadassah Hebrew– University Medical Center at Ein Kerem. "Patients are in the hospital because they are sick and need to be, not because they want to be…. Their bodies are touched by people they scarcely know, and they are told when to sleep, wake and what to eat. It's a hard transition."
Anything that aids this transition, he says, is not only compassionate but also intelligent health care. "It is now recognized that a good attitude and an upbeat approach to treatment positively impact on recovery."
A veteran hospital administrator, Schreibman found Hadassah open to upgrades of nonmedical patient care when he joined the staff eight years ago. "I started with two ideas I had seen during a visit to Sinai Hospital in Baltimore," he says. "I believed they could make an important difference to large groups of stressed patients—those on dialysis and those in chemotherapy."
One idea was to equip dialysis stations with an audio system and headphones, so kidney patients could listen to the radio or CD's while hooked to the machines. "I went into the unit to see whether patients were enjoying this as much as we expected," says Schreibman. "When I approached one woman, she brushed me off, saying, 'Could you come back later? I'm learning Spanish at the moment.'"
Afterward, she told Schreibman she had always wanted to learn another language and was using her dialysis time to do so. "I come here three times a week, for four hours a time," she said. "I used to dread it. But now I'm so absorbed in the tapes that I'm surprised when the nurse comes to unhook me!"
The second project Schreibman brought to Hadassah is Look Good, Feel Better. Launched in the United States in 1989, it uses cosmetics and hair alternatives to help patients manage appearance-related side effects of cancer and its treatment. With the help of Mickey and Harold Smith of Minnesota, a beauty salon was built in Hadassah's Sharett Institute of Oncology. Privately run by trained staff, the salon sets wigs to match the hairstyles of up to 15 radio- and chemotherapy patients a month and uses a special technique to glue hair onto the scalp for three weeks at a time. Away from needles and medical technology, the staff soothes clients and counsels them on drawing in missing eyebrows, replacing lost eyelashes and adjusting makeup to faces sallow from chemotherapy or rounded from cortisone.
"This is the most expensive of the nonmedical patient projects we have introduced—both the building of it and subsidizing the one in three patients who can't afford hair-gluing— but it's enormously worthwhile," says Schreibman. "It changes life for patients so depressed about changes in their appearance that they hide themselves away."
The two projects are phenomenal successes, and Schreibman was keen to do more. "But," he says, "I was out of ideas. And so Esti came on board."
Esti Katz has been director of Hadassah's Patient and Family Network for almost five years. "From the start, it sounded like the job for me," she says. "I'm a people person. I worked in Hadassah's tourism department for years…my husband and I [were] both hospitalized here and all my children were born here. I know the medical center from many perspectives…."
Katz has blazed her own trail. "I saw quickly that small gestures can mean a great deal," she says. "One of my first ideas was to celebrate birthdays. It's easily done: the date is in the patient record and we have small tote bags and thermoses with Hadassah's logo that make nice gifts to go with birthday wishes."
Katz brings birthday gifts and greetings to an average of two to three celebrants a day, although she remembers one harried day visiting eight patients in the Ein Kerem hospital and another two on Mount Scopus.
She recalls a patient in the vascular surgery department who asked: "How did you know it was my birthday?" When Katz told him, he laughed and said he had chosen a date at random for the admission form. "I was born in Iraq, one of many children, and all my mother remembered was I had arrived sometime between Rosh Hashana and Pesah," he said. "But from now on I'll always keep this date. Hadassah has given me a birthday!"
Another easily accomplished idea was a weekly movie. Although many patients have bedside televisions or use the interactive entertainment stations Katz has introduced, she thought they might welcome seeing a movie in a cinema-like setting. "Wednesday night is now movie night [at Ein Kerem]," she says. "We use the tourism auditorium and provide popcorn and soft drinks. Sometimes two people turn up. Other times, we'll get 70."
With patient turnover, films can be rescreened every few months, which is fortunate; Katz must steer among religious and political sensibilities when choosing which movies are shown. "We have Israeli and Arab patients, Jews, Muslims and Christians, ultra-Orthodox and secular, old and young," she explains. Among the films she has screened are Mary Poppins, Finding Nemo and Campfire, an Israeli film.
Ideas for improving life for hospitalized patients kept on coming, says Katz: "As I moved around the hospital, I saw where we could make things better."
With the ongoing renovation of the Hadassah campus, for example, she noted that the construction noise disturbed some patients. At her request, El Al airlines donated earplugs usually supplied to their passengers.
Some projects are about acquiring equipment—there are now personal safes where patients can leave valuables, a small business room and free Internet access, especially important for isolated transplant and immunocompromised patients. But Katz has also come to see that her work is really about a mindset that says the patient is why we are here.
The complexity of the Ein Kerem campus and its distance from the parking lot invited attention. "[It] makes sense to have someone who'll park cars for patients…in a hurry," Katz says, "and who will be at the hospital entrance to guide people, especially someone who can communicate in English, Arabic, Russian and Amharic as well as Hebrew."
Enter Nira, who speaks only Hebrew and English but is amazing in all else, according to Katz: "She has endless energy, helps heave wheelchairs in and out of vehicles, instantly identifies the perplexed…and never stops smiling."
Because Nira's job is not Health Ministry-listed, Hadassah is hard put to budget her salary, says Schreibman. "But we see her role is important, and we're looking for donations to remunerate her as she deserves and to fund a second such position for the Mount Scopus hospital."
If Nira makes Hadassah's miles of corridor less alien, the new bulletin boards on the walls beside every inpatient bed are there to make the wards feel more like home. "When a patient has a place to put up photos of her grandchildren or his wife or the words of a song or a prayer, they've made the space their own," says Katz.
The inevitable waiting time in a busy medical center is among Katz's particular focuses. "For patients and their families, waiting is at best dull and at worst intolerably tense," she explains. She has furnished waiting rooms throughout the two Hadassah hospitals with coloring and puzzle books for children and Hebrew-language National Geographics and Reader's Digests for adults. Hadassah is also looking for funding to provide large freestanding soft-toy areas for young children in both hospitals.
Electronic bulletin boards are another innovation. Families gathered outside Hadassah's operating suite are now instantly updated by a screen that shows where each patient is—the operating room, recovery room or back in the ward. "I'd seen this in a United States hospital and worked with our computer department to develop it for Hadassah," says Katz.
This success prompted her to develop another project with the computer department—a call system for the orthopedics outpatient clinic. "A monitor lists the clinic doctors by color code and patients by number," she explains. "The privacy of each patient is thus guarded, and the tension of people jumping the line removed."
At the other end of the technological scale is Talk to Me in Colors. Guided by artists, inpatients in the neurology department sit at easels and paint in oils or watercolors while listening to soothing music.
"My idea was simply to help them express themselves," says Katz, "but it's gone beyond that. Physicians come to watch how patients move their head, arms and hands as they paint. The whole ward is decorated with their work. One patient, a mother of three teenage sons, who has been hospitalized for months, told me how the painting has helped her with them. 'We had nothing to talk about when they came,' she said. 'They are aloof adolescents…so visits were awkward. But now they look at my paintings, and we talk about color and composition. My husband says they compete as to who will come each time!'"
Another successful low-tech patient program is Make a Wish. "We have long held wedding ceremonies in the rooms of bedridden patients," says Katz, "but this is a more focused effort to fulfill wishes. One patient was a saxophone teacher who wanted to hear his students play again. They came to play a concert at Hadassah. He listened with tears trickling down his face. Three days later, he died."
As nonmedical programs keep growing, volunteers are flocking to join. Some are retired nurses who have worked at Hadassah. "But," says Katz, "there are others."
One is a Look Good, Feel Better stylist who goes to patients in the wards. "I referred him to a deeply depressed woman of 27 who'd lost both legs in a car accident," says Katz. "Afterward, she told me it was the first time anyone had tended to her in a nonmedical way in weeks, and it made her feel wonderful."
A group of 17 kerchiefed ultra-Orthodox women volunteer in Hadassah's oncology and hematology daycare units, passing on their expertise in tying scarves attractively.
Even patients are recruited as volunteers. "I invite those who want and can to do small jobs, like putting flatware on food trays," says Katz. "They're delighted to do it, and it helps the busy staff."
There are no formal statistics on the impact of nonmedical projects on recovery rates, but no one at Hadassah needs validation. "There's a different atmosphere here," says Schreibman.
"This very large, accomplished institution is showing patients and their families its human face. It's…giving them places where they can chat, laugh, seek refuge or have a good cry."
"Whether patients want it or not, the hospital becomes their home for days or weeks," says Katz. "There are so many ways in which it can be made a warmer, more welcoming and more home-like home."