The Arts: Spiritual Fabric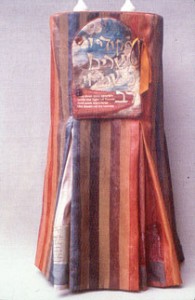 A huppa soars above a sanctuary and Torah scrolls are dressed as brides in the astounding creations of Canadian textile artist Temma Gentles.
It is not often that you see a Torah dressed as a 17th-century Italian bride or clothed in a patchwork mantle inspired by a Japanese wedding kimono. It is just as unusual to see a huppa suspended from the ceiling, billowing like triple sails of a boat, or fashioned as a bronze and gold dome, a hovering firmament adorned with a network of stars.
For Toronto textile artist Temma Gentles, who designs, weaves, sews and appliqués these fanciful yet durable creations, celebrating the art of story and design makes religious environments vibrant spaces for prayer and thought. Her commissioned works, from huppot and Torah mantles to tapestries and Ark gates, grace synagogues of all denominations as well as churches throughout the United States and Canada.
The essence of all i do is to bring stories to life," says Gentles, an irrepressible 61-year-old who infuses her work with personal stories, biblical texts and mystical tales. Her designs express what is important to her clients, reveal her own imaginative process and respond to architectural spaces.
"I try to integrate the medium and the message often through symbolism," she says. "I listen to input and respond creatively to it. The process isn't magical—yet it is." Each project has its own organizing principles.
"When people see my work, I'd like them to feel it's always been there, that it belongs," she continues. "At the same time, I'd like them to be drawn to it to examine it more closely."
Gentles's ability to create intimate religious symbols for public spaces is well represented in an early work: a huppa made for Temple Emanu-El in Toronto, which won an award from the prestigious Interfaith Forum on Religion, Art and Architecture. In 1981, when Karen Lester became a bat mitzva, she asked her friends and family to donate toward the creation of a huppa for the synagogue in memory of a family friend in lieu of gifts.
"What did you like about him?" Gentles asked Lester.
She answered that he loved to sail. Through research, the artist discovered that halakha does not limit a wedding canopy to the standard rectangular, four-poled shape. Instead, she conceived the idea of three layers of triangular, suspended "sails." She turned to a sailmaker for guidance, buying grommets, turnbuckles and other hardware from him.
"That's part of the adventure," she says. "There's always something I don't know how to do."
Onto blue polyester drapery sheers, Gentles appliquéd a trail of hand-painted stars and words from the seven wedding blessings. The huppa is both small enough for the bride and groom to touch the bottom of the lowest "sail" and vast enough for the congregation to sit under. "It was a watershed piece for me in expanding publicly as an artist," Gentles says.
In 1995, Karen Lester was married under the huppa and became Karen Ecanow and: "It was comforting… to remember someone so important in my childhood as I was going to move forward with my life," she recalls.
Gentles "has a profound understanding of where beauty belongs in the hierarchy of Jewish life—with humanity at its core and as the means to connect us with something higher," says Judith Cardozo, English-language editor at the Center for Jewish Art in Jerusalem.
Once she gets an idea, Gentles is undeterred by logistics. For the bronze and gold dome-shaped huppa at Shaarei Shomayim Congregation in Toronto, she collaborated with a metal artist and a lighting specialist—but that still wasn't enough. "If I had a dome, lights and sky, then I had to have birds chirping," Gentles says. She traveled to The Stratford Shakespearean Festival of Canada and asked prop designer Ken Dubblestyne to make her "four birds with attitude." The sculptures now perch on top of each huppa pole. (All her huppas are engineered to be set up in 10 minutes by one person—without tools or a ladder.)
Probably one of her most challenging projects on a technical level was a Torah tik (case) and Ner Tamid she calls "Layers of Light," entered in the Adi Foundation's 2003 themed competition ("Light and Matter") for the Adi Prize for Jewish Expression in Art and Design. Inspired by two midrashic concepts—that Torah both radiates and attracts light, so the Torah scroll itself is an eternal light, and that each pintele yid (spark of Jewishness) is illuminated by Torah—Gentles decided to wrap the Torah in radiance. She discussed the imagery at a seminar for artists led by illustrator and artist David Moss, one of her mentors, at Camp Ramah in Canada. Artists in the group directed her to a dream of the prophet Zechariah, in which he describes the end of the Babylonian exile when the Temple's menora would be rekindled with oil oozing from two olive trees into a seven-spouted vessel.
On the inner layer of the Torah case, an embroidered fiberglass screen, Gentles designed two olive trees. The trees, surrounded by seven columns that represent the branches of the menora, were beaded by frequent collaborator Dorothy Ross. William Gentles, Temma's ex-husband and an electrical engineer, made and installed LEDs and a rechargeable battery to illuminate seven pear-shaped amber glass drops, representing drops of oil, that twinkle in irregular patterns above the columns.
"Temma looks at text and tradition in new ways," says David Moss. "She is both serious and enthusiastic in her approach. Research, creativity and craftsmanship are all important elements of her work."
Dorothy Ross, who also works as an investment and property manager, has collaborated on three Torah mantles with Gentles. "[Temma] is able to take a phrase, an idea, an image and work it on many levels," Ross says. The theme usually originates with Gentles; she solicits Ross's opinion and encourages discussion on deeper meanings and creative approaches. Gentles generally does the textile work while Ross does the beading.
"We have a similar aesthetic sense, but she is the driving force," notes Ross, adding that Gentles popularized the idea of hand-crafted, individualized Judaica in Toronto and beyond.
Gentles traces her own artistic heritage directly to her bubbe and zayde, who owned a ladies-wear store and taught her to knit and sew.
"She had style and he'd make it fit perfectly," Gentles recalls. Her curiosity about Judaism was nourished as a teenager by Reform theologian, biblical scholar and art-savvy Rabbi W. Gunther Plaut of Holy Blossom Temple in Toronto. Yet she knew little about Jewish ritual.
At the University of Toronto, she studied literary symbolism with scholar and critic Herman Northrop Frye and completed bachelor's and master's degrees in both English and Russian literature. It was a weaving class at a local high school, which she took in 1970, that started her on her artistic path.
After she completed the class, Plaut asked her to weave him a talit. "I didn't even know precisely what a talit was," Gentles admits, but her love of study and research kicked in. The talit, with a simple pattern of asymmetrical stripes, launched her art career. (A huppa she made for Holy Blossom also incorporates a rainbow-striped asymmetry.)
"I realized that the act of making religious textiles brought together the things I was passionate about—literary symbolism, Judaism and making things," she says.
In 1985, she received an associate's degree from the Ontario College of Art & Design with a concentration in design. She continued studying Judaism during her first husband's conversion process (she retains his Scottish last name). On a commission to create the doors and parokhet (fabric curtain) for the Ark at Temple Shalom in Waterloo, Ontario, she met her second husband, Paul Kay, a professor of environmental studies (he was the synagogue's president); they married in 1997. On his sabbatical in Israel four years ago, she studied with biblical scholar Aviva Zornberg.
Gentles's studio, currently on the third floor of her home (she is about to move it to an avant-garde area in Toronto), houses fabric scraps—imported Italian silks or upholstery and drapery cloth—sorted by color and kept in a floor-to-ceiling shelving system; her computer, loom, sewing machine and paints are nearby.
In fact, fabric itself often motivates her storytelling. For the elaborate Torah cover reminiscent of an 17th-century Italian bridal dress that won first place in a competition sponsored by the Spertus Museum in Chicago in 2000, she and Ross fell in love with a "glamorous lush velvet" that recalled an Italian mantle Gentles saw at the Israel Museum in Jerusalem. The two used stitching and beading techniques to playfully re-create the layerings and showy linings of a Baroque costume. A beaded locket serves as a breastplate and an amulet. "Because the Hebrew words Torah, hokhma [wisdom] and bina [understanding] are all feminine nouns, the Torah can be viewed as a female presence," explains Gentles.
That feminist outlook comes both from her own sensibilities (she grew up in a family of strong women and was raised with an egalitarian Jewish perspective) as well as from her clients' requests. Though she herself became a bat mitzva at Holy Blossom, she has witnessed the poignancy of women touching the Torah for the first time.
"It's not a fight I had to fight but I can feel the emotion," she says. An indigo patchwork mantle she and Ross created for Women of Reform Judaism, an affiliate of the Union for Reform Judaism, takes its cue from a Japanese wedding kimono. It features an obi sash and a glistening beaded yad in place of a fan. One patchwork scrap is from the first dress her daughter Naomi (now 32) sewed in middle school; another is from the fabric her daughter Melanie (now 30) chose for her bat mitzva talit. Snatches of silk-screened texts from Pirke Avot ("Turn [the Torah], and turn it again, for everything you want to know is found within it") and Rabbi Nahman of Bratslav are sewed with a solid Japanese hand-stitch into the patchwork.
"I love text and the look of text," says Gentles, adding that one of the reason she uses wedding finery in her Torah mantles is that "studying Torah is like uncovering the layers of a bride."
Gentles's sense of humor pervades her work—if you know where to look. Under a flap on the back of the WRJ mantle, she silk-screened a picture of a Japanese calligraphy class squatting on a gym floor, learning to write "Happy New Year." When it is not traveling to WRJ chapters, the Torah and mantle rest at the Union for Reform Judaism's Golomb Chapel in New York; Gentles was the chapel's lead designer. It also houses another of the artist's mantles, which is constructed from five panels, representing the five books of the Torah. The mantle's colorful ascent from a "crazy quilting" of reds and scarlets to an amalgam of blues symbolizes the human struggle from earthly to spiritual that is present throughout the Torah, explains Gentles.
Since the chapel is dedicated to the memory of Dan Golomb, Gentles asked his son Paul, a rabbi, if his father had a favorite biblical story. "The Akeda [binding of Isaac]," he responded.
Golomb and Rabbi Daniel Freelander, URJ vice president, pointed out that the word yahdav (together) appears three times in the Akeda story.
"I really liked the idea of that symbol for Reform Judaism," says Gentles. "We're part of the world; we interact with other Jews; we have moments or times of conflict and resolution, then we go on, together." She wrapped the rectilinear room in stained glass and tapestry delineating biblical, Temple, Talmudic and modern times, the word yahdav repeated three times.
The tapestry depicts reform Judaism's core values—social action, study, worship and Israel—through 36 decades beginning in the 1730s, when Moses Mendelssohn translated the Torah into German. Among the small silk-screened images are the Triangle Shirtwaist Factory Fire, the Beatles with Toronto's Rabbi Abraham Feinberg (he promoted John Lennon's peace initiative) and a portrait of Plaut wearing Gentles's talit. In an homage to her home country, 10 percent of the images are Canadian, Gentles adds, reflective of the percentage of liberal Jews in Canada.
"Temma created sacred space out of a sterile office environment," says Freelander. "When I walk into the chapel, I am immediately…transported to a space of refuge…. There's a 'wow' moment when the Ark is opened."
Because her layered themes may not be apparent, Gentles usually writes a guide, published in the organization's bulletin, placed in their siddur or mounted near her pieces.
Her sand-colored, cotton silk High Holiday mantle for the First Narayever Congregation in Toronto exudes purity and innocence. Gentles gored the mantle to look like a pleated skirt. In between the sections, she sewed in pieces of an oxblood red fabric for a collage with High Holiday motifs: a scapegoat being thrown off the edge of a mountain, the Book of Life, the tail of Jonah's whale, an abstract representation of a shofar. The Hebrew letters tav, shin, tav, for the shofar sounds—tekiya, shevarim, teru'a—grace the top of the mantle.
The texts Gentles weaves into her designs can be intensely personal. For a set of three mantles commissioned by siblings in memory of their parents, Jack and Lillian Troster, Gentles silk-screened wartime letters exchanged by the couple onto inset panels so they remain private. The backs of the fabric breastplates hold pictures of the family.
Environmental themes and numerology figure prominently in Gentles's work. A huppa for Temple Beth El in Bloomfield Hills, Michigan, mirrors the natural landscaping seen through the sanctuary's picture windows. Two trees—a fig and pomegranate—nourished by rays of light representing God's spirit come to a focal point where the branches meet. Thirty-two pieces of fruit represent the number of letters in the marriage vow as well as the Hebrew numerical equivalent for lev, heart.
Instead of a parokhet for the Ark at Temple Beth Emeth in Ann Arbor, Michigan, Gentles fashioned bronze gates—with the help of a metal expert—adorned with the seven species. Brass bells in the olives' pits tinkle when the gates are opened. Behind the Torahs, a quilt features the seven sefirot, a menora and blue and crimson pomegranates and bells.
Collaborations and community building in the arts rank high on Gentles's list of priorities. For the Jewish Museum at the Ohel Moshe Synagogue and Museum in Shanghai, she worked with calligrapher Laya Crust to replicate a Ming Dynasty stem bowl from collaged copies of antique maps and silver and gold threads. A lotus in the center points, compass-like, to a band of text from Isaiah: "May He gather us together from the four corners of the earth."
Gentles also cofounded the first Canadian chapter of the Pomegranate Guild of Judaic Needlework and conceived of its grand collaborative sukka project. For the piece, 50 members worked almost 5,000 hours to create appliqué banners, faux-finished wood framework, needlepoint friezes, baskets, table coverings, etrog boxes and stuffed fruits and vegetables. The sukka has been displayed in several exhibitions.
Her smaller pieces of Judaica for synagogue and home use (for sale or rental, www.temmagentles.com) include talitot, Shabbat table covers, spice boxes, Passover banners with flourishes of bulrushes, beaded Bukharan and Yemenite mezuza cases and a Ner Tamid that depicts the eternal light as a full moon viewed through oleander. A cast-glass shiva box, created for an exhibit on Jewish humor, offers a place for anecdotes that emerge during shiva (in taped or written form) as well as photos and memorabilia.
Most recently, Gentles has been focusing on contemplative and personal expressions for the end of life through the ambivalent symbolism of knots (negative because they can ensnare and positive because they can complete) and geniza fragments.
Perhaps one of the most striking symbols of Gentles's work is the Holy Blossom huppa, which envisions marriage as a rope, beginning as separate strands, then coming together tightly and firmly but remaining as ephemeral as a rainbow.
Gentles's art, too, conjoins many strands and stories, wedding the spiritual and physical so that they form a radiant and vivid canopy.