The Jewish Traveler: Berlin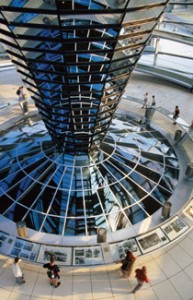 The world's fastest growing Jewish community thrives amid the splendor and history of Germany's capital city, a leading European center of arts and culture.
The Wall came down in 1989, Germany reunified in 1990, the federal government moved from Bonn to Berlin in 1999—and the city on the River Spree has been undergoing one long building boom since. a At Potsdamer Platz, once the no man's land between east and west, skyscrapers soar, a new glass dome crowns the neo-Baroque Reichstag and a ribbon of striking government offices winds along the river's banks.
Star architects from Sir Norman Foster and Frank Gehry to Daniel Libeskind and I.M. Pei are creating the new Berlin. Now look down: On several city streets, small brass plaques—called Stolpersteine, "stumbling blocks"—commemorate Jewish Berliners deported during the Holocaust (see sidebar, page 24).
Travelers visiting Berlin, which sprawls for some 340 square miles, will stumble over Jewish history not just in the downtown Mitte district but in neighboring towns and villages as well. As the editors of the book Jews in Berlin observe, "There is hardly a site in contemporary Berlin that doesn't inform us about Jewish life in the city."
History
Records show Jews in Spandau, just west of downtown Berlin, as early as the 13th century. Between 1244 and 1671, Jews settled in Berlin—many near the Berliner Rathaus on Rathausstrasse—but these years were punctuated by periodic expulsions as the larger community blamed Jews for the plague and other ills.
In 1671, Great Elector Friedrich Wilhelm of Brandenburg, who hosted the court Jew Israel Aaron, allowed 50 prominent Viennese Jewish families to relocate to Berlin and Brandenburg, hoping their wealth and enterprise would stimulate greater prosperity in the region. These Jewish families came as Schutzjuden—protected Jews who paid for a residence permit allowing them to engage in certain businesses and worship in private homes. Over the next century, Schutzjuden paid heavily for their privileges and had to deal with the consequences of the influx of Jews lacking permits and jobs.
With the 1671 settlement came a cemetery, mikve, hospital and, in 1714, the first synagogue, later known as the Old Synagogue, at Heidereutergasse in Mitte.
In 1743, Moses Mendelssohn, who became a proponent of Haskala, or Jewish Enlightenment, arrived in Berlin. The philosopher-scholar urged Jews to integrate into secular society and was involved in the 1778 founding of the Jewish Free School (Juedische Freischule), which combined religious instruction with a general education. Today, the private Jewish High School (Grosse Hamburger Strasse 27), open to Jews and non-Jews, is in the building the Free School occupied from 1906 to 1942. The nearby Vestpocket Park was once the Jewish community's cemetery—in use from 1672 to 1827—and the solitary gravestone of Moses Mendelssohn stands in tribute.
At the turn of the 19th century, Henriette Herz and Rahel Levin Varnhagen hosted celebrated literary salons frequented by the nobility, artists and writers.
Although Prussia granted citizenship to Berlin's Jews in 1815, full equality only came in 1850 with Prussia's updated constitution. By then, Berlin had 9,500 Jews, most involved in finance, commerce and transportation.
By midcentury, the movement to modernize Judaism had developed. Reform Judaism, with its revised liturgy, organ music and Sunday services, started in private homes and grew with the founding of the radical Society for Reform in Judaism in 1845. The Berlin Reform Temple, built in 1854 at Johannistrasse 16, survived until the aerial bombing of Berlin in World War II. (A plaque now commemorates the site.) A third synagogue—the Moorish-style New Synagogue, which featured an organ, choir and services in German—opened on Oranienburgerstrasse in 1866 and became a center of liberal Judaism.
As a reaction to the liberalization of tradition, the neo-Orthodox Adass Jisroel was founded in 1869 under Rabbi Azriel Hildesheimer. This congregation and the organizations it sponsored survived until 1939 at its eventual site on Tucholskystrasse.
By 1900, some 100,000 Jews lived in Berlin. Jews moved from their first settlements in the city center into the nearby Spandau and Stralauer districts and then south and west to Charlottenburg, Schoeneberg and Wilmersdorf.
During the Weimar years from 1919 to 1933, Berlin and German Jewry flowered: There were stage productions by Max Reinhardt, music by Arnold Schoenberg and Kurt Weill, paintings by Max Leibermann and Lesser Ury, concerts conducted by Otto Klemperer and Bruno Walter. Vicki Baum wrote her novel Menschen im Hotel, adapted into the classic 1932 film Grand Hotel. By 1933, 160,000 Jews called Berlin home.
With the rise of the Nazis came emigration, deportations to Thereisenstadt and Auschwitz and, ultimately, extermination. On the night of November 9, 1938—Kristallnacht—synagogues were set afire, an estimated 12,000 Jews were sent to the Sachsenhausen concentration camp and the life of German Jewry irrevocably changed. The city was at the center of the Nazi terror machine and the planning of the final solution took place in Berlin and at nearby Wannsee. By 1939, the Jewish population had dwindled to 75,000, and by 1945, only 8,000 Jews remained in Berlin. The majority of those who survived were married to non-Jews or had been in hiding.
Community
For the most part, Jews in Berlin today are not descendants of those who were here before the war. Displaced Jews came from Eastern Europe after 1945 and, since 1990, emigrés have poured in from the former Soviet Union, settling in Wilmersdorf, Steglitz and other areas where housing is inexpensive. The Jewish Community of Berlin (Oranienburgerstrasse 28/30 in Mitte; 011-49-30-880-28124; www.jg-berlin.org) officially counts 12,000 Jews, but the number could be twice that; the population is based only on those who register themselves with the community. The community center, which has an information desk for tourists, is located in Charlottenburg (Fasanenstrasse 79/80; 49-30-880-280).
During the years of the Iron Curtain and the Wall, most Jewish activities were centered in West Berlin. However, there was one functioning synagogue in East Berlin—the large neo-Romanesque Rykestrasse Synagogue (Rykestrasse 53; 49-30-448-5298; services are Liberal-Conservative)—built in 1904. At reunification, East Berlin had 200 Jews.
Sabbath observers have several choices, from egalitarian to traditional Orthodox services. Details about synagogues and religious leaders appear on the community's Web site. Security is tight—police are posted outside Jewish institutions—so make arrangements in advance.
Chabad (Muensterschestrasse 6; 49-30-212-80830;www.chabadberlin.de) and its Jewish Educational Center have extensive programming that includes services, a nursery-kindergarten and elementary school, adult and youth programs and a kosher restaurant.
Across the city at Brunnenstrasse 33, on the site of the former Beit Zion Synagogue destroyed on Kristallnacht, the Orthodox Yeshivas Beis Zion is educating 30 male students. Contact them to learn about services and kosher meals (49-30-405-04690;www.yeshiva.de).
Reestablished in 1989, Adass Jisroel has a prayer room in a former administration building of the synagogue (Tucholskystrasse 40; 49-30-281-3135; adassjisroelberlin@ web.de) and runs the kosher Beth Café and a shop, Kolbo, selling prepared kosher foods, Israeli wines and some ritual items. Kiddush and kosher meals are available, and travelers are advised to book in advance.
Every year, the community celebrates Jewish Culture Days, a festival of theater, concerts, films, lectures and exhibitions organized around a different theme (49-30-882-4250;www.juedische-kulturtage.org). This year, the event begins August 31 and runs to September 9. Another annual event is the Jewish Film Festival Berlin (49-30-880-28263; www.jffb.de). The Jewish theater group Bimah (Jonasstrasse 22; 49-30-251-1096) performs traditional East European works as well as contemporary Israeli drama. For a guide to goings-on, consult the monthly Juedisches Berlin (49-30-880-28260; jb@jg-berlin.org).
Sights
Since its September 2001 opening, four million visitors have come to the Jewish Museum Berlin in the Kreuzberg district (Lindenstrasse 9-14; 49-30-259-93300; www.juedisches-museum-berlin.de), which showcases German Jewish history from the Middle Ages through the present. The greatest lure is the angular, zinc-clad zigzagging Libeskind Building attached to the courtly Old Building.
Architect Daniel Libeskind's design, based on a deconstructed Magen David, includes empty rooms known as voids and three subterranean axes. This fall, Libeskind's Glass Courtyard, modeled on a sukka, will open. Its glass roof spans the 7,000-square-foot inner courtyard of the Baroque Old Building and is supported by four freestanding pillars.
After touring the Jewish Museum, stop by the nearby Berlinische Galerie (Alte Jakobstrasse 124-128; 49-30-789-02600;www.berlinische-galerie.de), which houses works by Jewish artists Max Beckmann, Max Liebermann, El Lissitzky, Felix Nussbaum, Else Neuländer Simon (aka Yva) and Erich Salomon.
A lengthy walk—or short bus ride—from the Berlinische Galerie is the open-air museum Topography of Terror (Niederkirchnerstrasse 8; 49-30-254-86703; www.topographie.de), at the site where the Gestapo, SS and Reich Security Main Office once reigned. Photos and text in German document the terror and murder planned here from 1933 to 1945; use the audio guide to explore the excavated site. A short, pitted stretch of the Berlin Wall runs alongside (Checkpoint Charlie was a few blocks away) and the Renaissance-style Martin-Gropius-Bau (49-30-254-86236)—which today hosts traveling art shows but from 1986 to 1998 staged exhibits of the Jewish Museum—is next door.
Several blocks away, near the Brandenburg Gate, is architect Peter Eisenman's massive Memorial to the Murdered Jews of Europe. Its field of 2,711 gray concrete stelae, some rising as high as 13 feet, can be wandered through at all hours. Its underground information center at Cora-Berliner-Strasse 1 (49-30-263-94336; www.stiftung-denkmal.de) includes a documentary timeline, heartrending accounts of suffering, photographic profiles of 15 families and a room of names of the lost.
The restored new synagogue berlin–centrum Judaicum (Oranienburgerstrasse 28/30; 49-30-880-28300;www.cjudaicum.de) is a short ride on the S-Bahn metro system from Potsdamer Platz. With its 165-foot-high golden dome, the building is a powerful architectural and cultural link between historic Jewish Berlin and the present; it sits in an East Berlin neighborhood where Jewish life once thrived and is today a bustling shopping and arts area. The façade facing the street has been restored, and a permanent exhibition, "Open Ye the Gates," chronicles the center's history. But much of the building is a shell that looks out onto an empty lot where the main room of the synagogue once stood.
Within walking distance of the Centrum Judaicum are several Holocaust memorials. The Missing House graphic at Grosse Hamburger Strasse 15/16 lists former residents, while a red sandstone monument at Rosenstrasse 2/4 recalls the successful protest by non-Jewish women over the detention of their Jewish husbands. The Abandoned Room with its table and overturned bronze chair at Koppenplatz remembers Jews seized on Kristallnacht.
Additional Holocaust memorials appear throughout the city. Visitors to the Staatsoper Unter den Linden in Mitte (Unter den Linden 7;www.staatsoper-berlin.de), where Jewish conductor and pianist Daniel Barenboim oversees the opera and classical concert repertory, will want to pause on Bebelplatz, site of the May 10, 1933, book burnings. Peer through translucent glass set in the sidewalk to view the empty underground library with white bookcases created by Israeli artist Micha Ullman.
In the Wilmersdorf district of Berlin, Track 17 commemorates the deportations of more than 50,000 Jews from Grunewald Station. Plaques set by the railroad track list every transport between 1941 and 1945, the number of people on each transit and their destination.
The nearby glass, box-like Israeli Embassy (Auguste-Viktoria-Strasse 74/76), designed by Tel Aviv architect Orit Willenberg-Giladi, boasts six stone pillars at its entrance recalling the six million Holocaust victims. A wall of Jerusalem stone runs through the building and extends outside.
Art lovers should keep in mind that Berlin is renowned for its State Museums (www.smb.museum)—including Mitte's famed Museum Island. Less well known but key to the Jewish traveler are the Museum Berggruen (Schlossstrasse 1; 49-30-326-9580) and the Helmut Newton Foundation (Museum for Photography; Jebensstrasse 2; 49-30-266-2188) in Charlottenburg. The Berggruen houses a remarkable assemblage of modern art by Paul Klee, Henri Matisse and Pablo Picasso given to the city by Jewish art dealer Heinz Berggruen, who fled Berlin in 1936 and died last February. Emigré Jewish fashion photographer Helmut Newton, who died in 2004, chose to share his photographic prints with his native city.
Side Trips
The S-Bahn takes you to the House of the Wannsee Conference (Am Grossen Wannsee 56/58; 49-30-805-0010; www.ghwk.de), where Reinhard Heydrich chaired a meeting on January 20, 1942, that resulted in the Final Solution plan to rid Europe of its Jewish populations.
While in Wannsee, tour the picturesque summerhouse and gardens of painter Max Liebermann, where you can gaze at Lake Wannsee as you savor some of his paintings and pastels (Colomierstrasse 3; 49-30-805-85900; www.max-liebermann.de).
The Sachsenhausen concentration camp, north of Berlin, is now a museum in Oranienburg at Strasse der Nationen 22 (49-30-330-12000; www.gedenkstaette-sachsenhausen.de).
Personalities
Famous businessmen included Otto von Bismarck's adviser Gerson von Bleichröde, industrialist Walter Rathenau, who was assassinated in 1922 while serving as Germany's foreign minister, and department store magnate Hermann Tietz, whose descendents owned the famed KaDeWe department store on Tauentzienstrasse.
Albert Einstein lived in Berlin from 1914 to 1932, when he was affiliated with the Kaiser Wilhelm Institute for Physics. Heinz Galinski, after whom the Jewish elementary school in Charlottenburg is named, led the postwar West Berlin Jewish community from 1949 until 1992 and was also chairman of the Central Council of Jews in Germany.
In addition to his work with the Staatsoper Berlin, Daniel Barenboim is also chief conductor for life of the Staatskapelle Berlin.
Reading
The heavily illustrated Jews in Berlin (Art Stock), edited by Andreas Nachama, Julius H. Schoeps and Hermann Simon, provides a good overview of the community. Joseph Kanon's thriller The Good German (Picador), which was made into a major motion picture, re-creates Berlin at war's end in 1945, while Daniel B. Silver's Refuge in Hell (Mariner) recounts how the Jewish Hospital in the district of Wedding outlasted the Nazis. Daniel Libeskind's autobiography Breaking Ground (Riverhead) offers insight into the building of the Jewish Museum Berlin. Alfred Döblin's Berlin Alexanderplatz (Continuum), which Werner Fassbinder made into a 15-hour epic film, and Christopher Isherwood's The Berlin Stories (New Directions), which morphed into the musical Cabaret, are classic works about prewar Berlin.
Recommendations
Try the hop-on/hop-off bus tours that circle as far west as Charlottenburg Palace and east to Alexanderplatz for a quick orientation. Beth Café (Tucholskystrasse 40; 49-30-281-3135), Bleibergs (Nürnbergerstrasse 45A; 49-30-219-13624;www.bleibergs.de) and Gabriels at the JCC (Fasanenstrasse 79/80; 49-30-882-6138) are the best-known kosher restaurants. The Jewish Community of Berlin and Milk and Honey Tours (www.milkandhoneytours.com) can provide names of additional kosher eateries and Jewish-style establishments. Liebermann's Restaurant at the Jewish Museum serves Mediterranean-Israeli cuisine but is not kosher.
The Holiday Inn Crowne Plaza (www.holidayinn.com), Kempinski (www.kempinski.com) and the intimate Savoy Berlin (www.hotel-savoy.com) are among the hotels off the Kurfürsterdamm and within walking distance of the synagogues at Pestalozzistrasse and Joachimstaler Strasse. There are numerous hotels in Mitte. If you want to go upscale, try the Adlon (www.hotel-adlon.de) overlooking Brandenburg Gate, which will celebrate its 100th birthday this year with a bash in October. The story of European Jewry over the last three centuries is one of magnificent flowering and near-total destruction. The city at the heart of that story, Berlin is now acknowledging its past even as it builds its future.