Medicine: The Hospital of the Future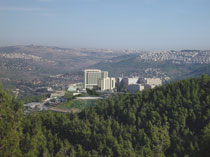 Several years in the planning, Hadassah has started construction on a modern, high-tech main building at its Ein Kerem campus.
Over the years, clinicians, surgeons, nurses, medical managers and scientists at the Hadassah–Hebrew University Medical Center in Jerusalem have acquired expertise in hospital architecture (along with a working knowledge of land use, traffic flow and security). They have also been honing their future sight, trying to foresee medical needs and potential for up to half a century to come. a "When you have an opportunity to do something only once in 50 years, you have to get it right," says Dr. Shlomo Mor-Yosef, director general of the Hadassah Medical Organization.
In this instance, the "something" is the construction of a 14-story inpatient center at the Hadassah Medical Center at Ein Kerem—the Sarah Wetsman Davidson Tower. The projected price tag for the campus's new core structure is $210 million, its largest single capital project since the campus was built in 1961. To get it right, Hadassah has involved medical, surgical and research staff alongside architects, engineers, environmentalists, the municipality, Israel's Health Ministry and the country's health insurance companies.
The building we are replacing was among the world's most modern when it opened 46 years ago," says Dr. Arik Tzukert, Hadassah's director of research and development and project director for the new building. "Its flexible design was imitated by over 30 U.S. hospitals."
What was modern a half-century ago, however, is now dated. "When the original building was planned, organ transplant, cardiac catheterization, IVF, MRI, PET, gene and stem-cell therapy and even kidney dialysis and open-heart surgery lay in the future," says Dr. Tzukert. "We accommodated them all." And when the Ein Kerem hospital opened, barely 170,000 people lived in Jerusalem; today, it is home to over 700,000.
With this kind of population growth and the rush of new technologies, how can Hadassah build for a 50-year future?
"Clearly…there'll be advances we can't envision," says Dr. Mor-Yosef. "What we can do is identify trends. Some are already well established. We expect others to become more prominent, while others still are on the horizon."
He counts off six major areas that Hadassah believes will shape the coming medical era. "First," he says, "we will be caring for increasing numbers of people so ill they would not previously have survived—patients on dialysis and in chemotherapy, undergoing bone marrow transplant, organ replacement and, looking ahead, genetic therapy. For them, we need extended intensive care and step-down units, rich in medical technology and computer power."
At the other end of the treatment spectrum, capabilities of day hospitalization continue to grow exponentially. "We are expanding our day hospitalization units in both size and capacity," says Dr. Mor-Yosef. "They will increasingly provide complex and dynamic testing, same-day surgery and procedures requiring protracted observation, such as deep-organ biopsy and massive chemotherapy. The units will allow patients to spend days in the hospital and go home at night, taking with them devices only recently used outside hospitals—pumps, portocaths and different kinds of electrical-impulse generators."
A third key trend of modern medicine is technology. "Medicine has become a very technological profession, from simulation in medical training to robots in the operating room to computer-assisted surgery," says Dr. Mor-Yosef. "This naturally demands a different infrastructure. We are building our ORs larger to contain the technology with which surgery now bristles—scanners, monitors, computers—making space, too, for the CT and MRI imagers that we expect to become standard OR equipment."
Dr. Mor-Yosef identifies translational or personalized medicine as a fourth central development. Based on the discoveries of the Human Genome Project and creation of multiple biomarker techniques, this new approach will allow physicians to individualize diagnosis and therapy. This, together with the promise of gene therapy, will require specialized labs close to the bedside to prepare patient-tailored therapies.
The Hadassah team believes these trends lie in the future of all modern hospitals. "Medical centers are moving away from their historic role of housing those who cannot be cared for at home and becoming high-tech structures based on increased intensive care at one end and increased day and ambulatory care at the other," says Osnat Moskowitz, director of Hadassah's Division of Development, Donor and Tourist Services. "The final two trends on which our planning is based, however, are specific to Jerusalem and to Israel."
One challenge is Jerusalem's aging population. "Medicine moves forward and people live longer," explains Dr. Mor-Yosef. "As the numbers of elderly people increase, so does the demand for medical care, adding layers of challenges to their medical and surgical treatment."
The other unique trend is preparedness for war. "It is a truism that generals prepare for the last war," says Dr. Mor-Yosef. "We plan to sidestep this trap and plan correctly for the treatment of those injured by conventional weapons old and new, and by nonconventional weapons."
While foresight can be keen, anticipating the future has limits, making flexibility a key emphasis for planners.
"One complete level of the building is unassigned, and the structure is designed to support an additional three stories—a total four floors for the unanticipated," says Dr. Mor-Yosef. "This approach worked well in our Mother and Child Center. A decade after it opened in 1996, we added three levels, providing an extra 48,000 square feet."
Flexibility is thus built in, but how do the six trends of the future translate into bricks and mortar?
"Human and environmental welfare are guiding concepts," says Dr. Tzukert. "When we look at medical needs through that prism, things fall into place."
"People friendly" is the byword for all 700,000 square feet of the new building. Sunlight and greenery will fill the structure. Every three stories will share a healing garden for patients and their visitors—a total of 900 square feet of glass-enclosed, flower-filled verandas.
Nonmedical services will be out of sight. Technical floors every three stories will ease access to the many miles of pipes for water, medical gases, electricity, elevator cables, communications and sewage, without disturbing patients. Medical supply, medical engineering, information technology, central sterile supply, the pharmacy, patient transport services, food services, supply departments, linen and maintenance, with their own loading dock, service yard and elevators, will be gathered on two stories below entrance level.
The surgical and medical departments will rise in the 10 levels above. Surgery, with 20 operating rooms and a 16-bed intensive care unit, is allocated two stories. Cardiovascular diagnosis and treatment, which hospitalizes 600 patients a year and performs an annual 2,700 catheterizations, will receive an entire floor to itself. All other levels will be shared by two departments, each with its own four-bed step-down unit.
While every department will be built to the same plan, unassigned space is provided for specific needs, for example, physiotherapy in orthopedics and neurology and extra baths in dermatology. The central area between the two departments on each level will house waiting rooms, conference rooms, restrooms, lockers, physicians' rooms and on-call rooms.
"The new building gives us space to put all 478 inpatient beds in private or semiprivate rooms, each with a shower and toilet," says Dr. Yaakov Naparstek, Hadassah's head of Internal Medicine. "Every bed will have its own window as well as zones for patient, family and caregiver. While surveys have shown that many hospitalized patients prefer company, beds in double rooms will be placed in diagonal corners, for privacy and to lower the threat of hospital-acquired infections." Along with welfare of patients and staff, the environment is the building's second guiding concept.
"Although the inpatient center will be the tallest structure in the neighborhood by far, it will rise from its triangular plot as a graceful three-cornered edifice, its bulk softened by the glass-enclosed healing gardens," explains Dr. Tzukert. "It will use solar power for much of its climate control and flush its toilets with recycled shower water."
This environmental friendliness even predated construction.
"The debris from Hadassah's old nursing school, demolished in early 2007 to make way for the new building, has been ground into gravel, which will be reused in cement," notes Moskowitz. "There is no waste."
Sacrificing the nursing school building to make way for the new inpatient center was decided in the "Hadassah Medical Center Ein Kerem Campus Facilities Master Plan 2003-2020," an extraordinarily detailed 276-page blueprint for the medical center's future, three years in the making. The decision to locate the new building at the heart of the campus involved vacating the existing cluster of schools and services.
"Before the wreckers' ball swung on the old nursing school, hundreds of people had to be moved," says Dr. Tzukert. "We began in late 2006, breaking the move into 75 separate projects. The nursing school and psychiatry were relocated to the Emergency Medicine Center's basement. Social medicine and the public health school went to the old inpatient building, human resources to a wing of the new hotel and information technology to outlying premises."
This radical refocusing of the campus has allowed the upgrade of two key quality-of-life areas: entering the hospital and accessing the campus.
"Hadassah-Ein Kerem will at last have a main entrance," says Dr. Mor-Yosef. While the Emergency Medicine Center and Oncology Institute will keep separate entryways, they and all the hospital's other patient-care buildings will be accessed through a serene three-story glass-enclosed winter garden—Hadassah's new lobby.
Awash in daylight and green plants, the garden-entrance lobby will lead left into the new inpatient center, right to the Mother and Child Center and the Abbell Synagogue and straight through to the central clinical laboratory, blood bank, outpatient clinics and day hospital in the old inpatient building as well as the Sharett Institute and Emergency Medicine Center. City buses and the light rail now being built will stop immediately outside this new entrance.
The direction of the campus's road is being reversed, making entry to the hospital shorter and much more straightforward. Roads branching from it will take emergency and service vehicles directly to their own entry points. Parking spaces will be increased by over a third.
"Hadassah is a major feature of Jerusalem's landscape—the city's second largest employer, a university and military hospital that serves the community, a trauma center for the region and a tertiary-care center for the nation," notes Dr. Mor-Yosef. "We are part of a city that has metamorphosed from a sleepy backwater into a cosmopolitan metropolis in the 40 years since Jerusalem was reunified. We see our new building not only as an answer to the city's medical needs but also one with meaning for Jerusalem of the future, a city strengthened by its major institutions."
Dr. Mor-Yosef believes this view is widely shared, pointing to the massive response to fund-raising for the building. Close to 40 donors have each given over $1 million, and a $75 million donation has come from William and Karen Davidson (see story, page 82), the largest ever single gift to an Israeli cause.
"People want to be part of this building and they are helping at a level we have never seen before," explains Dr. Mor-Yosef. "They are giving not only to Hadassah, but also to Jerusalem, to Israel and to humanity."
With a third of the building's cost contributed by the Davidsons, the new inpatient center is to be named for William Davidson's late mother, Sarah Wetsman Davidson. It is on schedule to receive its first patients on the day of Hadassah's centennial—March 12, 2012.
---
Hadassah's New Tower: All in the Family
Building on Three Generations of Involvement
For a man who "doesn't usually fund bricks-and-mortar-type projects this is a spectacular exception," says Jonathan Aaron, son-in-law of Detroit entrepreneur and philanthropist William Davidson. "But," explains Aaron, "he's making it because of the history and family ties."
The spectacular exception is a $75-million gift from Davidson and his wife, Karen, covering a third of the cost of a new inpatient center at the Hadassah–Hebrew University Medical Center in Jerusalem. To be completed by 2012, this state-of-the-art, 14-story building will enhance Hadassah's capabilities from cardiology to laparoscopy, telemedicine to medical robotics.
The background behind this exceptional gift—the largest single donation given to a Jewish cause in Israel and the second largest to a Jewish cause anywhere—goes back to 1916. That year, Davidson's mother, Sarah (Sal) Wetsman Davidson (above), and her parents invited Hadassah founder Henrietta Szold to their Detroit home, where they hosted her for 10 days. By the time Miss Szold left, Sal and her mother were members of a 30-woman Hadassah chapter in the city, one of the organization's first. Two years later, Sal borrowed $1,000 from her father (which she repaid) for an ambulance for the Hadassah-sponsored American Medical Zionist Unit to Palestine. Three years after that, her parents bought land on Mount Scopus, which became part of the campus of Hadassah's first Jerusalem hospital.
"We've maintained a long-term relationship with the Hadassah Medical Organization, first on Mount Scopus and now in Ein Kerem," said Davidson, when his gift was announced in March. "The power of family is truly binding, and I feel privileged to be the third generation to support Hadassah's goals and achievements.…"
The soft-spoken Davidson, born in Detroit in 1923, is president and CEO of Guardian Industries of Auburn Hills, Michigan, a leading manufacturer of float glass and fabricated glass products. He got involved in the business in 1955 when, aged 32, he joined his uncle's near bankrupt windshield-manufacturing business; he took over and paid off creditors in three years. Today, Guardian's annual sales average $4 billion. Among its recent projects: the walls of New York's towering Time Warner Center.
Davidson has also had success in the world of professional sports. He owns the Detroit Pistons, the Detroit Shock and the Tampa Bay Lightning. All three won their respective league championships in 2004.
Davidson's son, Ethan, is a folk singer; his daughter, Marla, is an artist; Marla's husband, Jonathan Aaron, is his assistant. Former president of the Detroit Jewish Federation and of his Conservative synagogue, Davidson lives with his wife in Bloomfield Hills, Michigan, works out daily and also devotes impressive energy to philanthropy in both the United States and Israel.
He has been point man behind many programs to aid at-risk youngsters in the Detroit area and opened a glass-manufacturing business in Israel—to which he gave $40 million after last summer's Lebanon war. His alma mater, the University of Michigan's Ross School of Business, houses a William Davidson Institute, and the Graduate School of Jewish Education at New York's Jewish Theological Seminary of America also carries his name. In Israel, the Weizmann Institute of Science and the Technion–Israel Institute of Technology each enjoy substantial support from Davidson, as does the Schechter Institute of Jewish Studies in Jerusalem.
And now the inpatient center at Hadassah will also carry the Davidson name—but not that of William. It is to be called the Sarah Wetsman Davidson Tower, honoring the memory of his mother and the trigenerational link between the Davidson family and Hadassah.
—Wendy Elliman