Commentary: Straw Gods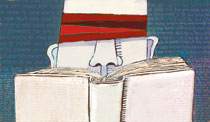 Maybe it's just false nostalgia, but it seems like there used to be a time when writing a scholarly book meant being, or becoming, an expert about one's subject.
This value still holds true today in some areas—a layperson would never write a guide to brain surgery, for example—but in politics and religion the bar for being a public intellectual seems to get lower and lower.
Take Christopher Hitchens, brilliant wit, acerbic political commentator and someone who has made a virtue of the interdisciplinary. Hitchens has written books on George Orwell and Henry Kissinger, the Elgin Marbles and the Paris Commune. His writing style, reminiscent of Orwell, has the polished effect of seeming unpretension, a combination of directness and intelligence that renders his arguments impeccably sensible.
But Hitchens really doesn't know much about religion. For all its literary merit, his popular God Is Not Great: How Religion Poisons Everything (Twelve Books) is as unsubtle and unsophisticated as its subtitle, and is perhaps the least in the crop of atheist lit whose exemplars include Sam Harris and Richard Dawkins. Notably, neither Harris nor Dawkins is a scholar of religion either; the former is a young neuroscientist and the latter an elder statesman of evolutionary biology. But in God Is Not Great, Hitchens is merely a provocateur.
Hitchen's general point is that religion is outmoded, obsolete, incorrect and dangerous. The consolations and explanations it used to provide are now better proffered by science, says Hitchens, and its moral lessons are eclipsed by those found in literature and art. Meanwhile, Hitchens claims, in part due to this embarrassing obsolescence, religion forces itself on others, coercing all the nastiness of fundamentalism. Here's a sample:
Violent, irrational, intolerant, allied to racism and tribalism and bigotry, invested in ignorance and hostile to free inquiry, contemptuous of women and coercive toward children: organized religion ought to have a great deal on its conscience.
Good prose—but what is this "religion" of which he speaks? In fact, there are at least four ways in which Hitchens misconstrues and misrepresents religion in general, and Judaism in particular.
First, Hitchens writes as if religion is a monolithic poison attacking humanity, as if religion is the parasite and human beings the host. Yet religion is not an agent; people are, and their approaches to and uses of religion vary far more widely than God Is Not Great ever allows. As with Harris, who claimed that religious moderates, by legitimizing fundamentalism, are even worse than the fundamentalists themselves, Hitchens equates religion with fundamentalism, as in the quotation above, and denies any validity to religious moderation. Progressive, literary, queer, mystical religionists like me don't exist in Hitchens' universe. "An admirable but nebulous humanism," he calls the faith of Dietrich Bonhoeffer, the Lutheran pastor executed by the Nazis, who, for many of us, is the epitome of the ethical religionist. Hitchens's religion is a straw man, made up of the dumbest strands of fundamentalist excess.
Second, Hitchens's attitude toward religion is like that of a junior high school student reading Greek mythology. For him, religion is first and foremost about explanation: how the world was created, what happens after we die and so on. As Hitchens observes, these explanations have long been undermined by geology, biology and astronomy. So why do believers still believe?
For Hitchens, it's because believers are gullible and dumb. Yet surely the answer must be that "belief" is not actually the central point for everyone, and its content is not as pseudoscientific as Hitchens suggests. Speaking traditionally, "deed over creed" has been a Jewish principle for millennia; what one does is far more important, Jewishly speaking, than what one believes. Speaking personally, the age of the Earth is religiously irrelevant to me. I don't care about what happened five billion years ago; I care about what is happening now, and how I am to relate and respond to it. I'm less moved by biblical miracle stories, which I read as beautiful and fictional myth, than I am by the miraculousness of everyday life. I don't think it matters, in some naive magical way, whether I light candles before sunset or not; I think that it sanctifies time and space.
And I don't deny that religion is "man-made," as Hitchens loudly proclaims as if saying something new; I appreciate its virtues and its flaws all the more because of it. But none of this counts for Hitchens. For him, religion equals faith equals fundamentalism equals ignorance.
Third, God Is Not Great shamelessly distorts the texts it discusses. In one place, Hitchens claims that the ancient proscription on eating pigs is due to the similarity of pig flesh to human flesh. Well, this is absurd. Not only does Hitchens never even mention the reams of anthropologists and archaeologists who have already studied this issue with far more attention than Hitchens devotes to it—there's not even a nod to Mary Douglas—but he acts as though kashrut singled out pigs for exclusion, when in fact pigs are no more trayf than horses or donkeys, and are only a symbol of taboo in our own time.
On the ten commandments, Hitchens writes both anachronistically (complaining that they say "nothing about the protection of children from cruelty, nothing about rape, nothing about slavery, and nothing about genocide") and with far too much (Christian) emphasis on the Decalogue at the expense of the rest of the law. And Hitchens complains that the Bible is too concerned with "the desert, the flocks and herds, and the imperatives of nomadic subsistence," as if "the Torah speaks in the language of people" was a bad idea. Indeed, Hitchens is such an elitist he seems unable even to see his own elitism. Of course the Torah talks about flocks and herds; it was written for shepherds and farmers. Would metaphysics, or high literature, have done a better job at building a just society?
Finally, Hitchens contrasts the lamest beliefs of mass religion with the best of elite Western culture: Jerry Falwell on one side, Leo Tolstoy on the other. This is like comparing Rodin's work with your 3-year-old's refrigerator drawings and concluding that sculpture is better than painting. Nowhere does Hitchens engage with Western religious geniuses like Paul Tillich, Abraham Joshua Heschel, Martin Buber or Pierre Tielhard de Chardin; preposterously, he even denies that such geniuses exist in the modern era. Sure, creationism is stupid. But so is Mamma Mia. It doesn't mean that all theater, or all religion, is also.
As with Harris and Dawkins, Hitchens does provide useful reminders to us as Jews: to never mistake dogma for Divinity or power for piety, and to be wary of zealotry in all its forms, especially nationalism and ethnocentrism. Hitchens is right that religion's greatest flaw is its propensity to violence and coercion, and that is a lesson worth internalizing. Perhaps most importantly, the broad brush with which he paints is a salutary corrective to our own tendencies to equate extremism with intensity. Hasidim are not the only real Jews, and settlers are not the only lovers of Israel. It's important not to get defensive about books like this; there is much to learn from them and, indeed, noticing the impulse toward defensiveness is part of the point of it all.
But religion works because it works on multiple levels. Those who read Shakespeare and Hegel find in religion powerful myths and subtle philosophies. Those less privileged, or less interested, find simple truths and useful consolations. Christopher Hitchens is of the former type. What he fails to see is that not all religionists are of the latter.
Jay Michaelson is a doctoral candidate in Jewish thought at the Hebrew University of Jerusalem and visiting assistant professor at Boston University Law School. He is author of God in Your Body: Kabbalah, Mindfulness, and Embodied Spiritual Practice (Jewish Lights) and Another Word for Sky: Poems (Lethe Press).