Cut & Post
Synagogue, State, School
Hollywood, Florida, is now home to the Ben Gamla Charter School (www.bengamlacharter.org), one of America's first taxpayer-funded educational institutions with a Jewish twist.
Classes began August 20th at the elementary school, where the 430 students receive two hours of instruction daily in Israeli culture and Hebrew language—though not in Judaism, since teaching religion would obligate Broward County school officials to revoke Ben Gamla's charter.
Former United States Representative Peter Deutsch, the school's founder, said its main detractors are private Jewish schools terrified of losing students to Ben Gamla, which is free. "If we were violating the constitutional prohibition against separation of church and state, we couldn't open," he noted, adding that day schools in South Florida charge $10,000 or more per student per year.
But Rabbi Allan Tuffs of Temple Beth El, a Reform congregation in Hollywood, warned that the school sets a dangerous precedent. "With charter schools like Ben Gamla," he said, "we are opening the door for public money to be used to support all sorts of religious ideologies across America." —Larry Luxner
---
Tackling Stereotypes
He's 6 feet 6 inches, weighs 309 pounds, has a Star of David tattooed on each shoulder and is one of the strongest players in the National Football League.
Igor Olshansky (left), 25, plays defensive end for the San Diego Chargers. The only Soviet-born player in the NFL, he is also one of the few Jews in the league.
Olshansky was born in Dnepropetrovsk, Ukraine, but he developed a strong Jewish identity only after his family moved to San Francisco, where he attended a Jewish day school and first experienced organized sports at the local Jewish Community Center. "Being Jewish is very important to me," he told The San Diego Jewish Journal.
The son of a basketball player, Olshansky switched from basketball to football in high school. After his junior year at the University of Oregon, the Chargers drafted him. Since then, Chargers fans have been chanting, "I-gor! I-gor!" —Esther Hecht
---
Alive Among the Stones
Swifts, jackdaws, geckos and snails are but a few of the species inhabiting the nooks and crannies of Jerusalem's Old City walls. Swifts alone have built 30 nests in the Western Wall.
The nests were discovered last spring during the first survey of the walls' flora and fauna, conducted by Amir Balaban, urban wildlife coordinator of the Society for the Protection of Nature in Israel, and his colleague, Asaf Meroz, ahead of scheduled preservation.
Many of the species are mentioned in the Bible, especially in the book of Jeremiah. Perhaps the most important discovery is the area where the wall rests on a cliff, for example, east of Damascus Gate. There one can see geckoes and jackdaws living and nesting on both structures.
"This is the place," Balaban said, "where urban wildlife began its evolution." —E.H.
---
Empowering Jewish Women
Joan Roth's photographs (left) of women in the Former Soviet Union are now on display at the Hebrew Union College-Jewish Institute of Religion Museum in New York. The images honor participants of Project Kesher (www.projectkesher.org), which, through its 154 locations, trains women in the FSU to become leaders and activists and reconnects them to Judaism. The organization also combats domestic violence and trafficking in women; offers twice-monthly Torah study; and initiates hundreds of Jewish educational, holiday and humanitarian projects each year. Roth says she was struck by "how much the women love their Judaism and how hard they have worked to become the women they are today." —Rahel Musleah
---
Recording History
Except for a handful of surviving Sonderkommandos who pulled bodies of fellow Jews from gas chambers to adjacent crematoria, it was thought there were few eyewitnesses to mass killings of Jews during World War II.
But Paris's Mémorial de la Shoah institute (www. memorialdelashoah.org) has proven otherwise. The organization is hosting, through November 30, the exhibit "Shoah by Bullets: The Mass Shootings of Jews in Ukraine 1941-1944," which details the killing of 1.2 million Jews in Ukraine by mobile German firing squads. The show includes shocking film interviews with aging and often tearful Ukrainian villagers who recall how they witnessed massacres after having been rounded up to bury victims who were sometimes only wounded.
The interviews were taped by a French Catholic priest, Patrick Desbois (in photo above, holding microphone), who has devoted his life to identifying sites of what he has dubbed the "Shoah by bullets." Desbois, 51, who is the church's main liaison officer to French Jewry, began his self-appointed quest after mulling over the wartime accounts of his own grandfather, a French prisoner-of-war sent to a German camp in Poland, where he witnessed the ill treatment of Jews. —Bernard Edinger
---
Wright Synagogue Becomes Landmark
The only synagogue designed by Frank Lloyd Wright has been named a National Historic Landmark.
America's preeminent architect died before the 1959 dedication of Beth Sholom Congregation (right;www.bethsholomcongregation.org) —a soaring concrete-and-glass flat-topped pyramid in Elkins Park, Pennsylvania.
The designation "recognizes the building's importance" historically and artistically, says Herb Sachs, Beth Sholom past president, who launched the effort for landmark recognition two years ago. Landmark status is part of plans to make the Conservative synagogue semipublic: a foundation will raise maintenance funds and a visitors' center will be added.
Beth Sholom is the fourth synagogue on the National Park Service list of 2,500 landmarks. Another distinction is a plaque crediting founding rabbi Mortimer Cohen's vision of a "Mount Sinai of light" as inspiring Wright—a rare expression of collaboration by the individualistic architect, says Sachs. —Barbara Trainin Blank
Ode to Judaism
Music and prayer come together in a soulful mix at the Nachshon Minyan in Encino, California, the two-year-old creation of Cantor Judy Greenfeld (above), who founded the group to attract unaffiliated Jews.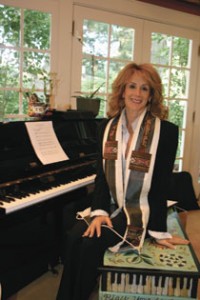 The atmosphere at minyan services (held on the first Saturday of each month and on holidays;www.nachshonminyan.org) is thoughtfully nourished. The music selections (traditional nusah paired with the folksy style of Debbie Friedman), scholarly lectures and a user-friendly prayer book adapted from the Conservative and Reform movements by Greenfeld set a welcoming mood.
"Music has a unique ability to touch and inspire, to soothe and heal," Greenfeld said. Her most recent CD release is When You Lie Down and When You Rise Up: Jewish Prayers to Begin and End Your Day in a Meaningful Way. She is also the coauthor of Minding the Temple of the Soul and Entering the Temple of Dreams (both published by Jewish Lights).
"The bottom line," Greenfeld noted, "is that the Nachshon Minyan, and hopefully similar congregations that will arise, are not a whim or a fad." —Libby Goldberg