Feature: Now is the Time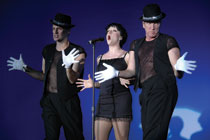 If there's anything that gets the adrenaline pumping as much as a Hadassah convention, it's the pace of New York City. This year's 93rd national convention, held July 15 to 18 at the New York Hilton, took its theme from a verse in Kohelet, L'kol zman va'et/Now Is the Time, and the phrases served as both declaration and challenge—with names such as "A Time to Rejoice" and "A Time to Honor" highlighting every session's focus. In a sold-out convention that never slept, in the go-go-go town where red rarely means stop and you can buy anything from a sundress to a bagel at 3 A.M., now is always the time.
Convention cochairs Natalie K. Silverman and Barbara B. Spack were on hand in the Grand Ballroom to welcome the 2,500 delegates to New York's newest slightly Off Broadway event. "After a year of planning and waiting, our opening night has finally arrived," said Silverman.
Commenting on the convention theme, Spack added: "Kohelet's view might have been on the somber side, but we at Hadassah are cockeyed optimists." Indeed, despite discussions of such weighty issues as the Iranian nuclear threat, the quest for Middle East peace, health care and education, convention delegates took their can-do attitude from meeting to meeting to meeting.
June Walker, in her last convention as national president, spoke about appreciating the moment. "Now is the time for us to come together to talk about the initiatives we care about, recognizing the immediacy of this moment and rededicating ourselves to our mission," she said at Tuesday night's banquet. "Every time I visit Israel and see the work of our hands, I'm inspired and invigorated."
Hadassah came to New York, but New York also came to Hadassah. At the opening plenary, Lt. Gov. David Patterson lauded the organization for its advocacy on behalf of stem cell research and the work of its hospitals in Israel. "Hadassah should be celebrated," he asserted, "not only in New York, but on the entire planet."
At the same plenary, Rep. Jerry Nadler (D-N.Y.) also thanked Hadassah for its advocacy. Just a few weeks before convention, the United States House of Representatives had finally passed the Genetic Non-discrimination Act spearheaded by Hadassah 10 years earlier. "Hadassah was way ahead of the curve in realizing that a person's genetic information should not interfere with their ability to get medical insurance," he said.
Unlike last year, at convention time Israel was not under attack, but the threat of a nuclear Iran was on the minds of many. "The world has not seen such a threat since the '30s," declared Sallai Meridor, Israel's ambassador to the United States, at the opening session. "If allowed to gain nuclear power, Iran would be an imminent threat to Israel, the U.S. and the world."
Former Ambassador Dennis Ross, who spearheaded America's Middle East negotiations for 12 years and is currently a fellow at the Washington Institute for Near East Policy, told the delegates that the key to dealing with Iran and reestablishing America's standing in the world was the use of statecraft. "Today in Iran, we have slow-motion diplomacy and fast-paced nuclear development," he said. "Statecraft is about…using our intelligence to implement our objectives, which is the essence of good foreign policy."
At a session on Iran's nuclear capabilities, Patrick Clawson, deputy director of the Washington Institute for Near East Policy, said the world would eventually have to confront Iran. "I believe there'll be a stalemate in negotiations," he said, "and then hopefully there will be a breakthrough." Michael Levi of the Council on Foreign Relations noted that Iran has been acquiring nuclear materials from Pakistan and other countries in the region. "The equipment used to build a nuclear bomb is the same machinery used to drive nuclear power plants," he said. "That's what makes this issue complicated to monitor."
Iran's President Mahmoud Ahmadinejad has called for the destruction of Israel but, said Rabbi Daniel Gordis, vice president of the Mandel Foundation, at a session on the state of Judaism in America and Israel, Ahmadinejad is not the only world leader who believes that the world would be better off without Israel.
"Israel's greatest trial right now," Gordis said, "is to win over public opinion."
A plenary on the global influence of radical Islam was moderated by Marvin Kalb, longtime correspondent for CBS and NBC News and senior fellow at Harvard University's Joan Shorenstein Center on the press. He cited a recent poll that found one-third of young American Muslims believe suicide bombing is justified in certain situations. "Are things as bad as they seem?" he asked the three panelists.
Douglas Murray, a British commentator and author, suggested that the problem is worse in Europe. "Eighty percent of Muslims polled in the U.K. regard themselves as Muslim first and British second," he observed. "Clearly Britain is doing something uniquely wrong."
"There is a civil war within Islam," said Judith Miller, author of three books on the Middle East and former New York Times reporter. "It's not going to go away— because of the Internet, because of globalization and because of a…kind of fanatical misinterpretation of Islam that must be fought, but fought by Muslims."
"It's the women of the Muslim world who will make change," said the third panelist, Irshad Manji, a Canadian Muslim journalist and activist. "They have the most to gain." She urged the audience to support dialogue with reform-minded Muslims and to advocate microbusiness loans to women in the Muslim world.
Andrea Mitchell, NBC News chief foreign affairs correspondent, brought up-to-the-minute information to the delegates, including a preview of a United States State Department counterterrorism report that had just been released. "One point of the report is that Al Qaeda has grown stronger," Mitchell said in a plenary on global analysis. "They're an insurgent threat, able to attack the U.S. and Europe; they have reorganized…along the Pakistan border."
Despite the difficulties in the Middle East, the Hadassah Medical Organization remains a bridge to peace. "We not only treat Jews and Arabs in Israel, but our doctors treat patients in Gaza, Jordan and Egypt," said Dr. Shlomo Mor-Yosef, director general of HMO.
In the past year, HMO doctors have received requests from physicians in Kazakhstan, Ethiopia and even New York for information about Hadassah's research and treatment of Crohn's disease.
"You are the real secret to why Hadassah is such a unique hospital," Dr. Mor-Yosef said at HMO's "A Time to Build" forum. "You are our partners, our family and friends. You know about our achievements and problems, you know the names of our doctors and nurses—together we can feel very, very proud."
At the same session, Dr. Yaakov Naparstek, head of HMO's Department of Medicine, described some of the hospital's most exciting innovations: a center for vascular research where doctors can open blood vessels in the brain of stroke patients and in some cases return them to full functioning; the center in which Hadassah did the first computer-assisted hip replacement and used computer-guided imagery to operate on a patient with Parkinson's disease. Hadassah physicians are using a new technology to remove pathogens from the antibodies of patients with Lupus and can even change the genetic profile of a patient by screening for disease-predictive genes.
"Hadassah is the place to do research that goes from bench to bedside, because we have both top laboratories and top treatment," Dr. Naparstek said.
Innovation, of course, needs a state-of-the-art home. To practice the medicine of the future, Hadassah's leaders showcased plans for the Sarah Wetsman Davidson Tower, for which ground was broken in March at HMO's Ein Kerem campus in Jerusalem. The 14-story tower—Hadassah's largest building project in 50 years—is scheduled to open in 2012, when the organization celebrates its 100th birthday.
The new building will bear the name of a founder of Hadassah's Detroit chapter. The largest contribution, $75 million, is from Sarah Wetsman Davidson's son, William Davidson—president of Guardian Industries and owner of the Detroit Pistons—and his wife, Karen. Thus far, the tower campaign has raised $164 million.
The future, of course, comes with a big price tag, but Hadassah is prepared, and delegates had a fun time looking at the earnings report as shown by National Treasurer Marcie Natan. "Spiel or No Spiel?" was the question on many minds as a cast of actors and Hadassah members delivered the treasurer's report in a spoof of the television game show Deal or No Deal. But what brought down the house was this year's income total of $290,798,000. An additional $10.7 million was raised at the Founder's Dinner.
And in their Take a Stand Campaign, Hadassah Young Women/Young Leaders met their three-year, $1 million fund-raising goal for stem cell research in just two years.
Hadassah has always nurtured the pioneering Israeli spirit, but now the rest of the world is catching on. In the last 30 years, Israel has developed the first cell phone, the first voice-mail system, medical-resonance imaging and a host of other innovations. "Israel is now an empire when it comes to technology," said Erel Margalit, who established one of the first venture capital funds in Jerusalem, Jerusalem Venture Partners. He emphasized the importance of extending the benefits of the high-tech revolution to all of Israeli society, a goal shared by Hadassah College Jerusalem.
"We're helping people from a wide variety of cultures, many of them the first in their families to go to college," said Nava Ben-Zvi, HCJ president. "We need to meet them where they are and take them to new places."
This year, HCJ was rated the No. 1 college by Israel's leading consumer-reporting group. "Hadassah was also No. 1 in academic quality [compared to] all the colleges and universities in the country," said Tzachi Milgrom, vice president of HCJ. "You should be proud."
In the midst of Israel's technology boom, opportunities for investment abound. At convention, the Hadassah Associates and the Professionals Councils conducted a forum on United States-Israel business opportunities that lasted five hours and featured a variety of Israeli business leaders.
"A start-up in Israel has to go global because the Israeli market is so small," explained Eran Gorev, president and CEO of NICE Systems. "[Israeli] entrepreneurs have to begin flying around the world to learn global markets from day one."
Hadassah's passion for innovation includes a commitment to the environment. "Hadassah has a long history of being involved in the Jewish environmental movement, going back to [its publication] Shomrei Adama," said Rabbi Lawrence Troster, director of the interfaith GreenFaith Fellowship Program, who asked delegates to help create a Jewish version of sustainable development.
"Ecosystem degradation hurts poor and marginalized people most," added Angelica Shamerina, who runs the environment and energy knowledge network of the United Nations Development Programme, which provides education and disburses small grants to help governments meet the development goals pledged by the United Nations. These goals address issues such as maternal health, child mortality and the need for basic sanitation and potable water in the world's poorest countries.
Global health was also the subject of a Hadassah International session that featured two prominent public-health physicians. "There have been tremendous advances in medicine and public health," said Dr. Ronald Waldman of Columbia University's Mailman School of Public Health. "Where we've failed is in getting the vaccines, the medicines and drugs into the mouths of children—we've failed to prevent illness by getting our technology to the developing world…."
Dr. Dan Engelhard, head of the Pediatric Infectious Disease Unit and the Pediatric AIDS Center at Hadassah's Ein Kerem facility, added that Hadassah's Art, Joy, Love project, started in 2005, sends Hadassah doctors, nurses and psychologists to orphanages in Ethiopia to treat children with diseases ranging from AIDS to malaria. "Thirty more volunteers will go next year, but they don't just treat the physical," said Dr. Engelhard. "Hadassah volunteers dispense love."
Convention 2007 was infused with energy from delegates of all ages, including more than 250 young leaders. "I work in a mostly male field, so I thought it would be good to join a women's organization," said Jodi Wittlin, 34, a physicist and defense analyst at the Pentagon who is a member of the Greater Washington Chapter's Yachad group. "This is my first convention, and I'm learning a lot."
Through Young Judaea, Hadassah doesn't just reach young Zionists, it creates them. Sheliha (Israeli emissary) Mijal Ben Dori of Hamagshimim, Young Judaea's college campus program, talked about how to sustain Jewish development in young people during and after college. "Young Jews are looking for a nonestablishment way to feel identified," she said. "Israel is the answer; it empowers them as Zionists who then feel able to respond to Israel's critics."
At the gala banquet, New York Mayor Michael Bloomberg received the Henrietta Szold Award for visionary leadership, activism and philanthropy. At the last minute he was unable to attend and Deputy Mayor Patricia E. Harris accepted the award for him."The only person who might be more pleased than the mayor about this award is his 98-year-old mother, a member of Hadassah who started in Young Judaea," Harris said.
June Walker, delivering her final speech as national president, gave a short history of her passion for Zionism, which crystallized when, as a girl, she watched her grandmother open a telegram that told of family members who had perished in the Holocaust. "I have dedicated my life to Zionism, and Zionism has made my life meaningful," she said. "I leave you with pride, gratitude and even relief. We are so blessed to live in a time when Israel exists."
At a convention focused on seizing the moment, sleep was a not a high priority; delegates who had danced Tuesday night away to the music of Debbie Friedman somehow still had energy on Wednesday morning at the closing breakfast for serious discussions with a variety of formidable women—and quite a few standing ovations.
In a discussion on leadership, Dee Dee Myers, White House press secretary during the Clinton Administration, asked a panel of high achievers why, 30 years after the rise of feminism, women haven't come further.
"There is still a significant gender pay gap," said Nadine Strossen, New York Law School professor and first woman president of the American Civil Liberties Union. "Women are still earning about 77 cents on the dollar."
Shifra Bronznick, president of Advancing Women Professionals and the Jewish Community, noted that women make 75 to 85 percent of the buying decisions in the family. "Why don't we stop buying from companies that don't have women in upper-level management?" she asked.
"The challenge we face now," said Ruth Messinger, president of the American Jewish World Service, "is to design a workplace that doesn't lose half the talent in our country. Men also lose when women leave the workplace."
But there was more than gender issues on the table at the closing event. Delegates marked one year since the kidnapping of Israeli soldiers Gilad Shalit by Hamas and Ehud Goldwasser and Eldad Regev by Hezbollah. Ehud's mother, Miki, and wife, Karnit, have traveled all over the world to raise awareness of the soldiers' plight. "We need you to raise your voices to your leaders and legislators," Miki told an attentive audience.
Henrietta Szold said, "There is no ending that is not also a beginning," and Hadassah's 93rd annual convention ended with what can only be called a dramatic beginning—the installation of Nancy Falchuk as the new national president.
"I stand before you filled with pride, respect and humility," said Falchuk. "I proudly accept my role of 24th president of Hadassah, the Women's Zionist Organization of America, fully aware that our organization is as relevant today as it was a century ago."
Falchuk laid out an ambitious plan that includes investing in technology that will facilitate long-distance learning; increasing voter-education programs; greater outreach to young women; more missions to Israel; and greater investment in the marketing of the organization.
"Hadassah is a global powerhouse," she said, "and we should enjoy global visibility." Falchuk also emphasized what she sees as the democratic ethos of Hadassah leadership. At Falchuk's behest, for the first time, the incoming president, vice presidents and officers were all inaugurated at a single ceremony.
As convention delegates left the New York Hilton, they took the excitement of a new beginning, some ongoing challenges and an inspiring history, packaged in three intense days of meeting and networking, back to their communities. And the adrenaline was pumping.