Birthright Israel – Trip of a Lifetime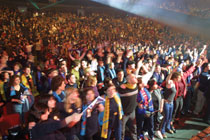 The most cherished souvenir Josh Gelnik acquired on his birthright israel trip this past winter was a small lapel pin of an Israeli flag.
"My friend Shirit, who is an Israeli soldier, gave this to me," said Gelnik, 22, a computer programmer from San Jose, California. "It was given to her unit [by its commanding officer] after the last conflict in Lebanon, so it means a lot to me.
"Meeting Israeli soldiers was one of the most powerful experiences on the trip," he added. "It gave me a perspective on the country that I couldn't get just by watching the news from home."
For Lindsay Litowitz, 24, going to Israel the first time tapped into what she calls her latent Judaism. "My journey into the Jewish community began on my birthright trip," said the Miami native. "It really did change my life, [opening] up the menu of options in the Jewish world." After her initial trip in 2004, Litowitz returned to Israel for eight months on Livnot U'Lehibanot, a community-service program based in Safed. Today, she lives in New York, where she is director of recruitment for Livnot. "I was always involved with social justice, and I'm still doing those things, except now it is in a Jewish context," she said.
To date, more than 145,000, 18- to 26-year-old Jewish students and professionals from around the world have experienced the free 10-day educational tour of Israel offered by Taglit-birthright israel (the lower case name is a branding decision).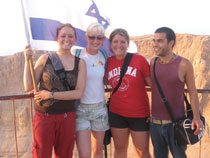 Participants return home with a renewed sense of Jewish identity and an interest in learning more. In some cases, the legions of returnees have found niches of involvement in their local Jewish communities; in others, they have created new programs through virtual and grass-roots efforts. From as far-flung corners of the world as India and Australia to North America (where the majority live), alumni are forming their own global network and building on shared experiences.
Barry Chazan, birthright israel's international director of education, explained that the program believes in "multiple pathways" to Judaism. That philosophy is applied in a dramatic way when participants return home. "The goal of this kind of education is to move people [who are] on different [paths]…to find the Jewishness that speaks to them," he said. "It's a belief that Judaism is pluralistic."
Many choose to return to Israel. According to Robin Zebrowitz, recruitment coordinator for Otzma—a leadership-development program that gives Jewish adults an opportunity to volunteer in Israel for 10 months—50 percent of its 2007 participants were birthright israel alumni. "They feel that birthright israel is a taste and they want to learn more," Zebrowitz explained. "They want to experience Israel by living and working there."
Some alumni choose to live in Israel permanently. Jewish Agency estimates show between 3,000 and 5,000 alumni have made aliya, most of them hailing from the Former Soviet Union.
New York-born-and-bred Jacob Shwirtz, 27, made aliya in 2003 after his birthright trip; today, he works at an Internet start-up and runs the birthright israel alumni chapter in Israel. "I fell in love with the country and wanted to be part of the story," he said. "[birthright israel] introduced me to a modern Israeli society that wasn't just religious. I wanted to be part of the great Zionist dream."
Even those who don't move to Israel find the experience to be a catalyst that defines their Jewish identity and changes their life's direction. Jody Portnoff Braunig's 2000 postcollege trip was such a transformational moment. "It was the first time I experienced havdala," she recalled."The first time that I connected with my Judaism."
Today, the 31-year-old resides in New Orleans and is involved in the local Hadassah chapter, has had a bat mitzva and was for a time assistant director of New Orleans Hillel at Tulane University. Recently, as birthright israel's branding manager, she started working to develop the organization's reach into the Southern United States. "After the trip, I realized I wanted to do more with my life," she said. "The trip introduced me to a different side of Judaism. For me, it was [connecting] to Jewish people, not only Israel."
Many other participants return home energized, curious about their heritage and history and, above all, in love with Israel. Sometimes that enthusiasm sparks the interests of their parents—many of whom have yet to visit the Jewish state. Several alumni revisited Israel with their families, eager to show them the country they now knew.
For Ryan Weiss, 29, of Palm Beach, Florida, returning to Israel four years after his birthright israel trip with his mother and brother allowed him to deepen his attachment to both Israel and his family. "In…Tel Aviv, my mom and I walked…from our hotel to Yitzhak Rabin Square and then we walked through the city to the beach and saw the sunset," said Weiss. "I could see she was moved."
"I always wanted to go to Israel," said Marcy Weiss, Ryan's mother, "and when Ryan came back so [touched by] Judaism, saying how he felt so welcome there, I knew it was time to go," said Weiss, a psychotherapist. "It gave us a new appreciation of how people live in Israel, and it left me wanting to see more."
To qualify for the Taglit-birthright israel program (taglit means discovery in Hebrew), now in its seventh year, applicants must have at least one Jewish parent and never have been on an educational trip to Israel. Each year, an average of 15,000 sign up from North America and 50 other countries, and the organization has plans to double the number of attendees (birthright is so successful that wait lists run into the thousands). A gift of $60 million this year from the Sheldon and Miriam Adelson Family Foundation has enabled the organization to significantly expand the number of participants.
Funding comes from private philanthropists—including program founders Michael Steinhardt, Charles Bronfman and Lynn Schusterman—Jewish organizations (Hadassah was an early sponsor) and the Israeli government. "The purpose in being one of the philanthropists involved in birthright has been to bring young people from around the world to Israel to experience the joy and love of Israel," said Schusterman.
Another reason organizers continue to sustain the program is to stem the tide of assimilation and intermarriage.
To draw in individuals from as many diverse backgrounds and interests as possible, birthright israel trips are offered through 20 different organizations. For example, the Jewish Book Council's trip, "Israel in Print," focuses on Jewish and Israeli writers and journalists. "March of the Living" precedes the Israel portion with visits to concentration camps in Poland. Shorashim's "Russian Reunion" is tailored to Russian Americans and features Russian culture. A Sefardic heritage trip, organized by the Sephardic Educational Center (with branches in Los Angeles, Jerusalem, Buenos Aires and Montreal), emphasizes Israel's Middle Eastern roots and traditions through music, food and visits to Sefardic synagogues and communities.
Every group visits core educational sights, from Yad Vashem: The Holocaust Martyrs' and Heroes' Remembrance Authority in Jerusalem to Masada. Most travel the span of the country, stopping to hike in the Galilee, take a dip in the Dead Sea and visit the Western Wall in Jerusalem. There is also a mifgash, or encounter, with Israeli peers, often soldiers who join the program.
Many alumni point to the Mega Event as a highlight of the trip. Held at the Jerusalem International Convention Center, it is a yearly gathering of all birthright groups in Israel at the time with their Israeli counterparts and alumni who live there. The exuberant celebration features Israeli dance troupes and hip-hop performers.
For Karoline Henriques, a 24-year-old from Copenhagen, the 3,000-strong Mega Event was a turning point. "I had never been around so many Jews at one time," she said. "It was mind-blowing."
Since her 2004 trip, Henriques has returned to Israel for young leaders' conferences and to study at the Pardes Institute of Jewish Studies in Jerusalem. Last winter, she participated in Leading Up North, a weeklong program that brought young Jews to Israel's northern region to help repair bomb shelters and forests damaged during the Second Lebanon War. Henriques has also become more involved with her community back home, preparing future Danish birthright israel participants for trips.
One reason the peer-group experience may be so successful is because it creates a much-needed community for young adults, many of whom are only nominally affiliated with Judaism. To keep alumni involved, in 2003, birthright israel formed a global alumni association. In partnership with local Jewish organizations, it dispatches 14 professionals to major cities in North America to track and attract former birthrighters to local Jewish happenings, including social-networking events, Jewish learning and Israel-related activities. Last year, Los Angeles alumni held an Israeli Independence Day party that drew over 800 people to the popular Avaåðlon club in Hollywood.
"The social events are attractive because we get to relive the trip," said Yael Brodt, 22, who works in retail. "I can catch up with the friends I made in Israel [in 2002] and meet new people. The most significant thing that I found on my birthright trip was a group of interesting Jews. I want to maintain that connection."
This past spring, New York-based alumni, led by dedicated baseball fan and birthright israel alumna Emily Posner, organized a kick-off event for the Israel Baseball League at Yeshiva University's Benjamin N. Cardozo School of Law in New York. That event drew 300 people.
There have been regional reunions in the South and on the West Coast and the alumni group partnered with the Boston-based David Project to offer Israel-advocacy training. Hillel: The Foundation for Jewish Campus Life includes pre- and post-trip programming for follow-through with participants. San Francisco alumni took 150 people for a wine tour and held a Tu Bishvat Seder in the cellar of Hagefen Winery in Napa Valley.
"Our approach is to always do something interactive, and apparently we hit a niche," said Eli Raber, 26, the program coordinator for Bay Area Tribe, a grass-roots organization for young adults in the San Francisco area that has partnered with birthright israel for alumni programming. "We try to incorporate people's talents and skills. We've had volunteer-led hikes. We've done salsa dancing because one of our members teaches salsa—and we had 200 people there. This population is definitely alive and wants to be Jewish and wants to be engaged. It's almost a do-it-yourself Jewish community environment."
In Atlanta, birthright israel grads have organized potluck Shabbat dinners and participated in Hunger Walk/Run to raise money for a local food bank. In Seattle, they have had snowshoeing outings, and in Washington, D.C., they have screened Israeli films at the Israeli Embassy.
Programs continue to grow. Groups are found in sparsely populated communities such as Oklahoma, with 48 members. Canada has 16,000. The largest concentrated group is 17,000 in the New York metro area.
Birthright graduates communicate via AlumNet (www.birthright israel.com) and other popular Web sites such as MySpace, where they exchange e-mails, share photos and chat online. Flickr, a photo-sharing Web site, has over 19,000 birthright israel images posted by alumni. Over 400 trip videos are posted on YouTube, the video-sharing site. Comments posted in reaction to the short videos have ranged from post-trip excitement to a yearning to return.
Michelle Citrin, a singer-songwriter based in New York who went on a birthright israel trip in 2000, has added an original song, "Dark Refrain," about her experience, to her traveling solo show.
"I was sitting on a fence in a Bedouin camp in the Arava [desert]… gazing into a blanket of stars above me and hearing Shabbat songs sung in a nearby tent," Citrin recalled. "It was such an inspiring moment that I wrote the song." The lyrics reflect on Israel's trial and desire for peace:
The skies have fallen
And the lands taken by the rains
A world of wonders
And the prophecies to claim
All that's left here
Is heaven, no dark refrain.
Alumni have also taken leadership roles in birthright israel itself, as guides and group leaders. Gabriel Buznick, a lawyer from Buenos Aires, has returned several times to staff trips after his own experience seven years ago.
"The trip changed my connection to Israel," said Buznick, 29. "I now feel I have a duty toward Israel. That I have to show these 40 people [on each trip] the best of Israel."
Buznick also works with alumni programming in Buenos Aires—organizing Shabbat dinners, Hanukka parties and community volunteering.
"The results in Argentina are awesome," he added. "Participants return very happy and wanting to get more involved in the community."
Jacob Shwirtz maintains an e-mail list of 550 Israel-based alumni. Last year, the group met for winery tours and bar hops. "We have alumni on kibbutzim, in the Army, at study- abroad programs," he said. "There are people who have gotten married in Israel. There's diversity from religious to secular."
For years, the organized Jewish community has been trying to figure out how to "turn on" the younger generation to Judaism and Israel. In some ways, by offering them a free taste of their Jewish heritage and introducing them to Israel, birthright israel has galvanized young Jews—and the greater Jewish community is benefiting to an extent never imagined.