Letter from St. Petersburg: Ready for Reform?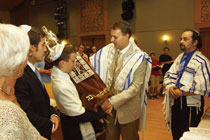 There is movement afoot in Russia's evolving Jewish scene, change that could signal more liberal religious opportunities for the region's Jews.
In the heart of Russia's second largest city, a new house of worship—the first of its kind—will soon open its doors. After years of bouncing around second-rate rental properties, Sha'arei Shalom, St. Petersburg's tiny Reform community, is getting a synagogue of its own.
It's a first for Russia's cash-strapped Reform movement, which has never before been able to raise funds to buy property. Renovation of the building was supposed to be completed in August, but the drone of construction noise is expected to continue for a few more months. Yet the missed deadline has done little to dampen the optimism.
Leaders see the synagogue as a sign that progressive Judaism, as the movement is known in the Former Soviet Union, is finally coming into its own.
The shul's location—overlooking the wide banks of the Neva River—is loaded with symbolism. Its large bay windows will afford views of the historic Aurora battle cruiser, moored within a few hundred feet of the synagogue. The ship is famed for firing the first shot of the 1917 Bolshevik Revolution.
Reform leaders aren't shying away from melodramatic comparisons. They hope the new shul will do nothing less than kick-start a revolution of its own, bringing the still obscure movement to the forefront of St. Petersburg Jewry, and then the rest of Russia.
"We existed for 16 years, but real expansion of Reform Judaism in Russia will begin with this building," said Rabbi Stas Wojciechowicz. Young and energetic, the 30-year-old rabbi came to Sha'arei Shalom this past June and sees his congregation as a flagship, leading the way for small Reform communities across the FSU. A native of Uzbekistan, Wojciechowicz arrived in St. Petersburg shortly after receiving his rabbinical ordination from the Hebrew Union College–Jewish Institute of Religion in Jerusalem.
The enthusiasm for the shul's potential did not begin with Wojciechowicz. His predecessor, Rabbi Michael Farbman, who founded Sha'arei Shalom and spearheaded the purchase of the property, ardently promoted the congregation for years. In fact, some observers regard the synagogue purchase in St. Petersburg as a one-time event, made possible only because of Farbman's relationship to the London synagogue that donated most of the funds (Farbman had worked at the shul).
"The congregation has had moderate success, but when it gets this synagogue built, I think Sha'arei Shalom can get a huge buzz going," Farbman said earlier this year before his departure. "People won't just know that some Reform community exists somewhere in the city. Reform Judaism will actually be able to stand out and stand on its own."
Farbman, a native of Belarus, came to St. Petersburg in 2004. Sha'arei Shalom's first place of worship was in the basement of a condominium. Funded by the Union of Organizations for Modern Judaism in Russia (known by the Russian acronym OROSIR), it became St. Petersburg's Reform outpost.
Initially struggling to attract members, Sha'arei Shalom's membership has grown in the past two years, rising from just a few dozen to about 300 people.
The expansion caught planners off guard. High Holiday services in 2006 had to be split up at the last minute into two haphazardly organized sessions; the synagogue's cramped basement space couldn't accommodate the 200 worshipers. Shabbat services regularly draw 50 people.
Wojciechowicz attributes the increased attendance even prior to the opening of the new shul to Sha'arei Shalom's grass-roots information campaign—but that's only part of the story. He says Sha'arei Shalom's growing numbers are a testament to Reform Judaism's compatibility with Russia's secular and highly intermarried Jewish population.
Statistically speaking, Wojciechowicz is right. Based on information compiled by the Jewish People Policy Planning Institute in Jerusalem, 80 percent of Jews in Russia have married out of the faith. And according to a recent study carried out by Vladimir Shapiro, a leading Russian Jewish sociologist, most of them prefer Reform to other branches of Judaism. By comparison, fewer than 10 percent of respondents expressed preference for the Chabad movement that dominates Jewish life in the FSU and less than 5 percent chose non-Hasidic Orthodoxy.
"Many Russian Jews turn to Reform Judaism because of the mixed-marriage issue," noted Rabbi Alexander Lyskovoi, head of Russia's Reform movement, based in Moscow. "Many are rejected by [Chabad-run synagogues] because they cannot provide documentation of their Jewish lineage." Russia's Reform congregations have an open-door policy: They take anyone who is interested, but for marriage, they insist on a conversion ritual.
Women are also drawn to Reform's more liberal interpretation of Jewish laws and customs. In St. Petersburg and elsewhere in the FSU, the Reform movement is the only option for women who want to take on an active role in worship.
"Modern Judaism resonates much more with me," said Mira Vitmann, a 38-year-old schoolteacher and St. Petersburg native. Vitmann comes from an Orthodox background, and she regularly attended the city's historic Choral Synagogue during the Communist years, a time when Orthodoxy was rarely practiced.
But exasperated with the limitations placed on women by Orthodox Judaism, she made the switch to Reform four years ago, just before the founding of Sha'arei Shalom.
"I read Hebrew perfectly and yet I am not allowed to read from the Torah," Vitmann said. "I will never be able to come to terms with this. I believe that God wants us to be free-thinking individuals, and modern Judaism lets me express myself to the degree that I desire."
But despite the positive signs, Sha'arei Shalom has not witnessed massive conversions of the Orthodox or secular populations to Reform. After all, the city's Jewish population numbers 100,000.
For the majority of St. Petersburg's Jews who come out to celebrate Jewish holidays, the choice seems to be anywhere but Sha'arei Shalom.
"I might not understand anything that goes on in the Choral Synagogue, but at least I walk away feeling like I went to a real service and a real synagogue," said Michael Kulikov, a 29-year-old marketing director for a St. Petersburg movie theater.
"It's a question of image," said Farbman. "Moving from place to place doesn't impart a feeling of permanence and significance to our movement. And the facilities, well, they are not what you would call optimal."
The poorly ventilated basement space Sha'arei Shalom had rented was no match for the majestic dome-capped 19th-century building housing the Choral Synagogue, which the Chabad movement now calls home.
But the renovation of the shul for Sha'arei Shalom is setting a welcome precedent.
The synagogue's $2-million price tag equaled two years of OROSIR's budget for the entire FSU. The centrally located, two-floor, 5,000-square-foot property is designed as a multiple-use space that will contain a library, kitchen facility and classrooms reserved for a Jewish day school and youth club. The synagogue's main hall will convert from a spacious prayer hall into an auditorium for cultural programs and a conference room for educational seminars.
Though Reform leaders expect a growth spurt to accompany the opening of their new space, they acknowledge that lack of a proper house of worship has not been their only impediment in attracting congregants. Understandably, rivalry from entrenched Jewish organizations has proven equally difficult to overcome.
Ever since the underground Jewish cultural movement cautiously emerged in the late 1970s, St. Petersburg's Jewry has steadily nurtured a rich cultural life. From contemporary Jewish literature book clubs and Yiddish drama troupes to annual klezmer music festivals to youth camps and afterschool programs, the range of Jewish options today rivals that of the biggest American cities.
Therefore, instead of battling existing Jewish institutions, Wojciechowicz plans on integrating them into Sha'arei Shalom's orbit.
"We have relationships with major Jewish organizations in the city and serve as a Jewish resource for most of them," he explained. Combined usage of the new space would be mutually beneficial and would strengthen relationships.
But there is one element of Jewish life—a very big one—against which Sha'arei Shalom will most likely continue to compete. Since the early 1990s, Russia's disparate Jewish centers have come under the influence of the Chabad-run Federation of Jewish Communities. As Russia's largest and best-funded Jewish organization, FJC spans the entire post-Soviet bloc and counts over 100 communities. And though FJC is credited with keeping Judaism alive through the turbulent 1990s by providing much-needed social and religious services, many bemoan the organization's seemingly iron grip on Jewish life in the FSU.
"Even 16 years since the collapse of the USSR, the majority of Russian Jews know very little about Judaism and what it means to be Jewish," said Wojciechowicz. "For them, it is not easy to make a distinction between the different movements."
Chabad's authority and reform's rejection of the traditional symbols of Judaism that many secular Russian Jews have come to accept as dogma—the black garb of rabbis or the clear delineation of gender roles—have caused many Russian Jews to eye the Reform movement with distrust.
And though Russian Jews are predominantly secular, "many tend to think we are not really Jewish," Lyskovoi said with a wry smile. "Some even think we launder Jewish identity for non-Jews who want to immigrate to Israel."
"I know many Reform Jews, and some of them are my friends, but come on! They allow women to be rabbis—that's not Judaism," said a leader of a secular Jewish youth movement in St. Petersburg. He asked not to be identified lest he strain relations in the city's tightly knit Jewish community. He is nonobservant but maintains a reflexive loyalty to Orthodox Judaism and Chabad.
But Wojciechowicz is unfazed. He is certain that Reform Judaism will grow by leaps and bounds.
"We are new and vibrant and have a lot to offer to the Jewish community, and people recognize this," he avowed. "We make Judaism diverse and attractive." The stereotypes will vanish with education and patience, he believes.
"Russian Jews don't want to explore Judaism because they don't think that it can coexist with their current lifestyle," Farbman said. "But that's exactly what the Reform movement is all about: We want to teach people that a synagogue and Judaism can have a place in modern life."
But Reform Judaism may be facing more of an uphill battle than its leaders admit.
Although studies show that Reform's message is gaining credibility among Russian Jews, the surveys also underline the extreme secularization of the community and the difficulty any religious movement faces in attracting their interest. Shapiro's study showed that well over 50 percent of those polled exhibited no interest in Judaism as a religion—period. Instead, respondents viewed their Jewishness as a mix of racial and cultural identity. Religion had nothing to do with it.
Yasha Levine is an editor at the Moscow-based alternative English-language weekly The eXile.