Profile: Theodore Bikel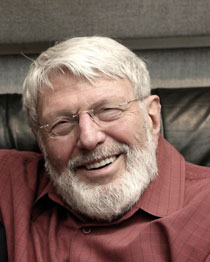 With guitar in hand, this legendary Jewish performer and activist transports his music and message of peace to communities in stress around the world.
Theodore Bikel's cell phone rings. "If I Were a Rich Man" chimes out appropriately, though it is hardly a match for the rich and still robust baritone of the man who played Tevye in over 2,000 stage performances for 40 years. In fact, Bikel's talents add up to no less than an embarrassment of riches. His versatility spans stage, screen and television. He is an actor, folk singer, lecturer, raconteur and political activist.
At 83, he maintains a relentless concert schedule. Bikel calls Los Angeles home but describes himself as "the flying Jew." He has just returned from Poland: In addition to performing concerts there he is part of Beit Warszawa, a Jewish cultural organization. His other recent travels include Canada, Israel and Cyprus.
At last summer's north American Jewish Choral Festival in Kerhonkson, New York, where he received a lifetime achievement award, Bikel transported the audience to different eras through his subtle mastery of character. His timing is as impeccable as his diction. In suspenders and rolled-up shirtsleeves, with his plentiful white hair boyishly combed down over his forehead, he leans into the microphone. Now he strums his guitar among early Zionist pioneers, next amid Russian Gypsies. Now he's Captain von Trapp crooning the tender "Edelweiss"; now he evokes the lost Yiddish world of his own childhood. And suddenly, he is on his feet in front of the Soviet Embassy, his arm raised in protest, "Nye Byussa!"—I do not fear (anyone)—on his lips.
The group was mesmerized. "He's the voice of my childhood," said Cantor Erica Lippitz, one of the participants.
Festival founder and director Matthew Lazar has known Bikel since 1973. He described him as "a moral conscience, a complete human being who conveys his humanity and emotional integrity in an effortless and direct way."
To Bikel, acting and singing are "as important as breathing." As he writes in his autobiography, Theo (University of Wisconsin Press), actors "make children laugh and clap their hands and grown-ups forget the burdens of the day, and that's just as important as sending them off to learn a lesson."
His autobiography overflows with names of prominent actors with whom he has worked, from Sir Laurence Olivier and Vivien Leigh onstage in A Streetcar Named Desire to Humphrey Bogart and Katherine Hepburn in The African Queen, his first film role.
And he has just completed a cameo in The Little Traitor, a film based on Amos Oz's novel Panther in the Basement (Harvest Books).
His aptitude for language—he speaks five fluently (English, German, French, Hebrew and Yiddish) and two passably (Russian and Spanish)—has enabled him not only to sing in 23 languages but to land numerous roles, most aptly the Hungarian linguist Zoltan Karpathy in the film My Fair Lady. His television credits range from Star Trek and Dynasty to Murder, She Wrote and All in the Family. He received an Emmy Award for Harris Newmark, in which he portrayed a German-Jewish pioneer of the West, and an Academy Award nomination for Best Supporting Actor as the Southern sheriff in The Defiant Ones.
Though he asserts that the arts don't have to have an agenda, for Bikel, art and activism will forever be intertwined. Born in Vienna in 1924, he recalls that, as a boy of 13, he fearfully watched neighbors cheering Hitler and Goering as they rode by in open limousines. Some of his neighbors were silent, but they did nothing. Later, he says, "it became clear that I would never ever put myself in the place of the nice people next door who said 'It's not my fight.' It's always my fight. Whenever I see an individual or group singled out for persecution, there's a switch thrown in my mind—and they become Jews." To that end, Bikel has fought on behalf of civil rights (he once sang a Yiddish socialist song at a black church in Birmingham, Alabama) and has been arrested several times: with civil rights marchers; protesting apartheid in South Africa; and demanding an end to repression in the Soviet Union. Today, he lends his voice against genocide in Darfur and is chairman of the progressive Zionist organization Meretz USA.
Bikel also performs with an orchestra whose members are Christian and Muslim survivors of the Bosnian War in a series of concerts called Bridge to Peace. On the group's 2005 tour of Poland, a Bosnian Muslim cellist played Kol Nidrei in a Krakow synagogue. "I'm an idealist with occasional forays into reality checks," says Bikel. "I dream of better worlds—and then I try to do something about it."
Peter Yarrow, of Peter, Paul and Mary, recalls a Seder Bikel and he attended in 1967. "He turned that Seder into a peace march," Yarrow says. "Theo is much more than a superb performer. He has always used his music to advance social justice efforts—tikkun olam—that were coincident with the thrust of his songs." Yarrow, who was 14 when he met Bikel, calls him one of the most influential leaders of the folk music renaissance in America, especially as a cofounder of the Newport Folk Festival in 1961.
Throughout his career, Bikel has protected the interests of his peers. The actors' strike of 1960 and a personal incident—not being given time off for Yom Kippur while performing in The Sound of Music—prompted him to become active in Actors Equity. He has served Actors Equity as both vice president and president and was vice president of the International Federation of Actors from 1981 to 1991. He is currently president of the Associated Actors and Artists of America. And Bikel proudly acknowledges his "midwifely role" in the establishment of the National Endowment for the Arts and the National Council on the Arts.
"People only see Theo as Tevye, but he is a serious thinker and an askan tziburi, someone who works for the good of the community," says Rabbi Zalman Schachter-Shalomi, a leader of the Jewish Renewal movement who enjoys reminiscing with Bikel. Though they didn't know each other in their youths, both men were born in Vienna and are the same age.
Bikel's talent for performing started early. He sang before he talked and insisted his mother spread newspapers on the floor as a sort of stage. He has his mother's good voice and her sense of humor. ("My parents' names were Joseph and Miriam; my name should be Jesus," Bikel deadpans.) His father, too, was a "fountain of song," an intellectual and amateur actor who worked as a clerk and insurance salesman, Bikel says.
His father was also an ardent Zionist who named his son for Theodor Herzl (Bikel was even born on May 2, Herzl's birthday). Joseph Bikel moved his family to Israel in 1938, landing in Tel Aviv on Rosh Hashana.
Imbued with the pioneer spirit, Bikel attended the Mikve Israel agricultural school and joined Kibbutz Kfar Maccabi, "neglecting to observe I had neither talent nor inclination for agriculture," he recalls. "I stood on heaps of manure singing about work I wasn't doing." He found an abandoned guitar and taught himself to play, but never learned to read music properly. The kibbutz sent him to a cultural seminar—and the rest is history.
He joined the Habimah Theater in 1943 as an apprentice actor; a year later, he cofounded the Cameri, the Israeli chamber theater in Tel Aviv. At 22, he moved to London to study at the Royal Academy of Dramatic Art. Impressed with his work at small London theaters, Olivier cast him in Streetcar. In 1954, Bikel appeared on Broadway in Tonight in Samarkand; he fell in love with New York and made the United States his home.
Bikel has performed solo recitals as well as with symphony orchestras and opera companies (he has also appeared at a Hadassah national convention). Many of his 22 recordings feature Jewish, Israeli and Yiddish folk songs. His recent CDs are In My Own Lifetime: 12 Musical Theater Classics (Jewish Music Group) and Our Song (Sameach Music), duets in Hebrew, Ladino, Greek, Yiddish, Serbian and more with Cantor Alberto Mizrahi. "I make no claim that the Jewish song is better than the song of my neighbor," he writes in Theo. "But it is mine. And since it is the song of my people, it is up to me to cultivate it lest the blooms wither and the garden becomes bare and desolate."
"The actor and the musician in me inform each other," says Bikel. "From music I inherit a sense of timing; from acting I can tell a story in song." The song he has sung most is Jacques Brel's "If We Only Have Love," which he performed at a reception for Madame Jehan Sadat after the signing of the Camp David peace accords.
Despite his impressive general accomplishments, Bikel is often still viewed as a Jewish performer. "I'm a Jew who loves and knows the tradition, who has studied a lot and speaks the languages of my people," he says. Urging Jews to study their own tradition instead of turning to others, he says, "We all have an attic. Our grandfather's attic is full of wonderful heirlooms, most of them dusty and dull. A little dust on an old heirloom is not so terrible. We can brush it off and make it shine again."
As Tevye, he did just that. "I played my own grandfather, Reb Shimon Bikel," he says, calling the role preordained: Sholem Aleichem works lined the shelves of the Bikel home in Vienna; when the family fled, his grandmother had the books sent to Israel. At 13, he was a bar mitzva boy in Sholem Aleichem's It's Hard to Be a Jew (his father played the father); cast again in the show in London 12 years later, he played the father himself. His first paid role at Habimah was as the constable in Tevye the Milkman, on which Fiddler is based.
There are some things bikel does not do well. He claims to be a clumsy dancer, isn't good at sports and doesn't know the rules of baseball. He used to be an avid chess player but these days is a Scrabble fiend, playing it by Bluetooth on planes and trains. And he is a now a grandfather: his son Rob, 37, recently had his first child. Bikel's other son, Dan, is 35 and works in research at IBM (both children are from his second marriage, to Rita Weinberg Call).
"I keep slugging away at things of importance," he says. "The Yiddish language, which was almost murdered along with the six million; a sense of Jewish community that believes justice to be more important than politics; a Zionism true to its origins and not to a pragmatic accommodation of circumstance…."
As Bikel continues to travel to "places of stress in times of stress," he takes his guitar with him. That, he says, "is the only weapon I have—or care to have."