Inside Hadassah
November is a month of Zionist anniversaries: England's Balfour Declaration (1917), stating the need for a Jewish homeland; the United Nations' vote to partition Palestine (1947) into both a Jewish and an Arab state; and the Israeli-Egyptian peace treaty (1979). These milestones remind us of our historical link to Israel.
We focus on these links in the stories about Hadassah–WUJS Arad, Hadassah at Virginia Tech, a new nurses' award in Lee County, Florida, and the new Physicians' Council's upcoming conference in Israel. I hope this month inspires you to plan a trip to Israel soon. —Ruth G. Cole
---
Four Stars for Hadassah
For anyone who has wondered how nonprofits manage their money, Charity Navigator is an invaluable tool. Recently, the independent charity evaluator gave Hadassah a four-star rating—the highest possible—indicating that the organization "outperforms the majority of nonprofits in America with respect to fiscal responsibility," according to Trent Stamp, president of Charity Navigator.
Charity Navigator (www.char itynavigator.org) is highly regarded in philanthropic circles for its data-driven analyses. Over 5,000 of the best known American charitable organizations are rated in two broad areas of financial well-being: how responsibly they function day-to-day as well as how well positioned they are to sustain their programs over time.
A Friend Indeed
The town of Blacksburg, Viriginia, was overwhelmed with grief last April when a student on the campus of Virginia Tech went on a shooting spree, killing more than 30 fellow students and professors.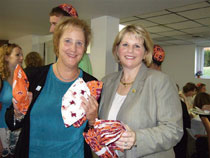 At the start of the new school year in September, Hadassah members gathered at the campus to show continued solidarity with the students who bravely returned to class after last semester's tragedy.
Hadassah's Southern Seaboard Region held its annual board meeting in Blacksburg—some members driving as far as 350 miles each way to be there. About 30 of them attended a Friday night dinner together with 65 Virginia Tech students from the local chapter of Hillel: The Foundation for Jewish Campus Life.
"You're probably wondering, 'Why are the Hadassah ladies here?'" said region President Mindy Bloom at the dinner. "We're here because you're here. We are here to be with you and to not only tell you, but to show you we care." The Hadassah visitors presented Hillel with 300 kippot in the Virginia Tech Hokies' team colors. "The students just loved them," Bloom reported.
A memorial ceremony was held on Sunday for those slain in the attack, including Israeli professor Liviu Librescu, who was killed while heroically trying to save his students.
---
One VOICE
November is election month, and the 2008 presidential campaign is already creating a buzz. In addition to a new president, Americans will be electing a full House of Representatives, one-third of the Senate, 11 state governors and many local officials.
To help people make informed decisions, Hadassah's American Affairs/Domestic Policy department has launched Hadassah's VOICE: Voter Impact through Community Education. The initiative challenges every unit in the country to get involved in nonpartisan activities to educate voters on candidates and the electoral process as well as key issues such as Israel, Iran, health care and energy and the environment.
For more information about Hadassah's VOICE, contactamericanaffairs@hadassah.org or call 212-303-8136.
---
Designs of Distinction
Graphic Design USA magazine recently awarded Hadassah Magazine six prizes in the category of Overall Publication Design.
The issues that received citations are:
May 2006 (cover story on art looted by the Nazis)
August/September 2006 (cover photo from the Second Lebanon War)
November 2006 (cover story on travel in Vancouver)
December 2006 (cover story on Tel Aviv's flourishing cultural activities)
March 2007 (cover story on graffiti in Israel)
May 2007 (cover story on poet Robert Pinsky)
---
Honoring Service
The Lee County, Florida, chapter of Hadassah has initiated the annual Rose of Care award for a worthy nurse in the area.
"We feel that nurses are the unsung heroes of the medical profession," says Sylvia Simko, immediate past president of the chapter. "This is a way to thank them for their work." The recipient of the prize will have the opportunity to participate in the Hadassah Nurses' Mission to Israel in March 2008 and will receive a pin specially designed by a local jeweler for the occasion; it will be presented at a gala event on January 29, 2008.
A committee of local business and health-related professionals will select a winner from over 100 nominees based on the nurse's contribution to the field.
"We're looking for someone who gives more than just '9-to-5,'" Simko explains. "There are really unbelievable stories."
"We felt it appropriate to have this sponsored by Hadassah," says Linda Sweet, chair of the project, "since our organization began when Henrietta Szold sent nurses to Israel to help [stop] rising infant mortality."
---
What's Up, Doc?
The brand-new Hadassah Physicians' Council hopes to reach out to thousands of American medical doctors who recognize the importance of the healing and research done by the Hadassah Medical Organization in Israel.
The council was officially formed at the Hadassah national convention in July, and it is already working on its first major event: "From Concept to Cure," a Continuing Medical Education conference to be held March 23-26, 2008, in Jerusalem, cosponsored and accredited by Emory University School of Medicine.
The conference will highlight Hadassah's cutting-edge research and world-renowned therapies. Options will be available for pre- and post-conference touring, and a concurrent program for physicians' spouses will be offered.
In addition to sponsoring continuing education, the Physicians' Council provides a forum for exchange among doctors who are Hadassah members and Associates and their colleagues in Israel.
"We hope to offer other opportunities for networking as well as to be a resource for Hadassah for its various health-related initiatives," said Dr. Rachel Schonberger, Physicians' Council chair.
The council will rely mostly on electronic communication, keeping in mind the busy schedules of professionals.
For further information, e-mail professionalcouncils@hadassah.org.
---
A Development in Arad
Suzy Sostrin, 29, took a break from her graduate courses in traditional Chinese medicine to spend a semester in Israel at Hadassah-WUJS Arad. "I was trying to figure out if I wanted to continue my studies and I used this time to…decide," she explains.
Upon her return, she chose to dedicate herself to Jewish communal work and is currently program director at Hillel: The Foundation for Jewish Campus Life at San Diego State University.
Sostrin is one of nearly 200 graduates of Hadassah-WUJS Arad since Hadassah's initial involvement in the program four years ago. Once affiliated with the World Union of Jewish Students, the program offers college graduates, ages 21 to 35, Hebrew classes, elective courses and day and overnight trips.
The Hadassah-WUJS course is five months long and offers start dates in October and April. There are three specialty tracks: Land, Language & Society, which involves extensive Hebrew learning and in-depth Israel and Jewish studies; Peace & Social Justice, consisting of a semester of study followed by an internship; and Arts, which fosters creative exploration of Israel and Jewish identity.
Wujs arad was founded in 1968, but in the last decade was not reaching its potential, according to executive director Alon Friedman. "The board of directors wanted to transfer control to a body with more experience doing Israel programming," he explains. "Hadassah, through Young Judaea, was known to be successful at growing their Israel programs." Hadassah officially took over in 2006.
"We are a Zionist education program designed to strengthen Jewish identity of young adults," says Friedman. "We encourage them to find a place for themselves in Israel." About 31 percent of graduates choose to make aliya.
Josh Ravit, from Burlington, Vermont, came to WUJS Arad as a recent college graduate in 2005. In February 2007, he completed 16 months of service in the Israel Defense Forces as a foreign volunteer. He now lives in Tel Aviv.
"I hadn't decided to stay when I came," he recalls. "On a tour of a combat infantry base at Tel Arad, I met an American serving in the IDF, and I decided I was ready to give more to the state."
Sostrin also wanted to lend her time and skills to Israel. She volunteered in the bone marrow transplant unit at Hadassah Hospital in Jerusalem.
Hadassah-WUJS takes an active role in the community, intertwining itself with daily life in Arad, a development town in the Negev Desert. In September, Hadassah-WUJS began a free ulpan for refugees from Darfur, in response to the concerns of adult refugees that they would lose touch with their children, who would more quickly learn Hebrew and integrate into Israeli society.
Twenty-five percent of students at Hadassah-WUJS Arad come from countries as far flung as Burma, India, Slovakia, Poland, South Africa and Australia.
"It was great to meet Jews from all over the world, to study Hebrew with them," Ravit adds.
For information about Hadassah-WUJS Arad, call 888-WUJS-INS, or e-mail info@wujsarad.org.