Feature: Pilgrimage and Return – The Road to Morocco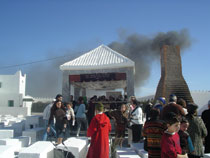 In record numbers and a joyous mood, some 3,000 Jewish visitors flew to Morocco last spring from countries such as Israel, Canada and France. The goal of these travelers, who were mostly of Moroccan descent, was to make a time-honored pilgrimage to the gravesite of one of the hundreds of revered "saints," tzaddikim known for their righteousness, learning and wisdom.
Some of the sites are near cities; others are isolated on lonely mountain roads in regions that once had a strong Jewish presence. The annual crowds of pilgrims have become so large that housing and security needs are a challenge.
In typical Moroccan Jewish fashion, a pilgrimage means lingering to enjoy a gigantic hiloula—a two- to three-day event that fuses a carnival atmosphere with deep spiritual nourishment. It is an affirmation of identity shared with hundreds of others who typically have the same geographic roots. They anticipate miracles that go along with touching a memorial stone, praying, eating, singing and lighting candles in harmony.
"It gives you a lot of comfort," said Sammy Bencherit, 64, who was born in Casablanca and now lives in Paris. For the past two years, encouraged by friends, he has begun attending the annual hiloula for rabbis of the Abuhatsira family in the Tafilalet region in February.
In April, as well, Jews of Moroccan descent, increasingly with extended families and friends in tow, fly in to celebrate a gala Passover in the land of their ancestors. Six hotels—four in Marrakesh and two in Agadir—accommodate the crowds, reported Serge Berdugo, president of the Moroccan Jewish Community and the country's former minister of tourism. Kosher caterers and rabbis have been brought in to meet the needs of the 4,000 visitors.
Other Moroccan Jews are returning individually to seek out business opportunities in the economic miracle that characterizes the country today, evolving out of its political stability, proximity to Europe and business-friendly environment.
Consider Eli Dayan, an Israeli lawyer and former mayor of Ashdod, who was born in Morocco. He has become an adviser to Israeli investors interested in Morocco. This requires him to spend more and more time in the country. Because he is fluent in French and Arabic—the languages of the land—and knows Morocco's arcane ways, his services are much in demand.
Morocco's Jewish community was considered in permanent decline since people began to trickle out in the 1950s, when the pressure to leave was triggered by fears of growing anti-Zionist sentiment and an eagerness to make aliya. At the same time, in 1956, the government imposed restriction on aliya, and Zionist activity was forbidden. Still, Jews continued to leave and in 1963, two years after King Hassan II ascended to the throne, he lifted restrictions on immigration to Israel.
Prior to the 1960s, Jews had lived uninterrupted in Morocco for more than 2,000 years. In 1948, the Jewish population of this North African nation was over 250,000. But the country was poor and Jews were no longer treated well because of anti-Zionism. When Morocco gained its independence from the French in 1956 and joined the Arab League, Jews felt even more certain they had no future here. By 1967, only 60,000 remained. The Six-Day War stirred anti-Israel and anti-Jewish feelings and some Moroccans called for an economic boycott against Jews. Many educated and successful Jews left the country, and by 1971, only 35,000 remained. More recently, an estimated 5,000 Jews lived here, mainly in Casablanca and Marrakesh.
Today, however, this exodus is reversing itself. Jewish communal life is enjoying a broad-based revival as some returning Moroccan Jews end up purchasing a retirement or vacation home and participating in its tourist boom, increasingly popular among Europeans. Decaying synagogues are being restored and reverberate once again with ancient chants and the chatter of wide-eyed visitors.
Clubs, kosher restaurants and Jewish day schools function with renewed vitality. The two Jewish day schools in Casablanca are now considered of such high academic caliber that educated Muslim families compete to get their children accepted for the 25 percent of places reserved for non-Jews, reported Berdugo, now ambassador-at-large for the Moroccan government.
"I have found old friends here," said Baby Dahan, 64. A retired entertainer, he thought he had left Morocco permanently for France 35 years ago. But yearning for the warmth of childhood memories, Dahan purchased an apartment in Marrakesh in 2004 and now lives in what he calls his "Eden" for much of the year. He senses less anti-Semitism in Morocco than in France nowadays and, he said, "for just a little money you can live so well."
And the 10-year-old Moroccan Jewish Museum of Casablanca in the suburb of Oasis (011-212-2299-49-40)—the only Jewish museum in an Arab land—is becoming a locus for Jewish artifacts that were abandoned 50 years ago in the rush to leave.
No figures have yet been compiled on how much the resident Jewish population is actually expanding. Many newcomers have homes in other places, where their families may live. So, although they may temporarily swell the population, staying for months at a time, they tend to "keep one foot in and one foot out," noted Sir Charles Dahan, world vice president of the Federation of Moroccan Jewry.
There are valid reasons, Dahan explained. Morocco is still an Arab Muslim land, albeit progressive, tolerant and politically stable. Nevertheless, terrorist incidents and extremist Islamic agitation cannot be ruled out (there was a terrorist attack in Casablanca in May 2003). Nor can the possibility of a less secular regime taking over be ruled out, although that is considered unlikely.
However, the repeated public support of Jews by the current young king, Mohammed VI, has made the nation much more appealing than it has been in a long while. As well, there are policies that favor Jewish life, such as financial subsidies for Jewish schools and clergy, public pronouncements encouraging Jews to return as well as ongoing protection and official sanction for Jewish institutions and events such as the hiloula.
Besides, said Liliane Shalom, vice president of the World Sephardi Federation who was born in Morocco but now lives in New York, Moroccan Muslims have long believed that "the Jews bring them luck," so they tend to treat them well.
All of which promotes a sense of security that was enough for one of Dayan's Israeli investment groups to purchase land earlier this year in the northern port of Tangier and immediately start construction on a $40-million project that will include a hotel, apartments and shopping mall.
Israelis have also been active in providing farming know-how and equipment for Morocco's semi-arid plains on the edge of the Sahara Desert, where lush orange groves are replacing the dun-colored grit and dry pebbles that litter the landscape. "We have a lot of agricultural specialists going to Morocco," said Haron Abuhatsira, director general of the Gathering of Moroccan Jews Worldwide, who lives in Ashdod.
Overall, he estimates that around 30,000 Jews now visit Morocco from Israel each year. Only a few hundred came in 1984, the year travel to Morocco opened up again for Jews; local Jewish leaders, who were rising in the ranks of government, had pressured the king to permit those living abroad to return, if only for their sacred pilgrimages and to visit relatives who had stayed behind. Some of those visitors put down permanent roots. For instance, the stocky and jovial Raphael Elmaleh genuinely feels he has come "home."
Born in Casablanca in 1961, Elmaleh left for boarding school in England at the age of 9, remaining there to study and work, later moving to Israel. In 1986, after a 17-year absence, he flew to Morocco to visit his aging mother, who persuaded him to stay for a while. He worked first for the American Jewish Joint Distribution Committee, helping to identify Jews living in remote villages who wished to immigrate to Israel.
Today, Elmaleh is a successful tour guide, escorting the increasing numbers of Jewish groups that come for vacations or festivals. He is particularly sought after for his knowledge of Moroccan Jewish historical sites, which he is helping to identify and catalog—his hobby and passion.
One of Elmaleh's favorites is an adobe synagogue that he first heard about a few years ago from local Berber villagers and subsequently helped to restore. Close to the ancient trans-Sahara caravan routes, the layout of the ruins suggested origins going back to the arrival of Jewish traders in antiquity. One clue was the key to the outer wall of the synagogue complex—a wooden stick with pegs similar to early wooden locks used in Persia around 700 B.C.E.
Renewed interest in such sites has resulted in a revival of pride among Moroccan Jews in their long and rich heritage. In centuries past, they had enjoyed close contact with the Berber villagers of the Atlas Mountains—a relationship that gave them many of their unique rituals and customs, such as painting a bride's hands with henna. Other Jews had settled in cities, becoming artisans and shopkeepers and creating academies of Jewish learning.
These communities became even more culturally diverse after the Jews were expelled from Spain and Portugal at the end of the 15th century.
Some 12 years ago, aware that so much history was being lost, community leaders formed the Foundation for the History and Culture of Moroccan Jews. Today, the foundation is an integral part of the work of the Jewish Museum. To date, says Simon Levy, a retired history teacher and the foundation's secretary general, it has spearheaded the restoration of synagogues in Tangier, Fez, Meknes and Tetuoan as well as former settlements along the caravan routes in the south.
Some 40 boxes of documents found in those synagogues have been brought to the museum for analysis. However, without the funds to bring in specialists from abroad to decipher them—many are written in a dialect that uses an archaic Hebrew and Arabic script that few understand today—they have been largely relegated to storage.
Still, even this is a step forward. Emily Gottreich of the University of California at Berkeley and author of the recently published The Mellah of Marrakesh (Indiana University Press) said that, for too long, Jewish antiquities throughout the country were being looted, turning up in souks and sold to passing tourists.
Another indication of the renewed respect for this heritage has been the increasing numbers of Hasidim—primarily from New York—who come to Morocco, reported Elmaleh. They share the mysticism and attachment to Kabbala of Moroccan Jewry. Before Sukkot, Hasidim join in the pilgrimages and seek out the etrogim that grow wild in the mountains of southwest Morocco, a citrus fruit whose quality, they maintain, is outstanding. The revenues this harvest brings the local Berbers is considered "a gift of the Jews," said Elmaleh.
Berdugo has lately been arranging interfaith concerts with a Moroccan flavor throughout Europe to spread a message of tolerance. "We also try to be a link—a bridge—between Muslims and Jews," he explained.
What were once fond memories in the soul of Moroccan Jews are today becoming so much more. They are a chance to savor new opportunities and pride in an ancient homeland.
Andrée Aelion Brooks can be reached atandreebrooks@hotmail.com.