Inside Hadassah A Celebration of Accomplishments
In December we celebrate Hanukka, the festival of lights. And we shine our lights on Dara Horn, this year's winner of the Harold U. Ribalow Prize for her novel The World to Come. a Our magazine's ties to this talented young writer go back to 1992 when she wrote her first story for us about Jewish sights in Spain; the following year, her moving account of her trip to Poland and Israel with March of the Living earned Hadassah Magazine a National Magazine Award nomination. We celebrate her rich stories of Jewish life and culture and are proud of our connections. Enjoy an especially bright Hanukka reading Horn's impressive work.
—Ruth G. Cole
---
Uniting for a Common Cause
Hadassah made an appearance at the United Nations recently. It sponsored a workshop about water security and climate change in the Middle East at the 60th annual Department of Public Information/Non-Governmental Organizations Conference. The theme of the September event was "Climate Change: How It Impacts Us All."
Hadassah's workshop—cosponsored by the World Council of Conservative/Masorti Synagogues and the International Council of Jewish Women—featured representatives of the Arava Institute for Environmental Studies, based at Kibbutz Ketura in southern Israel. The discussion focused on the implementation of a joint water commission that would address the challenges posed by climate change and political tensions affecting the Jordan River.
"There are multiple environmental issues challenging the region," said Clive Lipchin, director of research at the Arava Institute. "To find solutions requires that we cooperate." For example, he explained, most of Israel's water sources originate in the West Bank, and Syria, Lebanon and Jordan are all part of the Jordan River watershed.
"International bodies are realizing that security issues are related to environmental issues," he said. "In the Middle East, we all use the same ground and surface water. What is different is the socioeconomic and cultural environment of the users.
"We must come together to deal effectively with all these issues," Lipchin added.
More than 2,000 representatives of NGOs from over 80 countries attended the roundtables, panels and workshops during the three-day conference.
---
A Woman of Valor
Hadassah's founder, Henrietta Szold (1860-1945), was among the nine women inducted into the National Women's Hall of Fame in 2007. Hadassah National President Nancy Falchuk accepted the honor at a ceremony in October at the Hall of Fame in Seneca Falls, New York.
"[Szold] dedicated her life to fighting ignorance, injustice, anti-Semitism and disease," Falchuk told an audience that included 85 Hadassah representatives—a testament to Szold's legacy. "[She followed] pursuits that would transform people's lives for the better and help repair the world."
A native of Baltimore, Szold was an educator, editor and social pioneer. In 1912, she founded Hadassah, the Women's Zionist Organization of America, after visiting Palestine and witnessing the dire poverty and inadequate health care available there at the time.
---
Young Judaean Recognized
Steven Friedland's unit was ambushed during the Second Lebanon War, yet, despite a constant barrage of enemy fire, the paramedic treated 60 wounded soldiers until he collapsed from dehydration.
Recently, Friedland, 22, was awarded one of the Israel Defense Force's highest honors for bravery.
"It means a lot to me that the Army is giving me this medal, but I think that the real award I received was my life," Friedland said. "I was able to continue to treat [the wounded] and serve my country after a near-death experience…."
Friedland made aliya with his parents at age 10. He returned to the United States each summer to attend Camp Tel Yehuda in New York, and then to work as a counselor at Camp Judaea in North Carolina. Both of Friedland's parents are former Young Judaeans as well, and his maternal grandmother, Roz Soltz, was a founder of Camp Judaea and a member of Hadassah's national board.
---
Ears to You!
For over 23 years, Phyllis and Albert Newman have collected hearing aids in the United States and sent them to Hadassah Hospital to be reconditioned and fitted for needy people.
Due to advancements in audio digital technology, the clinic no longer needs used hearing aids. Thanks to everyone who donated their devices, and to the Newmans and the Greater Detroit chapter of Hadassah for their years of orchestrating this campaign.
---
An Unconventional Résumé
Hadassah members bring their unique skills and experiences to the organization, though not many can claim as unusual a background as Diane Maier, president of the St. Louis, Missouri, chapter.
In her twenties, the Florida native managed a world tour of the popular rock band Kiss, out of a rented space that had formerly been a storage room in New York.
"Gene Simmons [one of the band's founders] is one of the greatest teachers I have ever had in my life," Maier recalled. "He literally taught me how to run the show."
She also helped to form and manage the band Winger in the 1980s and is now using her expertise in event management for Hadassah. Her first Hadassah project—before she was even a member—was a walk to raise money for Hadassah Medical Organization's neurooncology research that attracted 650 participants and brought in over $30,000; it has become a successful annual event.
Maier's primary goal—to engage a younger generation in Hadassah—is working: Her chapter is vibrant and growing.
---
A Modern Spin on an Age-Old Tradition
For most Bedouin women in Israel, working outside the home is not an option because of both cultural norms and limited education. The community has the highest school dropout rate in the country, and it is common for girls to end their schooling as early as age 12.
Lakiya: The Negev Weaving Project is a Hadassah Foundation grant recipient that currently employs nearly 150 Bedouin women. They are able to work in their homes—sometimes in isolated towns—and for the first time earn wages, which are paid directly to them. The women of Lakiya make handwoven rugs using traditional Bedouin patterns. They are involved in the process from start to finish, from caring for the sheep to washing and dying the wool in their workshop. Finally, the women take home the colorful wool to weave into a finished product.
Among the priorities of the Hadassah Foundation is to support projects that increase economic empowerment for women in Israel. Lakiya enables women to use their traditional skills in a profitable cottage industry, restoring their ability to contribute to their families' incomes. At the same time, it preserves a craft that is an important part of Bedouin heritage.
Lakiya rugs and pillow covers are exported and sold in the United States by Hadassah life member Prue Thorner (434- 293-2761;www.bedouinweaving.com).
---
Exploring Many Worlds
The inspiration for Dara Horn's second novel, The World to Come (W.W. Norton), came from a 2001 New York Times article about the theft of a Chagall painting from New York's Jewish Museum at a singles' event.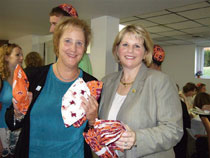 "I wondered what kind of a person walks out of a singles' mixer with a $1-million painting instead of someone's phone number," Horn (below) explains. "That's how the character [of Benjamin Ziskind] was born."
The book is this year's recipient of Hadassah Magazine's Harold U. Ribalow Prize for a work of fiction on a Jewish theme (see excerpt, page 26). The novel also won the 2006 National Jewish Book Award for Fiction, and it was selected as an Editor's Choice in The New York Times Book Review and as one of the Best Books of 2006 by The San Francisco Chronicle. It has been translated into nine languages.
Horn's first novel, In the Image (W.W. Norton), won the 2002 Edward Lewis Wallant Award, the National Jewish Book Award and the Reform Judaism Prize for Jewish Fiction in 2003. By then, she was already a seasoned writer; her first story was published when she was just a teen—in Hadassah Magazine.
"I owe Hadassah a lot of my career," says the New Jersey native. "They've taken me seriously as a writer since I was 14, and there aren't many [publications] that will do that."
H
orn, 30, is often touted as an up-and-coming young Jewish writer, and unlike some of her colleagues, she doesn't shy away from the designation. "What makes someone a Jewish writer isn't whether you're Jewish or whether your characters are Jewish," she wryly notes, "but if you are…on a panel where they ask you if you consider yourself a Jewish writer."
Horn studied Yiddish and Hebrew literature for both her bachelor's degree and Ph.D. in comparative literature from Harvard University. "In Yiddish, language and identity were one and the same," she says. "Nobody ever asked Sholem Aleichem if he was a Jewish writer."
Horn and her husband, Brendan Schulman, an attorney, live on New York's Upper West Side with their two children—Maya is 2 and Ari is 7 months old.
Despite her impressive achievements, Horn's demeanor is anything but assuming; she has a ready smile and seems to enjoy nothing more than discussing her books—she's more than halfway finished writing her third, about a Jewish Civil War assassin—and Yiddish literature in general.
It was during her dissertation that Horn learned that the Yiddish writer Der Nister and artist Marc Chagall had once been roommates at a Russian school for orphaned Jewish boys, a fact from which she spins the narrative in The World to Come. "I was fascinated by how their lives diverged," she explains, "and by what it means to create a Jewish work of art."
In the novel, Horn explores the tension between what is valued as art in Western culture and the values in Jewish culture, where, she points out, the written word is the central medium. "The Western value is how original it is," Horn says. "The Jewish artistic ideal is being part of a creative community. It's about how well you incorporate other people's work."
In her writing, Horn culls from traditional Jewish sources "as a way to answer questions that couldn't be answered by conventional means," she explains. For example, she often weaves midrashic ideas into her fiction and creates a fluidity between reality and dreams, a style frequently found in Yiddish literature.
Horn is pleased when readers express interest in looking up the Yiddish sources she makes reference to in The World to Come. "It's gratifying to me," she says, "because I wanted to start a conversation."