Medicine: MRI Goes Deep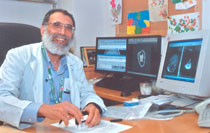 Magnetic resonance imaging has revolutionized our understanding of the brain. At Hadassah, the technology is also diagnosing cancer from the earliest stages of the disease.
It recognizes fluid in the brain of a 5-month-old baby as harmless liquid rather than life-threatening pus—a diagnosis that would have rushed the infant into the operating room.
In just 20 minutes, it determines that the stroke-like symptoms of a 12-year-old boy are caused by a rare inflammation of his arteries and can be reversed with medication. It finds that the reason an 81-year-old woman is no longer able to walk is a tumor growing on her spine. It even determines that the tumor is benign.
Safe, fast and accurate as it is, however, all this is little more than the beginning of what will be achieved with magnetic resonance imaging, according to Dr. Moshe Gomori, chief of MRI and neurology in the Radiology Department run by Dr. Eugene Libson at the Hadassah–Hebrew University Medical Center at Ein Kerem.
MRI is a technology that's still ripening," Dr. Gomori explains. "The field is barely 20 years old, but as well as the anatomic images [how the brain looks] that we started with, we're now able to get functional images [pictures of how it works].
"Other forms of MRI are still developing," he adds, "such as one that enables us to image the brain's wiring…. This is important because it can be combined with functional MRI to provide safe and accurate maps for neurosurgeons in the operating room."
But even this is not MRI in full maturity. Perceptible on the horizon at Hadassah and at a handful of advanced-imaging centers in the United States is an entirely new capability. Known as hyperpolarized molecular MRI, it will image not anatomy but the very molecules and genes from which anatomical structures are formed.
"This developing technique will allow us to pick up genetic anomalies and chemical changes that occur in disease processes," says Dr. Gomori. "Because these changes occur years before illness is apparent, this form of imaging will enable diagnosis and treatment from the earliest stages of a disorder.
"I investigated blood oxygenation," says Dr. Gomori, one of the pioneers of MRI. The results of research that he performed 23 years ago are in standard use in MRI practice today. "Blood contains iron, and iron is magnetic, so MRI picks it up." In MRI, a magnetic field is generated by a super powerful magnet, which forces the nuclei of the patient's atoms to align. It then queries them with radio waves that they bounce back. These returning signals are picked up by a scanner and turned into sensitive images by a computer.
"When a part of the brain is activated, by action or by thought, the amount of blood oxygen that it burns increases," says Dr. Gomori. "The body responds by causing oxygen levels in the blood to increase as well. This altered level of oxygen changes the local magnetic field, enabling MRI to produce functional as well as anatomic images."
Radiologists can measure, for example, how much blood reaches the brain and thus identify areas that have been damaged by a stroke or disease. They can also see how much blood flows into tumors, which, with cancerous growths greedy for blood, is an efficient indicator of whether a tumor is malignant or benign.
Standard, functional and other more futuristic forms of MRI at Hadassah are about to leap forward with the recent arrival of two new cutting-edge MRI scanners—large cylinder-shaped diagnostic magnets into which some 40 patients are sliding every day.
"MRI differs from other kinds of scanning because its technology is developing so rapidly," says Dr. Gomori.
Hadassah acquired its first MRI scanner in 1987 and its second in 1998. Only two small upgrades have been made during the past seven years, and a totally new package was needed. Generous help from the Legacy Heritage Fund, Ltd. and The Ridgefield Foundation, Inc., among other organizations, allowed the medical center to purchase that package. In November 2006 and June 2007, the Ein Kerem facility took delivery of two state-of-the-art scanners and opened the Legacy Heritage MRI Center.
"One of the new scanners is 3- Tesla strong, which is twice the magnetic strength we had before," says Dr. Gomori. "That is, its magnetic field is 60,000 times stronger than that of the earth. This means it will work far faster, but we selected it not only for its speed in diagnostics and testing. Capable of high-sensitivity, high-contrast molecular imaging, it will form the heart of a major new technological research effort at Hadassah."
This powerful scanner and the special lab that Hadassah has built around it is for developing hyperpolarized molecular MRI and bringing it into clinical use. Two Ph.D.s and a spectroscopist (an expert in identifying the chemical nature of material on scans) are joining Hadassah's MRI team of nine radiologists to work on the scanner's development.
"We expect to generate truly spectacular images that will advance clinical assessment of anatomy and function," says Dr. Gomori. One of few teams anywhere to be working on hyperpolarized MRI, the Hadassah group is collaborating with the Beth Israel Deaconess Medical Center in Boston and the Lund University Medical Laser Centre in Sweden.
"We are currently building equipment with which to image neurochemical transmitters in the brain, in both health and disease," says Dr. Gomori. "We know that neurotransmitter levels change in diseases such as Alzheimer's and Parkinson's, and we want to investigate them."
Another of Hadassah's aims is to develop a single technology that will image all situations, rather than different tests for every brain condition. With several patents already granted the team and more to be filed, optimism is high. "We hope to go clinical within a few years," says Dr. Gomori.
Hyperpolarized MRI looks set to join several other areas of MRI successfully pioneered and practiced at Hadassah. One is breast imaging.
"MRI is the most sensitive technique for detecting breast cancers in high-risk patients," says Dr. Miri Sklair-Levy, head of Hadassah's breast imaging. "Hadassah is Israel's premier MRI breast-imaging center and the only place in this country that performs MRI-guided breast biopsies."
Hadassah is the first (and one of only three centers in Israel) to perform fetal imaging as well as one of very few to do MRI examinations of children. "The patient must stay perfectly still while being scanned," explains Dr. Gomori. "As this can be hard for youngsters, we sedate them for MRI."
A test that allows more accurate treatment and improved outcome of prostate cancer is another MRI technology brought to Israel by Hadassah. "Prostate cancer is the most common malignant tumor in men and the second most common cause of cancer death among them," says Dr. Tamar Sella, who coordinates oncological imaging at Hadassah.
In diagnosing prostate cancer, Dr. Sella notes, it is crucial to know whether the disease is local or has spread into the pelvic lymph nodes or seminal vesicles. "If it's local, surgery is a good option," she says. "If it's metastasized, recurrence following surgery is very high, and other therapies are preferred."
The test uses a coil—a thin wire covered with a balloon—which is inserted into the patient's rectum to hug his prostate. The patient is scanned with the coil inside him, and an exact picture of this walnut-sized gland, the disease and its spread is produced.
Orthopedic patients make up another population among whom MRI has proven itself. For them, it is a fast and accurate way of imaging joints to find tears and other damage to ligaments and cartilage as well as to pick up bone tumors.
Despite what MRI offers to scanning of bones, prostates, breasts and other organs, the head and spine are its primary specialty in clinical practice. The images it produces are not deflected by bone, and it can track brain function, mapping levels of oxygen-rich blood to produce a brain-activity map. The first center in Israel to perform comprehensive brain imaging, some 70 percent of MRI scanning at Hadassah is of the head and spine.
"MRI very efficiently detects, documents and diagnoses conditions like tumors, developmental and vascular anomalies, stroke, dementias and chronic nervous-system disorders," explains Dr. Gomori. "We will also soon be producing maps for neuronavigational workstations in the OR using a technique called diffusion-tensor tractography to show up the brain's wiring and motor areas that the neurosurgeon wants to avoid cutting. Our MRI images will allow him to plan the safest surgical route."
MRI has already revolutionized the study of neural mechanisms and processes. But in the near future, the Hadassah team believes, it will constitute an indispensable guide to fathoming the great unexplored continent that each of us carries within our skull, for sickness and for health.