Books: Timeless Tales Retold
For over 50 years, Dov Noy has been collecting stories that crisscross the Jewish globe. The Israel Folktale Archives that he founded in 1955 is headquartered today at the University of Haifa (https://research.haifa.acil/~folklore/ifa.htm).
The archives has gathered over 23,000 tales from 30 immigrant communities in Israel. "It's an incredible treasure unknown to almost everyone," says storyteller Ellen Frankel, editor-in-chief and chief executive officer of the Jewish Publication Society.
Frankel proposed publishing a selection of folktales from the archives soon after she joined JPS 16 years ago. The first two of the six-volume Folktales of the Jews, published in cooperation with the IFA (Noy is consulting editor) and organized according to linguistic origin, are now available.
Tales from eastern europe is the second and most recent volume, appearing last spring. Tales From the Sephardic Dispersion, published in 2006, spans the Mediterranean, Balkans, Iberian Peninsula and Turkey and has won a National Jewish Book Award in Sephardic Studies. Still to come are Tales of Arabia (North Africa, Yemen, Iraq next fall); Tales of the Orient (Iran, Afghanistan, Central Asia in fall 2009) and Tales of Other Lands (India, Ethiopia, Kurdistan, Israel in spring 2010).
Each volume features 71 stories, translated by Leonard J. Schramm into English from Hebrew or the original language. Historical and cultural background and extensive annotations are by editor Dan Ben-Amos, a former student of Noy's and chair of the graduate program in folklore and folk life at the University of Pennsylvania in Philadelphia. There are finely detailed black-and-white line drawings by Ira Shander.
"Many of the communities represented in the collection do not exist anymore," says Ben-Amos, "but each had a tremendously rich oral tradition." In Israel, he explains, they lost the immediate contact with the environments in which the tales flourished. "There is a degree of commemoration, of collective memory," he adds. But it is selective memory. "The process of immigration involves forgetting as well."
In societies without television or e-mail, oral narratives functioned as entertainment, instruction and memory, says Ben-Amos. This folk Torah of ordinary people, often transmitted by women with excellent verbal skills but no formal education, Frankel notes, has been vital in passing down Jewish culture and values.
In one tale in Volume 2, "Gossip Is Worse Than Profaning the Sabbath," passed down by Polish-born Serl Rochfeld-Haimovitz, two desperately poor widows weave talitot for a living, 16 hours a day, even on Shabbat. On his Shabbat walk, the local rabbi notices that their hut shines with an "intense and supernatural light."
Working so hard stops them from gossiping, the women tell him.
"It is possible to go visit the neighbor without gossiping," he replies, encouraging them to stop working on Shabbat. They agree to try, but the next Shabbat, their hut no longer shines with a light "like that of the Divine Presence."
The series provides new and original insights that complement the midrashic tradition. "Rabbinic stories are prescriptive, setting a model for ethical behavior," says Ben-Amos. "These stories are more descriptive, telling about people struggling with moral questions but not always living up to rabbinic standards. They tell about Jews as they behave—not only as they ought to behave. Witchcraft, demons, magic, adultery and crime exist in Jewish society together with charity, love, honesty and piety."
Folktales are often irreverent, earthy and more entertaining than mainstream texts, agrees Frankel. They demonstrate the permeable boundaries between Jews and the surrounding non-Jewish host cultures from whom the stories were borrowed, though Ashkenazic tales tend to be more "pious," religiously oriented and isolated from mainstream culture than Sefardic counterparts.
In addition to moral tales that stress values such as charity and honesty, recurring motifs include miracles, martyrdom, blood libels and barrenness; romantic sagas; tales of fortune; conflict between Jews and non-Jews; and humorous tales that highlight the antics of tricksters like the Sefardic Djuha.
"Djuha's mother sent him to the fishmonger's to buy a fish," begins a story told by Dina Khalfon of Turkey. "She told him to ask for the recipe, too: How do you cook this kind of fish? (There is a right way to cook each kind of fish.)" The story goes on to include a cat and Djuha's gleeful, Chelm-like behavior.
Paradoxically, capturing this dynamic oral tradition in writing meant that gestures, intonations, pauses, rhythms of speech and interaction between narrator and listener are mostly lost. In addition, most of those who collected the stories for the archives in the 1950s and 1960s were amateur volunteers without access even to tape recorders. Still, many of the stories succeed in capturing the oral cadences of the storytellers.
Ben-Amos emphasizes that this is not a "best of" collection.
"It is important to represent the range of narrative possibility, not to give the illusion that everyone is a master storyteller," he notes.
While folktales represent a tradition of the people, Ben-Amos's scholarly approach compares the tales to other Jewish and non-Jewish versions, placing the Jewish stories in historical and literary contexts and offering ethnographic descriptions and relevance. This perspective, however, limits popular accessibility: Each volume costs $75. Frankel expects that JPS will eventually publish an affordable abridgement.
Contemporary readers removed from their cultural heritages can connect to their roots through the folktales, says Ben-Amos, who hopes the series will sharpen an awareness of different traditions. "These tales were retained because they were seen as valuable and sacred," adds Frankel. "They need to be passed on."
Fiction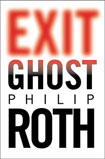 Exit Ghost
by Philip Roth. (Houghton Mifflin, 292 pp. $26)
Exit Ghost is the 9th novel in Philip Roth's long-running series about his hapless alter ego, Nathan Zuckerman. We first meet Zuckerman in The Ghost Writer (Vintage Books) as he recounts his fateful meeting with the magisterial E.I. Lonoff, a writer so absorbed by his writing that there is virtually no room left for living.
Lonoff, in his own words, "turns sentences around," and then, later, turns them around again. The hard-chiseled paragraphs of his short stories are what art, real art, is all about, and why a young Nathan Zuckerman, whose short stories are just beginning to appear in national magazines, had first sought out Lonoff for approval.
The Ghost Writer belongs to that category of fiction called the bildungsroman, a novel of education, and it holds up, all these years later, as a piece of writing so perfect that nobody would want to change a single word. Exit Ghost reprises characters from that earlier novel—Lonoff as a ghostly presence and Amy Bellette, whom Zuckerman once imagined was Anne Frank. Bellette is dying of a brain tumor, just as Zuckerman is reduced to the indignity of wearing diapers after prostate surgery.
Exit Ghost is even more depressing than the long march toward death in Roth's 2006 Everyman (Houghton Mifflin) because the vitality in Zuckerman's insistence that he is still a man, more sinned against than sinning, has alas been largely sapped. Yes, Zuckerman still has an eye for the ladies, but many of his reveries do not ring true.
Zuckerman takes the full measure of a culture he has long ignored by retreating to the Berkshires (he returns to New York for treatments that might relieve his incontinence), and the long sections devoted to bringing him up to speed on George W. Bush are as tedious as are the he/she dramatic sketches Zuckerman writes on his hotel notepads.
What saves the book is the introduction of Lonoff's would-be biographer, an ambitious young man who thinks he has the "secret" that will unlock Lonoff's short stories and explain why Lonoff could never finish his long-awaited novel. Not surprisingly, that secret is incest. However, this was true for the other Roth (Henry), not for Lonoff. No matter, what biographers need is a juicy story that will deflect attention away from the work and onto the writer—and this is why Roth makes a point of including a letter to The New York Times, presumably written by Ms. Bellette but actually penned by none other than Lonoff himself, that explains better than anything else what Roth's fiction has been about:
There was a time when intelligent people used literature to think. That time is coming to an end…. The way in which serious fiction eludes paraphrase and description—and hence requiring thought—is a nuisance to your cultural journalist.
In ruminating about the long-dead Lonoff and the lazy biographer out to make a splash, Roth is no doubt thinking about himself and the biographer who will one day tick off his bad marriages and numerous affairs along with his disaffection with Judaism. In the process, he will ignore Roth's nearly 30 books that changed the landscape of American literature in ways that make all of us, Jew and non-Jew alike, richer, fuller human beings.
—Sanford Pinsker
Gentlemen of the Road
by Michael Chabon. (Del Ray, 224 pp. $21.95)
Michael Chabon's latest work is a self-conscious tribute to the greats of Sword-and-Sorcery Adventure Fantasy. Chabon skillfully delivers on the conventions of the genre with semi-archaic "purple prose," a pre-1940 understanding of medieval history and even ink illustrations reminiscent of pulp magazine artwork by Gary Gianni (who recently illustrated a definitive collection of the works of Robert E. Howard, the father of the genre and creator of Conan the Barbarian).
The Gentlemen of the title are a duo of freebooting soldiers of fortune, world-weary warriors haunted by their past who do right despite themselves. But unlike the Celtic and Saxon heroes of the classic adventure tales, Chabon's heroes are Jews.
One, with the Woody Allen-evoking name of Zelikman, is a black-clad, pale scarecrow of a man and (as are many of the genre's heroes) a self-medicating depressive. He invents the epee—about 900 years before its time—as a way of circumventing the ban on Jews carrying swords in his native Regensburg, and chloroforms his enemies instead of killing them. The other, Amram, is a huge African soldier with a massive axe that any fantasy barbarian would be proud to own. The two cross paths with a dispossessed Jewish prince, who turns out to be a princess, in the exotic landscape of the 9th-century East European Jewish empire of Khazaria.
The villain is also Jewish—a fictional tyrant who has given his loyal Muslim subjects over for plunder by Vikings. The princess, with Zelikman and Amram, leads a Muslim army against the dictator. And here lies the book's difficulty. The real Khazaria is often fodder for the political pseudo-history of Russian anti-Semites, Arab anti-Zionists and American race-purists. One factor they hold in common is a focus on portraying a parasitic Jewish despotism preying on a victimized population. Chabon's plot plays right into this libel.
While his story reads quite well in a fantasy world, it makes for very bad relations in this one.
—Norman J. Finkelshteyn
CD-Rom
Jewish Women: A Comprehensive Historical Encyclopedia
edited by Paula E. Hyman and Dalia Ofer. (Shalvi Publishing Ltd. Distributed by the Jewish Publication Society, $99)
The reader consulting Jewish Women: A Comprehensive Historical Encyclopedia should be prepared to spend more time than expected perusing this user-friendly compendium (sponsored by the Jewish Women's Archive) because one click leads to another.
From the dramatic life of American anarchist Emma Goldman to World War II martyr Hannah Szenes, from French politician Simone Veil to cosmetics pioneer Helena Rubinstein, the 1,698 entries and 330 articles bear the imprint of 939 contributing authors.
Those interested in general subjects can read survey articles that scan time periods and highlight social, scientific, political and cultural endeavors—the women's corps of the Israel Defense Forces, leaders of the Jewish underground during the Holocaust, Olympic medal winners, salons in 18th- to 20th-century Berlin and Supreme Court Justice Ruth Bader Ginsburg. A search of "Hadassah" yields several full-length articles covering the organization in the United States and in Israel as well as biographies of Henrietta Szold and other prominent leaders.
For those wishing to delve deeper, entries are cross-referenced, containing links to more detailed discussions. Thus, the article about Canada gives an overview of the Jewish experience through the feminine lens: The first Jewish woman in Canada arrived disguised as a man and hiding her Jewish identity (non-Catholics were forbidden by law from settling in French colonies). The article then proceeds to highlight modern groundbreakers such as Heather Munroe-Blum, who was chosen in 2002 to head McGill University in Montreal. Yet this article, as others, is not mere accolade. In discussing modern Canadian women writers, the compendium explores why few Jewish women have attained prominence in the field.
This reference work can be used as a jumping-off point for the serious academic scholar, yet its accessible language and easy referencing make it appealing as well to students and lay readers.
—Helen Schary Motro
---
Books in Brief
I Never Saw Paris: A Novel of the Afterlife, by Harry I. Freund. (Carroll & Graf, 196 pp. $23)
Harry Freund has written a witty story that examines such issues as how, when all is said and done, do we see the ultimate meaning of our lives? When a fatal accident transports five people to the gates of the next world—a Jewish businessman, an Auschwitz survivor, a personal shopper, a male hooker and a religious, black mother—each must give an accounting of his or her life before their fate is decided.
—Susan Adler
The Ladder of Jacob: Ancient Interpretations of the Biblical Story of Jacob and His Children, by James L. Kugel. (Princeton University Press, 280 pp. $24.95)
The dysfunctional family tales of Israel's patriarch and his clan have raised eyebrows as well as questions about the stories' proper place in the Tanakh. Kugel, director of the Institute for the History of the Jewish Bible at Bar-Ilan University in Israel, illuminates the meaning of these stories through ancient midrashic interpretations.
—Barbara Trainin Blank
---
Imagining Freedom
From Egypt Into the Desert
The Book of Exodus, inscribed and illustrated by Sam Fink. (Welcome Books, 88 pp. $40)
This unusual rectangular-shaped book—17 inches by 13 inches—was created by Sam Fink as a gift for his family. Fink, who is in his nineties, wanted to convey in images and letters the precious theme of freedom, symbolized by the redemption from Egypt.
Forty watercolors correspond to the forty chapters of the Book of Exodus—each painting with the background of a sky of varying hues—and overlayed with Hebrew calligraphy and fluid images. On the opposite page from each of these images is the English text from The Jewish Publication Society's translated Bible.
Though Fink's lettering is faithful to the text, it is more artful than accessible. The impressive art—in colors ranging from blue, black and purple to yellow, orange and blue to red and white on blue and black—evokes the texts and is written in tight, undulating lines in diverse formations. For instance, in Chapter 9, God tells Moses to throw handfuls of soot upward. The soot becomes dust all over Egypt, then boils attacking man and beast. God also sends thunder and hail and fire. The corresponding picture is a blackened sky with white clouds breaking through the center from which a storm of white hail falls to the green earth, which is also aflame.
For art lovers, there is a $500 limited edition of 45 folios available.
—Zelda Shluker
---
Top Ten Jewish Best Sellers
FICTION
Away: A Novel, by Amy Bloom. (Random House, $23.95)
Exit Ghost, by Philip Roth. (Houghton Mifflin, $26)
The Yiddish Policemen's Union: A Novel, by Michael Chabon. (HarperCollins, $26.95)
The Septembers of Shiraz, by Dalia Sofer. (Ecco, $24.95)
Gentlemen of the Road: A Tale of Adventure, by Michael Chabon. (Del Ray, $21.95)
NONFICTION
The Year of Living Biblically: One Man's Humble Quest to Follow the Bible as Literally as Possible, by A.J. Jacobs. (Simon & Schuster, $25)
The Zookeeper's Wife: A War Story, by Diane Ackerman. (W.W. Norton, $23.95)
Night, by Elie Wiesel. (Hill and Wang, $9)
The Israel Lobby and U.S. Foreign Policy, by John J. Mearsheimer and Stephen M. Walt. (Farrar, Straus and Giroux, $26)
I Feel Bad About My Neck: And Other Thoughts on Being a Woman, by Nora Ephron. (Knopf, $19.95)
Editor's Note: Jewish readers purchase books for enjoyment and enlightenment, to reinforce their viewpoints or to see what the opposition is saying. The Top Ten Jewish Best Sellers list reflects only sales and does not imply approval by Hadassah Magazine—or the people buying the books.
Courtesy of www.MyJewishBooks.com; titles selected based on sales.