Brief Review: Reviled, Rescued and Redeemed
Exhibit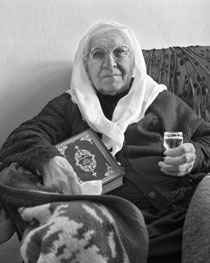 Besa: A Code of Honor, Muslim Albanians Who Rescued Jews During the Holocaust
"My father was a devout Muslim. He believed that to save one life is to enter paradise." That is how Enver Alia Sheqer explains why his father, Ali Sheqer Pashkaj, risked his life to shelter Jews during World War II. He and many others protected not only Albania's 200 Jews, but also hundreds of Jewish refugees from other countries. Their portraits (or those of their descendants) by Colorado photographer Norman Gershman, accompanied by brief texts, will be at United Nations headquarters in New York for two months, starting January 27, International Holocaust Remembrance Day (www.yadvashem.org).
—Esther Hecht
Peachy Levy: Threads of Judaism
Peachy Levy weaves together text and textile in her reinterpretation of the wisdom of antiquity. Pomegranates scatter seeds, wheat stalks sprout and trees blossom over embroidered Hebrew aphorisms from Pirke Avot about mitzvot, Torah study, tikkun olam and more. In a larger work, Levy transforms fragments of her mother's evening dresses into ushpizot, Sukkot guests. Through January 25 at the Hebrew Union College-Jewish Institute of Religion Museum in New York, then traveling (www.huc.edu/museum/ny).
—Rahel Musleah
Fiorella's Sister: Gemma LaGuardia Gluck
This riveting and inspirational story about Gemma LaGuardia Gluck is told through photographs, letters and documents from Gluck's memoir and other archives. Portrayed are the LaGuardias' Italian-Jewish lineage, their musical talent, her marriage to a Hungarian Jew, their arrest by the Nazis and deportation to Mauthausen. Interned in Ravensbruck at age 64, Gluck was reunited with her brother, New York's mayor, in 1947. Through January 25 at the Hebrew Union College-Jewish Institute of Religion Museum in New York, then traveling (www.huc.edu/museum/ny).
—R.M.
Alfred Dreyfus: The Fight for Justice
The infamous trial that split France is captured in this exhibition with displays of posters, photographs, documents, video installations and rare artifacts—including Dreyfus's military ribbons publicly torn from his uniform as well as the badge of honor given as compensation. At Yeshiva University Museum, New York, through February 17 (www.yumuseum.org).
—Sara Trappler Spielman
---
Web Sighting
For several years, James R. Davila of Scotland's University of St. Andrews has been chronicling the field of ancient Jewish history. His fascinating blog, at https://PaleoJudaica.blog spot.com, collects information both scholarly and entertaining. One entry, for example, cites a Smithsonian article on the supposed whereabouts of the lost ark of the covenant—secreted in a chapel in Ethiopia and guarded by monks.
—Leah F. Finkelshteyn
---
Theater
New Jerusalem
David Ives's play explores the events immediately preceding the 1656 excommunication of philosopher Baruch de Spinoza in Amsterdam.
Moved by Albert Einstein's statement, "I believe in Spinoza's God," Ives says he decided to bring Spinoza's "inherently dramatic" story to the stage.
To retain their freedom, the Jewish community was required by the city to enforce Orthodoxy. When Spinoza became known as a freethinker, "he was necessarily…taken to task and excommunicated…," Ives relates. "It was an amazing tragedy with no possible good solution."
Through February 3 at Classic Stage Company, Off Broadway (www.classicstage.org).
—Beth Hurstein
---
Film
Steal a Pencil for Me
Dutch Jewish accountant Jack (Jacob) Polak is married to Manja but falls in love with Ina. All three are deported to Bergen-Belsen, where Jack and Ina carry on a romantic correspondence, despite a shortage of pencils. Everyone survives, Jack divorces Manja and the lovers marry. Jack, 94, and Ina, 80, (above left) recently celebrated their 62nd wedding anniversary. Director Michele Ohayon shot this documentary in a straightforward manner. Jack reflects, "I'm a very special Holocaust survivor. I was in the camp with my wife and my girlfriend, and believe me, it wasn't easy." Diamond Lane Films (www.stealapencil.com).
—Tom Tugend
Golda's Balcony
In a tour de force, Valerie Harper (right) portrays Israel's indomitable prime minister as she recalls her life, marriage and especially the agonizing decisions she faced during the Yom Kippur War. Harper also depicts a dozen other characters, to the occasional confusion of the viewer. The film, adapted by William Gibson from his long-running play, is directed by Jeremy Kagan. East-West Ventures (www.goldasbalconythefilm.com).
—T.T.
I Want Someone to Eat Cheese With
Jeff Garlin, who plays Larry David's loyal manager on Curb Your Enthusiasm, wrote, directed and stars in this moderately funny film. As James Aaron, Garlin is a fat, gluttonous, struggling Chicago comedian and all-around loser. Even a romantic fling with a relatively subdued Sarah Silverman crashes, but the ever-hopeful Aaron carries on (www.ifcfilms.com).
—T.T.
---
Recording
Folk Songs for Far Out Folk
Call Fred Katz (above) a Hasidishe hepcat. On this new CD, three 1958 all-star jazz sessions conducted by the eclectic cellist and orchestrator have been rescued by his young admirers. This revelatory album juxtaposes "Old Paint" conga-laced African tunes and juicy takes on Hasidic niggunim played by members of the Chico Hamilton Quintet as anticipatory Beat poetry. Reboot Stereophonic (www.rebooters.net).
—Debra Cash
Konsonans Retro: A Podolian Affair
This band, made up mostly of the Baranovsky family from Ukraine, has been playing wedding songs—Jewish as well as Gypsy, Russian, Podolian and Moldavian—for generations. The 19 danceable tracks are polkas, freylekhs, bulgaryas, doinas and shers, but there is also a Hasidic "Shabes Nign" and a love song, "Akh ty dushechka." Oriente Musik (www.oriente.de).
—Susan Adler