Cut & Post
The Ultimate Keepsake
Shari Klages first remembers seeing the leather-bound album now known as the Dachau Album Project in 1972, when she was 12, soon after her father's suicide. The album—containing 258 photos, 30 illustrations of life in the Polish concentration camp and a swatch of a prisoner's uniform—belonged to her father, Arnold Unger, a survivor who lived at the camp for two years after liberation.
"For years, I had a sense of its significance," Klages says. "I was waiting for the right opportunity and the right person to help me bring it out of the closet, literally."
That person was Avi Hoffman, executive director of the National Center for Jewish Cultural Arts (www.2jewish.org). Since 2005, the pair has been researching the album. While its creator is unknown, Hoffman says the album—with illustrations (above) done by fellow internee Michael Porulski, a Roman Catholic Polish artist—was made as a keepsake for Unger. Their mission now is to raise funds to continue research on the album and use it as an educational tool.
"There's a lot of Holocaust art in the world," says Hoffman, "but nothing that starts with prisoners arriving in the camp and ending with death, and life in between."
—Lisa Scherzer
Prescription: Acts of Loving Kindness
Free open-heart surgery? An internist who treats 19 people without charging? Sounds unlikely, but Project Chessed (www.jfsdetroit.org/chessed.htm) has provided health care, medical procedures and medication to over 800 uninsured Jewish residents of the greater Detroit area.
Through its referral network of 420 volunteer physicians, 29 group practices, 60 dentists and 10 hospitals, Project Chessed uses a coordinated-care model to administer to low-income adults between 19 and 65. As a result, surrounding hospitals now have fewer unnecessary emergency room visits and private doctors help community members in a dignified way through donated services.
"It's our model of how a community cares for its own," says Rachel Yoskowitz, who developed the project with Jewish Family Service of Metropolitan Detroit in December 2004.
The Jewish Fund in Detroit provides grant support and recognized the project's importance through an Award of Excellence in December 2007.
Several Jewish communities across the country have approached Yoskowitz for guidance in duplicating Project Chessed, and evaluations are under way.
—Sara Trappler Spielman
Holocaust Education
When the Volunteers, the University of Tennessee men's basketball team, toured Central Europe last summer, the trip included a stop at Terezin, a Nazi transit camp outside Prague.
The Vols' Jewish coach, Bruce Pearl (left), well known for his passion on the court, wanted to expose his mainly African American players to the history of the Holocaust. He says they were able to relate to the Shoah through the prism of slavery and the civil rights movement.
The players understand discrimination, whether it's because of "the color of your skin or because of whom you pray to," Pearl says. He also hopes the experience taught his players a larger lesson about morality. As he puts it, "To protect Jews during the Holocaust was right, but it was not popular."
The trip is just one example of the outgoing Pearl's Jewish visibility: Last November, he spoke at the United Jewish Communities' General Assembly, and team members even attended his daughter's bat mitzva.
"They ran around saying, 'Shalom, y'all,'" he recalls.
—Peter Ephross
Teaching Israelis Not To Be Philistines
Ronnie Maman is a businessman, not a lexicographer. But the 55-year-old Israeli wants to add two words to the Israeli vernacular: derekh eretz (good manners). The biblical dictum promoting consideration for others has been trampled by an epidemic of chutzpa in the Holy Land, he believes.
"People are becoming selfish," he says. "They only care about themselves."
Maman hopes to spark a cultural revolution by sponsoring a contest offering $60,000 to the person who comes up with the best idea for instilling manners in the Jewish state. Contestants have until January 22 to submit proposals at www.derech- eretz.org. After the winner is announced in June, Maman plans to publish a book featuring the top 100 ideas.
"This is crucial for Israel's future," he says.
—Tamar Snyder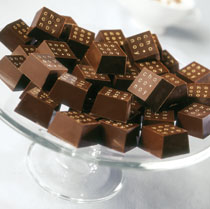 Land of Milk Chocolate and Honey
Sampling chocolate truffles on a kibbutz, learning how to make pralines, watching a chocolate sculptor in action—it's all part of the first "Chocolate at Heart" tour of Israel (
www.modiintours.com/chocolate
). Mission organizers Adina Mishkoff of Jerusalem and Enid Moskowitz of New York hope the inaugural trip next month will be the beginning of many lip-smacking journeys through Israel. "It's a lot more fun to go on a tour like this than another tour meeting politicians and hearing about possible solutions to the conflict," says Mishkoff.
She adds that Israel is going through a sort of chocolate revolution, with boutique chocolate companies, such as Corinth Chocolates and Choco Noy, opening across the country.
The chocolate tour is one of indulgence but also one of giving back. Participants will perform charity work in addition to sampling sweet confections.
—Dina Kraft
Bias Cut: A Study of Anti-Jewish Thought in the United States
A nationwide survey of 2,000 people released by the Anti-Defamation League (www.adl.org) late last year revealed that while anti-Semitism in America is low in comparison to Europe, it remains at a consistent level. More specific findings of the report include:
Fifteen percent of respondents display intense anti-Semitic sentiment, up from 14 percent in 2005. This is the first increase in overall anti-Semitism in over a decade.
Both American- and foreign-born Hispanics report less anti-Jewish sentiment than in 2005.
The number of African Americans with strong anti-Semitic beliefs remains high at 32 percent.
Men are more likely than women to hold anti-Semitic views, particularly men without college degrees (there is evidence that better-educated men and women are less anti-Semitic).
And some overall positive news: 65 percent of respondents said Jews "contributed much to cultural life" while 79 percent laud what is perceived as a Jewish "emphasis on the importance of family life."
—Libby Goldberg
One Man's Trash Is Another Man's…
Martin Weyl was always troubled by Hiriya, the 565-million-cubic-feet garbage dump rising 165 feet near Tel Aviv. When he retired as director of the Israel Museum 11 years ago, he decided to spearhead the healing of this "ecological wound in the center of the country."
Four recycling plants and an educational center are already drawing 2,000 students a month to what has been renamed Ariel Sharon Park, in honor of the former prime minister. Sharon had made the redevelopment of the park a priority.
As construction continues on the 2,000-acre site, Hiriya will become the centerpiece of a theme park dedicated to recycling. The next phase is scheduled for completion in three years, but the entire park, featuring wildlife sanctuaries, reservoirs, recreational sites and more, may take two or three generations.
"The mountain will be a kind of beacon," says Weyl (above, photographed at Hiriya), "a signpost on how not to deal with waste as well as a guide to environmental responsibility."
—Rahel Musleah