Family Matters: Security Over Secrecy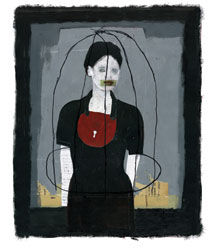 Domestic violence is still a blight on the Jewish community, but women's groups, social organizations and individuals are creating programs to address the reality.
One of Diana Manber's earliest memories is of her father attacking her mother. The image of her mother coming home from the hospital with 600 stitches has never left her. Six-year-old Diana did not have a name then for the horrifying violence that haunted her family life, but helping others in similar situations has become a personal mission as well as a focus of her rabbinic career.
Within weeks of her arrival in 2001 at her first pulpit, The Temple in Atlanta, a victim of domestic violence came to see her. "She wasn't from the congregation; she didn't call it domestic abuse, but I knew," says Manber. "No human being should endure the terror and humiliation she endured during 15 years of marriage." Manber wanted to take the woman home with her, but instead helped her recognize the situation was not her fault. The woman eventually left the marriage.
That interaction crystallized Manber's role in working to end domestic violence, which she defines as any abuse of power and control in an intimate partner relationship, including physical, sexual, verbal, emotional and financial abuse.
On Yom Kippur 2002, she told her own story from the bima. "It was an unbelievable moment," she says. "My voice mail and e-mail were clogged after that. People knew I understood." When she became educational director at Temple B'nai Jeshurun in Short Hills, New Jersey, in 2003, "women would come into my office and fall on the floor and tell me their stories." On discovering that a congregant was living in a shelter, she insisted on placing stickers with crisis intervention phone numbers in the synagogue's bathrooms. "The discussion was, 'But will it look nice?'" Manber recalls. "The real struggle is that the minute you put up the stickers you admit that domestic violence dwells here."
Increasingly, rabbis and Jewish organizations are admitting just that. Experts agree that though there is still a long way to go, greater awareness exists today.
The conversation now focuses on developing comprehensive services and prevention strategies. There are over 75 Jewish-based domestic violence programs across the country. They include crisis intervention, shelters, legal assistance and education for adults and teens (see sidebar, page 52) as well as training for professionals who work with victims. Coordinated centers have opened in metropolitan areas—but they are sorely needed in smaller communities. And rabbinical involvement is critical: After female family and friends, victims of domestic violence often turn to clergy for guidance.
A rabbi who discusses domestic violence from the pulpit is perceived as "safe," someone who will believe the victim and will use faith as a resource, not a roadblock, says Manber, who now coordinates Dayenu! Enough Silence, The Domestic Violence Initiative of the New York Board of Rabbis (212-983-3532; www.nybr.org). She has educated over 300 rabbis to recognize family violence, training them to identify resources and urging them to give sermons and screen couples during premarital counseling.
"Telling people to make shalom bayit—peace in the home—is not always a good thing," says Manber. "We go to the huppa with the expectation of love and family and partnership and equality and when it does not happen, it's hard to stop and recognize it and name it."
"There is a direct correlation between speaking out and people coming forward," says Rabbi Robert Levine of Reform Congregation Rodeph Sholom in New York and president of NYBR. In his congregation, he says, the numbers have been "a trickle rather than a torrent." But, he adds, "if you save one life, it's as if you've saved an entire world." In addition to Levine's sermons, the sisterhood sponsors year-round programs on domestic abuse.
Abraham Twerski, an Orthodox rabbi, psychiatrist and author, was among the first to expose the issue in the Jewish world in his book, The Shame Borne in Silence: Spouse Abuse in the Jewish Community (Mirkov). He continues to receive calls from victims. One recent call was from a woman whose husband is a rabbi; another was from an Israeli whose husband refuses to acknowledge the problem. "You name it; I've heard it," says Dr. Twerski.
"The widespread belief is that Jewish husbands do not drink, gamble or beat their wives; that they are always 'caring, kind and considerate,' and that being observant precludes being abusive," he notes in his book. "To even air such subjects publicly is a 'chilul Hashem,' a disgrace to the sanctity of Judaism, and shame to the reputation of the community." While he is no longer dogged by the death threats that followed the book's publication in 1997, many Orthodox bookstores (at rabbis' insistence) will not display or carry the title. "If you ask for it, they may give it to you under the counter," says Dr. Twerski, who has also written a handbook with guidelines for rabbinic counseling.
Statistics on domestic violence, which are based on government findings on occurrences of physical and sexual assault, only exist for the general community. There are no definitive numbers on incidences among American Jews, but there is anecdotal evidence.
"Jewish community leaders like to say our rates of domestic violence are not the same as the non-Jewish community, which is one in four women," says Carol Goodman Kaufman, author of Sins of Omission: the Jewish Community's Reaction to Domestic Violence (Westview Press). "Even if it's one in ten women, it's still 150,000. If it's one in four women, 375,000 people will be physically abused sometime in [their] lifetime."
In Baltimore, rabbis have accepted that dealing with domestic violence is part of their rabbinic prerogative, says Nancy Aiken, director of CHANA: Counseling, Helpline and Aid Network for Abused Women (410-234-0023; www.associated.org). The community has become so coordinated in its response that it even united to put one abuser in herem, halakhic excommunication. CHANA's kosher shelter, a two-bedroom apartment in a gated community, is used less than it was previously because people have gotten better at identifying and responding to potentially dangerous situations. "Even if we need it one night a month, it is still very important," Aiken notes.
Still, jewish-run shelters are critical. Victims "have been told over and over by the abuser, 'If you leave, you're the bad one,'" Aiken explains. "When a religious organization helps them, the message is that they're not 'bad' for leaving. Even when they have just one night without battering, they can make decisions more clearly."
In fact, Manber reports that some Jewish victims make up to 14 attempts to leave before finally extricating themselves from a relationship (the general average is 3 to 7 attempts).
Levine recalls the first incidence of domestic violence he encountered as a rabbi in Connecticut 20 years ago. "It was not hard to get her a room and a bed in a group home," he says. "It was hard to get her to want a room and a bed."
While there is a stigma surrounding domestic violence across the denominations, the issues observant women face can be overwhelming. Even the largest congregations are too small to hide from an abusive spouse. "Where can she go where she will be hidden and safe?" Kaufman points out. "And what if she has to relocate…? Where will her children go to day school?"
If victims do go to shelters, they may have to live in facilities that are not equipped for the large number of children in Orthodox families. The Orthodox community does manage some shelters, such as those run by Ohel Children's Home and Family Services in Brooklyn (888-311-OHEL; www.ohel family.org) and Project Tikva in Rockland County, New York (914-634-3344). Kaufman recommends establishing more safe homes in hard-to-find places; a hidden network of host families has emerged, but it puts those who try to help at risk of retaliation from outraged abusers.
Women's organizations have become leading voices in combating domestic violence. Jewish Women International (800-343-2823;www.jwi.org) has spearheaded three conferences, organized a clergy task force, a training institute, an alliance of professionals and an online resource directory. Hadassah's 2007 convention featured one session on domestic abuse prevention that is available on DVD (212-303-8165; video@hadassah.org). "We hope [the sessions] will engender discussion, allow members to educate themselves…and act as a call to action," says Joy Pollock, national chair of the constitution committee.
According to Aiken, "the next step is taking domestic violence beyond a women's issue and involving men more in the solution." Rabbi Mark Dratch has made the fight against abuse a priority. After 22 years as a pulpit rabbi, he left to start JSafe: The Jewish Institute Supporting an Abuse-Free Environment (203-858-9691;www.jsafe.org). Dratch envisions a certification program for synagogues, schools, community centers and youth organizations that will set the standard for training and policies that prevent abuse, support survivors and make perpetrators accountable.
"Jewish laws and values are twisted and inappropriately applied—both from a halakhic perspective and the perspective of decency," says Dratch. Some have used the laws against spreading gossip, for example, to tell people they cannot speak about abuse.
JSafe, which is based in West Hempstead, New York, works with rabbis and communities across the denominations. Each neighborhood has its own nuances, says Dratch. In one case he negotiated, a woman had an order of protection against her husband, yet both wanted to attend the same synagogue. The rabbi, hearing two conflicting stories, was caught in the middle. JSafe came up with an agreement whereby each attended on alternate Shabbatot.
"These are not private issues," says Dratch. "They can spiral out of control." Rabbis who sit on the beit din need an understanding of domestic violence and guidance on working with law enforcement and social service agencies, he adds.
Paul Kivel, a violence-prevention educator, spearheaded the creation and implementation of policy guidelines on prevention and response to abuse at Kehilla Community Synagogue in Berkeley, California. Adopted in 2003, the guidelines (www.kehillasynagogue.org/abusepolicy.htm) address issues of abuse education and protection, establish consequences such as not giving aliyot to known abusers, encourage the abuser to make behavioral changes and set up procedures upon the allegation of abuse.
"To really focus on creating a safe, healing community you have to build support and understanding," explains Kivel, who says it took his synagogue four years to develop the policy.
Part of the healing process for survivors is to see there are preventative measures in place. Michelle Booth, a survivor of domestic violence who has been divorced 10 years, became disillusioned with her rabbi who, she says, witnessed her husband's verbal rages, helped her obtain a get, even gave a sermon on domestic violence—but then denied it existed in their Conservative community in California.
"I was sitting in the congregation when he gave the sermon," recalls Booth. "It changed my relationship with the rabbi forever." More recently, the rabbi welcomed a man back into the community whose wife, says Booth, committed suicide because she was abused and could not imagine being on her own.
"There are no rules in place," Booth says. "It's distressing to think how we will ever make progress." She is now on the board of Shalom Bayit: Bay Area Jewish Women Working to End Domestic Violence (510-451-7233; www.shalom-bayit.org), which assisted her when she needed help.
Rabbinical seminaries bring in experts to speak to students, but their curricula tend not to emphasize standardized or mandatory training. Yeshiva University in New York offers a three-lecture series on the basics of domestic violence in its pastoral counseling unit. YU is trying to extend its hands-on experience this year, according to David Pelcovitz, who holds the Straus Chair in Psychology and Education at YU's Azrieli Graduate School of Jewish Education.
The challenge, says Manber, is broadening the scope of domestic violence education. "When I'm asked to do a sisterhood program, I ask if I can also address the men's club, the high school seniors, youth groups and confirmation classes," she says.
There are now misheberakh prayers, Yizkor prayers and Sukkot healing services for victims of domestic violence. But, notes Manber, the question is how to acknowledge domestic violence every day, "in every season and every Shabbos and every minyan, on a Monday morning or Wednesday afternoon."
---
An Ounce of Prevention
Amy Robbins Ellison can tell you how, despite her skill as a cardiac anesthesiologist and numerous talents, she still ended up in a nightmare of abuse until her divorce. But these days Ellison looks beyond emotional tales. She is a member of Jewish Women International's JCARES (Jewish Community Abuse Resources, Education and Solutions, 847-373-3535; www.jwi.org), a Chicago-based coalition of organizations, clergy and other advocates. "It's not about an individual's story," she says. "It's about education. It's about changing how we all think, what is acceptable behavior…."
The new focus of domestic violence education is prevention. Actress Naomi Ackerman (above; www.naomiackerman.com) has made it her niche. In the past 10 years, she has performed her one-woman show about a battered woman, Flowers Aren't Enough, over 900 times. Originally written as a Hebrew monologue at the request of the Israeli Ministry of Welfare for a conference on domestic violence, Ackerman translated it six years ago after a member of a Hadassah Mission to Israel, where Ackerman was living, asked for a performance in English. Ackerman now lives in Los Angeles and travels worldwide performing for teenagers and adults.
After her act, Ackerman often conducts role-playing workshops on dating and relationships. A sample scenario: A boy brings his girlfriend flowers and chocolate. After each gift, he asks her to change something about herself. Or this: A girl constantly puts her boyfriend down around their friends. When they are alone she apologizes and says she loves him. "What could happen?" Ackerman asks. "What should happen?
"Kids know what we're talking about—yet they are still in unhealthy relationships," she says. "As an artist, educator and activist, I struggle with how I can get across the message that it's more important to be with a person who is a good friend."
Experts emphasize that educators should be trained to recognize the signs and symptoms that indicate a child might be living in an abusive home and be able to link his or her family with providers. Be'ad HaYeled (On Behalf of the Child; 718-435-5700), a program of the Jewish Board of Family and Children's Services and the Board of Jewish Education of Greater New York, has educated teachers, camp counselors and hospital staff to recognize family violence.
The Hadassah Foundation has partnered with a number of organizations to fund programs for girls (see page 77 for more information). Strong Girls, Healthy Relationships: A Conversation on Dating, Friendship and Self-Esteem, a curriculum for teenagers also sponsored by JWI, was written by Shira D. Epstein, assistant professor in the Davidson School of Education at the Jewish Theological Seminary in New York. California's Shalom Bayit: Bay Area Jewish Women Working to End Domestic Violence program has taken a coed approach in its Love Shouldn't Hurt curriculum (510-451-7233; www.shalom-bayit.org).
Other teen programs that can be adapted for Jewish use include the Liz Claiborne Foundation's Love Is Not Abuse (www.loveisnotabuse.com) and Dating Violence 101 and Teens Speak Out from the nonprofit Break the Cycle (www.breakthecycle.org), which also offers a blog for teens,www.thesafespace.org.
New York-based Shalom Task Force runs a national hotline (888-883-2323) and provides prevention and healthy-marriage programs for the Orthodox community. The task force recently received a federal grant to develop a program for boys' yeshivas and provide workshops for engaged couples (www.shalomworkshop.org).
According to task force founder Nechama Wolfson, "prevention programs are the key to change."
—R.M.