Feature: Jewish High Society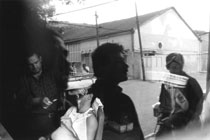 The old Jewish men of Krasnaya Sloboda in the Caucasus Mountains gather at the local teahouse every morning. The sounds of the Koran being read over loudspeakers echo loudly from across the river as the Mountain Jews, as the Jews from the Caucasus region are called, drink endless glasses of tea, play endless games of backgammon and listen over and over to the retelling of the stories of who they are and where they are from.
Krasnaya Sloboda (Red Village) is the Soviet name of the town once known as Yevreiskaya Sloboda, Jewish Village. It is the independent Jewish half of the city of Kuba in modern Azerbaijan, joined to the largely Muslim city by a bridge across the Kudyal River. The village was founded in the 18th century after Fatali Khan, ruler of the feudal kingdom in what is now Azerbaijan and Dagestan, invited Jews to settle across the river from Kuba, then his capital. Jews flocked there from less accommodating Muslim areas both locally and as far away as Persia. The village flourished, with each group of Jews creating its own neighborhood and synagogue—11 in all.
Jewish life was brought to a halt in the mid-20th century after the Soviet government came into power and tried to suppress religious practices, closing all but one synagogue and arresting all but one rabbi. Nevertheless, the Mountain Jews retained much of their religious identity and traditions.
Since the 1991 collapse of the Soviet Union, the Mountain Jews have undergone extraordinary changes. Many have become international merchants with business networks in Israel, Russia, Turkey and North America.
In the past decade, however, Krasnaya Sloboda's population has shrunk. Many villagers have immigrated to Israel and North America. Others work outside Azerbaijan and return to celebrate holidays by the Caspian Sea. Yet Jewish life in Krasnaya Sloboda is continuing—bar mitzvas and brit milas are once more being celebrated, there is a new yeshiva and one of the original synagogues has reopened.