Inside Hadassah Israel: The People and the Land
January 2008 brings with it Tu Bishvat, the New Year for Trees, and Israel's 60th anniversary year. It's a good time to rejoice in our extraordinary achievements: redeeming the land; creating great institutions of healing, teaching and research; reaching out to the next generation through Young Judaea and Youth Aliyah, and now YJ Impact as well—Young Judaea's branch for college-age men and women.
Indeed, it's time to express our pride in Hadassah's many partnerships—in our communities, in Israel and internationally. Here's to a wonderful New Year for Trees, for Israel and for us all.
—Ruth G. Cole
---
Small Community, Great Success
Panama has a Jewish community of about 10,000, out of an overall population of 3 million. Just a year and a half ago, the small Central American country started its own branch of Hadassah International—and the group has already raised more than $1.6 million for the Sarah Wetsman Davidson Tower, now being built at the Hadassah–Hebrew University Medical Center at Ein Kerem in Jerusalem.
Hadassah Panama also hosted a two-day symposium on trauma medicine in October attended by 700 health professionals, which culminated in the inauguration of Panama's first trauma center at the Santo Tomas Hospital in Panama City. Hadassah Panama raised over $30,000 from outside sponsors to defray the costs of the event and brought in guest speakers from the Hadassah Medical Organization in Israel.
"This community is simply amazing in their focus and dedication to enhancing the health care system of both Panama and Israel," noted Ethel Fainstein, director of nearby Hadassah Mexico.
"We were truly touched by the warm welcome… extended to us and [the people's] steadfast devotion to Israel," added Sherry Altura, chair of major gifts for Mexico and Panama.
---
Right of Birth
Young Judaea knows Israel. So who better to trust when choosing a provider for a trip to the country? Starting this summer, YJ Impact—formerly known as Hamagshimim—will offer free 10-day trips to the Jewish state through birthright israel. The program will focus on "the real Israel" and will give participants an unfiltered view of the country as it is perceived by its own citizens.
The tours will encompass the span of Israel, from the Negev Desert in the south to the northern Galilee, with opportunities to visit numerous important sights in between. Separate tracks will be offered for college students and young professionals. For over seven years, birthright israel has been providing free trips to Israel for Jews ages 18 to 26 who have not previously participated in an educational trip. YJ Impact birthright itineraries will be offered twice a year, in the summer and winter. For more information about YJ Impact, visit www.yjimpact.org or call 212-303-4585.
---
A Word on Bacteria
We are used to the idea that living things communicate with other members of their species, but apparently this may also be true of unicellular organisms.
A team of researchers at Hebrew University–Hadassah Medical School's Department of Molecular Biology, headed by Dr. Hanna Engelberg-Kulka, recently discovered a communication factor that allows bacteria to "talk" to each other, enabling individual cells to behave as a community similar to a multicellular organism.
This finding, published in the prestigious Science journal in October 2007, was based on studies of E. coli bacteria.
The communication factor (known as the extracellular death factor) causes certain cells to "commit suicide" to enable the survival of the community as a whole. The newfound understanding of this mechanism may enable scientists to create an antibiotic that mimics this, to trigger the death of E. coli cells as well as similar illness-causing bacteria. This is especially significant considering the bacteria's growing resistance to existing antibiotics.
---
Choice Programs for Teens
Prevention is a buzzword when it comes to dealing with the difficult reality of domestic violence in the Jewish community (see story, page 50). The Hadassah Foundation supports two programs that educate adolescents to make healthy relationship choices. Strong Girls, Healthy Relationships: A Conversation on Dating, Friendship and Self-Esteem, a project of Jewish Women International (www.jwi.org), has received foundation grants for the past three years for the development of a curriculum for girls ages 13 to 15. Shira D. Epstein, assistant professor at the Davidson School of Education at the Jewish Theological Seminary, wrote the 12-hour, 6-session curriculum that was launched last summer. The program and accompanying workbook help girls explore their values and life goals—based on the premise that self-esteem comes from self-knowledge—and to be aware of the kinds of relationships they choose to have.
The second program, Shalom Bayit, has been a Hadassah Foundation grant recipient since 2005. Its initiative, Love Shouldn't Hurt, is youth-led, geared toward teenage Jewish boys and girls. Zephira Derblich-Milea, youth program coordinator for Shalom Bayit, has made presentations at synagogues, Hebrew schools, summer camps and campus groups in the San Francisco Bay Area, reaching more than 1,300 youngsters. (The program may be purchased through its Web site, www.shalom-bayit.org.)
"We want young people to be in healthy relationships," says Derblich-Milea, "and we also want them to know what to do when they encounter someone who isn't." She has had feedback from girls as young as 14 who say the workshops helped them recognize patterns of abuse and either end a harmful relationship or work up the courage to confront a friend.
---
Cooks Who Care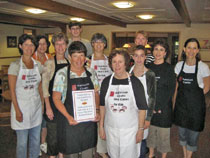 The Minneapolis chapter of Hadassah received the Ronald McDonald House's Don Shelby Service Award last fall, in recognition of its longtime volunteer initiative, Hadassah Cooks and Cares…for Kids. Every Thursday night for over 20 years, Hadassah members and friends from the Twin Cities have been preparing meals for the families staying at the Ronald McDonald House of the Upper Midwest, a residence for families whose children are being treated for life-threatening conditions.
The idea behind Hadassah Cooks came from Minnesotan Sandy Olkon, who spent weeks alone in a hotel in Houston when her first husband was being treated for a terminal illness. "It was lonely, frightening," Olkon told the American Jewish World. "I hated going out for dinner…. I didn't want to go by myself."
Other local organizations jumped on the bandwagon, and now the families staying at the Ronald McDonald House—up to 48 on any given night—are served dinner most days. "The idea snowballed because of Hadassah's initiative," explained Carol Fuerstneau, president of the Minneapolis chapter.
---
Toward a Greener, Cleaner Israel
It is hard to think of blossoming greenery in the dead of winter in some parts of the United States, but Tu Bishvat is this month (January 22) marking the New Year for Trees.
For over 90 years, Hadassah has been committed to caring for the people of Israel, but at the same time, the organization has also concerned itself with the welfare of the Land of Israel, spearheading and taking part in numerous initiatives to promote ecological awareness.
Hadassah's oldest partner in environmental efforts is the Jewish National Fund, which has turned Israel's rocky and dry terrain into green forests, productive farms and beautiful parks. Hadassah and JNF have collaborated in raising funds to plant forests and gardens, to maintain reservoirs and create green spaces accessible to all.
Perhaps the most famous of Hadassah's environmental efforts is Kibbutz Ketura, just north of Eilat, founded in 1973 by former Young Judaeans. It is home to the award-winning Arava Institute for Environmental Studies—the premier environmental teaching and research program in the region.
For the past two years, some Young Judaea Year Course participants have opted to volunteer at the Eve and Adam Ecological Farm near Modi'in. "The farm promotes education through a hands-on experience that will benefit generations to come," said Jenna Hopp, one of the five Year Course students living on the farm this semester.
In Jerusalem, Merkaz Hamagshimim-Hadassah—a community and absorption center for young English-speaking olim—has an active environmental arm. Six years ago, the group began a successful campaign to introduce recycling to Jerusalem. Its latest initiative, according to Deena Fiedelman-Gilad, the center's director of social activism, is to provide a platform for people who desire to work on their own grassroots projects. "Lots of individuals want to help the environment here in their own way," she says. "We'll give them the resources and the guidance they need to start."
Hadassah Israel recently hosted its third conference on Environmental Pollution and Your Health, at Hadassah Hospital at Ein Kerem. Participants watched Al Gore's documentary, An Inconvenient Truth, and heard from academics about the scientific basis of the film's findings. Another panel examined the measures being taken to monitor and minimize changing weather patterns to prevent dangerous climate change. Hillel Shuval, head of Hadassah College Jerusalem's Environmental Health Sciences Department, was a conference organizer.
HCJ is the only academic institution in Israel offering a bachelor of science degree in environmental health sciences. Students learn to identify and control environmental factors that could be harmful to human health and the sustainability of ecosystems. "I have chosen to study environmental studies because I see it as the profession of the future," says Zvika Popper, a student in the department and head of Green Course, HCJ's student environmental group. This year, the club's main project is making the college campus environmentally friendly.
While Tu Bishvat is a time to celebrate trees and nature, at Hadassah, concern for ecology is an ongoing process, recognizing each person's responsibility toward the environment.