New Stories for Kids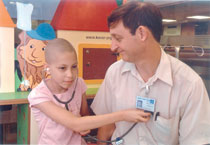 Ride on one of the building's elevators or climb the stairs and you may find yourself rising through what was, until three years ago, open sky. Three new stories sit atop the modern Charlotte R. Bloomberg Mother and Child Center at the Hadassah–Hebrew University Medical Center in Ein Kerem. They cap a structure that was 10 years in the planning and, with the expansion, is now a full-service children's hospital.
From the outside, the top levels look no different than the four below, completed 12 years ago. The building materials are the same. The trains, cars, boats and planes of the road-to-recovery wall motif cavort up the added floors. But the interior of each level is so dissimilar you could be excused for thinking yourself in three different buildings.
"Each unit that's moved here has custom designed the area it's been given," says Dr. Yoav Kohn, psychiatrist in charge of the child and adolescent psychiatric inpatient unit. That division left Mount Scopus last July for the new 7th floor of the Mother and Child Center.
For Hadassah's young psychiatric patients, the custom design (under the guidance of department head Dr. Esti Galili) translates into a facility more closely resembling an upscale boarding school than a hospital. Eight rooms with twin beds lead off a wide, carpeted corridor, each with its own cheerful color scheme extending from walls to bed quilts. At the corridor's end, a large lounge is equipped with a television and a DVD player. The adjacent dining room is used only for meals—rather than tripling as a classroom and an activity space as it did in its old premises. There are classrooms and computer rooms; therapy rooms that resemble living rooms; an aquarium of fat, contented fish; and space for adolescents to run and play. A large terrace off the lounge will eventually be used for gardening, barbecues and water games once funds are found to secure and build a surrounding wall.
Pediatric hematology-oncology, two stories below on the 5th floor, is more hospital-like, but make that the "ideal hospital." Plasma-screen televisions and Internet-linked computers stand next to every bed, and there are infusion stations in both the inpatient rooms and the day hospital. A family lounge, one wall built entirely of glass, looks out over the Judean Hills. Bright flowers are painted on the walls of the procedure rooms. There are quiet nooks as well as group areas where patients can play or study. In one alcove, a small boy careens along on a plastic car. "He has a serious blood disorder," says department head Dr. Michael Weintraub. "But, as you see, children can be very happy even when they're very ill."
Last to move, its transfer completed late last year, was the high-risk pregnancy and neonatal intensive-care unit, part of the obstetrics and gynecology department headed by Dr. Neri Laufer. In its new 6th-floor home, high-risk pregnancy beds for mothers-to-be who have suffered major trauma or have diabetes, hypertension, heart disease or renal problems have been increased from 9 to 14. Intermediate-care cribs for babies with treatable malformations or growth problems are up from 10 to 14. With these new premises increasing the department's floor space by more than a third, its capacity has risen 40 percent.
The facility originally built for us here in the children's hospital was designed for 200 births a month," says Dr. Yossi Ezra, responsible for high-risk pregnancy and obstetrics admissions. "Today, with more than 5,000 births a year, we're over double that. Moving more complex pregnancies and births to this new 6th floor has not only given us a modern integrated unit for such patients, but also freed space for other parts of the department to expand."
In the areas vacated in the basement and mezzanine, the six labor and delivery rooms have been increased to eight, rooms for women whose labor needs special supervision doubled to four, and two rooms have been added for natural births. A second operating room and a third postoperative bed have been set up for women delivering by cesarean section. The two 48-bed maternity wards with their attached nurseries and the 10-bed rooming-in ward, where newborns can be with their mothers during their entire hospital stay, have been refurbished.
"Adding three new floors to the Mother and Child Center gives us an unparalleled facility in which to operate the children's hospital," says Dr. Shlomo Mor-Yosef, director general of the Hadassah Medical Organization. "By bringing pediatric psychiatry and oncology under the same roof as our other children's services—general pediatrics, pediatric surgery, pediatric intensive care and specialized pediatric clinics—and giving obstetrics and gynecology the additional space it merits, we've brought all our children's services under one roof."
And, he points out, this is no ordinary roof. "[It] covers a building that embraces everything known about medically expert and compassionate healing environments for children," Dr. Mor-Yosef says. "It eases the hospital encounter for [kids] and their families, upgrades working conditions and allows us to continue maximizing the very high levels of pediatric care, research and teaching for which we're widely known."
The completion of Hadassah's children's hospital is a harbinger of the medical center's new multistory adult inpatient facility now rising opposite it—both as a model of integrated patient care and in the logistics of moving functioning departments.
"We didn't have the luxury of taking off a week—or even a day—to move," says Dr. Weintraub. "Within five minutes of shifting our daycare clinic, the first patients were walking into our new premises."
Dr. Weintraub's pediatric hematology-oncology department moved in three stages, each a week apart, to allow time to smooth out problems. The offices for doctors, nurses and administrators were relocated in late July 2007. Next, inpatients moved up from the 3rd floor. After that, the day hospital transferred from a cramped 1st-floor facility into an area one-and-a-half times larger. Here, for youngsters coming for daily chemotherapy—often for months at a time—there are 19 infusion stations in place of 13, 4 rooms for schooling, computers and psychosocial therapies (music, drama, art, play and cooking) as well as consulting rooms for clinical psychologists, social workers and dietitians.
"The space we vacated has been refurbished for general pediatric in- and outpatients," explains Dr. Weintraub. "So, in effect, two departments benefited from our move."
The unit is also "using the opportunity of the move to review our routines and examine how we…move patients through the system," he says. "We've put a lot of thinking into the comfort of children and families and working conditions for staff. We now have, for example, an admissions office in the department, which reduces waiting time. There's a triage nurse to evaluate and direct incoming patients…."
As with pediatric oncology, the psychiatric unit's offices and equipment moved first. "We'd been so pressed for space that few of us—our head nurse among them—had even had proper offices," he says. The heavy equipment (including a piano and an aquarium) was then transported. Last came the patients. With change particularly upsetting for psychiatric patients, as many youngsters as possible were temporarily discharged before the move.
"The area we vacated was…difficult to work in because it had not been designed as a psychiatric unit," says Dr. Kohn. "Troubled youngsters slept three to each small room, therapy rooms were the size of closets and we had only two tiny classrooms…. But the unit had been born there, we were all used to it, and the move was stressful." Within days, however, moving pangs dissolved as if they'd never been.
"In psychiatric care, the aim is to create an environment as close as possible to that outside the hospital," he adds. "We now have this, down to a laundry room and kitchenette, along with the special needs of such a ward." Toilets, for example, had been shared in the old facility. Because of patients needing close supervision, all had been kept locked. With a toilet now leading off each two-bed room, most can be left open.
"Ours is a unit that was created for short-term crisis intervention, usually with youngsters with eating disorders and attempted suicide," notes Dr. Kohn. "Although we've since expanded to treat the range of classic child and adolescent psychiatric problems, our emphasis remains on eating disorders, which affect about half our patients. Relocating to the children's hospital gives us simultaneously a custom-built facility and proximity to child-trauma victims and children with chronic diseases that often cause accompanying emotional problems, and we expect to significantly widen our patient population here."
High-risk pregnancy staged its move "as carefully as a ballet, because we kept working through the reconstruction," explains Dr. Ezra. "Every woman registering for birth was given a letter explaining and apologizing for the inconvenience, but none that I know of chose to give birth elsewhere."
Dr. Ezra's unit also used the upheaval of the move to reevaluate itself. "We've introduced a new approach," he says. "We are now treating mother and baby as a unit, with the same nurses caring for both, rather than dividing care between obstetrics and neonatal nurses. Early feedback shows that mothers enjoy this continuity."
Hadassah's seven-story children's hospital is now complete. Across the courtyard, the new adult inpatient center is steadily rising. Four years down the road, 15 medical departments and 20 operating rooms will move in—hopefully in a manner that's as smooth and efficient as those relocated to the children's hospital this year.