Interview: Ruhama Avraham Balila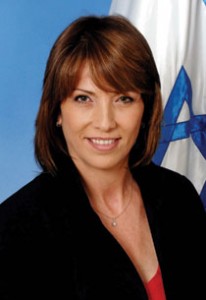 Born in an Israeli transit camp for Jewish immigrants from Muslim lands (her father is from Morocco and her mother from Turkey), Ruhama Avraham Balila, 43, knew from an early age that she wanted to be in politics. Elected to the Knesset in 2003 on the Likud slate, she moved to the new Kadima Party in 2005. Last July she became a minister in Prime Minister Ehud Olmert's cabinet, in charge of liaison with the Knesset. She is also the official coordinator of Israel's 60th-anniversary celebrations worldwide.
Q. As it celebrates 60 years since its birth, what must Israel communicate to the world at large?
A. We have had many military conflicts [and] many great social accomplishments. We have contributed technological advances to the world. Overall, however, our main message should be "yes to coexistence and peace."
Q. What is Israel's single greatest accomplishment?
A. The fact that after 60 years, which is not a large amount of time, Israel has achieved economic independence. I sincerely hope that we will also achieve security independence in the coming years and that we will reach a solution for peace that will provide for two nations living peacefully, side by side, in two states.
Q. There are many people, inside Israel and out, who will celebrate this anniversary of the Jewish state, and others who do not want to. Can you get everyone into one tent?
A. I intend to ensure that the State of Israel will welcome all kinds of expressions of love and support. I call on all your readers to take part in this celebration. This past Passover, all Jews read "Next year in Jerusalem," and there has never been a better time to realize that than 2008. We are developing some huge events that all Jews should want to take part in personally. We are developing a massive prayer event with the participation of the three major monotheistic religions, including prayer for the well-being of Jerusalem. We plan to publicize many other events on our 60th Web site, www.israel60.gov.il. There is a schedule already posted and growing.
Q. People have called Israel and the Jewish people an extended family. If that's true, how do we all work together to optimize this anniversary?
A. We citizens of Israel who live here can be likened to the body, but the diaspora is surely our soul, expressing solidarity and inspiration. If we go with the family analogy, then Israel is certainly the only father and mother. So many youths and students are coming here, to study, to live and be absorbed here. For so many other Jews around the world, their hearts are here in Israel despite the fact they may reside elsewhere. I am thrilled every time I meet a group coming from a tour of the Western Wall and the tunnels—when you see their excitement and the spiritual connection they have for Israel, this is what creates an unshakable bond.
Q. Sixty years is a long time to go without peace. At which anniversary can we hope to look forward to peace: 61st? 65th? 100th?
A. We have somewhat more peace than many imagine, to begin with. We have peace agreements withstanding the critical test of time with Jordan, with Egypt—despite being somewhat chilly. Israel's government, led by my Kadima Party, made tremendous efforts at [the November 2007 summit in] Annapolis [Maryland] to move things forward, reviewing all possible options to bring peace as soon as possible. You will not find one Israeli of any political orientation who does not crave peace. Yet every situation has two sides. [On] one side, the Israelis are committed to traveling the path for peace. The other side continues to teach its children incitement and hatred. I'm not even referring to terrorism, which ebbs and flows, or to Israeli citizens in Sderot, who live literally under siege and threat of attack.
Q. Speaking of Sderot, is it more vulnerable since Israel's withdrawal from Gaza, undertaken by the government which you help lead?
A. I have never seen another country that preemptively conceded land. This step almost tore the nation [apart]; expelling people from their homes was very, very hard. Yet look what happened: Hamas took control of the streets, terror is festering there and there is no chance for now of moving forward in peace in [Gaza]….
Once we know we have a true partner for peace, we will go all the way to make it happen. I hope and believe this will come in the days or months ahead, but certainly in our lifetime.
Q. After six decades, how would you grade Israel on the status of women? One is lowest, ten is highest.
A. Seven. In the past 15 years, the position of women in Israel has improved immensely in many areas. Many more women fill influential positions. In the previous Knesset, there was a record number of women as well as mayors. But on the more peripheral areas, such as Bedouin or haredi sectors, you also see a growing openness, women who are moving toward greater independence, building careers where not so long ago this simply did not exist.
More such women, also those who live in outlying development towns, are starting to receive higher education. Of course, too many women remain in relatively hopeless situations. I'm referring to domestic violence and related issues. Yet Israel as a society is becoming more aware of this phenomenon, [even] though we have a long way to go to solve it.
Q. High technology?
A. Nine and a half. Israel is a world leader in the development of high-tech industry, with competitors in giant nations such as India and China. We have achieved incredible breakthroughs and innovations in this small country. We can rightly take great pride from the many international acquisitions of Israeli high-tech companies and the amazing Jewish brainpower that lies at the root of this phenomenon.
Q. The culture of government, including the many scandals that have been exposed in recent times?
A. Between six and seven. We have a vigorous system of monitoring governmental operations—the state controller's office—and this is a good thing. We do always hear about corruption but, in fairness, if you dig beneath the surface, you see many of these charges are quite marginal or not real at all. It is easy to report on corrupt politicians, and for some members of the public to hate politicians no matter what they do or don't do.
We're not perfect by a long shot, but we're also not beyond all red lines.
Q. Social justice?
A. Only four to five, I am sad to say. There is no doubt that we can and must do more for the weaker parts of our society, an underprivileged periphery that includes Arab citizens of the state as well as haredim. Socialism, privatization, we have experienced all kinds of phases, but we have not succeeded in resolving many of these issues yet.
Q. Aliya?
A. Three to four. I do not mean the quality of the people or the quality of their absorption here, which deserve much higher grades. I refer only to the quantity. I want to see more newcomers in Israel.
Q. Zionism?
A. Only four. That may sound surprising, but our system of hasbara, in which we communicate and pass on our national values and the importance of what we stand for, has far too little impact. The less diaspora Jews understand the meaning and the essence of the Jewish state, the less they will decide to make their homes here.
Q. Let's fast forward to Independence Day 2008. You are at Mount Herzl, the band begins to play 'Hatikva,' you close your eyes…. What are your thoughts?
A. All that our wonderful State of Israel has managed to accomplish. For this, I thank God. And also for all that we yet will accomplish in the years ahead. Believe me, the sky is the limit.