Profile: Gail Reimer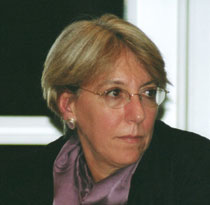 This professor-turned-archivist is determined to make strong Jewish women a thing of the past, present and future.
Twelve years ago, Gail Twersky Reimer was on a panel at a Jewish Funder's Network meeting. The evening's moderator: donor-activist Barbara Dobkin. a It's a safe bet that had the two never shared a dais, and had Reimer not subsequently related her vision of gathering and preserving the oft-forgotten stories of Jewish women, there would not be a Jewish Women's Archive. No Making Our Wilderness Bloom high-school curriculum. No "Katrina's Jewish Voices" Web exhibit. No Jewesses With Attitude blog. Each of these—and dozens of other JWA projects—would have forever remained only pieces of Reimer's tantalizing dream of telling Jewish women's lives.
But with these two determined souls behind it and amid the usual organizational birth pains, Jewish Women's Archive, dedicated to unearthing, documenting and transmitting the legacy of Jewish women, was born.
These days, reimer, 57, sits at the helm of a $1.9-million annual budget and a 13-person staff. Headquartered in Brookline, Massachusetts, the national nonprofit membership organization is known for its innovative technology and creative programming.
Reimer says she is especially proud that JWA is "making Jewish women a legitimate area of inquiry for students and researchers," and that JWA is referenced on hundreds of history and university Web sites. "Now students thinking about topics can see that, in addition to African American women and Latino women, Jewish women are subjects worthy of investigation," she adds.
For her efforts, Reimer, a soft-spoken woman with gently graying hair and smiling face framed by wire-rimmed glasses, was named to the Forward 50—a yardstick of influence determined by the Forward newspaper each year.
Now entering its teen years, JWA is getting sassy, judging by Making Trouble, a documentary produced by Reimer that celebrates the chutzpa of a half-dozen pioneering Jewish women entertainers—Molly Picon, Sophie Tucker, Fanny Brice, Joan Rivers, Gilda Radner and Wendy Wasserstein. Their legacy is seen through the eyes of young comics Judy Gold, Jackie Hoffman, Jessica Kirson and Cory Kahaney.
From conception to final credits, Reimer worked alongside director Rachel Talbot. According to Reimer, the film is "engaging new audiences nationwide in the joy of discovering the indelible mark of Jewish women who used comedy to challenge the status quo."
But Reimer, a longtime vegetarian whose religious practice tends to Torah study and Brookline's postdenominational Minyan Shaleym, will tell you that she never set out to be a movie producer.
Born in 1950 to Holocaust survivors who came to America just after the war, Reimer graduated from Sarah Lawrence College in Bronxville, New York, going on to earn a Ph.D. in English and American literature from Rutgers University in New Jersey. She taught English literature at Wellesley College for nine years before moving to the Massachusetts Foundation for the Humanities in 1987. Her husband, Joseph Reimer, director of Brandeis University's Institute for Informal Jewish Education, and their two daughters, Tamara (now 28 and a yoga teacher in California) and Ziva (23 and studying at the Pardes Institute in Jerusalem), rounded out a busy and productive life. But Reimer was destined for more.
Since she was a youngster, she had been inspired—and in some ways haunted—by the story of her mother, Natalia Geizhals, "a strong, determined, courageous woman who held our family together," Reimer recalls. Born in Krakow, Natalia sent her son into hiding for the duration of the war and refused an opportunity to work in a factory on Oskar Schindler's now-famous list, opting to go with her family to Auschwitz. There, as a kapo—Jewish guard—she was able to save many of the women in her charge.
Unlike so many survivors who shrank from sharing their experiences with their children, many of Reimer's earliest memories are of her mother and her six surviving aunts and uncles telling of their time in the camps.
From her father, David Twersky, Reimer inherited another powerful legacy, the Hasidic Twersky dynasty. Her grandfather, Rabbi Yehuda Leib Twersky of Kielce, Poland, was imprisoned by the Nazis and, after falling ill in prison, was released to die of "natural causes." His is said to have been the last of the large public Jewish funerals in Krakow.
After her mother died in 1988, as a memorial, Reimer began learning from Jewish texts every day. Much of the studying was in the company of her friend and Brookline neighbor, Judith Kates, with whom she shared a literary background and a passion for 19th-century women novelists. Their studies and mutual longing for a woman's interpretation of sacred texts led to the publication of their essay collection Reading Ruth: Contemporary Women Reclaim a Sacred Story (Ballantine). There followed a second anthology, Beginning Anew: A Woman's Companion to the High Holy Days (Touchstone).
"Unlike many academics, Gail thinks incredibly broadly about what is important across Jewish culture," says Kates, a professor of Jewish women's studies at Hebrew College in Newton. "And, because I grew up in the 1940s and 1950s—whereas she grew up in the 1950s and 1960s—she had a greater sense that women participating in the world is the way things are supposed to be. She's more insistent about women having a place at the table."
In 1995, at the time of her encounter with Dobkin, Reimer was still with the Massachusetts Foundation for the Humanities, still working on books with Kates.
But, reimer feared that "unless the stories of Jewish women, largely hidden from the narratives of American and Jewish life, were to be deliberately collected and preserved," writes Joyce Antler in You Never Call! You Never Write! A History of the Jewish Mother (Oxford University Press), "the history of Jewish women in the contemporary world, like the real stories of biblical women whom she had written about, would be lost forever."
Yet Reimer, no stranger to the world of academia, had no appetite for "gathering materials and locking them in a vault." Instead, she dreamed of an archive that would be a breathing, dynamic treasure chest of Jewish women's experience.
And, if Reimer was JWA's mother, Dobkin was its midwife. Founding chair of Ma'ayan, the Jewish Women's Project of the Manhattan JCC, an outspoken leader of the women's funds movement and founding chair of the Hadassah Foundation, Dobkin was the perfect match to ignite Reimer's dream. Together, they engaged a range of women—academics, those with financial means and others with development or marketing backgrounds.
Among them was Ruth Fein, past president of the American Jewish Historical Society and Combined Jewish Philanthropies in Boston, who recalls the initial excitement around the table. "It is not often," Fein says, "that one who has a great idea, a revolutionary idea, can convince others that the idea is doable, gain the financial support necessary to carry it out and put together an organization of professionals and volunteers who become imbued with her commitment and passion. Gail is truly a visionary and a leader."
Her vision has resulted in a virtual archive where materials are just a click away. JWA's Web site (www.jwa.org) gets more than 10,000 hits a month from 85 countries, opening windows into history and biographies through film clips, multimedia exhibits, oral histories, school curricula and even recipes written by a Jewish woman in 1898.
Also online is "Women of Valor," an exhibit featuring 18 pioneers, from poet Emma Lazarus to activist Emma Goldman, from Hadassah founder Henrietta Szold to political activist Bella Abzug. And there's "Katrina's Jewish Voices," a collection of stories and photos from New Orleans, as well as 1970 footage of the Chicago Women's Liberation Rock Band. The exciting thing about a Web exhibit, Reimer says with a smile, "is that, unlike other museums, we never know who is walking in our door."
New from JWA: the CD-ROM Jewish Women: A Comprehensive Historical Encyclopedia, which will eventually be downloadable off the site. Edited by Paula E. Hyman and Dalia Ofer, the compendium was sponsored by JWA and published by the Jewish Publication Society.
Authors, scholars, journalists, filmmakers and curators often tell Reimer they look no further than www.jwa.org and its countless links and articles to find answers to their questions about Jewish women—be it in business, politics, religion, sports, activism, the arts, academia or women's personal and family lives.
Reimer has also earned a devoted group of admirers throughout the Jewish world. Among them is Letty Cottin Pogrebin, founding editor of Ms. Magazine and author of the groundbreaking Deborah, Golda, and Me: Being Female and Jewish in America (Anchor Books). "Gail Reimer is a gentle giant…," Pogrebin says. "We owe her an enormous debt of gratitude for creating the Jewish Women's Archive and thereby ensuring that Jewish women's history and heroism, struggles and triumphs, will not be lost to future generations."
Possibly Reimer's biggest fan is her husband. "She speaks her mind and can offer clear direction, but also listens to others," says Joseph Reimer, 60. "Some people need a way of expressing the values that mean the most to them to change the world. Gail is that kind of person."
But as much as she has accomplished, Reimer is realistic about the challenges she faces. Not only is time running out for recording stories from the lips of those who survived the Holocaust, the Depression and World War II, Reimer also remains under pressure to raise more funds to sustain JWA's trademark programs and grow into even bigger shoes.
"Money is a challenge for any women's organization," Dobkin admits. "Women of wealth tend to be very traditional, and progressive women aren't necessarily into Jewish causes or they're not the ones with money. I'll continue to be a big donor because the archive has the potential to make the changes we need, to help girls become the Jewish women they can be. There are still too many Jewish organizations where there are no women on the dais."
One of Reimer's biggest fears is that "people will think there's no women's issue anymore, no need for what we're doing," she says. "There's danger in not telling our daughters that, not so long ago, women weren't getting good jobs, didn't have opportunities, weren't in control of our bodies. The progress we've made is not insignificant but it is fragile, especially if younger women shy away from the word 'feminist' and learning about women's issues."
Reimer has two dreams for the future. The first is for every Jewish child—boy and girl alike—to have heroes who are Jewish women, to know their names and their stories. "Barbara [Dobkin] likes to say, 'You can't be what you can't see,'" Reimer says. "So the more we see women who broke boundaries, challenged the status quo and became leaders, the easier it will be for other women to do that, too. It will literally change the norm. Otherwise, women in power will continue to be an anomaly."
And her other dream?
"There are still too many of us who don't think our stories matter," she says. "I'll know I've been truly successful when, the next time I knock on a door, the woman who opens it says, 'Where have you been? I've been waiting to tell you my story.'"