Cut & Post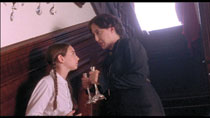 Lights, Camera, Action
Robin Garbose has come far since directing theater in New York in the 1980s at Ensemble Studio Theater, the Juilliard School and the Irish Arts Center. Becoming observant 18 years ago, Garbose is today finding success in Hollywood with the mission of elevating the image of women in Jewish media.
Her feature film musical, A Light for Greytowers, premiered at Paramount's Sherry Lansing Theater in Hollywood last December for women only. Based on the novel set in Victorian England, 12-year-old Miriam (above left) is abandoned in a cruel orphanage after her mother passes away from illness.
"There's never been a young heroine like Miriam onscreen, fighting for Shabbat and [kashrut]," says Garbose.
The film's young actresses are from Kol Neshama (www.kolneshama.org), a performing arts conservatory in Los Angeles that Garbose opened eight years ago for Orthodox girls with a "burning desire to perform."
The film is reaching communities that don't usually attend movies, and Garbose believes all-female audiences "can emerge as a viable niche market in the entertainment industry."
—Sara Trappler Spielman
The Book Keeper: A Love Story
A non-Jew from San Diego came one step closer to realizing his dream of establishing a Jewish library in Vilna, Lithuania, when he moved to the erstwhile capital of East European Yiddish life last December. For the past three years, Wyman Brent, 45, has been collecting books in the hopes of creating what he calls the Vilnius Jewish Library. With no ties to Jewish organizations and scarce personal funds, Brent, who sells books and records on the Internet, has been amassing books in his tiny Southern California apartment. The library, as he envisions it, will contain 100,000 English-language books either penned by Jewish authors or on Jewish topics. For advice in his endeavor, Brent met with Sir Martin Gilbert, a preeminent writer and historian of the Holocaust, in England.
Brent, whose inspiration comes from his fascination with Eastern Europe and the region's Jews, and his roommate, Carla Remondini, an Italian-born non-Jew, have collected 2,700 books to date, acquired from thrift shops, swap meets and the Internet.
"I want to be the shammes of the library, the person taking care of it out of love," Brent said.
—Rebecca Spence
A Last—and First—Resort
For parents of children with autism, taking a vacation can be daunting and stressful. Given the behavior of boys and girls with autism, including abnormal or limited social interactions and communication skills, getaway needs are highly specialized. Recognizing the demand for innovative, year-round vacation solutions, Alut, the Israeli Society for Autistic Children, has created Aluteva (www.aluteva. org.il, in Hebrew), a resort catering to families with autistic children.
Located on the edge of Carmiel in northern Israel, Aluteva is equipped with eight guesthouses. The campus is cheerfully decorated, compact and enclosed. An indoor gym (above) and a playroom called Snoozyland offer healthy doses of sensory-visual stimuli that autistic children generally require. A specially trained staff is on hand full time to supervise the children and also to give tailored tours of regional attractions.
According to Alut's estimates, some 5,000 to 6,000 Israelis have been diagnosed with autism, a neurological development disorder that crosses racial boundaries.
—Orit Arfa
Flag Day at Masada
In the midst of a storm on December 3, 2005, Grace Galindez-Gupana had a revelation. An Evangelical minister in Manila, the Philippines, she says she heard the voice of God telling her to "raise the standard of my Chosen People."
Sister Grace, as she is known in her church, the Halleluyah Prophetic Global Ministry Foundation, and 24 fellow members first made a Philippine flag.
"But the Lord said, 'Yes, O.K., but what is important is the Israeli flag,'" she said. "Finally, I obeyed, but it was not easy. My government, my family, my church were against it."
On November 25, 2007, an Israeli flag (above left) measuring 328 feet by 656 feet and weighing more than 11,000 pounds was unfurled alongside a Philippine flag of the same size on a landing strip at the foot of Masada. Guinness World Records has certified the flags as the largest in the world.
Galindez-Gupana, a businesswoman who markets herbal food supplements and vitamins, said the project cost $520,000.
—Esther Hecht
How to Stay Hip
A new online risk calculator can help postmenopausal women determine the likelihood of fracturing a hip in the next five years. The probability model, at https://hipcalculator.fhcrc.org, is a project of the Women's Health Initiative at the National Institutes of Health.
WHI's risk formula compares factors such as age, weight, history of fracture in the family, whether one smokes, overall health, level of physical activity and other criteria. And though the site is geared toward women, researchers note the calculator may be accurate for men as well.
—Libby Goldberg
Flight Plans
El Al Israel Airlines and American Airlines, the world's largest carrier, this month are set to launch a code-sharing agreement that will expand and improve travel opportunities for both Israelis and Americans.
The ability to purchase tickets for American Airlines (www.aa.com) flights through El Al (www. elal.co.il) means that Israelis can now travel to almost any city in the United States on one ticket; the result will be cheaper prices and more flight times.
For United States travelers, purchasing a seat on an American/El Al code-share allows for more flight times and combinations to reach various cities in Europe that service El Al. This agreement replaces El Al's previous one with Delta Airlines.
—L.G.
Making a Splash
At the Maccabiah Games in 1957, Jane Katz, then 14, was the youngest member of the United States swim team.
Fifty years later, she got a chance to compete again, this time in the Pan American Maccabiah Games in Argentina last December. Yet Katz (below) almost didn't go. Her husband had recently passed away and she wasn't sure if taking part in the event was appropriate. But she decided her late husband, a Holocaust survivor, would have wanted her to participate. He was with her at the 1996 games when she won 13 gold medals.
Swimming is Katz's work and passion. She has taught water fitness for over 40 years as a professor at New York's John Jay College and has coached its women's swim team for the last 12. Katz, who has a degree in gerontology, encourages people of all ages to get in the water, even adapting swim workouts to recent fitness trends, such as yoga and pilates (her Web site iswww.globalaquatics.com).
"I always say water is democratic, it's the great equalizer," she notes.
—Lisa Scherzer