Profile: Joseph Cedar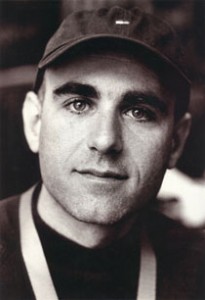 A favorite with audiences and critics, this international film festival award winner is one of the filmmakers putting Israel's movie industry on the map.
Joseph Cedar's unassuming Tel Aviv apartment-in the middle of a thoroughly average, quiet street of identical boxy white buildings—is a good place to hide genius. Or perhaps to unwrap and explore it, in the space provided by anonymous urban sameness.
An award-winning director and leading light of Israel's feature film renaissance, Cedar's manner is gentle yet intense. Most recently, he was the first Israeli to take home the Silver Bear Award for Best Director at the Berlin International Film Festival for his 2007 release, Beaufort, which has been nominated for an Academy Award in the foreign language category.
Cedar, 39, is an american import to Israel; his family made aliyafrom New York in 1974. He studied philosophy and the history of theater at the Hebrew University of Jerusalem, later graduating from New York University Film School.
His body of work is marked by dexterous, almost perfect renderings of the Israeli experience at its most essential—loyalty, heroism, youth, community, conformity and sacrifice—but told so close to the bone as to be utterly un-Israeli, like the lanky director's Land's End chic.
"The best vantage point for a storyteller"—the appellation Cedar chooses for himself—"is to be enough of an insider to hear the secrets, but enough of an outsider to see the picture," he remarks. This is a sentiment, one learns from reading interviews he has given over the years, that is indispensable to Cedar's philosophy, like blood and music for Quentin Tarantino or neurosis for Woody Al­len. The insider/outsider interplay is Cedar's thing, his virtuosity bringing to the fore exactly what it costs to be either inside, or outside, a society.
The inestimable cost of war is the focus of Beaufort, which premiered in New York in mid-January and is based on the novel by journalist Ron Leshem (Im Yesh Gan Eden, in Hebrew; see review, page 84), who cowrote the script with Cedar. The movie's celebrated debut in Berlin in February 2007 cemented Cedar's place as both a critical and popular success at home and abroad. Film critic Hannah Brown of The Jerusalem Post calls him "one of the most talented directors working in Israel today," noting especially his "great passion for his subject[s] and affection for his characters."
Beaufort coproducer David Mandil, who has been working with Cedar since the director's rookie film, Time of Favor, eight years ago, notes that Cedar has a knack for "finding the human story in the specific one, finding a general phenomenon by exploring individuals."
Cedar and Leshem's thoughtfully drawn soldier-pawns, caught in the Gordian knot of the First Lebanon War's final weeks, man Beaufort, the ancient Crusader fortress-turned-mountaintop outpost. The position they defend is at once isolated and irrelevant, and also the sum game of an 18-year-long conflict. Cedar cites the 1959 Gregory Peck war drama Pork Chop Hill, similarly set on one foothill during the last, illfated days of the Korean War, as one of his cinematic inspirations.
Elaborately constructed in the Golan Heights from 1,000 tons of cement to mimic the real thing just past Israel's northern border, Cedar's Beaufort echoes the claustrophobia of a nightmare. It is both a rabbit den of cold underground tunnels connecting lookout posts and also a sanctuary, a protection from the anonymous, exploding enemy sky that makes aboveground movement a relentless game of chance.
Cedar has pitted the mountain, every bit as much a character in the story as Ahab's whale, against Liraz, the young commander presiding over the chaos with great professionalism and testosterone-driven swagger. But as the Israeli withdrawal from Lebanon nears and casualties rise, the soldier tasked with lowering the last Israeli flag in Lebanon and detonating his outpost into oblivion is unhinged by a growing sense of lost purpose, frustration, impotence and fear.
Of the real-life events that inspired Leshem's book and his film, says Ce­dar, "Everything that went wrong [at the end of the war] was inevitable. That ridiculousness is part of war. It's the story of any battle, the story of any mountain, which one minute is worth lives and the next minute, worth nothing." As such, Cedar, decidedly antiwar, does not accept the notion of a soldier's death as heroic; instead, he sees it as a tragic waste. It is why survival becomes a major focus of his film.
This puts him in the role of iconoclast in a country where an overwhelming majority of adult male citizens are or were soldiers. (Cedar himself served as a paratrooper medic in Lebanon in the late 1980s).
But the success of the film is a testimony to the power and quality of Cedar's work.
"I always feel that he was driven to tell a story," notes Brown, "not that he just felt like making a movie, and I think all audiences respond to that kind of passion and intensity."
It is a reverence for living that the director brings to the screen. Each character in Beaufort shines just a bit brighter in the scenes prior to his maiming or killing. The viewer comes to dread learning something new about a soldier—that he can compose songs on his keyboard; that his uncle died in combat; that he does funny dances when he knows his buddies are watching him at his guard post; that he has a girlfriend in New Jersey named Michelle—as it becomes evident that such humanizing information may be the eerie laugh of death.
It's also about the sentimental relationship that develops between a soldier and his reviled battleground. As Liraz gives the order to blow up Beaufort in the film's final scene, "he is destroying a cursed mountain, a hell on earth, but at the same time he's eliminating the only thing in his life that made him feel significant, connected, part of a larger cause…," writes Cedar in the playbill that ac­companied the Berlin debut. "I struggled with finding a way to convey this to the actors."
But convey it he did. "He knows how to get the best out of his actors," affirms Ruth Diskin of Ruth Diskin Films, one of Israel's leading film distributors. "He is a charismatic person who can manage a team well. This comes across in his films." Diskin represents Wasted, the award-winning documentary directed by Nurit Kedar and produced by Beaufort partners Mandil and David Silber. Wasted explores the real soldiers' stories behind Leshem's novel and was filmed on the same set as Beaufort.
Cedar speaks of the filmmaking process as being "saturated by anxiety," presumably because creative development for an artist of his caliber is a quest for the kind of wholeness one wishes for in a newborn. The incubation of the small, perfect details necessary to bring another human being to life on­screen is stressful and fraught with waiting; satisfaction comes when it is over, and when it is good. Even his cherished reading time, he says, is all about finding the next project or researching the current one. And he has no leisure hobbies ("You mean like skiing? No…I have kids," Cedar deadpans).
Cedar and his wife, Vered Kelner, a Maariv newspaper journalist, have two children, ages 3 and 6. A full toy box, whose dolls and trucks show evidence of a girl and a boy at home, sits behind Cedar's easy chair. Nearby is a bookshelf lined with Hebrew and English novels and a full set of Talmud and accompanying Jewish law volumes from his days in yeshiva.
It is no surprise that Cedar prefers to "combine a few communities and be outside of each," as he puts it. The small dark yarmulke on his almost-shaved head exposes one group—the Religious Zionist establishment he controversially portrayed in his two prior films—to simultaneously belong to and be outside of.
Those earlier films, Time of Favor and Campfire, were Israel's submissions to the American Academy Awards; they had won the Israel Film Academy (Ophir) Award for Best Picture in 2000 and 2004, respectively.
Time of Favor explores the subversive elements in the National Religious yeshiva world. A soldier's loyalties are tested when he learns of his best friends' plans to detonate a bomb at the Temple Mount.
Earning six Ophir Awards, it was an astounding first effort that Cedar says was about "needing to please"—his characters choosing between pleasing their rabbis or their commanders, the director choosing between the story he needed to tell and the loyalty to the community from which he came.
Cedar began writing the film while living for a brief time in a West Bank settlement, which he says he selected "for the quiet" on his return to Israel from graduate school in New York. At the time, it was not an odd choice for a young man with roots in Israel's modern Orthodox community.
No israeli filmmaker ever looked at the National Re­ligious community, one of the fastest growing and most politically and socially important groups in Israel, until Cedar did," notes Brown. "[He] grew up in this community and decided to tell its stories on film…."
If that film unsettled the sometimes insular world of Israel's Orthodox Zionist yeshiva system, Cedar's second work, Campfire, a popular and critical triumph that garnered five Ophir Awards, went for the whole movement. The film deals with what the director calls "communal embrace," and the frequently high price that members of any clan pay to belong. It is as much about the sympathetic, rejected characters that Cedar draws as it is about the filmmaker's own conflicted feelings concerning his community of origin.
Campfire is set in 1981 on the eve of Israel's withdrawal from Sinai and at the apex of the Gush Emunim settler movement. Rachel, a recent widow raising two rebellious teenage daughters, considers relocating from Jerusalem to an up-and-coming settlement—but first she must pass muster with a committee. The film is a graduated study in the various ways in which one can be an outsider: willfully, forcibly and at every point in between.
If each of his films has Cedar moving further away from his socioreligious roots, his latest project is further still. He is currently writing a feature on German filmmaker and actor Veit Harlan, a Nazi sympathizer whom Goebbels hired to direct propaganda.
What draws Cedar to the story is the relationship between art and state—how an artist can be overridden by the causes that surround him, and how his awareness can be tricked by the society that pays him. Did Harlan understand the extent of what he was doing? This, says Cedar, will be the crux of the new film.
One can be certain that this next movie will be complex, controversial and acclaimed. And it may place Cedar in an even lonelier place, that much closer to the top.