Feature: Living to Teach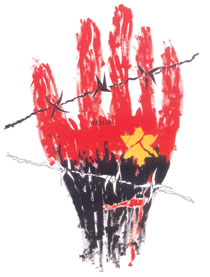 Werner Reich did not speak about the Holocaust until about 12 years ago, sometime before his first grandchild, Ben, was born. Reich felt he had to do whatever was in his power to ensure his grandchild would not endure what he did. Now, at age 80, he tells his story to hundreds of students and adults every year. He relates how he hid in two separate apartments as a child, that he was jailed, transported to Terezin, then Auschwitz-Birkenau and that he survived a death march to Mauthausen, where a doctor cut off his toes to save his rotting feet and bandaged them with toilet paper. He tells his listeners he weighed 65 pounds when he was liberated at age 17.
At an assembly of students studying the Holocaust at North­port High School on Long Island, New York, Reich emphasizes that this is not his story alone, but that of millions of Jews and Christians who perished. And he tells the mostly non-Jewish au­dience it could be their story. "If you ever see a sign like this," he says, pointing to a swastika in his slide presentation, "do not look at it as a sign of anti-Semitism. It is a sign against humanity.
"Not one single person should die because of the color of their skin, religion or outlook, what they painted or wrote. Yet 12 million people died…and," he repeats the next phrase like a mantra, "the good people did nothing." He gives examples from history, current news and the students' own lives and distributes cards that describe the "four steps to be just and do the right thing."
"When you decide what kind of person you want to be," he concludes, "remember that…indifference kills."
"Did you lose your faith in your God?" asks one student. "Did you ever see your mother and sister again?" wonders another.
"It's mind-blowing to hear someone's testimony," says Michael Silvestri, a senior. "His message was, 'Don't stand by and watch something bad happen.'"
"What is the point of saying, 'Oy, did I suffer!'" says Reich, an industrial engineer. "I want my message to come through—I don't want it to happen again—in plain English."
Like Reich, survivors across the country have dedicated themselves to tearing the Holocaust from the pages of history books, giving it a sobering immediacy and infusing it with positive lessons—tolerance, acceptance, vigilance, compassion, love. They are motivated by responsibility: The generation that survived the Holocaust is dying off, and those who are willing to talk about their experiences are working against the clock, giving hundreds of talks a year so that as many people as possible hear their message.
"I do it because…isn't that why I survived?" says Evelyn Romanowsky Ripp, 78, of Tenafly, New Jersey, voicing the sentiment of other survivors.
Max Leibmann, president of The American Gathering of Jewish Holocaust Survivors and Their Descendants, headquartered in New York, estimates there are fewer than 100,000 survivors left in the United States; 73,000 have self-registered with his organization. He adds another 12 percent for the ultra-Orthodox who, he says, do not register. Though no one has exact figures for the number of survivors teaching and speak­ing, New York-based Association of Ho­lo­caust Organizations includes 170 American museums, centers, organizations and second-generation groups (there are 242 members worldwide). Of those, says president Bill Shulman, 100 to 125 have survivors who speak in-house and do outreach. "Once they are gone," Shulman adds, "it will be much more difficult to teach the Holocaust. Their presence gives it an immediacy…. It's not just history."
Ripp belongs to the speakers bureau of the Hidden Child Foundation of the Anti-Defamation League as well as Hid­den Children of the Holocaust of Bergen Coun­ty, New Jersey. "Not everyone is able to speak about it," says Ripp. "I feel strong enough to do it now."
When Ripp retired from her career as a high school teach­er, she wanted to share her experiences with her own children. "They weren't ready to hear it," says Ripp, who lost her 16-year-old sister and 36-year-old mother on the same day in Lachva, Poland (now Belarus), in 1942. "I began writing it down so when they were ready there would be a record." Her children still feel too uncomfortable to read her work or attend her talks.
The Holocaust Memorial and Toler­ance Center of Nas­sau County, in Glen Cove, Long Island, guides survivors in condensing their stories and enhancing their presentations with visuals. About 40 men and women, including Reich, give talks at the center, which serves about 35,000 people a year, most non-Jews, as well as at schools and other venues. They tape teleconferences for audiences from Cleveland senior centers to schools in Texas and Nicaragua.
"From nothing they re-created [their] lives," says Regina White, the center's education director, "so theirs is a message of hope." The center is now encouraging children and grandchildren of survivors to tell their family's stories.
Holocaust educators also have much to learn from survivors, according to Flor­ence Roff­man, who teaches the subject on Long Island. "Werner changed the way I teach," she says. "He doesn't focus on dates, numbers, geography. He focuses on the human experience and challenges people to be better…. He makes the Holocaust an issue for today."
"I always stress that it is the youth's responsibility—they are the fu­ture and they have to be aware of what is going on," says Annie Bleiberg of Woodbury, Long Is­land, a docent at the Nas­sau County Holocaust center who gives talks several times a week. Most of her family were killed in the Belzec extermination camp; she and her father escaped from the train taking them there, but were caught and taken to Auschwitz-Birkenau. They were later evacuated to Czechoslovakia and liberated by the Russian Army.
"[Children] have to know the enemy," adds Bleiberg. "I tell them not to let themselves be bullied, to know history and heritage…. Know who you are, where you come from, take a stand."
"I go to areas where there are no survivors and no Jews and they have no clue what the Holocaust was about," says survivor Eva Brown, 80, of Los Angeles, who is sent to schools by the city's Museum of Tolerance, where she al­so speaks. After giving testimony to the University of Southern California Shoah Foundation Institute for Visual History and Education and watching Schindler's List, she was motivated to share her story. "I didn't know I could speak in public," she recalls. "But speaking came naturally, and the more I did it, the more self-assured I got.
"I talk about my idyllic childhood, about my parents, who were…kind, good people," Brown continues. "I lived through Auschwitz and other camps and rebuilt my life and got to be an old woman. God gave me a gift with my memory, which is still sharp and vivid. The Nazis took everything but I wouldn't allow them to take my memory and my soul."
Survivors can leave a lasting impact on students. After David Gewirtzman of Riverdale, New York, spoke at Martin Van Buren High School in Queens seven years ago, he received a thank-you letter from Jacqueline Murekatete. Her family was murdered in Rwanda in the 1990s along with a million others simply because they were Tutsi, and she related to Gewirtzman, who lost 47 members of his family in the Holocaust because they were Jews. Her uncle, who lives in the United States, brought Murekatete to New York in 1995.
Gewirtzman invited Murekatete to his home, and they became friends. The two have since delivered hundreds of joint lectures worldwide, including at the United Nations, and have even appeared on the Today show. "No one can replace my family, but he is one of the inspirations of my life," says Murekatete, 23, who plans to study international human rights law and has started a project to build a $200,000 community center in Rwanda (www.miracle corners.org/program_partner_jacqueline.htm).
"The only weapon we have to fight hatred is education," says Gewirtzman, 79.
"When young people see us, and I'm their age, it sinks in that genocide is not something that happened 60 years ago," says Murekatete. "'Never again' has yet to become a reality. We all have an obligation to prevent it."
Audiences are often incredibly supportive. Parents at a high school in Dix Hills, Long Island, donated a computer and a projector for Reich's talks. One parent who en­gaged him to speak volunteered her 14-year-old son to help Reich create a slide show.
"I used to get questions like, 'What did you do over the weekend in Auschwitz? Was the food kosher? Was there an exercise room at Auschwitz?'" says Reich. "I realized they thought a concentration camp was like summer camp. Since I began using the slides, those questions are gone. Now I'm asked, 'Do you hate Germans?'"
Many survivors relive their memories at every talk. "I come home absolutely drained," says Ripp. "I push myself to do it." In The Abandoned (ComteQ), her memoir told through poetry, Ripp writes: "Some say, 'Put it behind you!'/ What a soulless concept/ To put it behind!" ("Un­titled").
I still occasionally cry," says Peter Fischl, 77, of Chi­no Hills, California. "I don't have a script. I don't plan. I go and look in the eyes of the audience and my mind recalls what happened to me and I present it. It's very painful for me, but I'm extremely happy to do so since I'm hoping to prevent a Holocaust in the fu­ture. I've dedicated my entire life, the last 30 years, to do that. It's the only thing I live for."
A Budapest native, Fischl was 14 when the Nazis captured his father; Fischl was saved by hiding in a Catholic school with 60 other Jewish children. Later, he hid in oth­er places in Budapest and re­mained there after the war, working as a truck driver; he came to the United States in 1957. In the late 1960s, he saw a chilling picture in an issue of Life magazine: It was of a Polish boy with his arms up, taken in the Warsaw Ghetto.
"At 2 A.M. I woke up," Fischl tells a school group, "and the little Polish boy was standing there with his hands up." He breaks down. "I put a piece of paper into my typewriter and wrote a letter to him. It's the most important letter I've ever written." The letter/poem, "To the Little Polish Boy Standing With His Arms Up," re­mained unpublished for 25 years, until Fischl saw Schindler's List with his daughter Catherine. The movie inspired him to share his poem and his message. Fischl polished his speaking skills at the Learning Annex in 1990. The poem is now the centerpiece of his talks.
"I would write a concerto of you and the world who said nothing…," Fischl reads from his poem, emphasizing the word "nothing." "I would make a monument of you… and the monument will tremble so the blind world now will know what fear is in the dark­ness."
He concludes: "I am sorry that it was you, and not me."
"My message is: Don't hurt the innocent. Study, better yourself, love one another so it can never happen to us what happened to the little Polish boy," stresses Fischl, who is the subject of a new documentary, Holocaust Soliloquy (Globalist Films). His Web site (www.holocaust-trc.org/FischlPoem.htm) includes the text of the poem and lesson plans.
"My mind occasionally still speaks to the little Polish boy," says Fischl. "I've brought him back to life and he's able to tell his story now."
Few survivors are paid for their talks. Some have established foundations to donate books and teaching ma­terials; Fischl em­phasizes the need for corporate and individual sponsors.
Brown established a foundation in cooperation with El Camino College in Torrance, Califor­nia, that teaches 28,000 college students about the Holocaust each year (www.evabrown foundation.org).
"I am carrying the torch for everyone else," says Brown, who lost 60 members of her family and is the only one left of the seven who survived. "I have a tremendous responsibility on my shoulders—and I'm only 5-feet tall. I do it to honor the 6 million. We have to be their voice." Brown says she tells audiences that forgiveness is "the greatest power you have. By forgiving you lift the pain and rebuild your life."
Pediatrician Robert O. Fisch, 82, of Minneapolis recalls being told that, following one of his talks, a 15-year-old boy in church mentioned his name in response to a priest's ques­tion to describe something that had an impact on his life. "He stood up and said, 'Dr. Fisch came to talk to my class, and I have decided my purpose and goal is to fight prejudice,'" Dr. Fisch recounts. "This is the biggest reward."
Recently, Dr. Fisch visited a school for Somalian Muslim refugees in Minnesota who denied the Hol­o­caust. "[The children] didn't even know what Jews are," he says. "They just opposed Israel because they are Muslim. Now they believe the Holocaust happened."
Dr. Fisch has published three books, enhanced with his own paintings (he is an accomplished artist). In Dear Dr. Fisch: Children's Letters to a Holocaust Survivor (Nodin Press), high school student A.J. writes: "You said things I can use for life and not just for history class. For example, you told us to live our lives and not let others take our beliefs away from us." I.P. writes: "It's like the Holocaust filled a cup with sludge but Dr. Fisch is pouring out purified water. Not every bad thing should stay bad. We should learn something good and meaningful with [sic] it."
Dr. Fisch began his speaking career "accidentally," he says. In 1987, a medical journal asked him to do an illustration for an article on experimentations in the camps. After it appeared, Candy Ames, a high school principal whose daughter had been one of Dr. Fisch's patients, asked him to speak at her school.
"One person was watching me very intensely," he recalls from his first talk before students. "She was a Danish visiting student whose grandparents had saved a family. 'Now I know what it meant,' she said."
With that type of encouragement and at Ames's suggestion, Dr. Fisch wrote and published his first book, Light From the Yellow Star: A Lesson of Love From the Holocaust, which describes his journey from Budapest to Mauthausen. His Yellow Star Foundation distributes free copies of his books and a video (by The Ronald S. Lauder Foundation (www.yellow starfoundation.org).
"What would those people who were killed like us to do?" Dr. Fisch asks. "To teach the same thing that led to their demise—revenge?—or would they like us to teach compassion, friend­ship, even love? If we don't do that, we aren't learning any­thing from what happened in the past."
---
Speaking on the Shoah
If you are looking for a lecturer to share his or her story, contact your local Holocaust resource center. The following organizations can also provide guidance.