Profile: Fanya Pines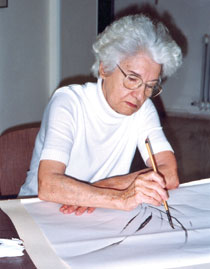 For one of Israel's foremost masters of traditional Chinese landscape painting, art is anything but local. Instead, inspiration comes from memories of a happy Asian childhood.
From a modest fifth-floor apartment in an ultra-Orthodox neighborhood of Jeru­sa­lem, a highly accomplished painter of Chinese landscapes conjures up sweeping scenes of nature that seem to have little to do with her surroundings.
Though she lives in one of the more turbulent regions of the globe, her art depicts a world of harmony. And though her roots are Russian Jewish, her brush strokes are pure Asian.
However you look at it, 85-year-old Fanya Pines is an unusual woman.
She did not start painting until the age of 63, when she retired from her job as manager of the jewelry store at the Hilton Hotel in Jerusalem. But, since then, Pines has become what a leading Asian culture ex­pert describes as "one of the few artists today who not only paints in the classical Chinese tradition, but also advances this tradition."
A tall, slender, poised woman with snow white hair, Pines lives alone in a sparsely decorated apartment in Ma'alot Dafna, one of the capital's northern neighborhoods. The plain white walls are covered with her serene scenes of misty mountains, winding rivers and lotus blossoms—all inspired by her childhood spent in Dairen, China.
Pines has completed about 300 paintings, one of which is included in a collection of scrolls in a Buddhist temple in Amakusa, Japan. Other works are part of the collections of the Israel Museum in Jerusalem and the Shanghai Museum. Pines has had 12 exhibits, including a show in the Jeru­salem Theatre attended by the late Israeli artist Jacob Pins and the late mayor, Teddy Kollek, and she has another scheduled there for next year.
Pins, who was himself influenced by Japa­nese art, wrote of her work: "I must admit that this is the first time that I have encountered a West­ern artist who succeeds in painting in a Far Eastern style in an original way."
Pines explains away her talent as "magic."
"It seems like a miracle every time a painting is completed," she marvels. "It's as though my hand has a life of its own and I am constantly amazed at what it does."
Though Pines has sold several of her pieces, she has also given away many to family and friends. Today, her works can be found overseas in Japan, Aus­tralia, the United States and Belgium.
She was born in Tientsin and grew up in Dairen (also known as Dalian), a town on the Lia­o­dong Peninsula that was peri­od­ically occupied and influenced by Russia and Japan. Her mother arrived there as an infant with her family, most likely fleeing pogroms in Russia. Her father, a soldier in the Czarist Army, fled to China at the outbreak of the Russian Revolution. Pines and her three sisters grew up in an affluent home and were educated in a British school. At 19, she moved to Shanghai and got a secretarial job at a branch of the Jewish Agency.
It was 1948, and Pines, whose maiden name is Beer­brayer, was soon swept up in Zionist fervor. She and her husband, a Jew from Harbin, and their two young sons immigrated to Israel in 1952, settling in Givatayim, a suburb of Tel Aviv.
Pines describes the subsequent years as unspectacular.
"I raised my children, divorced, moved to Jerusalem and worked in a jewelry store," she says.
At 63, she retired and began at­tend­ing various courses including philosophy and, at the suggestion of a friend, painting. After six lessons with teach­er Ilana Mark, she was on her way. And everything she painted appeared to be Chinese or Japanese themed.
"A friend from Japan saw my paint­­­ings and said: 'You never left Dai­ren.' I think she is right," Pines mu­ses. "I never reached Israel; I never reached the 20th century."
"Fanya paints in the true tradition of Chinese landscape painters," says Irene Eber, professor emeritus of Asian studies at the Hebrew Univer­sity of Jerusalem. "You won't find many artists even in mainland China today who still paint this way."
Pines made efforts to adapt to the local milieu. But like many im­mi­grant artists before her, she was blinded by the Middle East sun.
"When I came to Israel," she says, "I experienced a climatic and cultural shock: The light was so brilliant, so naked it burned my eyes."
She tried to paint local landscapes, including one right in her neighborhood, but says she didn't like the colors and the effort was too hard on her eyes. "I also did a painting of willow trees that I saw during a trip to Boston, but no one can tell that it's Boston—the trees have been transplanted into a Chinese landscape," she says.
The memories of her childhood eclipsed everything else and have subtly found their way into her work: the home with a rock garden and a little bridge; the 22 cherry blossom trees that obscured the sky when they were in full bloom; the magical summer spent on Mount Lu, amid the misty peaks that have in­spired generations of Chinese ar­t­ists, poets and philosophers. And the Japanese nanny, who Pines affectionately refers to as Nia­nichka (who even­tually came to be re­­garded as a saintly woman in her temple in Japan).
It was this woman who effectively raised Pines as well as her three young­er sisters after their mother died in child­birth.
"Here was a Buddhist wo­m­an re­sponsible for bringing up Jew­ish children," Pines recalls. "She made sure that the Chinese cook prepared Jew­ish foods, especially on the holidays, in order to maintain a Jewish atmosphere. But she knew little about the Jewish faith so she simply taught us to remember that there is only one God, and that He has many names and speaks all languages."
After moving to israel, pines re­turned to Japan several times to visit Nianichka and came to understand her stream of Buddhism, whose main tenet is, she ex­plains, "simply to be grateful."
About 30 years ago, at age 80, Nia­nichka, whose real name was Mo­to­yanagi Sae, visited Pines in Israel. Pines credits this surrogate mother with imparting in her a deep sense of gratitude, inner peace and tranquillity. It is her spirit, Pines says, that permeates her paintings.
Indeed, the traditional red seal with which Pines signs her paintings—wa in Japanese or ho in its Chinese pronunciation—is the calligraphic symbol for harmony and peace.
"I fell in love with that symbol the first time I saw it and knew I wanted it on all my paintings," she explains.
That symbol—translated into He­brew and English—is mounted on a board that greets visitors to her home. "My purpose, my hope," says Pines, "is to introduce a little more wa into the world."
The placid atmosphere that characterizes her gentle landscapes—with titles such as "Plum Blossom Swal­lows," "Lotus in Full Bloom" and "Host and Guest"—seems at first in­con­gruous with Pines's starkly urban surroundings. But, as it turns out, her lifestyle is not that different than that of the artists of the Sung dynasty (960-1279 C.E.), considered the golden age of Chinese landscape painting.
"Although Sung painters and po­ets idealize nature, most of them lived in the cities and only occasionally ven­tured into the mountains. They were urban dwellers with a ro­mantic vision of unsullied nature." Pines has photocopied that passage, from the bookEscape From the Dusty World, and hung it prominently on a wall in her home. The words describe her as much as they do the Sung painters she reveres.
But unlike those traditional paint­ers, who studied with masters, Pines is largely self-taught.
"Fanya paints in the style of the old masters without ever having studied with one," says Re­becca Bi­t­ter­man, senior curator of Asian art at the Israel Museum. "She is enormously talented."
Pines took about five "not very help­ful" lessons from a Japanese paint­er and learned most of what she knows from books. "A lot of it is in the wrist action," says the artist. "You need to practice just like a pianist." Pines applies three colors on a single Chinese brush—a diluted brown, a diluted blue and black ink—then turns the brush expertly to create, with a single stroke, the outline of a mountain peak fading into the mist.
The method she uses is fang, which translates as "creative imitation." In traditional Chinese and Ja­panese art, an aspiring painter ap­pren­ticed to a master may practice nothing but the same leaf hundreds of times over months, or even years, be­fore being permitted to tackle more diverse subjects. For Pines, creative imi­tation means she will use elements of other painters juxtaposed with her own design elements to create an original com­­position.
"This is my version of the traditional four seasons theme," she says, pointing to a prominently displayed six-panel landscape. Why six? "One for each grandchild," she smiles. The landscape shows the progress of time beginning with the first panel, where a wooden boat appears out of a void. By the sixth panel, the boat has faded into the mist and returned to the void, though now it has metamorphosed into a sailboat. "Time goes faster when you are older," Pines says matter-of-fact­ly, her serene expression un­changed. An­oth­er panel, depicting winter, in­cludes a leafless tree copied from the Sung dynasty master Ni Zan, Pines's favorite artist.
"Fanya's paintings bring to mind Ni Zan, but what she does is not imitation," says Eber, "because she al­ways adds something of herself in each work. She paints within the Chi­nese tradition, but is always advancing it."
An erudite woman, pines's hobbies range from reading—philosophy in general (her favorite is Baruch Spinoza) and Chinese philosophy in particular—to her love of classic musical and Chi­nese poetry (translated into English).
Although Pines's collection of supplies includes handmade Japanese paper and fine silks—gifts from Chi­nese and Japanese admirers—she of­ten practices on the pages of phonebooks. "I hate to waste good paper," says the artist.
Even more than her painting, she says, she takes pleasure in her family—two sons, six grandchildren and four great-grandchildren—and in her travels, mainly to the Far East.
She feels her life story has two im­portant messages. "It's never too late to start something new," says Pines, who has, since retirement, traveled to India, to Japan seven times and to China twice, and has been hosted by Buddhist monks.
And the other message? "Never un­­derestimate the impact of your child­hood," says Pines, seated in her apartment on a hot, dry Jerusa­lem day, surrounded by placid scenes of waterfalls and lakes.