The Arts: Real Characters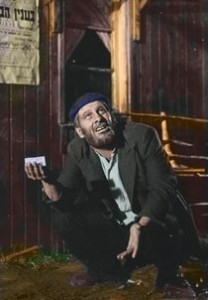 Israel's thriving literary scene is filled with a unique array of heroes and antiheroes who both define and reflect the nation's hopes and fears.
During the many decades since its birth in 1948, Israel has witnessed triumph and despair, tears and laughter. And out of this cauldron of emotions, a vital, creative litera­ture has emerged.
"How amazing it is that, in spite of wars and terrorism, a rich cultural life has thrived in Israel," says Roger Kamien, a pianist and musicologist.
Fictional and dramatic figures in novels and plays have become the country's archetypes—the immigrant, the sabra, the peacenik and others—and are as important to the country's self-image as the public figures who influence daily events. Through their fictional counter­parts, Israeli writers express the gut feelings and deepest fears of the nation and, at the same time, allow people to take a step back from conflict and laugh at themselves. Israelis, young and old, often discuss the characters that populate Israeli fiction as if they were old friends.
There is Uri, the hero from the novel He Walked Through the Fields (out of print) by Moshe Shamir, from the 1940s generation of writers. Sha­mir describes Uri as "a handsome creature…a shock of hair falling on his forehead, a wanderer's cap, and a knapsack…."
Uri is a farmer and soldier, Zionism's quintessential New Jew. Yet, he lives under the shadow of his charismatic father, Willy, a kibbutz founder who brought Ho­l­ocaust orphans through Teheran to Israel. Personal problems abound. Willy's wife is having an affair with Avraham, a new immigrant. Unable to confront her, he enlists in the British Army. Uri joins the Palmach to escape the disappointment of his father's abandonment and his girlfriend Mika's dependence on him. He is killed without knowing that Mika is carrying his child.
Shamir's portrait of the sabra, willing to sacrifice his life for the nascent state yet helpless in the emotional realm, became encoded in Israeli conscious­ness when the novel was published in 1947.
This image was countered about 50 years later in Meir Shalev's spoof The Blue Mountain (Canon­gate). Orphaned Baruch grows up in his grandfather's house on a mo­shav, imbibing stories of pioneer ro­mances and betrayals. As profits from agriculture, once es­sential to the village's welfare, wane, Baruch creates a cemetery for those who left the moshav for America but want to be buried in the land of their early ideals.
The moshav, built on a fruitful land that brought forth life, be­comes a place for the dead. Only at the very end of the book does another flip occur. Baruch's cousin Uri—a direct reference to Shamir's work—falls in love with Ne­ha­ma, a cantor's daughter. They mar­ry and, financed by the money Ba­ruch made from his ce­metery scheme, work the fields of the moshav. Uri is a paradigm of the sab­ra, and however sa­tir­ical, Shalev's whimsical novel underlines the continued love of Jews for the land.
During the 1950s, the great immigration from Arab countries brought new fictional fig­­ures to center stage. It took many years for Sefardic writers such as Eli Amir and Sami Mi­chael to tell their own bitter stories of aliya, but Hungarian oleh Ephraim Kishon created funny and loveable vig­nettes about the encounters of the newcomer with Isra­eli life.
Kishon's most memorable fig­ure is larger-than-life Sallah Shabati, familiar from the movie and play of the same name. Shabati bounces off the plane with his ragged retinue of pregnant wife and six children. He is crestfallen when they are brought to a ramshackle house in a transit camp. Shabati's dream is to raise a thousand lirot for an apartment in a new housing project. His schemes to earn mon­ey never work out—until he applies reverse psychology. He declares to the government au­thorities that he does not want new hous­ing; since no official will allow an immigrant to "tell him what to do," the family is "forced" to move into the project.
Shabati is a Mizrahic stereotype, but so are the stickler kibbutznikim and the bumbling government officials who interact with him. Through these char­acters, Kishon expresses the anti-establishment resent­ment of the new­comer, but transcends it through humor.
Counterbalancing the founding myths of national heroism during the War of Inde­pen­dence are stories that raise awareness about the pre­dic­ament of Arabs who once lived on land now owned by Jews. Since the 1960s, A.B. Y­e­hoshua, Amoz Oz and David Gross­man have written about the Arab plight, paving the way for Israel's dov­ish community of today.
The start of the peace movement might be traced to the moment that the unnamed protagonist of Ye­ho­shu­a's 1963 short story "Facing the For­ests" arrives at an isolated forest, de­vel­oped by the Jewish National Fund, to be a watchman against fires. The eternal student is seeking solitude to finish his university paper on the Cru­sades and finds a mute Arab and his daughter working in the forest. Slow­ly, he realizes that his retreat was an Arab village destroyed during the war. He becomes a silent collaborator with the old Arab to burn down the forest.
Shalev, a literary theorist, has not­ed that the alienated Israeli came to identify with the Arab not only out of a sense of justice, but also to settle a personal score with his Zi­onist father.
After the War of In­de­pendence, there was a "disappointment stage," notes critic Yosef Or­en. Zi­­onism had not prepared Is­ra­elis for the continued per­sonal sac­rifices and the military conquest over the Arabs.
"The theme of the Akeda, of fa­thers sacrificing sons, arose," says Je­­ru­salem resident Shu­la­mit Simon, a re­tired chemist and avid reader. "There was a reaction to the…government that sent young men to their death."
Prophetically, Ye­ho­shu­a's early stories have an underlying portent of violence, of waiting for some explosion—even before the first and second intifadas.
Latent violence is a part of one of Amos Oz's most famous novels,My Michael (Harvest), set against the backdrop of 1950s Jerusalem. Protagonist Han­nah Go­nen is one of the most complex heroines in Israeli literature. As a student, she marries gentle, loving Michael, who is studying geology. She sees him as a refuge from her feverish imagination, which envisions the Arab twin boys she played with before 1948 in lurid fantasies and finally crossing the border into Israel to plant bombs and kill Israelis. She hopes to suppress her fantasies in Michael's bourgeois aspirations, academic plodding and considerate sexual courting. But Michael lacks the charisma or depth to grapple with Hannah's turmoil, and she descends into madness, torn between unbearable boredom and an imaginary world of romantic self-dramatization.
"Amos Oz is suggesting that, in her heart, Israel is going mad dreaming of Arabs, while on the surface, emotionally stun­ted 'new Israelis' are going about their nation's business cut off from self and history," wrote critic Richard Locke in a review of the book for The New York Times in 1973, when it was first translated in­to English. "It's hardly surprising that the book caused controversy and was a best seller in Israel."
Hannah is considered a reincarnation of Oz's mother, who committed suicide when he was 12. Much of his fiction is an attempt to understand her demons. Through the popularity of his works, she haunts the Israeli imagination. In his 2002 memoir A Tale of Love and Darkness (Harvest), he places his family's history against the es­tab­lishment of the state.
"The family saga also becomes the saga of the coun­try," says Dan Laor, professor of He­brew literature at Tel Aviv Uni­versity. "But this great public event in the history of the Jewish people could not console his mother."
The Holocaust also affected Israeli literature—apparent in an undertone of madness in a society that sought normalcy. In the late 1950s and 1960s, Aharon Ap­pel­feld, a survivor himself, began writ­ing symbolic works relating to the Holocaust. He never described the scourge directly, but it resonated in his innocent words and gestures. The Eichmann trial in the mid-1960s brought the Sho­ah to the surface. So-called Sec­ond Gen­er­ation writers, children of survivors such as Nava Semel and Savyon Liebrecht, began expressing themselves in fiction.
"As the survivor generation began dying, the Second Generation grappled with the problem of how to bear witness to what had happened," says Lara Tavernasi, who is writing a doctorate on the Holocaust in Israeli literature. For example, in her story "Hayuta's Wed­ding," Liebrecht depicts the embarrassment of the younger generation with their grandfathers' memories. In Michal Govrin'sThe Name (Riverhead), a returnee to Judaism grapples with the theological issues brought up by the Shoah.
One of the strongest works on the Holocaust is not by a child of survi­vors. David Grossman's See Under: Love (Picador) follows Momik, whose parents went through the Shoah. Momik tries to reconstruct his parents' life "there" by picking up frag­ments of conversations and integrating them into his fantasies of spies and adventures. A strange child—his parents call him alte kop, too wise for his age -he lives in his imaginary world. Momik is obsessed with the "Nazi animal," a term he has heard in his house. Seeking to rid the world of this horror, Momik cages a raven and a porcupine in his basement to train them to be good. When he realizes that only Jews will bring out the beast, he hangs pictures from the Shoah in the basement and brings his mad uncle An­shel and his survivor friends down there. In a phantasmagoric scene, Momik frees the animals, experiences a surging hate for the defenseless Jews and lets out a terrible howl. He then frees everyone from the basement. His parents consult with his teacher, and they decide that he should be sent away to school.
In the 1980s, women's writing be­gan to flourish. Orly Castel-Bloom's zany Dolly City (Loki Books), published in 1992, examined the hysteria of Israeli motherhood. Dolly, who studied medicine in Kathmandu, is concerned about her son's health. To kill potential bacteria, she places him in vats of Mercurochrome; imagining cancerous growths everywhere, she treats him with chemotherapy. Through black humor, Castel-Bloom probes our deepest existential fears and shows how they can be transformed into ni­hil­istic, sadistic acts.
Castel-bloom has created a new language. She's invented a new style," says Shulamit Si­­mon. "The '80s also opened the flood­­gates to more personal stories."
Zeruya Sha­lev, Mira Magen and Ya­el He­da­ya wrote about love af­fairs, women struggling to balance au­ton­o­my and commitment to marriage. Gen­re literature also began to ap­pear, and Israeli detectives, previously un­known, have become popular.
Batya Gur created intellectual who­dunits and Shulamit Lapid intro­duc­ed the colorful figure of Lizi Ba­dichi, a Sefardic journalist in Be­ersheba with dangling plastic earrings and large feet; her nose for a scoop leads her to ex­pose corruption in business and politics. Lapid em­ploys the detective format as a vehicle for psychosocial commentary, and Lizi, smart and daring though 30 and unmarried, be­came a beloved figure. The first book in the series is Local Paper(Keter), which has not been translated into English. In it, Lizi loses her virginity to a judge whose wife is killed less than an hour later. The investigation of her death leads Lizi to a money-laundering network involving a kibbutz.
"Israeli literature has turned away from heroic figures," explains Simon.
Young people want protagonists like themselves. In recent years, Esh­kol Nevo's novel, Homesick (Chatto & Windus)—which cap­tures the strug­­gles of Noa and Amir, a student couple—became one of Israel's biggest best sellers.
At the same time, new figures are constantly emerging. Haim, the religious soldier from a Sefardic home described in Adjusting Sights(Toby Press) by Haim Sabato is a counter to Ashkenazic Israeli war heroes. Saba­to describes Haim, a young soldier and his tank crew caught in a Syrian Army ambush during the first days of the Yom Kip­pur War. The author does not romanticize war; tanks go up in flames, friends are killed and the crew must contend with old machinery. But Haim falls back on his belief system: He recites psalms and muses on Talmudic passages.
In an interview in The Jerusalem Report, Sabato, who served in the Israel Defense Forces tank brigade, re­calls being a new re­cruit at the start of the Yom Kippur War. "It was a meeting with the ultimate," he says. "I witnessed unbelievable devotion among my fellow soldiers, just as I witnessed fear…. I'm not talking about the deeds of generals, but about the simple soldier who carried out simple deeds."
In many ways, israeli literature has come full circle, integrating the heroic with the everyday. The Sefardic yeshiva student stands alongside the sabra; independent Lizi Badichi with Oz's desperate mother figure and the confused Momik. Even when it reveals madness and gives vent to self-criticism, there is a great life force, a creative impulse that drives Israeli writing. And this might be one of the country's greatest ac­complishments.