Books: Reading the Adventures (and Challenges) of a New Nation
Fiction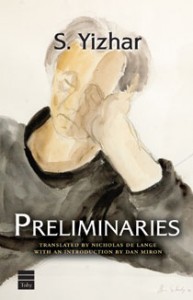 Preliminaries
by S. Yizhar. Translated from the Hebrew by Nicholas de Lange. (Toby Press, 305 pp. $24.94)
Midnight Convoy & Other Stories
by S. Yizhar (Toby Press, 283 pp. $14.95)
Debating exactly which event or se­quence of events set the whole Israeli-Arab conflict in motion is primarily a job for historians— although many Israeli taxi drivers aren't shy about voicing an opinion. But depicting the symbolic beginning of the conflict? That's a task for a poet or novelist, and in many ways, S. Yizhar (1916-2006) was both.
In a lengthy section of Preliminaries, Yizhar forcefully renders the events of May 2, 1921, the first large-scale Arab riot against the Jews in British Mandate Palestine in which dozens were killed.
From the perspective of hindsight, this relatively small outburst of violence served as harbinger of other riots over a decade later followed by more than 50 years of war.
Comprised of a series of linked, stream-of-consciousness episodes, this autobiographical novel follows the development of a young boy from his birth to his early teens and his discovery of books. In visceral language, the author paints a harrowing and surreal picture of the mother and child hoping that a father who went out into the unrest to bring back milk and food with nothing but an iron bar for protection finds a way to return. As events unfold, even the 5-year-old boy comes to realize that they are unprotected and there would be no easy solution to the growing tension:
What have we done to them? Why are they angry with us? Have we taken something away from them? It's hard to know anything. No one is saying anything. Just waiting, and nothing is certain. Nothing.
Something strong, terrible and savage is stalking around free outside, we are shut in here waiting and there it is free and roaming and strong, all-powerful, coming and going.
The book's opening story is equally memorable. It entails a journey through a pioneer father's mind as he races to get his infant son—stung repeatedly by hornets—to a doctor in a nearby village. Subsequently, the family moves from one place to the next, starting out in an agricultural settlement before shifting between urban environments.
This unsettlement serves to illustrate one of Yizhar's most prevalent critiques of Zionism: that it failed to create a true sense of home for the Jews, who still somehow lacked permanent roots. That the Land of Israel offered its Jewish inhabitants a different fate from the Jews in Europe isn't good enough for Yizhar. He expected more.
While the point is artfully made, the writer's emphasis on images and ideas at the expense of genuine story and character development makes much of the novel's later half arduous.
The short-story format seems to have imposed more focus on Yiz­har's writing. The most powerful pieces in Midnight Convoy & Other Stories involve the War for Inde­pen­dence, still the most monumental and traumatic event in the nation's history. "The Prisoner" (1949) resonates clearly today. In it, Yizhar questions the morality and the usefulness of torturing an Arab shepherd to extract information.
The title story—actually a novella—takes place over the course of one night in the summer of 1948 during a lull in the fighting; a group of soldiers labor in the darkness of the Negev to build a road that will allow a convoy to pass.
The pace of the prose provides insight into the monotonous side of war: the downtime when bullets aren't flying, when soldiers are largely alone with their thoughts, sometimes reliving combat experiences, sometimes thinking about home or dreaming about a woman. To be sure, the collection, like the novel, is uneven. Some of the later stories read more like musings or ruminations than well-crafted stories.
Born Yizhar Smilansky in Re­hovot—the scion of the Yishuv's old Ashkenazic, Labor-Zionist elite—Yizhar published his first story in 1938 and went on to become one of the preeminent writers of his generation. A veteran of Israel's War of Independence, he made his literary reputation chronicling the psychic costs of the war, most notably in his 1958 magnum opus Days of Ziglag (not yet published in English) and the 1959 Midnight Convoy.
Perhaps Yizhar is most admired for being Israel's most eloquent verbal landscape painter. In lengthy sentences, he captures the country's terrain, sounds and smells like no other. And with that description comes a microscopic probing of the complex relationship between the people and the land. In both these translations, the reader will get all this and more.
—Bryan Schwartzman
Bryan Schwartzman is a writer living in Philadelphia.
The Dawning of the Day:
The Story of Ezra Siman Tov by Haim Sabato.
Translated from the Hebrew by Yaakob Dweck. (Toby Press, 181 pp. $22.95)
Haim Sabato's earlier book Aleppo Tales is saturated with reverence for that city's learned Hakhamim, the erudite scholars of Sabato's ancestral home in Syria. In The Dawning of the Day, the author takes a different tack. Setting his tale in the poor but colorful Mahane Yehuda section of Jerusalem, Sabato focuses on Ezra Siman Tov, a simple man, a presser in a local laundry whose piety is exceeded only by his lack of understanding of the intricacies of the Judaism he practices so assiduously.
Yet, despite often tedious repetition of these stories of saintly simplicity (in the words of one character, they "contain no wisdom, no knowledge, no craftsmanship"), it would be a mistake to consider this novel merely a "simple story."
And this is where S.Y. Agnon comes in. In a March 2007 article inHa'aretz, Sabato reveals—in all humility and with great reverence for the master—that he has set himself as a Sefardic complement to Agnon's towering hegemony over modern Jewish literature.
For example, The Dawning of the Day may be read as a midrash onTehilla, Agnon's masterpiece novella. Without divulging too much of the mystery presented here, suffice it to say that a misfortune similar to the one that has befallen Tehilla and embittered her life has also befallen Siman Tov. In each case, both characters learn to overcome early misfortunes and live exemplary lives.
As with Tehilla, there are several narrators in this novel, including a grand-uncle who ostensibly recites the tale of Siman Tov to the novel's narrator—and then disappears from the book. Siman Tov is himself feted as a masterful storyteller in the various synagogues he attends. Not least, there is Rahamim Kalifa, a blind musician, "a great artist" whose music has a poign­­ant narrative quality. One of his most moving pieces is called "The Dawning of the Day," from which the title of the novel is taken. (It is not insignificant in under­standing the complexity of Sabato's Weltan­schauung that, despite his praise of stories of divine intervention, Kali­fa's blindness is eventually cured by modern medicine and not by wonderworking rabbis.)
But most important, there is "The Writer," who haunts the alleys and byways of old Jerusalem in search of "Story." This "great writer in Jeru­salem" is not by any means simplistic. In fact, we are told, "Scholars, in their attempt to understand his every word, split hairs like Yeshiva students." Sabato's Agnon—for that is whom we must take the writer to be—carries the novel beyond the level of the simple.
And yet, because for Sabato writing—like the world itself—also comes full circle, we must not be overly deferential to these scholars. In fact, in addition to the soulful Siman Tov and Kalifa, there are two scholarly characters who make up the quartet of childhood friends and who are tied to an earlier Agnon-like intrigue: Reb Moshe David, who has become a Talmudic scholar and does not refrain from rebuking Siman Tov for his theo- logical faux pas; and Dr. Yehuda Tawil, Siman Tov's brother-in-law, a professor at the university and a scholar of medieval He­brew poetry. In telling the stories of these scholars, Sabato limns two hilarious satires of the excesses of both religious and secular erudition.
In the final analysis, it is the unheroic heroes, Siman Tov and Kalifa, who end up vying with The Writer himself for primacy of place as the quintessential storyteller. If, in the end, the character of Siman Tov does not reach the hem of Tehilla's dress as an iconic central figure in Hebrew literature and Jewish culture, it is not a criticism of Sabato's prowess but rather a paean of praise for the master that S.Y. Agnon remains—for Sabato and for our generation.
—Joseph Lowin
If You Awaken Love
by Emuna Elon. Translated by David Hazony. (Toby Press, 229 pp. $l4.95)
Emuna Elon's If You Awaken Love works on multiple levels. On one, it is the love story of Shlomtzion and Yair, childhood sweethearts in Israel who go their separate ways and reconnect years later when their children, Maya and Ariel, fall in love. Now in their forties, how can the parents speak after such a long and painful separation? What do they tell their children, and how do they gain insight into what pulled them apart? It is a story of premature love, and the reader comes to care about the characters.
The book also has a political subtext. In Israel, there is an enormous chasm between the right and left; it is hard for each side to understand the views of the other, and everything is at stake in the struggle for government control. Those on the right see leftists as secular materialists who do not appreciate the land's holiness, people—near-traitors—whose policies put the very existence of the state in danger. Leftists view those on the right, especially the religious, as zealots and fanatics, false messianics who have no sensitivity to the plight of the Arabs. How can a small country have room for such divergent views?
Shlomtzion grows up in a pious world in the euphoric days after the Six-Day War, when the religious community felt that God had miraculously restored the land to His people. She and Yair share the same heady dreams of so many after the war—of building a model, prophetic community in the new territories, one that would impress both Arabs and secular Jews. When Shlomtzion, who is obsessively in love with her ideal of Yair, is rejected by him on the advice of his rabbi (her family is too modern for her to marry someone destined for rabbinical greatness), she abandons both piety and patriotism and moves to Tel Aviv. There, she becomes an architect, a secularist, a woman angry at God.
Elon describes the religious and secular as well as the left and the right with equal clarity and compassion. As she once said: "We still have to survive here together, all of us. There are very deep and very strong feelings of anger that we all have to­wards each other, but we are still in this together."
This book is a reminder that settling Eretz Israel is not de­monic but an earnest point of view and doves are not monsters but sincere people who see things a different way. If the state is to survive, its citizens must see each other as complex and real, not caricatures. In the book, for example, when Shlom­tzion goes to visit Ariel's family, she is impressed by the beauty and the serenity of the settlement, but at the same time, she witnesses the impoverished Arab villages from the hills.
A fast-paced novel that can break your heart—emotionally and allegorically—If You Awaken Love grants diaspora Jews some understanding of the true Israel beyond the slogans that divide Israelis.
—Jack Riemer
A Pigeon and a Boy
by Meir Shalev. Translated by Evan Fallenberg. (Schocken, 320 pp. $25)
Images of home—aviary and hu­man—permeate Meir Shalev's award-winning A Pigeon and a Boy, intertwined with stories of the Land of Israel. Flashbacks and foreshadowing give a historical as well as a multidimensional perspective.
The blooming love of two teen­agers—a boy from a kibbutz (called the Baby because of his chubby ap­pearance) and a girl from Tel Aviv (Hanna) who send secret messages by homing pigeons for the Pal­mach— frames the story that runs through the War of Independence and the battle for Jerusalem.
Narrator Yair Mendelsohn is a tour guide for bird watchers. One of his clients, an older American who fought with the Pal­mach, recalls the unu­sual story of pigeons carrying messages in 1948, and of the death of the Baby, who had become a soldier. He relates how, during the training of the pigeon handlers, the talk re­volved around how the homing pi­geons know direction.
The Baby posits, "The participants [in the discussion] were projecting a human perception of maps and directions…onto pigeons. But perhaps…she is unfamiliar with all of these, understanding one direction only, and its name is 'homeward'…."
There is the revelation of Yair's unusual conception, his odd marriage to a beautiful and wealthy real- estate agent and his longing for a home of his own. His adult life parallels the many ups and downs of Israel's history, and he is filled with uncertainty for the future. Growing up, his parents lived in separate houses in Jerusalem, but he isn't sure why. His father, a physician, runs a medical clinic in their Jerusalem house; his mother revels in nature and teaches her son about the land. She pines for Tel Aviv, where she was happiest. On her deathbed, she gives Yair a sum of money that allows him to finally achieve his wish and build a home.
He builds his new home with the help of his female contractor, a childhood friend with whom he falls in love. He tells her "I don't like going places—I like coming home."
Lead­ing a trip to the Huleh Valley Nature Reserve, Yair notes that bird watchers are concerned with details such as the length of the different species of eagles' wings and the details of everyday life. Not he. "The larger perceptions are enough for me," he muses, "the height of flight, the arc of the heavens, the beeline, the full press of bodies, the air that fills space and home."
The homing pigeons roost, have nests, know where home is. The characters whose lives come together in this story all have "homing" stories as well. Magical realism works beautifully in this novel of love, loss and the need for home.
—Molly Abramowitz
Nonfiction
Lawrence and Aaronsohn: T.E. Lawrence, Aaron Aaronsohn and the Seeds of the Arab-Israeli Conflict
by Ronald Florence. (Viking, 513 pp. $27.95)
Inevitably, wars evoke the best and the worst in men, and World War I was no exception. It saw the dramatic emergence of T.E. Lawrence—archaeologist, Arabist and British Army officer. Popularly known as Lawrence of Arabia, he was stationed variously in Egypt, Palestine and Arabia.
His contemporary and fellow player in the Middle Eastern arena was Aaron Aaronsohn, a Pal­estinian Jewish agronomist who be­lieved with the certitude and confidence peculiar to the scientific mind that the soil of Palestine could be made to bear fruit given a bold, progressive agricultural program.
While Lawrence was inspired by a dream of Arab nationalism, Aaron­­sohn was committed to the Zionist ideal of a Jewish state in Palestine.
The convergence of these conflicting aspirations and the disparate ap­proaches of the two men thrust together by history, reluctant colleagues in British intelligence, are the focus of Ronald Florence's extraordinary study. His research fulfills the promise of his subtitle: Understand­ing these men deepens our understanding of the ongoing Arab-Israeli conflict.
Lawrence was an arresting figure who fought in Arab costume, leading Arab tribesmen in forays against the perfidious Turks and achieving international fame through the ef­forts of acclaimed radio broadcaster Lo­well Thomas.
Flo­r­ence records Lawrence's parlous family life with literary grace, his days at Oxford, his visits to architectural wonders in France and Crusader castles in Palestine, charting his odyssey from a desk at British Army headquarters in Cairo to daring military exploits.
Lawrence's aim was twofold: He wanted to aid his own country's war effort in the Middle East, and he was committed to creating an Arab claim to territory in the peace conferences that would follow the defeat of the central powers.
Aaronsohn elected to spy for the British to secure their support for the creation of a Jewish state. His agricultural work provided an excellent cover for espionage inasmuch as it allowed him to travel throughout Palestine to assess its climate, weath­er, roads and wadis, all the while observing Turkish military activity without arousing suspicion.
Both men used their unique talents in service to their separate nationalist ideals. Not surprising, although they were linked to the common cause of British victory and thus complicit intelligence agents serving the same master, each disliked the other. Both men met violent deaths, their obsessive dreams unrealized. Aaronsohn died in a plane crash in 1919 and Lawrence was killed in a motorcycle accident in Dorset, Eng­land, in 1936.
The author has captured the complexities of their lives and their times in this compelling narrative, threaded throughout with suspense, drama, heart-stopping history and historic personages, all re-created with skill and passion.
—Sheldon Horowitz
Breaking News: A Stunning and Memorable Account of Reporting From Some of the World's Most Dangerous Places
by Martin Fletcher. (St. Martin's Press, 242 pp. $24.95)
Journalist Martin Fletcher has spent his life traveling from one war-torn hellhole to another, filing stories un­der the most dangerous conditions. Despite the grimness, he has written an exciting and brilliant memoir.
The longtime Tel Aviv bureau chief for NBC news is a British-born son of wartime Austrian Jewish refu­gees. His parents' experiences, particularly those of his mother who barely escaped arrest after slapping a Nazi policeman and fleeing to Czech­oslovakia, form the basis of his self-described antipathy to "bullies" and his desire to shed light on the suffering victims of the world. In Somalia, that meant cozying up to the brutal warlord Mohamed Farrah Aidid to get the access and protection needed to report on the widespread starvation and brutality. In South Africa and Rhodesia, Fletch­­er sympathized with the plight of blacks living in racist states.
Working in Israel, though, takes a toll on his objectivity as he struggles to define which party is right and which is wrong. Though sympathizing with the Palestinians, he also supports Israel as a Jewish haven:
"As a displaced Jew, and one with an Israeli wife, I naturally feel a deep sense of sympathy for Israel and its fight for survival. Yet, it is the greatest contradiction that, in the context of the Arab-Israeli conflict, it is often the Jews who are the bullies."
Some pro-Israel readers will ob­ject to his mentioning Israeli treatment of Palestinians in the same passages as the Nazi treatment of Jews. But his own experience provides a rarely heard insight: "Like many Palestinians, I am the son of refu­gees. But unlike the Palestinians, I was not raised to hate, or to demand restitution of every final inch of earth." As Palestinian mothers grieved for their martyrs, Fletcher writes, "Many millions of people for centuries all over the world have lost their homes and rebuilt their lives elsewhere. Why not you?"
In some ways, this book may be Fletcher's most delicate assignment. He violates two rules of journalism here by lifting the veil of objectivity and making himself a part of the news. But shedding some insight into the humanity of a correspondent so often surrounded by inhumanity is a story well worth telling.
—Adam Dickter
Negotiating Arab-Israeli Peace: American Lead­er­ship in the Middle East
by Daniel C. Kurtzer and Scott B. Lasensky. (United States Institute of Peace Press, 210 pp. $16.50, paper)
No one knows more about bringing Palestinians and Israelis to the negotiating table than Daniel C. Kurtzer, who worked at it for 30 years as an American foreign service officer. He was actively involved in preparing and convening the first peace conference in Madrid in 1991.
In 1997, President Bill Clinton ap­pointed him ambassador to Egypt. He served for four years, never hiding the fact that he was an observant Jew. President Bush sent him to Israel in 2001, where he headed the embassy during four years of crucial negotiations. He is now chair of Mid­­dle East policy studies at Prince­ton University.
This slim fact-filled volume is the product of an 18-month study group that he led at the United States Insti­tute for Peace. The group consisted of coauthor Scott B. Lasensky, senior research associate at the Peace In­stitute, and three professors active in Middle East affairs: William B. Quandt of the University of Virginia, Stephen L. Spiegel of the University of Cali­fornia, Los Angeles, and Sheb­ley Telhemi of University of Maryland and the Brookings Insti­tution. The group interviewed over a hundred people in the United States and the Middle East, all of whom are named in the introduction, but the book shows little evidence of their expertise. The conclusions are entirely the product of the study group. They are stated in 10 lessons for the next administration, which will take office on January 20, 2009.
Until then, the authors don't ex­pect much change in the current situation. They write: "The Bush 43 Ad­ministration effectively disengaged for close to eight years, acting as though White House pronouncements were sufficient to move the parties toward settlement."
They were not, of course, and the study group wants the next president to reverse course. Agreements have been made in the past but never without active participation by the United States. Most important, the United States did not mentor the agreements, did not see to it that they were fully implemented, with tragic results.
The authors point out that "the peace process has moved beyond incrementalism and must aim for end­game solutions." Delicate diplomatic maneuvers, outlined in the 10 lessons, must be followed through. For example, Les­son No. 1: The next president should begin by indicating that an Arab-Israeli peace processs is a priority.
If the next president chooses to appoint a special envoy, no one understands the Arab and Israeli play­ers better than Kurtzer. No one is better suited to help build a broad and bipartisan support that would be essential for the success of a peace settlement.
—J. Zel Lurie
---
Top Ten Jewish Best Sellers
FICTION
1. People of the Book, by Geraldine Brooks. (Viking, $25.95)
2. The Yiddish Policemen's Union: A Novel, by Michael Chabon. (HarperCollins, $26.95)
3. Away: A Novel, by Amy Bloom. (Ran­dom House, $23.95)
4. The Queen's Fool: A Novel by Philippa Gregory. . (Touch­stone, $22.95)
5. The Book of Dahlia: A Novel, by Elisa Albert. (Free Press, $23)
NONFICTION
1. Dreams and Shadows: The Future of the Middle East, by Robin Wright. (Pen­guin, $26.95)
2.The Zookeeper's Wife: A War Story, by Diane Ackerman. (W.W. Norton, $23.95)
3. The Year of Living Bibli­cally: One Man's Humble Quest to Follow the Bible as Literally as Possible, by A.J. Jacobs. (Simon & Schuster, $25)
4.Passover by Design: Picture-Perfect Kosher by Design Recipes for the Holiday, by Susie Fishbein. (Mesorah, $29.99)
5. Night, by Elie Wiesel. (Hill and Wang, $9, paper)
Courtesy of www.MyJewishBooks.com; titles selected based on sales.
---
Books in Brief
Discovering Jewish Music, by Marsha Bryan Edelman. (Jewish Publication Society, 396 pp. $28)
This comprehensive survey of Jewish music from biblical times to the present is interwoven with historic and cultural observations. A multilayered text, it considers personalities from Yuval, "the ancestor of all who play the lyre and the pipe," to Debbie Friedman, whose contemporary songs have revitalized liturgical music. A CD is included. Marsha Edelman is a wonderful guide.
—Gloria Goldreich
Kabbala: A Love Story, by Lawrence Kushner. (Morgan Road Books, 208 pp. $17.95, cloth; $11.95, paper)
This novel by a beloved teacher of Jewish mysticism and spirituality imparts essences of the Zohar while also reading as a postmodern work. It hopscotches back and forth between times and places, revisiting the account of one middle-aged New York rabbi whose acquisition of a beguiling kabbalistic document in Safed opens his eyes to the nature of God and his own capacity to love. But the book is best taken as a contemporary fable, a thoughtful antidote for much of the popular literature that masquerades as kabbalistic instruction.
—Vanessa L. Ochs
---
Diary
A History: In Words and Images
The Story of Israel: From Theodor Herzl to the Road­map for Peace,
by Martin Gilbert. (Andre Deutsch/Carlton, 64 pp. $45)
This beautiful album is a fitting tribute to Israel on its 60th anniversary. A keepsake volume, historian Martin Gilbert has filled it with the significant moments in Israel's short existence. Compactly designed with 200 photographs and facsimile documents, the dramatic story of the nation's birth is told from the early settlement in 1900 to the 1917 Balfour Declaration and the preparations for statehood. Gilbert follows the Yishuv's growth during World War II, when immigration was stalled by the British and Jerusalem was under siege. Between the 1948 War of Independence and the Second Lebanon War in 2006, the book notes, Israel had its ups and downs: peace processes, personalities and waves of immigration from Yemen, the Soviet Union and Ethiopia.
Among the facsimiles interspersed throughout are Herzl's diary, in which he re­corded the growth of Zionism, be­gin­ning on September 3, 1897, just days after the First Zionist Congress was held in Basel, Switzer­land; a full-size poster promoting JNF's charitable Blue Box; and a military map from the 1973 Yom Kippur War. A child's painting made after Yitzhak Ra­bin's assassination with the words "shalom chaver" recalls one of the country's most tragic events even as we celebrate its achievements.
—Zelda Shluker