Brief Review: Celebrating Israeli Women; Vienna as It Was
Exhibits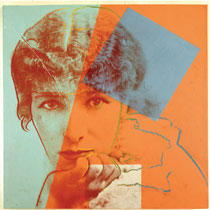 Warhol's Jews:
Ten Portraits Reconsidered 
Andy Warhol's 1980 take on Jewish luminaries includes a gently smiling Golda Meir, a blue study of Franz Kafka, a pensive Sigmund Freud, George Gershwin, Sarah Bernhardt (left), Martin Buber, Louis Brandeis, Albert Einstein, Gertrude Stein and the Marx Brothers. Preparatory sketches show the artist's process. Through August 3 at the Jewish Museum, New York (www.jewishmuseum.org), then traveling to the Contemporary Jewish Museum in San Francisco (October 12 to January 25, 2009; (www.jmsf.org).
—Rahel Musleah
Before the Flame Goes Out
The Romaniote Jews of Ioannina, Greece, are inheritors of a unique and ancient religious tradition that photographer Vincent Giordano captures in affecting black-and-white images of the town's remaining synagogue. He also trains his lens on a bar mitzva at North America's sole Romaniote synagogue, Kehila Kadosha Janina on New York's Lower East Side. Through July 13 at the Museum of Biblical Art in New York (www.mobia.org)
—Libby Goldberg
Israeli Women:
A Portrait in Photographs
The 63 images by 18 photographers serve as a capsule history of the Jew­ish state, from tanned kibbutz orange pickers and women soldiers in 1948 to hip Tel Avivians on the beach. Through August 10 at the Skirball Cul­tural Center in Los Angeles (www.skirball.org).
—Tom Tugend
Ziva Sivan:
Painting Is Her Home
Sivan (1936-2004), who lived in Jerusalem, rarely permitted public displays or sales of her art, and the current ex­hibit of 33 pieces is the first in this country. She depicts the female nude, her favorite subject, through ex­pres­sive, colorful and large paintings and drawings, in styles ranging from naturalism to abstract, as well as through six bronze sculp­tures. Through June 30 at the Skirball Cul­tural Center in Los Angeles (www.skirball.org).
—T. T.
In the Beginning
by Abraham Rattner
Twelve original lithographs by Expressionist artist Rattner were inspired by the Bible and Prophets. Scriptual subjects include Creation, Adam and Eve, the Ten Commandments and Samson and Delilah (below). Vivid symbols boldly tell the Jewish story in flowing movement. Through September 13 at the Jewish Museum of Flo­rida, Mi­ami Beach ( www.jewishmuseum.com).
—Susan Adler
From Yankel to Yankee: The Americanization of Jews
Reflected in Yiddish Theater and Popular Music, 1882-1924 
Want to hum a few bars of "Yonkle the Cow-Boy Jew"? It is among 30 illustrations of sheet music and posters of Yiddish theater productions on exhibit at Congregation Or Zarua in New York. Thirty pa­nels of text show how the Yiddish theater and popular music adapted to the New World, in which women not only acted but ran the theaters. (Call 212-452-2310 for dates and hours.)
—Stewart Kampel
Theater
The Kid From Brooklyn: The Danny Kaye Story
This four-character musical tells the story of the legendary comedian and song-and-dance man from his humble beginnings on the vaudeville circuit to his work with UNICEF and his years in films, television and on Broadway. The play is part comedy, part drama and one big part walk down memory lane. Brian Childers as Danny Kaye is absolutely un­canny in his portrayal. From June 7 to August 24 at The Mercury Theater in Chicago, then traveling to Palm Desert, California, in the fall (www.thekidfrombrooklynmusical.com).
—Sean Elliott
Film
Eyes Wide Open
Paula Weiman-Kelman's engaging documentary follows American Jewish tourists visiting Israel in 2006 during the tumultuous summer of the Second Lebanon War. Diverse experiences emerge: One young woman watching missiles fall chokes up about Israeli youth drafted as soldiers; a man fearfully leaves the country soon after arriving. Interviews portray various outlooks regarding religion, government policies and relationship to the land. Ruth Diskin Films (www.ruthfilms.com).
—Sara Trappler Spielman
Cheese Head—My First Ghetto 
Director Ariel Winograd's com­ing-of-age comedy is set in Argentina's version of a Cat­­skills resort, circa 1993, where the young Ariel deals with issues of sex, loyalty and Jewishness. Taunted as "Cheese Head" by the other kids (he has a head of bushy hair), Ariel struggles to shed the label and avenge his abused best friend. This rambling film shows the insecurity of the country's older generation of Jews, who advise saving money in American dollars, keeping one's passport up to date and moving to Israel (cine@tresplanos.com).
—Renata Polt
Film Fanatic
Filmmaker Yehuda Grovais is part of Israel's haredi community, which does not go to the movies or watch television. Director Shlomo Hazan follows Grovais around as he tries to live out his dream—making films. He wants to create films fit for haredi eyes, but within his breast beats the heart of a Hollywood director. Watch this remarkable man as he arrives at his own solution to what is in fact a universal problem for artists: How can I get them to hear me? Ruth Diskin Films (www.ruthfilms.com).
—Judith Gelman Myers
Recordings
Ruth: Mostly Psalms
Cantor Ruth Landau Ross's sweet soprano brings a clear spirit to 16 original settings of psalms and other new liturgical compositions. There is a haunting prayer for healing, "El Na R'fa Na" and the comforting "Ma Ashiv," but it's hard to overcome a certain sameness in the works (www.mostlypsalms.com).
—R.M.
Tango
The latest CD from Sonia Rutstein and her band, Dis­appear Fear, fully embraces their world music journey, with Israel figuring prominently in these 13 original compositions. Themes of love, peace and equality are sung in English, Spanish, Hebrew and Arabic. Rabbi Elizabeth Bolton sings the Hebrew lead in "Shorashim." The pray­er-like melody is in­fused with Middle Eastern tones. Pro­duced by Rutstein with John Grant (www.disappearfear.com).
—Penny Schwartz
DVD
Out of Sight
Yaara and Talia grew up as close as sisters, so when Talia kills herself, Yaara returns to Israel from the United States to dig into the past. Despite her blindness, self-reliant Yaara fearlessly asks questions to learn what really destroyed her best friend's life. Daniel Syrkin's award-winning work is a story of a tragic discovery. Sisu (www.sisuent.com).
—Zelda Shluker
His Wife's Lover
This 1931 Yiddish movie is old-fashioned but hilarious. When his uncle derides women as unfaithful creatures, Eddie, the handsome actor nephew lays a bet to prove he is wrong. Disguised as Herman, a repulsive old mil­lionaire, he woos a poor young shop girl, Golde, who reluctantly marries him. He keeps up the pretense after the two marry. The stakes are raised when Eddie, as himself, tries to seduce Golde away from Herman. The farcical role-reversal is a precurser to Jerry Lewis antics. The National Center for Jewish Film (www.jewishfilm.org).
—S.A.
Almost Peaceful
It is post-World War II Paris and a Jewish tailor and his workers—mostly Holocaust survivors—are trying to make new lives for themselves: building a business, earning a living, planning for the future. Still, latent anti-Semitism intrudes, even as they seek romance, com­panionship and a way to stave off their nightmares. Michel Deville has made a touching and gentle drama. Empire Pictures (www.firstrunfeatures.com).
—Z.S.
The Axel Corti Collection
The four black-and-white feature films that comprise this 1980s collection recently released by The National Center for Jewish Film (www.jewishfilm.org) are set in the 1930s and 1940s. The "Where To and Back" trilogy is a collaboration of Vienna-born screenwriter George Stefan Troller and Axel Corti, an Austrian filmmaker.
God Does Not Believe in Us Anymore (1982), the first in the trilogy, takes place after Kristallnacht. Viennese teenager Ferry Tobler's father has been murdered and, through the chaos, he and other Jews desperately seek to flee to Marseille, where they can catch a ship to safety (top left). Their plight—finding safe homes and being chased through the streets by soldiers—is depicted with grim realism.
The story resumes in Sante Fe (1985), as Tobler's ship pulls into New York Harbor. It is 1940, and the focus shifts to another young man, Freddy (left), and a quirky community of refugees. Popper is a prize-winning photographer who now barely survives by taking passport pictures. Finally, Welcome in Vienna (1986) takes place in 1943, as Freddy and another young immigrant, Adler, enlist in the United States Army, which sends them back to Vienna (bottom left). The war is ending and the two would like to go back to the life they once had, but is that possible?
A Woman's Pale Blue Hand­writing (1984) is set in the same time period as the trilogy, but its vision comes from a different angle. Co­written by Corti and Kurt Witting, in this work an Austrian government official receives a letter that makes him believe he has a half-Jewish, 11-year-old son. He agonizes over how this revelation will affect him, his marriage and his position in society.
—Z.S.
---
Web Sighting
Jerusalem's towers loom majestically; its archaeological treasures beckon—even online. At www.cityofdavid.org.il, stunning pho­tographs of Old City sites such as Gihon Springs, the Royal Quarter and King Hezekiah's Tunnel, maps and information on new findings take visitors through a tour of history, back to the time of King David. The Web site, in English, Hebrew, Spanish, French and Russian, recently won first place in the United Nations' World Summit Awards, which glowingly described the site, saying it "brings to life the only place on earth where the only guidebook is the Bible itself."
—Leah F. Finkelshteyn