Cut & Post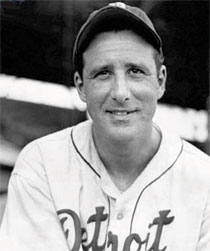 'Bat' Mitzva Day
The National Baseball Hall of Fame in upstate New York is hitting a home run for Jewish baseball slugger Hank Greenberg (above) this summer. Filmmaker Aviva Kempner, director of the Peabody Award-winning documentary The Life and Times of Hank Greenberg, is one of several speakers scheduled to participate in the Day of Tribute at Coopers­town on June 29.
Greenberg's 331 home runs and .313 batting average—compiled during the 1930s and 1940s when he mostly played for the Detroit Tigers—make him the all-time Jewish leader in both categories; he was elected to the Hall of Fame in 1956.
A group called Jewish Major Leaguers (www.jewishmajorleaguers.org), which has created several sets of Jewish baseball cards over the past few years, is organizing the event in collaboration with the National Baseball Hall of Fame and Museum (www.baseballhalloffame.org) and the American Jewish Historical Society (www.ajhs.org).
—Peter Ephross
Righteous Brew
Laura Wetzler, a New York-based musician and act­ivist for the Abayudaya Jewish community of Ugan­­da, and J.J. Keki, an Aba­yu­daya coffee farmer, have planted a new seed of peace: the coffee bean. With the support of Kulanu, an organization that works on be­half of dispersed Jewish communities world­wide, the pair conceived of Mirembe Ka­wo­me­ra De­li­cious Peace Cof­fee, a cooperative that brings together 700 Jewish, Muslim and Christian coffee farmers in the African country.
Paul Katzeff, president of Thanksgiving Coffee Company in Fort Bragg, California, agreed to buy up every sack of the peace coffee for the next 10 years. The project has enabled the farmers to improve their educational, health and economic status; has earned a global citizenship award from Tufts University in Medford, Massachusetts; and will be the subject of a documentary.
"You don't have to be a maven to do a mitzva," says Wetzler. "You can learn how to be of use."
The kosher, organic, fair-trade-certified coffee with hints of pecan and nutmeg can be ordered from www.mirembekawomera.com.
—Rahel Musleah.
Let's Talk About…
When Bat Sheva Marcus leaves her day job as clinical director of the Medical Center for Female Sexuality in Purchase, New York, she returns to her modern Orthodox community ever ready to openly engage women—even religious ones—on the subject of sex.
At the center (www.centerforfemalesexuality.com), Marcus (left), who has a Ph.D. in human sexuality as well as a master's degree in Jewish studies, oversees a growing practice that diagnoses and treats female sexual disorders.
Away from the center, she turns her attention to the needs of her community: Marcus is a founding member of the Jewish Orthodox Feminist Alliance (www.jofa.org) and the chief operating officer of M.A.Z.E. Fertility Laboratories, and she often lectures to her peers, promoting positive and pleasurable sex lives.
For some Orthodox women, sex can be complicated: While Judaism considers relations between spouses a holy act, religious women grow up with tenets of modesty that might confuse legitimate eroticism. "[Women] need to realize that if they are having issues, they are not crazy but it may really be a product of their upbringing," Marcus says. "They can consciously work on exploring their sexual concerns and expanding their sexual horizons, either through conversations with professionals and friends, or books and videos."
—Libby Goldberg
Reclaiming and Rebuilding 
A 2004 visit to his native Szczekociny, Po­land, stunned Rabbi Menachem Bornstein. Tombstones in the town's main Jewish cemetery had been ripped out, crushed and used as paving or building blocks, and public toilets had been erected in the vicinity.
The Holocaust survivor and his family launched a restoration campaign, gathering tombstones for an intended monument. Un­der pressure, the municipality removed the toilets and pledged to build the monument as well as a Jewish museum.
"I have an obligation to those who came before me and will come after me, so we may never, ever forget," says Bornstein, 84. This month, his son Yossi (yossi@shizim. com) is organizing a delegation to travel to the first ever Szcze­kociny Jewish Festival.
The restoration is partially funded from sales of The Spirit of the Survivor, a documentary about Bornstein created by eighth-grade student Sean Foer, who at­tends middle school near Bornstein's Harris­burg, Penn­sylvania, home.
—Barbara Trainin Blank
Special Kneads 
Sandee Hier spent five years developing a hal­la she was proud to serve her gluten-intolerant family. She soon earned a reputation for the bread, and last summer she opened the Sensitive Bak­er (www.sensitivebaker.com) in Culver City, California, the first kosher gluten-free bakery.
Hier's other goods, including cookies and cupcakes, have general appeal, and last year her focaccia was voted the city's best, gluten-free or not, by Los Angeles Magazine.
With her bakery up and running, Hier decided to pursue a second recipe for gluten-free halla, one that would live up to allergy as well as religious demands. The problem is that Jewish law requires the bread be made from one of the five grains, which was impossible until new research on oats deemed some carefully cultivated strains gluten free.
"I feel like this is my ticket into heaven," Hier said. "I can enable people to have a mitzva they haven't had before."
—Elissa Strauss
Tour of Duty
At the end of the Second Lebanon War in 2006, American friends Ben Hyman and Jon Weiss, both in their twenties, decided it was time to show that support for the Israel Defense Forces extends beyond the Jewish state's bound­aries. Bring­ing together their love of music and Israel, the two founded the Israel Service Or­ganization (www.israelservice.org), modeled after the U.S.O.
Hyman and Weiss formed a band of talented New York musicians last summer to embark on a dizzying nine-day, six-base tour, performing for Israeli soldiers from Ramat HaGolan to the Negev. This year, with enough funding, their goal is to perform at 16 bases in four weeks as well as on the frontlines.
"We need to bring this to soldiers in [the field]," Weiss said. "We want to go into combat units."
—Randi Sherman
Here Comes the Kalla
The number of unmarried young women in the ultra-Orthodox community has risen to unprecedented levels in recent years. In response, the North American Shidduch Initiative (www.nasionline.org) last year began offering match­makers incentives to help those women.
"Boys typically begin dating at age 22, while girls begin at 19," says NASI spokesman Moshe Pogrow. "With an annual population growth of 4 percent in our community, that means there are more girls available for a boy by the time he begins dating." Since men are rarely set up with women their age, NASI of­fers $750 to a matchmaker for a shiddukh between a couple who are less than two years apart and $1,250 if they are one year apart. If the bride is more than three months older than the groom, NASI gives $2,000.
"It's about changing attitudes—this is how we can even up the numbers and stop the crisis," says Pogrow. He must be right: Matches have been coming in at the rate of one a day since NASI's founding in October 2007.
—Chana Feinstein