Feature: Tel Aviv as Fashion Central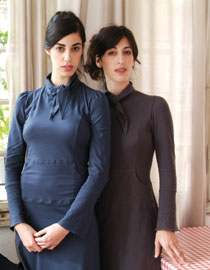 In the corner of a Tel Aviv boutique called Mikvah rest bolts of soft summer silk and fine cotton speckled with tiny red and yellow flowers waiting to be transformed into airy dresses and button-down blouses.
The boutique's coproprietor, a young fashion designer named Chaya Michelson-Smolarchik, pushes back a lock of dark hair and walks over to a rack of her best-selling designs, a simple black dress in shimmering cotton with a satin sash hung at the waist. The shop's signature "bicycle skirt" features a swath of fabric that disguises long shorts, giving the appear­ance of a skirt. That piece was de­signed in answer to Mik­vah's owners' own frustration with having to hike up their skirts when bicycling around town, their main mode of transportation.
Casting a proud eye at the neatly hung garments—with a price range from about $70 to $230—Michelson-Smo­larchik describes her de­signs' appeal: "It's a very ro­mantic style mixed with an urban look…. There is something of the ap­pearance of vintage clothes…but inspiration can come anywhere, even from seeing someone in the street."
The shop she owns on Mikvah Yisrael Street with Evelyn Terdiman is part of a booming new trend in Tel Aviv of fashion boutiques opened by young designers—some of them straight out of design school. Several neighborhoods seem to have been taken over by a dazzling abundance of storefronts that beckon with delights from backless satin dresses to gauzy white tunics.
There are no firm numbers for independent, designer-owned boutiques, but fashion watchers estimate well over 100 in Tel Aviv. Another 100 shops sell both lo­cally de­signed and manufactured clothes as well as garments from abroad. Al­though the designers' wares are sold mostly in Israel, some designers do sell overseas to specialty stores in Eu­rope and the United States.
When Suzie Menkes, senior fashion writer for the International Herald Tribune, visited Tel Aviv nearly two years ago, she told her hosts at Shenkar College of En­gineering and Design—whose graduates are part of this trend—that the city had one of the largest concentrations of boutiques she had seen anywhere.
Leah Peretz, head of Shenkar's fashion design department, explains the phenomenon: "I think Israelis are very individualistic—just look how many start-ups we have in high tech. We don't like to work for big in­stitutions."
But the trend is also an answer to eco­nomic realities. In the late 1990s, graduates sold their clothes on consignment to clothing stores, but because of the mark-up in prices, they usually ended the season with many of the pieces returned.
Additionally, for new de­signers who choose to stay in Israel—and not seek their fortune abroad, as some of their peers do—there are limited opportunities; just a few large fashion houses ser­vice the country's ma­jor chain stores such as Castro, Fox and Golf.
Ido Recanati, a Shen­kar graduate who spent time working in fashion studios in Barcelona be­fore opening his own business first in Spain and then in Israel, notes that in other parts of the world, designers tend to work exclusively on de­sign. "But here we like the intersection of doing business and also being innovative," out of a predilection for both, says the 33-year-old with rumpled dark brown hair, 1960s-style round glasses and a wide smile. Operating your own store is a lot of work, he explains, not just building the collections, but marketing, managing a business, working di­rectly with clients and overseeing production. Some stores close within months of opening.
Recanati's store bears his name and is located on Malkhei Yisrael Street facing Rabin Square. Un­til about three years ago, the stores on this street, with brick and cement sidewalks, were mostly ki­osks, hair salons and small eateries. Today, about half are boutiques, including Mayu, which sells tunic-style shirts in light cottons; Orli Yaron, with its selection of casual tank dresses and shirts in textured fabrics; and Raphael, which sells leather pumps, sandals and handbags.
Ido Recanati is a sunny space with matte gray floors and rows of tiny spotlights on the ceiling casting a warm glow on women's shirts, dresses and skirts, many with asymmetrical patterns and rough stitching. Inbar Gross Recanati, the design­er's wife, is the architect who created the interior and helps run the business.
The Recanati style, described as retro-chic by L'Isha, a women's magazine, reflects "a fine line between finished and un­finished," Recanati notes.
A sleeveless, knee-length summer dress of thin black cotton with a round neck of knitted cotton and a single strip of gray rectangular cloth sewn in a diagonal line from the right shoulder, is popular. It hangs next to a pair of cropped olive pants; the fabric of its oversize pockets are sewn into bunched pleats.
Those pants as well as dresses with Recanati's trademark, strategically placed oval pockets, are among his most sought after items.
"I think my clothes look better on regular people than on really thin women," he says, "be­cause when I make clothes, I am thinking about solutions to hide what needs to be hidden and to expose what does not."
Tailored shirts start at about $60, skirts are around $140 and dresses range from $165 to $230. Bar­gain hunters can find dress­­es from the past season at big re­ductions; prices are sometimes as low as $35.
Why are women drawn to boutiques? "You don't find the standard clothes you see elsewhere," says Avishag Salomon, browsing in Ido Recanati. "The clothes are made differently, and I like that they tend to use better and softer fab­rics. I prefer to invest in one or two quality pieces than buy several cheaper items that are less well made and special."
Though the majority of boutiques offer only women's clothing, Recanati plans to open a store for men in a few months.
A quick walk from Ido Recanati will bring you to leafy Masryk Square, another center for clothing em­poria that have found unlikely homes between dry cleaning and hardware stores. On the Friday afternoon before New Year's Eve, local designers hosted a collective sale, offering strawberries and champagne outside their shops.
A relatively new addition to the scene is Man­dinka. The store's clean lines and monochromatic clothes are created by Tal Tene, 30. The cheerful, willowy Tene with a blond buzz cut speaks in quick, excited sentences about the work she produces with partner Shi­mi Bar, a photographer and artist.
"Our look is in­spired by Tel Aviv; we are very ur­ban," she says. "It's a beautiful, unique city with lots of old and new mixed in and tons of energy." For example, silk-printed ab­stract im­ages of electrical poles and grids adorn a series of T-shirts. An oversize tank top features wo­ven gold metallic yarn.
Tene, who opened a studio and then a store within months of graduating from Ascola, a de­sign school that has since closed, says she sees the flow­ering of the Israeli fa­shion industry as part of the success of Israel's na­tional cultural enterprises, such as filmmaking, and furniture and industrial design.
Like many Israeli de­signers, Tene and Bar use cottons, silks and linen.
"Natural fabrics are im­portant because [Isra­el's] climate is not an easy one, with 10 months a year of summer," she says.
While Itay Yaakov, a writer for Signon, the week­­ly style magazine of the newspaper Maariv, welcomes the use of lighter cottons, he would love to see more Mid­dle Eastern- de­sign influence rather than the current trend to copy European and Amer­ican styles. "The Israeli designer needs to start realizing where he lives," he asserts.
Though her look is decidedly European, with simple lines and a palette restricted to black, white, navy and gray, Sarah Braun, whose store on Dizengoff Street bears her name, says that when she be­gan marketing her clothes in 2000, she was not sure they would sell well. At the time, Israelis favored strong colors and clothes with em­broidery and bold stitching.
But Braun has a good background. She spent three years at Tel Aviv's Comme Il Faut, a major Israeli fashion house; it "was the best school," she says while sitting on a stool in the attic loft of her sun-washed, white-walled shop. "I learned how to work, how to build a collection, how to listen to the client."
Surrounding Braun are crisp tailored white pants, blue cotton skirts with multiple folds and cropped gray cardigans with porcelain buttons painted with tiny pink roses.
Braun's prices start at $35 for tank tops, tailored shirts are between $60 and $80, pants and skirts sell for about $160 and dresses go for $135 to $230.
Braun's slight French ac­cent is a reminder of her childhood in Paris where her family lived before im­migrating to Israel. Down­stairs, propped up against the wall is a giant, gold-painted wood-frame mirror with carved cherubs and flowers that once sat in her grandmother's Paris home.
She describes how she started, without financing, selling one design—a simple black dress made from lightweight wool usually used in men's suits—to a few shops in Tel Aviv. As demand rose, she made more garments and ex­panded her sales base until she was confident she'd be able to support her own studio and, even­tually, a store.
"To be independent is full of ups and downs," she says.
Braun is proud to have her store on Dizengoff, a central thoroughfare and the city's first shopping street. It remains, together with the large mall at the beginning of the street, the main shopping nexus in the city. It is home to both new and old names in Israeli fashion, from veterans like Na­ama Bezalel, Sigal Dekel and Ronen Chen to newer de­signers such as Enki by V.V. and Banot.
What has helped her gain popularity, Braun explains, is her constant dialogue with clients, many of whom have become friends.
"I need to know what they think and see how the clothes fit them," she says. She even asks them what they would like to see in future collections and incorporates their feedback, adding, for example, the color red this season, for the first time because of client interest. That personal attention is one of the bonuses of boutique shopping: Relationships are forged and garments are mended and altered months and even years after they were bought.
For the owners of Mikvah, the feeling of intimacy they want is reflected in the shop's name. "It spoke to us about womanhood, about something pure and timeless," says Michelson-Smolarchik. That feeling was reinforced when they renovated the shop and decided to leave ex­posed the Ottoman-era cement-and-stone ceilings with slanted lines of rusted beams that reminded them of an ancient mikve.
Mikvah is located in a southern Tel Aviv area called Gan Ha-Hash­mal, Electric Garden in English. Once a gathering point for prostitutes and drug dealers, the park in the center of the neighborhood now has paved paths and tended gardens frequented by cy­clists and dog walkers.
The surrounding streets are dotted with shops selling not just clothes but shoes, handbags and jewelry. A stroll provides a glimpse of the Tel Aviv that once was—two-story build­­­ings with curved balconies and wrought-iron railings and boasting narrow, graceful wooden doors with glass windows.
On the stoop of a jewelry shop, workers are taking an ice cream break. Nearby, Meirav Ohayon, a designer of purses and other handbags, cuts patterns in her Mi­shi Studio, a combined boutique and workshop. On another corner, a salesclerk with rosy cheeks sells vintage-inspired clothing by a Russian-immigrant designer at Iluchka. On another corner, black silk tank tops and iridescent green shoes decorate the window of a boutique that was once a restaurant and still has a long mahogany bar.
Pausing from making her "Upside Down" bag—it can be worn right side up as shoulder bag or turned upside down and carried by short handles—Ohayon muses about being part of a neighborhood that feels like a fashion collective.
"There is a feeling of togetherness here," she says, "that we are pursuing something different from what one sees in the regular market, that we are doing our own thing."
---
Tel Aviv Boutiques
Mikvah
26 Mikvah Yisrael Street
011-972-77-219-9229
mikvah26@gmail.com
Ido Recanati
13 Malkhei Yisrael Street
972-3-529-8481
www.idorecanati.com
Sarah Braun
162 Dizengoff Street
972-3-529-9902
sarahbraun@bezeqint.net.il
Mandinka
105 King George Street
972-3-522-4007
www.mandinka.co.il
Mishi Studio
17a Levontine Street
972-77-787-8297
www.mishi-design.com