Letter from Berkeley: Gone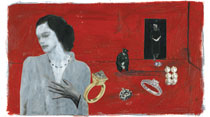 Letting go of the possessions—not to mention the people—we love is never easy. The process is that much harder when those things are stolen.
Sometimes things are just things, and sometimes they are much more. Sometimes things are so imbued with memory and meaning it's as though they have their own DNA, a cellular truth and personality that transcends their supposed limitation as in­animate.
They are animated by us, and for us. They can sometimes outlive us, al­though they can also wear out and break and be lost and change meaning. And they can be taken away.
Here is what happened to me: One night while I was out with a friend for a long dinner, someone broke into my home through an unlocked side door and took not only my laptop, which was precious enough, but worse, far worse, took the collection of an­tique jewelry I had inherited from my mother. Not just a ring or two, not just a bauble. Took it by the hand­fuls, took and took and took. He must have thought he had discovered a gold mine, because he had. Di­a­monds and sapphires and rubies and emeralds, gold and platinum and silver.
It happened the night of january 5, a Friday. When I came home, the first sign of something amiss was that my laptop wasn't on my desk. Where did I put it? I thought, knowing I hadn't put it anywhere. Not a single thing was out of place in my office, but the power cord and the computer were gone. I headed downstairs to my bedroom and saw a few small jewelry boxes on my dresser with their lids removed. Another box lay upside down on my bed and there was a small gold pin lying on the floor. All of this registered but none of it made sense. I may have moaned or even screamed, but I don't remember. None of my drawers had been opened; nothing was disturbed. The windows and doors were closed and unbroken. But someone had come inside—and ripped out my heart.
This may sound like an exagger­ation, but anyone who has been robbed knows what I mean. We at­tach to our stuff the way we attach to those we love. The stuff we collect, the stuff we inherit, the stuff we pack into boxes and drag around with us when we move, the stuff we feel burdened by, the stuff we insure and the stuff we give away. We surround ourselves with things to remind us who we are and what we care about. We wear our stuff to tell­ the world how much we are worth, how much we love beauty or originality or ideas or stories. Our stuff matters.
My mother died seven years ago. After two long years of agonizing over how to divide her jewelry, how to make sense of what it did and didn't mean to me and to my siblings, we each had our own pile of glittering ob­­jects that had once been hers. My mother's jewelry carried a long history. When she was a child in Vilna, the Nazis had stolen everything of value that her family had owned, and throughout her life she had endeavored to replace it in one way or an­other. She also suffered from bipolar disorder, which meant that in her man­­ic episodes she would shop compulsively, often most drawn to the shiniest of things, beautiful and gaudy.
Before she died, my mother had giv­en me a few pieces that I especially admired, but after her death I end­ed up with much more. Too much. The kind of stash that is rightly called an embarrassment of riches: too many rings for my fingers, too many earrings for my ears. I wore a few things often and others not at all. I had some pieces appraised and considered selling some, but mostly I kept them in a small cluster of boxes on my dresser and felt my mother's presence there, complicated and vivid.
What about insurance? you will ask. After that one ap­praisal, I did take out an additional homeowner's policy, but when I changed policies, somehow those provisions fell off the page. I have a safe-de­posit box at my local bank, but the box is empty. I live on a very safe street in a very safe neighborhood. I mostly, but do not always, check to make sure that my doors are locked when I leave the house. But that night, I didn't check. I just didn't.
When I called 911, the policeman showed up quickly, and with my body shaking and my terror and shock still rising, I tried to tell him what had happened. I sobbed. I pulled out the small packet of photographs I had taken of the pieces that I had had ap­praised, trying to explain that there was more, so much more. What had been taken would take pages to de­scribe, I said. Pages and pages.
He asked gentle questions and took notes as I spoke. When I saw him studying my face, I wondered if he thought I was going to collapse. And then he said, "I think I know you. I think you were my college English teacher." I recognized him as soon as he said it. I hadn't taught in years, but he had been a good student, especially bright and attentive, and I couldn't help smiling at him, pleased to hear that he had gone on to finish a four-year degree and was now a cop. He was kind, and somehow that made me feel better. For about a minute.
Just then I got a phone call from another local police officer, Rudi, who happened to be a friend of mine. He had heard my address on the ra­dio from dispatch and wanted to see what he could do. Here's another crazy part of the story: This cop's father was a Nazi, a real one, a high-ranking one. Rudi and I had met by way of a re­markable workshop called Acts of Re­c­onciliation, in which groups of Jew­­ish descendants of Holocaust survivors gathered together with Ger­man descendants of Nazis and told each other stories. So that we might help each other come to terms with our shared legacy, our inheritance of trauma and grief and loss and shame.
Here he was, my German friend, standing in my house while I trembled with the shock of losing my mother's jewelry. My moth­­­er, whose seemingly insatiable desire for gems had been only one of the visible forms of hun­ger that stayed with her long after the war ended. My mother, whose hun­ger lives in­side of me, even now.
Rudi knew exactly what had happened because in the pre­vious two days, he had seen two other homes burglarized in near­ly identical fashion. Someone knew how to find entry and knew exactly what to look for. It was a drug ad­dict, he assured me, someone who knew what was easy to fence. "I'm sorry," he said. "And I hate to say it, but the stuff is gone."
I sobbed all night, aching with loss and guilt. I felt as though I had caused harm to my mother by losing her things, by not taking good enough care somehow; I felt responsible for my own violation and furious at the thief and devastated to think I could do nothing. When I called my in­sur­ance carrier the next day to re­port the theft, they told me to send them a de­tailed list of everything that had been taken, along with photos if I had any. But when I found out the ab­surdly miniscule limit of what they would pay, I actually had to hang up the phone, feeling as though I had been robbed all over again. It was really gone. And my mother was really gone. I would nev­er get the jewels back and I would nev­­er see her again.
It's been more than a year since the burglary. I bought a new laptop right away, but the missing jewelry haunts me like a wound that won't heal. I keep remembering more pieces that were taken. My college ring, my old wedding ring, my mother's engagement ring. Sometimes the loss is more enormous than I can allow myself to feel.
Friends tell me, and I tell myself, that they are just things, maybe not re­placeable but still just things. My mother lives in my memory and in my heart; her gifts to me are far more luminous than anything I could wear or keep in a box. But still, I grieve at having so much less of her to hold on to now, so much less of her to pass on to my nieces, so much less to help me recall her wild moods and joie de vivre. I grieve to think that whoever took these things had no idea what they meant to her, or to me. I know that life teaches us over and over again to let go. We have no choice: Every­thing is temporary, even our own lives, and even the love that we want to be­lieve is eternal.
What can we do besides lock the doors and insure all our property? Cher­ish what we have while we can? Pay attention to what matters be­yond the value of our things?
Hold on, and then, let go.
Elizabeth Rosner is the author of The Speed of Light (Ballantine), winner of the 2002 Harold U. Ribalow Prize, and Blue Nude(Ballantine). Her Web site is www.elizabethrosner.com.