Refuseniks: Dreams and Reality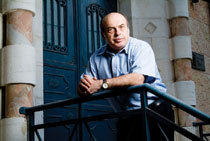 The only movement that succeeded to organize large amounts of pressure was the Soviet Jewry movement, and that is why [the regime] had to start making concessions, and the more you [make] concessions on human rights the more it becomes an unstable system.
—Natan Sharansky
Every October, a group of about 200 former refuseniks gathers for a reunion in a pine forest in the foothills of Jerusalem, where they recall the old days when they would meet in Moscow's Ovrazhky forest under the watchful gaze of KGB agents. The men and women arrive with their families from all over Israel. They bring picnic lunches, chatter in Russian and Hebrew and stage small musical performances. At the end, they always pose for a group photo.
"Mostly it's about catching up with each oth­er," said Yuli Kosharovsky, 66, who develops businesses based on high-tech innovations of fellow Soviet olim.
Last year marked 40 years since the struggle to free So­viet Jewry began; the movement's official birth is linked to Israel's victory in the 1967 Six-Day War. Throughout Rus­sia, young Jews—whose only re­minder of their heri­tage was systematic anti-Semitism—were emboldened by Israel's lightning victory and inspired to learn more about the Jewish state and their own identities. As requests to leave for Israel be­gan to swell, a crackdown en­­sued.
"We felt we were doing the right thing," ex­plained Ko­sha­rov­­sky, who lives in Beit Aryeh, a West Bank settlement near Petah Tikva. In Moscow, Kosh­arovsky—a refusenik for 18 years—was a scientist working on missile systems, but after requesting to move to Israel, he was de­tained by Soviet authorities over 100 times, banned from his profession and forced to work cleaning streets and loading cargo on trains. "It was a feeling stronger than myself. I could only think of Israel and how I would get there."
Back then, the Jewish state was more myth than reality for him, a place of ho­mo­genous, idealistic and motivated citizens. When he was fi­­nal­ly permitted to emigrate, he was sur­­prised by the reality of social stratifications, special interest groups, infighting and lack of patriotism in some Israelis.
Kosharovsky's idealized view of Israel was typical of these refuse­niks. Tina Brod­etsky, 74, of Jerusalem, spent four years in a Siberian work camp because she "illegally" met with Is­raelis during a 1957 in­ter­na­tional youth festival in Mos­cow.
"While imprisoned I thought of Israel constantly," she recalled, "painting it in my imagination. And these images gave me strength to be brave."
Identity and place are something Natan Sharansky, perhaps the best recognized refusenik, thinks about today as chairman of the Adelson Institute for Strategic Studies at the Shalem Center, a Jerusalem think tank. In his sunny office overlooking cypress trees and red-tiled rooftops, he is a world away from the Siberian prison camp where he spent nine years.
Forgetting the past, he said, "[is] not just a loss for us but…for our state and our people, because it was in our generation, in the last century, that the biggest struggle, the biggest exodus of Jews since Egypt, took place, and it showed the real power of the Jewish people if they are united."
Sitting at his desk under a portrait of his mentor, Soviet dissident Andrei Sakharov, he shows a visitor a copy of his latest book, the thick tome Defending Identity: Its Indispensable Role in Protecting Democracy (Public Af­fairs). Last No­vember, he had an hourlong discussion of the book with Pres­ident George W. Bush in the White House.
According to Sharansky and other refuseniks, while the Soviet Jewry movement was not the only dissident movement at the time, it was the most effective and set in motion the Soviet Union's eventual downfall.
The Soviet Union, like every dictatorship, was very unstable from the inside, so it had to exert all its power to control the minds of the people that it feared," Sharansky explained. "The only movement that succeeded to organize large amounts of pressure was the Soviet Jewry movement, and that is why [the regime] had to start making concessions, and the more you [make] con­cessions on human rights the more it becomes an unstable system."
That is how, he said, the movement, even without intending specifically to do so, "started the pro­c­ess of dismantling the empire." About the struggle that en­gaged and unified diaspora Jewry, Sharan­sky said: "In the end, the army of students and housewives turned out to be mightier than the KGB."
Sharansky engaged in public life in Israel almost as soon as he ar­rived in 1986 (12 years after he had last seen his wife, Avital; they had parted the day after their wedding in Mos­cow). His first move was to head a group called the Zionist Forum, composed of former re­fuseniks who helped prepare the groundwork for Israel's eventual absorption of some one million Jews from former So­vi­et re­pub­lics. They began to arrive in wake of the Iron Cur­tain's collapse, begun after the dismantling of the Berlin Wall on No­vem­ber 9, 1989.
Together with fellow refusenik Yuli Edelstein, Sharansky established the Yisrael B'Aliya political party, whose base of support was immigrants from the Former Soviet Union.
Sharansky likes to joke that coming to Israel from the Soviet Union was like going from hell to paradise in a single day—one moment surrounded by prison guards and the next embraced by his wife and the people of Israel.
"And from heaven there is only one direction to go—down," he said. "I am still descending. I feel many of the fights and the disappointments…but it's still paradise, just a paradise in need of lots of repair."
The former minister of diaspora affairs admits that his identities as both a diaspora Jew and an Israeli are beginning to merge. "Of course I am Israeli," he said, "but what has changed over the years is that I don't want to be only Is­raeli." He savored his dual identity as someone with ties to both the diaspora and Israel.
His two daughters, Rachel, 21, and Chana, 19, born in Israel after his arrival, are pure sabras, he said, and he admires their confidence and lack of identity complexes. He is quick to note, however, almost apologetically, that he does his best to instill in them that they are part of a larger Jewish people.
One man keeping the memory of the Soviet Jewry movement alive is Aba Taratuta, 72, a well-known refusenik from Leningrad. In Haifa, where he lives, he sends e-mails around the world and puts notices in Russian-language newspapers in Israel soliciting material for an archive he and other former activists established six years ago, The Remember and Save Association (www.soviet-jews-exodus.com).
A mathematician, Taratuta waited 15 years for an exit visa. After arriving in Israel, he found work at the Tech­nion's Space Research Insti­tute in Haifa; his wife, Ida, an English translator in Russia, became a librarian.
The archive, which is currently housed in a rented Haifa apartment and in boxes in Taratuta's home, includes photographs and video foot­age of clandestine gatherings; petitions and appeals to Soviet officials and letters between refuseniks and activists from the West; underground publications, diaries and unpublished memoirs; and posters and leaflets announcing rallies and demonstrations. Shirley Goldstein of Oma­ha, Nebraska, once a prominent activist for Soviet Jewry, helps finance the project, but Taratuta said they need more funding to continue.
Still, he is committed to documenting the movement's history for posterity.
"I am sure people will forget what we did," said Taratuta. "That's natural. People are interested in what is happening in their own lives, not in the past."
The archival work is not just for future historians but also for the volunteers' own families, "so at least our children and grandchildren will have a chance to know about what happened," he said. Taratuta's only son, Michael, lives in New York with his teen­age grandsons, Benjamin and Daniel.
Taratuta is somewhat wistful that his son left Israel, but he tries to be philosophical: "What can we do? Everyone chooses their own path." Still, he noted that his grandsons are starting to ask him about what life was like for their family in Russia.
Do the children of former refuseniks in Israel want to learn about their parents' struggles?
"No, they are not interested in this [history]," Kosharovsky said of his sons' lack of curiosity, adding in a flat tone, "They are now totally Israeli. I'm happy for them—they can live a free life as citizens who can express any thought they have. They can criticize the government. They are rooted very deeply here."
His sons, Mikhael, 40, Eliezer, 30, and Matityahu, 27, work in computer programming; his two daughters from previous relationships, Sonya and Anya, live in Russia.
About a year ago, likud knesset member Edelstein—who served almost two years in prison camp before being allowed to emigrate in 1988—took Elyassaf, his teenage, Israeli-born son, on a trip to Russia. "On the one hand, it was interesting to him," said Edelstein, 50, who now lives in Neve Daniel, a West Bank settlement near Jerusalem, "but…he was much more of a tourist and was not very emotionally involved."
From 1996 to 1999, Edelstein, once a Hebrew teacher in the FSU, served as minister of immigration and absorption. He says his years in the struggle inform his work, especially regarding the absorption of immigrants from the FSU, issues of human rights and Jewish identity.
Sometimes his background is used to criticize his work. For instance, he recently authored a bill promoting Hebrew as the country's primary language, demoting Arabic and English to secondary positions.
"Some say, 'You were a prisoner of conscience,'" Edelstein said, "'and now you are working on legislation hurting the Arab population,' which is not the way I understand things."
It can also work the other way around, Edelstein added: "When I work to limit the activities of the police or the security services, then some say, 'Wait a second, it's usually the bleeding-heart liberals dealing with it, not you,' and I [say] that I don't want the interrogators…to have more freedom than necessary in interrogations."
When Taratuta and his wife arrived in 1988, they settled in an absorption center in Ramat Aviv, a suburb of Tel Aviv, a fairly well-to-do area of parks, private homes and low-rise apartment buildings. It took time to adjust to their new life and learn Hebrew, all the while navigating a new culture and the chance to make their own choices. "We had to adjust to the idea of freedom, but quickly you get used to it," he said with a laugh.
He recalled the high point of his arrival when "everyone greeted us with smiles…we thought the whole country was like Ramat Aviv."
When Tara­tu­ta looks at Is­rael to­day, he ack­now­ledges he is "not 100 percent satisfied, there is a lot to do and improve, but for me there is no other place."
When he first arrived, he was disappointed that immigration to Israel was not more of a national priority, and his main complaint continues to rest with the politicians themselves.
We finally have a state after 2,000 years and our politicians are not doing a good job," he asserted.
Taratuta was disappointed in Is­rael's education system, which he saw firsthand while teaching math to gifted and talented middle-schoolers. He would like to see smaller class sizes, which today are unwieldy with up to 40 children in a class; he also decried the lack of student discipline.
Despite its failings, Israel is also the only country in the world without anti-Semitism, he states matter-of-factly. "I feel very comfortable here, because almost all around me are only other Jews," he said. "It's an en­tirely different type of feeling, something I had never known before coming here. Yes, overall, things suit me here." He is comfortable as well in being part of a community of other Russian-speaking former refuseniks.
Kosharovsky, meanwhile, is not sure when his sons will read We Are Jews Again, the book he recently wrote that documents the history of Soviet Jewry and the struggle for freedom. He self-published it in Russian last year and hopes to publish an English-language edition soon.
"I've written the book for my kids, really, but they cannot read it," he said. "They tell me they'll read it when it comes out in Hebrew." For their generation, Russian is usually a rusty second language at most.
Among the events held last year to pay homage to the struggle's anniversary were an international conference at the He­­brew Uni­ver­sity of Jerusalem and a tribute hosted at Jeru­salem's convention center. A new film also tells the story (see box, at right).
A seven-month-long exhibit that ended last May, "Jews of Struggle: The Jewish National Movement in the USSR, 1967-1989"—held at Beth­ Hatefutsoth: The Nahum Goldmann Museum of the Jewish Diaspora in Tel Aviv—displayed photographs, post­ers, documents and publications; art, music and film about the struggle, activism and redemption.
In­cluded were petitions in faded ink of hundreds of names of Soviet Jews de­manding exit visas; postcards sent to Sharansky by his wife, marred by a censor's thick blue marker; notebooks packed with neatly penned He­brew vocabulary lists that were studied by ac­tivists while in prison; underground translations of censored books such as Leon Uris's Exodus (the refuse­nik's bible); and posters from around the world publicizing demonstrations.
A 1975 black-and-white group pho­to in the exhibit, taken in the woods near Moscow, shows Kosharovsky, Sharansky, Vlad­imir Sle­pak and other dissidents smiling, their arms linked. When asked whether such gath­erings were risky, Kosha­rovsky an­swers: "Every­thing was danger­ous."
Still, despite the frustrations of life in Israel, Kosharovsky is upbeat.
"At least I know I am not a toy to politicians who are hostile to my people," he said. "I am in my home, in my own country. I am a free citizen.
"I've even gotten used to the heat," he added, laughing.
---
Refusenik, the Film
Producer-director Laura Bialis covers new ground in Refusenik, a documentary that focuses on the underground move­ment to win freedom of immigration for Soviet Jewry.
Interviews with Amer­ican activists such as Jacob Birn­baum and Glenn Richter are interspersed with footage taken illegally in the cramped Soviet apartments in the 1960s and 1970s. The footage, which includes dissident Anatoly Scharansky—now Natan Sharansky—is touching in its lack of professionalism and boundless sincerity. The hope it captures is palpable and moving.
This retrospective vividly re­tells the story of a grass-roots effort that turned into an international human-rights campaign. Just as the biblical Exodus story is remembered every year at Passover, so this modern-day Jewish struggle for liberation must not be forgotten.
Produced by the Foundation for Documentary Projects (www.refusenikmovie.com).
—Jordana Horn