Hadassah Convention 2008 Set Your Sites Among the Stars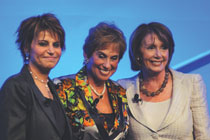 At Hadassah's 94th annual convention, held in Los Angeles July 13-16 at The Westin Bonaventure Hotel & Suites, over 2,000 delegates were told to set their "sites" among the stars—bein kokhavim sim kanekha. But in the city that invented celebrity, in the year of Israel's 60th anniversary and just four months from a presidential election in the United States, the stars—those who shine on the red carpet and those who lead in Washington—set their sights on Hadassah.
"We're 300,000 women with members in every congressional district," said convention cochair Julie Morris, who welcomed delegates Sunday night to the opening plenary in the hotel's starlit California Ballroom, "but it's not just our numbers that make us great, it's our passion."
"We are people of continuity with our 4,000-year legacy, language and connection to [Israel]," added cochair Leah Stern Reicin. "You and I will always be part of Jerusalem's heart."
The world is catching on to what Hadassah has always known—a woman's place is in the House, and the Senate. United States Speaker of the House Nancy Pelosi and Israeli Speaker of the Knesset Dalia Itzik came to the plenary to praise Hadassah's leadership.
"It is clear to me that Hadassah's hospitals treat patients not because they are [or are not] Jewish, but because you are Jewish," said Pelosi. "Those are Jewish values and truly a bridge to peace."
"I know you devote your whole heart and soul to Israel," said Itzik. "You are a part of our dreams and a vital part of our achievements—thank you for your passionate and unwavering support."
Appearing on stage with the two legislative leaders, Hadassah National President Nancy Falchuk observed, "For much of human history the voices of women were barely heard. And here we are, Hadassah and—if I may—stereo 'speakers.'"
Hadassah is known in the halls of Congress and beyond because its members don't just sit on the sidelines; they participate in civic affairs, advocating for medical research, health care, education and Israel. Several sessions addressed the question on members' minds: With a presidential election on the horizon, how will a new administration af­fect current political realities?
"The war in Iraq has weakened Israel's position in the region," said Representative Debbie Wasserman Schultz (D-FL) in a plenary that outlined differences be­tween the Republican and Democratic presidential candidates. "Senator Barack Obama has always been a steadfast supporter of Israel; his record is impeccable. But he believes that to have leverage, we must re­gain our position of respect on the world stage."
"I'm optimistic about our prospects in the region if we continue to have success in Iraq," said former Republican senator from Minnesota Rudy Bosch­witz. "John McCain does not waffle. For negotiations in the region to succeed, we have to be tough-minded."
Bob Shrum, political analyst and adviser to the Al Gore and John Kerry presidential campaigns, and William Kristol, editor of The Weekly Standard and columnist for The New York Times, continued the political discourse in "The Interpreters" plenary. America wants the Iraq war to end, said Shrum: "So far, the attacks on Obama have not taken, on the whole, with people who are persuadable."
"We'll likely have a Democrat Congress," noted Kris­tol, "but the question in terms of the presidency is, will this be a 'commander in chief' election, an 'economic experience' election or a 'Su­preme Court' election?"
Both outside the convention hall and inside, the news focused on the potential threat of a nuclear Iran. "War against Iran is a fearsome prospect," said Melanie Phillips, columnist for Britain's Daily Mail, in the "Eye on Iran" plenary. "But the prospect of a nuclear Iran is worse."
"Is the only answer military?" asked David Makovsky, senior fellow and director of the Washington Institute for Near East Policy's Project on the Middle East Peace Process. "I think it's worth the effort to ratchet up economic sanctions. The United Nations Security Council's binding resolutions are not binding enough."
Iranian Jewish author Roya Hakakian believes Iran's public is an untapped resource. "Today, you couldn't get a handful of Iranians to demonstrate against Is­rael—the younger generation cares about unemployment, great­er freedom for women, and many are pro-Western," she told delegates. "They need to be thought of as potential allies."
Indeed, Israel's severest critics may be closer to home than imagined. With growing anti-Zionist propaganda on college campuses, there were discussions about whether there is such a thing as too much freedom.
"College campuses need to be a diverse marketplace of ideas, but in a garden you're always going to have some weeds," said Mark G. Yudof, president of the Uni­versity of California system, in a session on the tension be­tween freedom and security in a democracy. Public institutions cannot ban university forums on the basis of content, he add­ed. "On balance, with so many points of view, we have to believe that our young people will work it through."
Discussion of campus issues continued in the "Anti-Semitism Recycled" forum. "I am worried about what goes on in the quiet corners of the campus," said Judea Pearl, pro­fessor of computer science at the University of Cali­for­nia, Los Angeles, and father of slain journalist Daniel Pearl, "including the com­ments of professors, the assigning of anti-Zionist [books]. Ask your kids how many pro-Israel speakers came to campus. We need to get the professors who are pro-Israel to show their faces."
As he has in the past, human rights activist Natan Sha­ransky expressed concern about the environment on Amer­­ican campuses during a session where he discussed his experiences in the Former Soviet Union and in Israel today. "Your kids go off to the big wide world of the university and wonder why they are asked to stay in theshtetl," he said. "Have no hesitation in telling your children—I like your passion for human rights and tikkun olam but we can only protect these things by going back to our roots and being proud Jews."
One Monday session took on a slightly smaller, but no less important, focus—the Jewish nuclear family. Keeping our children educated and informed starts in the family, said Ron Wolfson, Jewish educator and author of God's To-Do List (Jewish Lights). "If a child doesn't see modeling at home, then he or she will not be observant."
"There's probably no such a thing as a homogeneous family tree anymore," added Esther Netter, chief executive officer of the Zimmer Children's Museum in Los An­geles. "Intermarriage is now a context in which we live. [For Hadassah] welcoming these families is key to success."
Families have to do their part, but the Jewish community has tools to help in the formation of Jewish identity, asserted Steven Cohen, demographer and professor of Jewish social policy at Hebrew Union College–Jewish Institute of Religion in New York. "Travel to Israel is one way to increase attachment and combat intermarriage"
"We also need greater Hebrew literacy," said Rabbi Eli­yahu Stern, director of special projects at the Samuel Bronfman Foundation, "and better information on the Web, including English translations of the great Zionist texts…."
The good news is that Young Judaea sent 500 students to Israel on Year Course last year. "I didn't have a bat mitzva when everyone else did, so I decided to have one when my family visited me on Year Course," said Melissa Eddison, a freshman at George Washington University in Washington. "I picked a spot on Masada, read my portion, and it was very emotional for all of us."
Hadassah's programs for young Israelis are also thriving. Hadassah College Jerusalem has over 2,000 students. "It's impressive to look at the numbers," said Na­va Ben-Zvi, president of HCJ. "In 10 years, we've tripled in size."
"With 2,000 applications for 600 spots in the freshman class, we interview every applicant," said Zachi Mil­grom, vice president and dean of academic affairs. "Com­puters can't see everything; we're looking for potential."
Nissim Ohana is living up to that potential. He struggled in high school due to problems at home but finished his first year at HCJ with top grades in the bio­technology program. "I hope one day to get a Ph.D. in ge­netics," he said. "It's the key to understanding so many diseases—I want to help others as much as they've helped me."
Youth Aliyah, too, is helping to open doors for young people. "My father went back to Ukraine and left my moth­er, who is mentally ill, with three kids," said 16-year-old Vitali Ostapetz, who now lives at Hadassah-Neu­rim Youth Village. "Today my mother is doing better, and Ha­dassah-Neurim has become a home for me—there's nothing that can stop me now."
Hadassah has been environmentally active for decades through its support of the Jewish National Fund. To honor Israel's 60th anniversary, JNF is asking that every Hadassah member plant one tree for its Forests of the Future campaign. But Hadassah's environmental efforts started at home this year with convention bags, made from recycled materials, that doubled as reusable grocery bags and convention dailies that were available online only (saving thousands of pieces of pa­per).
"The planet doesn't need us to survive," said Kevin O'Donnell, president of the Schorleaf design company and a member of former Vice President Gore's Climate Project. "The earth that needs to be saved is one that can sustain human life."
Hadassah International has always focused on global needs, and its reach is expanding. In a joint Hadassah International and Hadassah Medical Organization forum, Sally Abadi and Dr. Joseph Setton, two board members of Hadassah Panama, reported to delegates about a series of public health lectures for standing-room only crowds that raised money and awareness for Hadassah's hospitals. "The Panama Jewish community is only 10,000," said Abadi, "but we are enthusiastic supporters of Hadassah International's mission and philosophy."
In the session, HMO doctors from a variety of specialties talked about their work. Dr. Neri Laufer, a leader in in vitro fertilization, described a patient who had fertility issues and carried the BRCA2 gene mutation for breast cancer; he screened out her faulty embryos and im­plant­ed only healthy ones. "She gave birth to twins, the first in the world to undergo a pre-uterine diagnosis," he said.
Dr. Avi Rivkind, head of the Department of Surgery and Trauma Unit, came with Ina Zussman, a victim of the 2002 terrorist bombing at the Hebrew University of Je­ru­sa­lem, who had a nail lodged in her trachea and burns so severe she was unrecognizable. "What was done with her was not in the textbooks," said Dr. Rivkind. "We invented techniques to save her life." Six years later, Zussman is confined to a wheelchair but drives a car and leads an independent life. "Thank you for not giving up on me," she said. "Thank you for lifting me from a deep chasm of pain and fear and giving me life."
I come to convention to get some of your energy and to share it with my colleagues," said Dr. Shlomo Mor­Yosef, director general of HMO. "I hope you'll take what you see here back to your home communities. It's your hospital. This is a full and unconditional partnership."
Hadassah raised a total of $98,185,000 this year, but in these difficult economic times, delegates were asked to do even more. At Tuesday's banquet, Stewart Greene­baum of Greenebaum &?Rose As­so­ciates real estate firm suggested that Ha­dassah members re­verse the membership decline by starting at home, asking everyone they know to join as well as changing the parameters to in­clude people of all faiths who support Israel and increasing membership dues. "Your strength is in grass-roots energy," he said. "Em­brace the sense of urgency that Ha­dassah had at the beginning."
"Did you know that since Ha­das­sah's founding we have supported over 200 institutions that span the length and breadth of Israel?" asked Fal­chuk. "How can we not be awed by what our parents and grandparents did? As we've done before, we'll cope with the economic times, get our house in order and build on our future. We are a powerful and passionate community of Jewish wom­en—let us turn our eyes to the future."
The convention wasn't only serious discussions and balance sheets. There was also time for friendship, entertainment—with appearances by Israeli superstar musician David Bro­za and the Ashira trio—and honors.
This year's Henrietta Szold Award went to Stef Wertheimer, founder and chairman of Iscar Limited, a manufacturer of precision tools, and his son Eitan Wertheimer, chief executive officer of the company. The Wert­heimers are creators of industrial parks in Israel and Turkey that bring entrepreneurs and their families—Jewish and Arab; secular and Orthodox—to live and work side by side. Industry leaders act as mentors and provide strategic planning for new ventures. "Thank you, Hadassah, for building our best hospitals," Stef Wertheimer told delegates as he accepted the award. "Now our job is to help our neighbors become successful so that they want to make peace. If you increase the standard of living and make sure people have jobs and a future, then their goal becomes creativity and product, not violence."
Though the presentation of the award is a moment of celebration, the ceremony also marked an ending. The award was presented by June Walker, Hadassah's immediate past national president. Walker, who had waged a seven-year battle against breast cancer, died less than two weeks after the convention.
Thanks to Israel's entrepreneurial spirit, its economy is stronger than ever—a phenomenon discussed in many sessions. Israeli companies have done so well that wealthy Americans and other foreigners now invest in the Jewish state as a smart business practice, rather than just for philanthropic reason. "Israeli funds used to have to go hat in hand to wealthy philanthropists," said Shai Aizin, Israel's consul for economic affairs in Los Angeles. "Today, the return on investment in Israel speaks for itself."
Innovation is a hallmark of Israeli companies, which have contributed to the development of technology from the Pentium MMX chip to instant messaging and the cellphone. "With all due respect to India and China, most of the investment there goes into areas with very little to do with innovation," said Eddy Shalev, founder and managing partner of Genesis Partners, a private equity program for Israeli high-tech companies. "In Israel, we see an endless supply of ideas."
Falchuk started the closing breakfast on Wednesday with somber news. Minutes earlier, the bodies of kidnapped Israeli soldiers Ehud Goldwasser and Eldad Regev had been exchanged for five Lebanese prisoners and 199 bodies. "We pray for the families of the two slain soldiers, and for Gilad Shalit and others still being held or missing in action," said Falchuk, "as well as for the American families who have lost sons and daugh­ters, mothers and fathers in Iraq and Afghanistan."
The last hours of the convention were dedicated to "Amazing Women" and their power to get things done. Sherry Lansing, the first woman to head a major Hollywood studio (Paramount) and founder and chief executive officer of the Sherry Lansing Foundation, said that her mother, a Ha­dassah member, was her role model.
"Wid­owed at 32, my mother was never a victim, never showed me her fears," Lansing recalled. "She pulled up her socks and supported us." Lansing started her foundation, which supports cancer research and volunteer­ism, at age 60. "Sixty is not the new 40," she said, "it's the new 60, and we are in the prime of our lives, so don't retire, rewire."
Jaclyn Smith, a former Charlie's Angel and the current host of the reality show Shear Genius, came to convention as a breast cancer survivor and the representative of Strength in Knowing: The Facts and Fiction of Breast Cancer Risk, an awareness and education program that counts Hadassah as one of its community partners. The program can be implemented through Hadassah units across the United States as part of Hadassah's Healthy Women Healthy Lives program. "As women we focus on taking care of our loved ones," Smith told del­egates. "Amazing women cannot be amazing without taking care of themselves."
Falchuk expressed optimism about Hadassah's potential to meet new challenges. "We need increased womanpower to sustain our projects and we need to keep producing leaders," she said.
Not long afterward, the delegates were circling the hall, dancing thehora to the music of Sam Glaser. Some got up on chairs, dancing and waving their napkins.
"Outside, the big news is the energy crisis," said Falchuk, "but in here, we have a surplus of energy."
---
Visited by an Angel
"Other than having been an angel for a few years here on earth, I'm just like all the thousands of women who got that call one day and was diagnosed with breast cancer," said Jaclyn Smith (opposite page, bottom far left), addressing Hadassah convention-goers. Smith has been busy since her years playing Kelly Garrett on Charlie's Angels. She started a clothing line for Kmart, starred in many television mini­series and is now host of the reality show Shear Genius.
Before her diagnosis, Smith seemed like the last per­son at risk for cancer: she eats organic food, exercises, doesn't smoke or drink and has good genes—her mother, at age 92, is active and healthy. Her family members each dealt with the news differently. "My husband is a pediatric heart surgeon and he insisted that the doctors had made a mistake, and so did my mother," she recalled. "My son said, 'Mom, make it O.K.,' and my daughter cried for weeks."
It was Smith's girlfriends who gave her the support she needed. "They took me to lunch after every treatment and they empowered me and got me through it," she said. "I've learned so much since my diagnosis, including that just getting older puts you at greater risk for the disease."
As a spokesperson for Strength in Knowing, a breast cancer education initiative, Smith is es­pecially proud of the peer support offered by the program. "I want to give other women their 'girlfriends' to help them get through it," she said. "No one should go through cancer alone.
"I speak to a lot of audiences, and Hadassah wom­en are particularly enthusiastic and present," she add­ed. "I didn't know much about Hadassah before this, but now I think I'd like to join."
—S.P.
---
HEARD AT CONVENTION
"Our media is the most factually based in the world. We may sometimes encounter anti-Israel depictions in the news, but there's a desire among mainstream news agencies to correct or get the story straight—unlike in the U.K."
—Andrea Levin
executive director of CAMERA: Committee for Accuracy in Middle East Reporting in America
"We need to make sure our students are educated enough to handle attacks on campus and in the classroom. Better Jewish education is the answer. With what world Jewry is facing right now, we can't have 1 million educated Jews and 13 million who don't care."
—Rabbi Marvin Hier
dean and founder of the Simon Wiesenthal
Center, Museum of Tolerance, Los Angeles
"Girls are outperforming boys in school, dominating school leadership positions and participating in sports, but they also feel paralyzed by pressure to be perfect—that is, kind and caring, dressed right, smart, thin and doing right."
—Peggy Orenstein
author
"When life compels you to give up one of your dreams, don't stop dreaming, get a replacement dream."
—Rabbi Harold S. Kushner
author
"Here in Los Angeles, we stand with Israel."
—Antonio Villaraigosa
Los Angeles mayor
"When you moderate a panel, you're supposed to start with a joke, but I don't have anything funny to say about Iran."
—Marvin Kalb
journalist, senior fellow at the Joan Shorenstein Center on the Press, Politics and Public Policy at Harvard University
Cambridge, Massachusetts
"There's a part of Yad Vashem that no one talks about—the righteous gentiles. One of those people saved my father's life. Maybe because of my history I decided to be part of saving lives."
—Dr. Avi Rivkind
chair, Department of Surgery and the Trauma Unit, Hadassah–Ein Kerem
"American men believe that their worth is tied…to how much money they make, and being a good hus­band and father is not enough."
—Rabbi Shmuley Boteach
author and talk show host
"I moved to Detroit with my husband, a rabbi, and I didn't know a soul. A woman at synagogue invited me to a Hadassah meeting. I made friends, and now that's my network. Hadassah helped me find my niche."
—Dava Yanoff
dance teacher, mother, immediate past president of the Young Woman's Group, Detroit
"Growing up in Palo Alto, I met a lot of opinionated Stanford kids who always take the Palestinian side. I decided that when it came to Israel, ac­tions spoke louder than words."
—Shai Van Gelder
former Young Judaean
"Politics ought to be a productive, joyful experience, and with any luck that will actually happen in this year's election."
—Aaron Brown
news anchor, journalist