Profile: Fyvush Finkel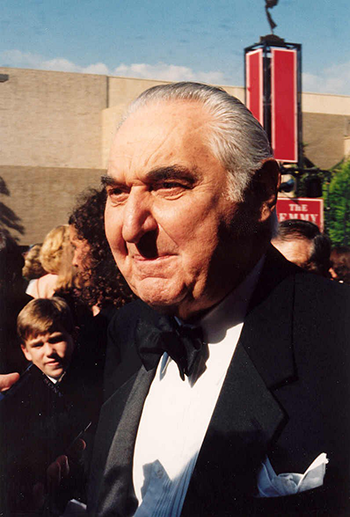 When Fyvush Finkel received an Emmy Award in 1994 as Outstanding Supporting Actor for the television show Picket Fences, he stood on the stage of the Pasadena Civic Auditorium in front of 3,000 celebrities and quoted his father, Harry Finkel: "'If you want to be a success,' my father said, 'do not sell lobster in a kosher restaurant.'"
Finkel laughs heartily when he retells the story, but he has followed that advice faithfully in the 76 years he has been an actor, singer and stand-up co­med­ian. Since his first role in the Yiddish theater at the age of 9, he has never shied away from being himself. He retained his stage name, Fyvush (his English name is Philip), even when he crossed over to mainstream theater at age 43 to play the inn­keeper and later Lazar Wolf and Tevye in Fiddler on the Roof. And though he says he is not stereotyped as a Jewish actor, Fin­k­el brings an unmistakably Jewish fla­vor to his roles, including those for television he calls "neutral" and "world­ly": a history teacher on Boston Public, the travel agent in the revival of Fantasy Island and attorney Douglas Wambaugh in Picket Fences.
"I have never denied what I am, otherwise the role will come out false," he says. "I do myself."
Stooped at 85, wearing sneakers and suit separates with a spiffy purple handkerchief in the pocket, Finkel's face is so expressive that his eyebrows alone tell a story, furrowing in anger or perplexity, then straightening when he guffaws (as he often does) at one of his gags. His broad and frequent "ha-has" are like periods at the end of his sentences. It's easy to tell that he spent years in vaudeville: He bugs out his hooded eyes at will and has a touch of his friend and idol Milton Berle about him. A New York Times review of his 1990 one-man show, Finkel's Follies, called him "a face that launched a thousand shticks."
Yet he has also played parts with great subtlety. His most recent stage appearance was in the Off Broad­way New Jerusalem, in which he was a synagogue trustee considering the banishment of philosopher Baruch Spinoza from Amsterdam's Jewish community. Finkel hopes that the show will go to Broadway. "When I denounce Spin­oza," he recounts, "I rip the yarmulke off his head and say, 'You're an atheist! You don't de­serve to wear this.' The gasp from the au­dience makes you feel like an actor…and I look forward to that."
In light of his advancing years, Finkel rations his visits to his favorite restaurant—the cholesterol-laden 2nd Avenue Deli now reopened on East 33rd Street in New York—to once a month. But he is adamant that as long as he is blessed with good health and good memory, he will never retire.
"When you retire you shrivel up," he says. "I'm not a sit-at-home person. I like to be active and do."
His career has spanned a smorgasbord of its own—from Second Avenue, once the center of Yiddish theater, to Broadway. In fact, From Second Avenue to Broadway was the title of the 1997 show he performed Off Broadway with his sons, Ian, a virtuoso xy­lo­phonist, or­chestrator and arranger; and Elliot, a pianist and composer. He lives in New York with his wife of 61 years, Trudi, a guitarist, dramatist and teach­er who has written some of his ma­terial. He has three grandchildren, Ab­­bot, Dara and Jaimie, and one great-grandson, Landon.
His brand of comedy and songs has taken him from the Borscht Belt to the Hamptons; "I was the last one to play the Concord [Hotel]," he says. "At least I finished them off in a big way." Ian Finkel calls his father "an old-time gracious star: He loves hanging out in the dressing room and having fun…. I have to eject people so he can rest before a show. He will stop and chat with someone on the street for two hours and when the person walks away, I'll ask, 'Who was that?' He'll say, 'I don't know.' He runs his whole life that way." Finkel adds that his father "knows exactly what he wants when we work together—a song, a joke, tempo—and he's always right."
Fyvush Finkel received an obie for the New York Shakespeare Fes­tival production of the Yiddish classic Café Crown (1989); played Mr. Mush­nik for five years in Little Shop of Horrors Off Broad­way; and appeared in films including For Love or Money, Nixon and Q and A. The exposure he received on television changed his life, he says, crediting Picket Fences producer David Kelley for opening new paths for him. He has just completed The Urn, a film in which he plays an atheist who had his wife cremated and refuses to let go of the urn with her ashes.
Finkel is a raconteur even offstage; though he has told his stories hundreds of times, he repeats them with relish as if they happened yesterday. "He has a complete love for performance. Every minute of his existence is based on it," says Ian Finkel. Yiddish cadences still color the speech Finkel has worked hard (with his wife and sons) to de-Brooklynize. His timing remains so sharp that you can almost hear the gong after his punchlines.
"My stories are actually things that happened," says Finkel.
During a performance in a vaudeville house, a snoring man disturbed his singing. "His wife was sitting next to him," Finkel says. "I stopped the music to hear him snore. Naturally I got a big laugh. I said, 'Lady is that your husband?' She said, 'yes.' So I said, 'He's snoring, it disturbs my singing.' She said, 'So what do you want me to do?' I said, 'Please wake him up!' She yelled to me in the theater, 'You wake him up! You put him to sleep!' That really happened, and I kept it with me. And a lot of comedians picked it up, those pirates!"
He berates other comedians who use profanity in their acts (double en­tendres are O.K.) and declares proudly that he has never accepted a role that is "offensive to the Jewish people." Before a show, he likes to eat a good meal, smoke a cigar and pray.
"I won't travel anywhere without my tefilin and my siddur," says Finkel, who has belonged to the Conservative Sutton Place Synagogue in New York for the past 32 years. "I daven Minha andMa'ariv by myself, mekhalkel hayyim and all that."
The unsurpassed Jewish contribution to comedy, he says, was honed by suffering. "We have a great sense of humor on ourselves," he says. "I tell the old story, which always gets a laugh. They go to college today to be meteorologists. We developed that. How? My great-grandfather, he put a towel in the street. He touched the towel; if it was wet, he knew it was raining. If it was cold, he knew it was wintertime. If it was gone, he knew they stole it, ha-ha," Finkel laughs.
Finkel was raised in Brooklyn in an Orthodox home; until he went to public school at age 6, he spoke only Yiddish. His grandfather, who ran a heder and was the synagogue shammes, taught him Hebrew and trained him for his bar mitzva.
"It was a tough one, Shabbos Breishis," he recalls. "That's the longest haftora of all, and I did it." His Warsaw-born father, a theater lover and tailor who ran a successful "shirt hospital" during World War II repairing worn clothing, met his Minsk-born mother, Mary (Mirke), in America and raised four boys: Hy­my, a jeweler who died of cancer; Lou­is, who died in World War II; Fyvush; and Nathan, 80, the "kid brother" who manufactured air conditioner parts.
Finkel began his career at the neighborhood Hopkinson Theater, where he sang "Oh, Promise Me" in his boyish soprano for a wedding scene. He was paid a dollar a night. His voice changed at age 14; while waiting for his "second voice" he attended vocational school and learned to be a furrier. In his first job, at a mink shop owned by his father's cousin, he ruined $400 worth of ma­terials making a muff and was summarily dismissed. He joined the Yiddish theater in Pittsburgh, followed by a stint in Cleveland before returning to New York. In his adult debut, in the Yid­dish soap operaWho Is Guilty, Finkel played "a mailman who is after the girl who the leading man was after. I was funny then; I was thin with a big nose, and I was a shuffle dancer. It was an overnight hit, and I became a star."
Yiddish theater was a huge industry, with five theaters in Brooklyn; four on Second Avenue; a vaudeville house on Clinton Street on the Lower East Side; and more theaters in key cities such as Chicago, Detroit and Newark. Even with audiences as large as 2,000, no microphones were necessary because of great acoustics in the theaters and actors who "gave kishke," says Finkel.
"On Second Avenue, when the the­aters finished and thousands of people used to walk in the streets, it was a thrill to see them," he recalls. "And they were quicker than any critic in town." When a show flopped, the next week the same actors staged a different show, until something caught on.
"I used to call Second Ave the Ego Boulevard," says Finkel.
"Fyvush is the last link to the Golden Age of the Yiddish theater," says Zalmen Mlotek, artistic director of the contemporary, nonprofit National Yiddish Theater-Folksbiene in New York. Finkel has appeared at its galas, benefits and readings.
"Be­cause of his enormous talent," Mlotek adds, "he has gone on to other successes, but his love for the Yiddish theater has never waned. He learned his craft from those who created it."
When finkel signed on for Fiddler with the national touring company in 1965, he earned less than he did in the Yiddish theater, but his ambition prompted him to make the leap. He toured with different companies for 12 years.
"I didn't get the movie. I must have been too Jewish," he jokes.
His reputation now precedes him: He hasn't auditioned in over 20 years, though he goes to interviews and talks to the directors and producers.
"If you make a mistake as a performer you learn to fix it," he ex­plains. "You must never show an audience what you cannot do. Only show them what you can do…. I like to follow what President Truman said: 'If you don't get what you want, try second best—but do a good job of it.'"
Finkel enjoys reading biographies, especially of his showbiz idols, whom he has categorized. Great actor: Paul Muni. Great tenor: Luciano Pavarotti. Great sketch artist: Willie Howard. All-around-man-who-did-everything-and-did-it-great: Milton Berle. He also loves a good opera and listens to classical music and Broadway show tunes. He has thought about writing his own memoir, but has not tackled it yet, and still intends to visit Israel.
The title song of his CD, It's Never Too Late, voices Finkel's up-and-at-'em attitude: "It's better to try to rev your engine/ Than sit around and vegetate/ Easy shmeezy, we all go through it," he croons. "Make up your mind: you can do it/ 'Cause baby, it's never too late."