Shlomo Carlebach The Music Man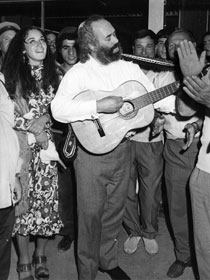 On any given friday evening, the crowd is standing-room only. The long, narrow sanctuary often overflows with up to 300 people: On one side of the paneledmehitza, the women gather, some in head coverings and long skirts, others bareheaded and in pants. The men wear suits or jeans and T-shirts—and even a smattering of Hasidicstreimels (fur hats) and stringed robes.
Wealthy or homeless, seekers or grounded in tradition, worshipers are drawn to the Carlebach Shul, as Congregation Kehilath Jacob in New York is affectionately known, be­cause of the musical and spiritual legacy of its re­nowned leader, Rabbi Shlomo Carlebach.
Fourteen years after Carlebach's death of a heart attack at age 69—he died on October 20, 1994—his influence borders on a grass-roots movement, complete with its own music, legends, minyanim, yeshiva, conferences and legions of disciples who count him as one of the world's 36 hidden righteous people. From Russia to Singa­pore, in most synagogues in America and in Israel, Carlebach's music is everywhere, even when the people singing it don't know it is his or even who he was, transforming places of prayer into vibrant spiritual happenings with uninhibited dancing and closed-eye inwardness.
"[Carlebach] made it a basic expectation that you go to a prayer service to have your heart open and your spirit soar," says Jay Michaelson, 37, a writer and teacher of spirituality who attended theshul from 1999 to 2004. "He epitomized Yiddishkeit."
An Orthodox rabbi who embraced feminist and liberal causes while transmitting Hasidic wisdom, Carlebach's impact today reverberates across contemporary Jewish prayer, outreach and healing. Some Jewish dating Web sites, such aswww.frumster.com, even offer a category of religious observance called "Carlebachian," implying openness and a spiritual orientation.
"It would be hard to find a Jewish spiritual leader under 60 who hasn't been influenced by Carlebach," notes Michaelson. "It would be like finding a civil rights leader who hasn't been influenced by Martin Luther King."
Carlebach's blend of folk songs and Hasidic niggunim revolutionized Jewish music. His iconic songs range from the first he ever wrote, "Od Yishama" (a wedding staple), to "Ve-ha'er Einenu," popularized by the Israeli Hasidic Song Festival in 1969, to "
Am Yisroel Chai," which became the anthem of the Soviet Jewry movement. Many have been absorbed so totally into the Jewish musical canon that they are often categorized as "traditional/folk," with no composer cited.
And now, there is even a show, Shlomo: The New Musical, which premiered in April at the Museum of Jewish Heritage­A Living Memorial to the Holocaust in New York. "With his meteoric talent, incredible charisma, unbounded love and treasure house of authentic Judaism, [Carlebach] reinvented the Jewish experience," says Danny Wise, playwright and producer. Wise's musical brings Carlebach the man to life, from his birth in Berlin, his escape with his family from Nazi-occupied Europe to New York and his ascendancy to rock-star status as the singing hippie rabbi who exuded love and shepherded troubled souls. In the show's opening song, lead actor David Ross­mer sings: "In this house of love and prayer/ May the fixing finally start/ Raise your voice up and prepare/ To mend a broken heart."
In real life, it would be easy to caricature Carlebach, to mimic phrases such as "Holy Brother," by which he addressed many, and to parody his trademark hugs. "He'd ask himself, 'If I have [only] two words to say to someone, what would I say?'" says Wise, who knew Carlebach well. "So he would ask, 'Do you know where God is?' [and answer] 'Wherever you let him in.' Or he'd say, 'You are the highest of the high.' It was something that would never leave that person."
Stories abound of people who not only became religiously observant but also turned their lives around because of Carlebach. "He was the Pied Piper of lost souls, a traveling troubadour," says musician Rabbi Mo­she Shur, who accompanied Carlebach on tours.
Carlebach made Judaism accessible to an audience that might have remained disaffected, adds Michaelson, but he "never dumbed down the sincerity of his belief…. The lesson we can learn today is not to dilute our own spiritual tradition, but to communicate it authentically."
Michaelson remembers waiting—and waiting—for Carlebach to lead a weeknight learning session at a Je­rusalem synagogue in 1994. As was his wont, Carle­bach was two hours late. "But when he entered the room, it was…like magic," Michaelson recalls. "There was a current of love and energy that he seemed to be able to tap into. It was a real encounter with holiness."
Born into an Orthodox rabbinic family, Carlebach im­bibed Torah from childhood. An opening scene in the musical depicts the true story of 5-year-old Shlomo who went missing and was found in the Ark, arms and legs wrapped around a Torah scroll. He was recognized as a talmudic genius as a teenager at Rabbi Aharon Kotler's ultra-Ortho­dox Beth Medrash Govoha in Lakewood, New Jersey, but left to follow his twin brother, Eli Chaim, to Cha­bad-Lubavitch, choosing outreach over scholarship.
In 1949, the Lubavitcher rebbe, Yosef Yitzhak Schneersohn, sent him and Zalman Schachter-Shalomi, who later became the father of the Jewish Renewal move­ment, to college campuses as emissaries. Both concluded that to bring Jews back to Judaism they had to break with some elements of tradition, especially with regard to women, and ultimately left Chabad, but not before helping to bring it to the mainstream.
Carlebach devoted himself to reinvigorating Jewish spirituality and pioneering a model of rabbinic activism, espousing the cause of blacks in South Africa, for example. Historian Jonathan Sarna writes in American Judaism (Yale University Press) that after the Holocaust, "Ju­daism appeared desperately unwell, racked by assim­ilation, emptiness, and an epidemic of tormented souls. The loss of six million…made it especially imperative to nurture every spark and…save every Jew who survived." Carlebach defined Judaism as a religion of happiness and love, said Sarna recently in an interview. "Before there was such a word as outreach, he was doing it."
People still say to me, 'Your father was my best friend,'" says Carlebach's daughter Neshama, 33, who has carried on his work through her own musical career. "I ask them, 'How long did you know him?' They an­swer, 'I met him once.' A best friend is that person who sees you, sees your pain, your joy, and my father was that person."
Carlebach and his wife, Neila, had two daughters, Neshama and Nedara, but separated after several years of marriage because of his long absences; they remained on amicable terms. Neshama sees her father in her nearly 2-year-old son, Rafael Lev Shlomo, and she has just recorded her sixth CD, One and One, featuring the Green Pastures Baptist Church Choir; it is based on her father's teaching. "We think one and one is two, but one and one is one," she explains. "Until we open our hearts to every person, there won't be peace."
Early in the 1950s, Carlebach discovered he could inspire people through music, a living metaphor for the harmony he sought for a fragmented Jewish community. Among the many who influenced him was African-American singer Nina Simone, who became a voice of the civil rights movement. Carlebach recorded his first album, Haneshomo Loch, an instant hit, in 1959. After appearing at the Berkeley Folk Festival in California in 1966, he opened the House of Love and Prayer in San Francisco's Haight-Ashbury district, "A combination synagogue, yeshiva, crash pad, and sanctuary," writes Sarna, where he enticed his "holy hippelach" to get high on Judaism even while "experimenting with meditation, yoga, vegetarianism, Eastern religions, even drugs and sex." A Zionist who kept his watch on Israel time, in 1977, Carlebach settled his followers in Moshav Meor Mo­di'in (formerly Mevo Modi'in) in Israel. He continued traveling the world, eventually returning to his base of Kehilath Jacob, which he took over from his father.
Today, the moshav of 40 families perpetuates Carle­bach's teachings, his musical outreach (Moshav Band, Soulfarm and HaMakor all have their roots in the mo­shav) and spiritual warmth—welcoming students and singles visiting or living in Israel temporarily.
Leah Sands, a member of the moshav, recalls that as a child growing up in Amsterdam, she loved Carlebach's music. After she moved to Israel in 1979, she attended one of his concerts in Jerusalem and was daydreaming that he'd sing her favorite song, "Bo'i V'Shalom" (the last verse of "Lekha Dodi," which likens Shabbat to a bride), when suddenly, Carlebach picked her out of the audience, beckoned her closer and sang that very song.
"Why did you call me over?" she asked him later. Carle­bach responded, "I saw the bride in you."
"From that moment, my life changed," says Sands. "Shlomo showed me a halakhic Judaism that made sense, like a puzzle that fits." She met her husband, Avraham, at another Carlebach concert.
Carlebach's aura was not wrought purely of peace and love. Because he crossed boundaries—ignoring the Jewish laws proscribing physical contact between the sexes, for instance—the Orthodox community ostracized him, says Wise. Some women allege that he also crossed personal boundaries. A 1998 article inLilith magazine and a Web site run by the Awareness Center (www.theawarenesscenter.org), a project of the Baltimore-based Jewish Coalition Against Sexual Abuse/Assault, describe allegations of sexual misconduct, from suggestive middle-of-the-night phone calls to sexual molestation, especially with teenagers and young women. Consequently, some rabbis and Jewish leaders have thought carefully about using his melodies and stories.
The musical doesn't shy away from mentioning this controversy, even though Neshama Carlebach was a co-conceiver of the play. "He didn't fit in any box," she points out. "He went against everyone's wishes, his rebbe, his family, to do what was right in his heart. He struggled. He used to say, 'If I had two hearts I could afford to use one for hate, but I only have one heart, so I use it for love.'" Now that he's gone, she says, his message and the beauty of his music remain.
Part of Reb Shlomo's groundbreaking approach was his joyous and individual expression of faith, which served to mentor generations after him, according to Judah Co­hen, a specialist in Jewish music at Indiana University in Bloomington. "There is a sense of yearning in his music," says Cohen, "the yearning of a soul to reach the divine. He gave people the impetus…to compose their own music [and] express his or her own voice."
"The limited texts and purposely repetitive Hasidic-style songs he wrote and sang…were the key to his outreach efforts and enabled Jew­ishly uneducated members of his au­d­ience to become a part of the mu­sic-making," writes Marsha Bryan Edelman, professor of music and education at Gratz College in Phi­l­adelphia and author ofDiscovering Jewish Music (Jewish Publica­tion Society). It conformed with the Hasidic notion that words were secondary to the music and that they sometimes get in the way of real communion with God. The catchy new tunes encouraged American Jews to incorporate the songs into their services, she writes; "For many, it was among their most powerful Jewish experiences…."
Carlebach was not a virtuoso musician. "He was a teacher who used music as a vehicle," ex­plains Shur, executive director of the Queens College Hillel in New York, admitting that Carlebach's guitar was often missing a string and was tuned by others.
But, says Velvel Pasternak, owner of Tara Publica­tions, a Jewish music publisher and distributor who produced two Carlebach songbooks, "there is something beyond the notes and the composition that you can't analyze. His is the music that has lasted." Indeed, artists who have preserved his tunes include Eitan Katz, who recorded Unplugged, a CD of little known niggunim, and Israelis Chaim Dovid, Aaron Razel and Shlomo Katz's K'Shoshana.
Carlebach's liturgical niggunim comprise the "nusah Carlebach," used in 100 minyanim from Passaic, New Jersey, to Safed, Israel. Other shuls have integrated heavy dollops of it into Friday night services.
The Carlebach minyan itself, says Rabbi Naftali Citron, Carlebach's great-nephew and spiritual leader at Kehilath Jacob for the past five years, "is a haymish experience that combines Hasidic strands and touches of New Age but retains a lot of its East European roots," adding that being nonjudgmental is vital: "Shlomo's feeling was about [love of Jews], not the minutae of halakha."
Citron's relationship with his great-uncle deepened when his grand­­father, Eli Chaim, died and he looked to Shlomo to fill the void. As the two grew closer, they would go for walks in New York. "He was so full of love for the homeless," Citron recalls. "They'd come and talk to him. Not just because he'd give them money—which he did—but because they were really his friends."
In the tradition of Hasidism's charismatic leaders, Carlebach has been idealized, says Michaelson, but in a way that "simplifies and distorts his complex and controversial personality. Yet for all Reb Shlomo's faults, his is a sect where the doors are wide open." The Carlebach ye­shiva, Simchat Shlomo in Nahla­ot, Jerusalem, accepts men and women from diverse backgrounds for text and experiential learning. To fulfill its vision of a "spiritual traditional Judaism that is in constant dialogue with the complex modern world in which we live," its courses range from Mishna, Talmud and Kabbala to "Secrets of Joy" and "Torah and Ecology." Its Web site quotes Carle­bach: "The right Yeshiva is a place where there is so much love that it's awesome. God gave us Torah with so much love, so if I want to give over Torah to my children, it has to be done in the same way…."
Despite the allegations about his womanizing, Carlebach had an enormous impact on large numbers of women and believed in their empowerment, says Sarna. He was the only male rabbi to join the feminist group Women of the Wall at the Kotel in 1989, and he ordained two women, a controversial decision. "Even though he was an Orthodox rabbi, we women didn't feel 'less than,'" says Melinda Ribner, a student of Carlebach's for over 20 years whom he ordained to serve as spiritual guide and transmitter of Jewish me­di­tation, prayer and Torah. At Kehi­lath Jacob, she says, Carlebach gave her semikha at a public event on his father's yortzeit. Ribner's organizations, Beit Miriam and Kabbalah of the Heart, offer spiritual psychotherapy, healing and the "Kabbalah of the feminine" (www.kabbalahoftheheart.com).
Ribner tries to live by Carlebach's teachings. In Safed, she once met some female soldiers outside a synagogue and invited them in. One of the women responded with discomfort, and as they talked, Ribner forged a connection with her, telling her about the prayer for Israeli soldiers recited in American synagogues. "Then I asked myself, 'What would Shlomo do?'" Ribner recalls. "I asked her if I could give her a hug. She accepted, and then all the women soldiers lined up for hugs."
Carlebach himself recognized he was not a perfect vessel. He taught that the world is a broken place and was always conscious of the need for personal healing and universal repair. Says Wise: "Shlomo's legacy is that people can still discover an oasis of safe joy wherever they are just by listening to his music."
---
Shlomo's Legacy
The Music
The following recommended recordings are available at Judaica stores, www.amazon.com, www.cdbaby.com and other Web sites.
– Nachamu, Nachamu Ami: An Evening of Song and Stories with Shlomo Carlebach
– HaNeshomo Shel Shlomo (Shlomo and Nesha­ma Carlebach)
– Shlomo Carlebach at the Village Gate
– Haneshomo Loch: Songs of My Soul
The Show
– Shlomo: The New Musical
www.shlomomusical.com
The Moshav
– Moshav Meor Mo­di'in
011-972-8-926-547
The Yeshiva
– Yeshivat Simchat Shlomo
www.shlomoyeshiva.org
The Conference
– Fifth Annual Carlebach Conference: The Way of the Ba'al Shem Tov, Nov. 28-30;
www.isabellafreedman.org or
www.carlebachshul.org
Stories, Torah and More
– News of classes, lectures, concerts and other events
www.carlebachshul.org
– Neshama Carlebach
www.neshamacarlebach.com
– www.rebshlomo.org, a Web site of the Shlomo Carlebach Foundation
– Songs, Torah teachings, pictures and videos
www.shlomoc.com
– For a hippie disciple's journey:
www.holybeggars.com