Letter from Atlanta: Big Draw, Fading Drawl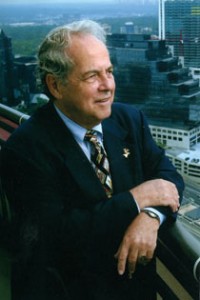 Atlanta is the new frontier for young Jews looking for jobs, low cost of living, a progressive civic society and a full-service Jewish community.
If you meet a Jewish Atlantan these days, you may be greeted by a Northern "Hey, you guys" or a Russian "Preevyet" instead of the classic "Sha­lom, y'all."
That's because 80 percent of Atlanta's rapidly expanding Jewish population comes from somewhere else. Although most hail from New York and New Jersey—and they are a driving force in the community's growth over the past 10 years—there are also Jews from Israel, Iran, South Africa and the Former Soviet Union. The community has changed dramatically since German Jewish immigrants began arriving in 1845 to set up shop.
According to the 2006 survey by the Jewish Federation of Greater Atlanta (www.shalom atlanta.org), the Jewish commu­nity saw a 56-percent increase over the past 10 years, from 77,000 to 120,000. The areas of greatest Jewish settlement, some up to 60 miles from the city, were not even on the federation's radar screen a decade ago, said Shira Ledman, chief planning officer of the Atlanta federation, which covers 2,500 square miles, an area larger than Delaware.
Historically, jewish life was found within Atlanta's city limits, be­fore shifting northward some 20 miles to Dun­woody, where the majority of the Jewish communal services are located today. Other Jewish concentrations are in Cobb County and Sandy Springs.
"They just keep coming," said Ledman.
Depending on whom you ask, the influx was triggered by mild temperatures or the acclaim At­lanta received when it hosted the 1996 Summer Olympics and the 1994 and 2000 Super Bowls. As a result of the city's commercial development, Atlanta has become an international magnet; Harts­field-Jackson Atlanta Interna­tional Airport is the world's bus­iest. And the city has left behind the racial and ethnic tensions of the early- and mid-20th century to become one with a progressive civil rights record.
Who are these Jewish newcomers?
They are mostly young and affluent, drawn to a cosmopol­itan business destination—think CNN, Coca-Cola and the Jew­ish-founded Home De­pot, for starters—with relatively low living costs. The city boasts Amer­ica's third-largest concentration of For­tune 500 com­panies. Many find jobs in real estate, med­i­cine and service industries.
The best indication that the nearly 5,000 resident Is­raelis have made a mark is the number of Israeli companies with United States or regional head­quarters here: 45. Tom Glaser, president of the Amer­ican-Is­rael Chamber of Commerce, said Atlanta ranks in the top five centers in North America for Israeli businesses; most specialize in telecommunications, medical technology and security. The largest, Amdocs Inc., is a software company and em­ploys 700 workers.
"Israeli companies and people here are playing a bigger role overall," noted Glaser.
Jennifer Flax, 38, and her husband, David, 37, moved from Long Island to Atlanta nine years ago so David, who recruits accountants, could begin his business. Based on recommendations, they con­sidered Dun­woody and Al­pharetta, settling on the latter. "Busi­ness was booming at the time," Jen­nifer Flax said. "You can't buy a [large] house like this in New York."
While she misses the easy access to New York theater, Flax says she would never go back. "As small as the Jewish community is [compared to New York], it feels so large," she said. "You have to try a little harder to be…a part of [it]." They joined Con­ser­vative Gesher L'Torah Synagogue.
There are two major Jewish cultural centers: The Wil­liam Breman Jewish Her­itage Museum (www.thebreman.org), housed at the federation's main downtown location, and the Marcus Jewish Community Center of Atlanta in Dun-woody (www.atlantajcc.org). About 40,000 visitors a year tour the Breman's Holocaust center and gal­leries, ex­hibits and ar­chives, fo­cused mainly on the Jew­ish experience in Geor­gia. A current exhibit details Atlan­ta Jewry's darkest mo­ment—the 1915 lynching of Leo Frank, which led to the rise of the Ku Klux Klan and the Anti-Defa­mation League (see story, page 36).
MJCCA's annual book festival is a premier literary event in the South. This year's festival, November 8 to 22, includes Tony Curtis, Rabbi Joseph Telush­kin and CNN legal analyst Jeffrey Too­bin. The center houses two exhibition galleries, a children's museum and a new theater.
Armed with unique cultures, beliefs and foods, some of Atlanta's Jewish newcomers have built their own social clubs, shuls, even neighborhoods. The majority of South Africans, for instance, live in Sandy Springs, 30 miles northeast of Atlanta; they attend both Congregation Beth Tefillah, a Chabad synagogue, and Conservative Con­gre­gation B'nai Torah, which has 600 members.
Sandy Springs' new Chabad Israeli Center draws about 165 Israelis to its Shabbat services, said Rabbi Mendy Gurary, adding that elsewhere "they don't see many Is­ra­elis," and the center gives them a place to speak in He­brew and discuss Israeli politics and culture.
Also, maintaining their distinct culture are about 1,000 Iranian Jews, who live in the Orthodox enclave of Toco Hills, five miles northeast of downtown Atlanta. Congre­gation Netzach Yis­ra­el con­ducts services entirely in He­brew and Far­si; the older Congre­ga­tion Ner Hamiz­rach, also found­­ed by Iran­ian Jews, has a diverse membership. Somewhat ironically, residents of Toco Hills, Atlan­ta's best-de­fined Jewish neighborhood with its ye­shivot, Ju­d­aica shop and kosher grocery, live on streets with such names as Christ­mas, Merry and Holly.
Jews are continuing their sprawl into still-developing suburbs, popping up in remote cities such as Acworth and Norcross, where Bukharian Jews are creating a self-contained neighborhood. The King David Com­mu­nity Cen­ter serves about 160 Bu­kharian families, mostly low in­come, offering child care and senior programs as well as classes in Hebrew, music and dance. Founder and president Ana­toliy Iskhakov noted that the center is in the midst of a campaign to erect a shul closer to where its members live as well as buy land nearby to construct more homes for them. "Now they have to walk 45 to 50 minutes from where they live to the synagogue," he said.
A stretch of Holcombe Bridge and Spalding Roads in Alpharetta, in an area dubbed Little Russia—a mini-version of Little Odessa in Brighton Beach, Brooklyn—has a string of Rus­sian businesses, groceries and restaurants. Some restaurants serving Russian fare bear Italian names—Verdi and Amore, for example—in an apparent effort to attract a broader clientele.
"When I came and opened my business in 2003, there were only about five Russian businesses," said Dimitriy Goroshin, publisher ofRussian Town, a regional monthly magazine. "Now there are 9 or 10."
Craving shawarma or fala­fel? There are Israeli restaurants and pita eateries in Dun­woody as well as an abundance of dairy and meat cafés, restaurants and sushi bars in Toco Hills.
"It's a proven benchmark to evaluate the success of a community: If restaurants do well, it's a viable and vibrant Jewish community," said Rabbi Yossi New, Beth Tefillah's rabbi and director of Chabad of Georgia. "You can now buy pizza on Saturday night and have a Jewish social life and have your educational needs [met] in At­lanta."
Though only 9 percent of Atlanta Jews identify as Or­thodox, that is up from 3 percent in 1996. Con­servative Jews make up 26 percent, while at 46 percent, nearly half of all affiliated Jews are Re­form. And all their schools are bursting at the seams.
The Davis Aca­d­e­my in Dun­woody, with 700 stu­dents, is one of the country's largest Reform day schools, and the Con­ser­vative Epstein School in Sandy Springs has 650 students and is expanding. The modern Or­thodox Green­field Hebrew Academy of At­lanta has 426 students.
Atlanta is also a hotspot for singles, who make up 21 percent of the Jewish population. The annual Mat­zo Ball held on Chris­t­­mas Eve attracted 4,300 young adults last year.
About one-third of the students at Emory University are Jewish, said Mi­chael Rab­kin, the school's Hillel di­rector. Alpha Epsilon Pi, the Jewish fraternity, is the largest fraternity on campus. Emory's Jewish studies program offers 15 courses each semester.
You can't talk about the Jewish ex­­perience without mentioning Sam Massell, Atlanta's first and only Jew­ish mayor, who served in the early 1970s. The dispersion of Jews through­out Atlanta today, Massell said, "is a compliment to the metro area that they are well-received here, comfortable in community life…and very much part of the fabric of Atlanta's success."
Massell's father and uncles founded Massell Realty, credited for much of the city skyline. High-rise and mid-rise buildings of modern and post-modern vintage line the re­nowned Peach­­tree Street and its branches.
Con­­tinuing the Massell leg­acy, Sam Massell was in real estate for 20 years, as was a cousin, Steve Selig, a prominent de­veloper, former federation president and United Jew­ish Commu­nities na­tional campaign chair. "It's not surprising to me that Atlanta's Jewish community is growing, be­cause At­lan­ta is growing," Selig said.
Massell, president of the Buck­head Coalition, a nonprofit chamber of commerce, is now considered the unofficial mayor of Buckhead. One of the nation's wealthiest communities, Buckhead is home to the city's oldest and largest Conservative synagogue, Congregation Ahavath Achim, dating back to 1887. Not far away, along Peachtree Street, is The Temple; the neo-Classical structure is Atlan­ta's oldest synagogue. Founded by Ger­­man immigrants in 1867, the Re­f­orm Hebrew Benevolent Congregation is a national historic site. It gained national attention in 1958 when a white su­premacist bombed it.
Around that time, most Atlanta Jews lived in such places as Druid Hills, where Massell grew up on Ponce de Leon Avenue. (For a glimpse of this area and the lives of Atlanta's well-to-do in the 1950s, check out the 1989 Os­car-winning movie, Driving Miss Daisy.)
Native Atlantan Diane Bernstein, 69, often feels like the last of her kind. "It's a whole different community," ob­served the Sandy Springs resident. "When I grew up, I cannot say we all knew each other, but we had heard of each other…. When I grew up, it was a small, mostly Christian city. Now I feel very secure that the Jewish community is a factor [here]."
Despite the city's transformation, Atlantans are still "the personification of warmth and Southern hospitality," said Paula Zucker, director of Greater Atlanta Ha­­­dassah. With over 2,800 mem­bers, At­lanta's chapter has been recognized for its growth potential as a na­tional Hadassah grant recipient.
"Atlanta, despite growing so fast, still has a very friendly reputation," Zucker said. "Even transplants like myself…reach out to people when they come here. 'Shalom y'all' still works, and some say it with a New York accent. But you know what? It's still Southern."
Roni Robbins is a freelance writer living in Atlanta.