Israeli Life: Loosening a Tongue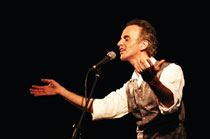 Once reviled as backward or ignored as a relic of the Holocaust, mamaloshen is experiencing something of a comeback in the Jewish state.
When Miri Ragendorfer was a child growing up in Israel in the 1980s, she had one grandfather whom she sometimes heard speaking Yiddish, but she did not speak the language herself. After her grandfather died, Ragendorfer forgot whatever Yiddish she had learned and picked up negative attitudes toward the language from her environment. a "Yiddish was always associated with old people and unpleasant things, backwardness, religiosity, gefilte fish, khrain [horseradish] and, of course, the Holocaust," she said. "My mother told me my grandmother used to talk Yiddish to her and it embarrassed her. She wanted to be a sabra."
Today, ragendorfer, 29, is a full-time actress in Yiddishpiel, the Yiddish Theater in Israel, a state-supported institution that performs to thousands a year in a language not regularly spoken by the actors or the audience. Like her fellow performers, Ragendorfer was sent to learn Yiddish at Bar-Ilan University in Ramat Gan. Not only did she discover she knew more than she had thought, but reclaiming the language was a transformative experience that enriched her Israeli identity.
"My parents' generation denied their roots and passed that on to my generation," she said. "The melting pot happened too fast here. They wanted to build something new, but they cast away the foundations on the way. You can't build something without foundations."
While Yiddish is all but extinct in Israel outside of the ultra-Orthodox community, there is a renewed interest in the language within circles that historically rejected it.
This putative revival consists of a proliferation of language studies, musical bands, cultural events and a movement to reclaim Ashkenazic identity. Today, about 800 to 1,000 Israelis learn Yiddish in classes at universities and through programs at cultural institutions such as Beit Shalom Aleykhem in Tel Aviv and Dor Ha-Hemshekh–Ohavei Yiddish (Next Generation–Lovers of Yiddish). In addition, there are also informal study groups and reading circles that meet to discuss Yiddish literature. (About 10 new books in the language are published each year in Israel.)
Tel Aviv University hosts an international summer program with Beit Shalom Aleykhem for 120 students, two-thirds of whom are Israelis. And the school's seminar for graduate students has 30 students, a third from Israel, studying for Ph.D.s in Yiddish. Davka, a Hebrew-language biannual journal published by Beit Shalom Aleykhem and Tel Aviv University's Institute for the Study of the History of Polish Jewry, was founded in 2006 to inform the general public about the culture of East European Jewry and the relationship between Yiddish and Hebrew.
More striking than the number of Israelis taking up Yiddish is the rehabilitation of its image: The rejection and derision of the language that were part of the Zionist enterprise for most of the 20th century have given way to a nostalgic longing for mamaloshen and the lost world it represents.
But, countered Davka editor Benny Mer, "talk of a revival is somewhat exaggerated.
"While the interest of a few awakens, many others—the natural speakers of the language—fall asleep forever," he noted. "For every 10 old speakers there is maybe 1 young learner. What has changed, though, is the attitude in Israel to Yiddish, which is more neutral and more objective…more like the attitude toward Yiddish in the U.S., where it never was a threat to the status of English."
"There were two languages in conflict here, Hebrew and Yiddish," explained Avraham Novershtern, director of Beit Shalom Aleykhem and head of the Hebrew University of Jerusalem's Yiddish department. "The leaders of the Zionist movement made a conscious decision in the early 20th century that Hebrew would be the language of the Zionist enterprise."
Although it was the most widely spoken language in the Jewish world at that time—with 10 million speakers on the eve of the Holocaust—Yiddish was not considered a language of high culture and literature, but rather a vernacular jargon. Efforts to promote Hebrew in speech and public life in the prestate Yishuv succeeded, and by the 1920s, Yiddish posed no real threat, said Novershtern. But the combination of a Yiddish cultural boom in Europe and an influx of East European immigrants ignited a surprisingly intense organized offensive.
Jews were admonished to speak Hebrew in public, while anyone speaking Yiddish was ridiculed. Hebrew poet Avraham Shlonsky called the tongue "tuberculosis gnawing at the nation's lungs." In 1927, the newly founded Hebrew University received a $10,000 donation to open a Yiddish department, but had to turn it down under threats of violence by a group calling themselves "the battalion of the defenders of the Hebrew language." The department opened only in 1951, after the destruction of European Jewry.
Even as the young Jewish state was flooded with hundreds of thousands after World War II, resistance to their culture persisted. Yiddish theater and the publication of a Yiddish newspaper were outlawed through the 1950s on the grounds that Yiddish was a "foreign language" in Israel.
Today, resistance to mamaloshen has been replaced by last-gasp efforts to preserve it, at least as a classic language worthy of study. In the process, some Israelis say they are discovering a missing link to their past.
Lexicographer Ruvik Rosenthal, author of the Hebrew Comprehensive Slang Dictionary, wrote in Davka: "Yiddish did not represent the diaspora to me, but commonness. That inherent derision was engraved in me for many years…. My respect for Yiddish was born when I discovered its vital and surprising place in shaping the Israeli language and therefore Israeli identity."
And classes are springing up, even in elementary schools. Beit Shalom Aleykhem has 300 students, its numbers having multiplied in the past few years. Yiddishpiel attendance is robust and there are a few popular Yiddish bands such as Oy Division and Mendy Cahan's Yiddish Express.
The renewed interest has several reasons, Novershtern explained. One is the idea of multiculturalism. "A hotel clerk in Israel once heard I teach Yiddish and said: 'This year I am studying Chinese. Next year—Yiddish,'" he recalled. Another is post-Zionism, the feeling that Zionism suppressed parts of Jewish history and culture and the desire to reclaim those parts.
Assaf Galai heads Next Generation–Lovers of Yiddish, which teaches the language and has a vision of reviving it to connect young Israelis to their pre-Zionist cultural roots. "Yiddish should be a living language, a spoken language, not just one of research and translation," he said. "For the first time there is a young generation…learning Yiddish. Children have a great connection to the language. They don't know about any past wars between Hebrew and Yiddish. Learning a language from our past gives them cultural depth."
Other Yiddish students are in their fifties and sixties, returning to a dialect they heard growing up but did not speak. Motti Averbuch, 60, a director of Yiddishpiel and a playwright, was raised in "socialist, Zionist Kiryat Haim," he said, "where Yiddish was almost banned for the kids while everybody else was speaking it around us. It epitomized the diaspora mentality itself.
"One day, I discovered Yiddish and my identity changed profoundly," added Averbuch, who started learning the language in his forties. "I was asked to write something for the Yiddish theater, and I was captivated. There is something contagious about this language. It is so rich, so colorful, so flexible."
Averbuch was amazed by Yiddish literature and wants to share it with his fellow Israelis through the theater (which uses Hebrew and Russian supertitles). "The language is a whole world," said Averbuch. "It is not just a technical vehicle. It is wisdom, humor. People connect to it on a subconscious level. When somebody on the stage uses an idiom that people recognize, you hear this rustle in the audience."
Another reason for the rehabilitation of mamaloshen is its connection to the Holocaust and the "status of sanctity" that confers on the language, according to Novershtern.
Mendy Cahan, 45, founder and director of Yung Yidish, a nonprofit organization for the preservation and transmission of Yiddish culture, comes full circle as far as representing the poles of Orthodoxy and secularism, diaspora and Israel, the Holocaust and the new generation. The son of survivors, he was born and raised in the Hasidic community in Antwerp and spoke the language at home. He came to Israel at the age of 18.
Cahan, who has degrees in philosophy and Yiddish from Hebrew University, is also founder of the Vilnius Yiddish Institute at Vilnius University. He regularly performs and sings, both solo and with his cabaret band Yiddish Express.
Founded in 1991, yung yidish runs a variety of activities, from musical performances and poetry and book readings to language classes and other educational events.
For the past 15 years, Yung Yidish has also collected, restored and cataloged books for its growing library. The books come from a variety of sources; Cahan sometimes finds them abandoned in the street, takes in books once owned by Yiddish speakers who passed away or volumes that were part of small libraries that have closed.
Cahan began collecting Yiddish books as an agent for Aaron Lansky, founder of the National Yiddish Book Center in Amherst, Massachusetts, and then decided to keep the books in Israel and start his own library. Besides the Yung Yidish Cultural Centre in Jerusalem, the organization's headquarters, last year he rented a facility in the Tel Aviv Central Bus Station that will house 40,000 volumes as well as provide space for film screenings.
He has seen waves of interest over the last 20 years. "In the 1980s and '90s, the tone was more derisive, with headlines such as 'Yiddish is not dead yet,' or 'the dying language refuses to die,'" Cahan said. "Today, it is more politically correct. On the one hand, there is genuine interest…but on the other hand, the level of responses we can provide is declining….
"[Yung Yidish gets] no support at all from the government and depends on volunteers and private donations," he said. "We get pats on the back, people say 'how nice,' but the minute you need any help or support, there is nothing."
On the positive side, the Yung Yidish center in Jerusalem, situated on the edge of a poor religious neighborhood, attracts Hasidim and secular Jews, Holocaust survivors and young people to its concerts and literary discussions. "We have a small meeting place between those worlds," said Cahan. "I want people to understand that Yiddish is not foreign, it is here, it is ours, and the Yiddish point of view is a little different from Hebrew's."
Literary critic Michal Arbel wrote in Davka: "I was surprised by how easily I learned Yiddish. Foreign languages always came hard for me, but studying Yiddish was easy and joyful.… The joy apparently comes from learning a language that is in the root of my soul, that I didn't have, but that belongs to me." H