Profile: Yale Strom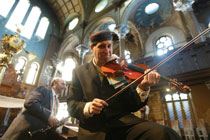 East European Jewish culture is a breathing, living heritage to this musical artist and ethnographer, a precious inheritance to be celebrated and preserved.
Yale Strom is not your ordinary fiddler.
When he plays the violin—or fiddle, considered "the Jewish instrument" since the 19th century—sounds of Old Worlds resonate. Yet dressed in jeans, a baseball cap and T-shirt on a stage shared with Muslim musicians at a Queens College concert in New York last May, Strom bears testament to the long journey klezmer music has traversed and how the modern world has embraced the genre.
And his mastery of that gen­re has spilled into other media: To­day, at 47, he is a film director, author, photographer, ethnographer and lecturer as well as a composer and musician.
At the Queens College concert, Strom faced his Hot Pstromi band members, laughing and communicating with his baton. Elizabeth Schwartz, Strom's wife and the group's vo­calist, took the mic­rophone and sang a deep, throaty Yiddish tune—"What Time Will It Be," which he wrote for her. Strom, who has thick brown hair, hazel eyes and sports a patch of whiskers under his lower lip, bowed back and forth as though in prayer, fiddle poised between his shoulder and jaw.
In an interview a few days later at a new york star­bucks, Strom explains the universality of music. "Great music should speak to the human condition of any people," he says, though he admits that knowing "Yiddish makes you more of an insider of klezmer" with its deep cultural history.
For Strom, the music resounds deeply. "When I hear klezmer, I hear the expression of both the ecstatic joy and profound despair of my people," he writes in A Wandering Feast: A Journey Through the Jewish Culture of Eastern Europe (Jossey-Bass). "Klezmer for me is the window into the soul of Yiddish culture, the culture of my lineage."
Since his first trip in 1981, Strom has visited Europe almost 80 times and enjoys "living through the people and using my instrument as a tool to elicit information," he says. His extensive field research has become an opportunity to explore the rich cultures of the Jewish and Rom (Gypsy) communities that share a history of klezmer.
In an article about his 2005 play Verdigris, Time magazine wrote, "Through his art, Strom has brought back his spiritual klezmer ancestors."
"Like a Yiddish Indiana Jones, Strom continues to dig up artifacts of Jewish music, introducing audiences to something they might have missed," The San Diego Jewish Journal raved.
The day after the interview, Strom would be heading to Poland to lead a private tour for a mother and daughter, "to get underneath the surface, outside of the mortars and bricks and dates," he says. He previously led four group tours for the American Jewish Congress, but this will be his first in 12 years.
As a high school student, strom pursued long-distance running at the national level, which he says trained him for his future travels and shaped him as a person. Describing cross-country running as a "solitary and inner type of sport," Strom's travels also reflect a solo journey.
Last summer, he gave concerts and film screenings in Germany and Romania; in March, he toured France, Sweden, Denmark and Germany with Hot Pstromi, performing at 2 Jewish venues and 11 non-Jewish clubs.
His heart belongs in three places and he travels often between them: New York, San Diego and Eastern Europe. He says he misses the energy and Yiddishkeit of New York, where he lived for 20 years after attending graduate school at New York University. Yet he loves his home in San Diego with its big backyard and spacious rooms that hold his books, photographs and archives. He first called San Diego home when he moved there from Detroit at age 11 with his family. He returned last year with Schwartz and their 10-year-old daughter, Tallulah, to fill the position of artist-in-residence at San Diego State University in the Jewish Studies Program.
Since 2003, Strom has instructed klezmer at the Mark O'Connor String Camp and Conference, a summer showcase of some of the world's greatest string styles.
"For Yale to share his expertise…is a truly wonderful opportunity for our string students," says O'Connor, a violinist and leading contemporary American composer. "He is a great teacher and a great communicator."
Strom has authored 11 books on klezmer, including The Absolutely Complete Klezmer Songbook (Transcontinental Music) and The Book of Klezmer: The History, the Music, the Folklore From the 14th Century to the 21st (A Cappella Books).
Among his six award-winning documentary films, two broke box office rec­ords at Lincoln Center's Walter Reade Theatre in New York: The Last Klezmer: Leopold Kozlowski, His Life and His Music, which was short-listed for an Aca­demy Award in 1994, and Carpati: 50 Miles, 50 Years, about Jews and Gypsies in Ukraine's Carpathian Mountains through the eyes of Holocaust survivor and community caretaker Zev Godingere.
Last summer, Strom's first children's book, The Wedding That Saved a Town (Kar-Ben), was released, inspired by a true incident in a Polish shtetl in the 1890s.
New this fall is A Great Day on Eldridge Street, a documentary about a gathering in October 2007 of 100 international klezmer musicians that Strom organized for a photo shoot and parade outside the Eldridge Street Synagogue on New York's Lower East Side. The event took place on the synagogue's 120th anniversary, the day following the scaffolding's removal after a major restoration. (Visit www. yalestrom.com for a complete listing of Strom's CDs, books and films.)
Schwartz is one of strom's most devoted students. She did not always know Yiddish, though, and before she met her husband in 1995, she thought "'Hava Negila' at bar mitz­vas was klezmer music."
A trained singer and film executive in Hollywood when they began dating, Schwartz performed rock 'n' roll, jazz and blues at clubs on Sunset Boulevard. When Strom first heard her sing, he says he was "blown away."
"I said, 'This is an amazing voice. It's not just a voice, it's an instrument,'" he recalls. "I said, 'You gotta sing in my band.' And she said, 'What? Klezmer? Yiddish? I don't know anything.'" "
So Strom became Schwartz's teacher. After several years of studying Yid­dish and klezmer sheet music, she felt she had mastered the style. She is the subject of the documentary Romania, Romania: Looking for Schwartz, which she produced with Strom, who wrote the film's music. The film follows Schwartz as she discovers her grandfather's Romanian Yiddish roots (she specializes in Romanian klez­mer).
"Yale has been a rabbi not only for me but for a number of klezmer musicians," she says. "Other musicians turned to klezmer through Yale and then got in touch with their Jewishness. Shul and liturgy didn't have relevance for them, and klezmer became a way back into Judaism."
Strom says his wife makes him "a better artist." They have collaborated on many projects and are to receive an award this month from the Workmen's Circle in Los Angeles for their contribution to Yiddish culture. They are currently in preproduction on a feature film about an illegal Rom worker in New York. They co­wrote A Wandering Feast, based on Strom's original one-year trek in 1981 across Eastern Europe, that includes accounts from each city visited, local recipes (which Schwartz wrote), sheet music, photographs and each country's history. The couple is also working on a radio play called The Witches of Lublin.
All of Strom's music is original. He composes mostly instrumental pieces but also writes songs with Yiddish lyrics, focusing on current social and political issues. He calls his mix of klezmer and Hasidic niggunim—blended with Rom, jazz, classical, Bal­kan and Sefardic tunes—New Jewish Music, and hopes to attract wider audiences by incorporating English verses.
Rabbi Rolando Matalon of Congregation B'nai Jeshurun in New York commissioned music from Strom for a Sabbath morning song. The piece will be sung for the first time, at the Conservative synagogue, on December 12.
"I admire his creativity and vision immensely," Matalon says about Strom, who has given concerts and screened three of his films at the Upper West Side synagogue.
The song is "a poetic piece about creation, about light," Matalon ex­plains. "There are many melodies for it and I asked him to compose a new tune for it because he brings many elements—knowledge of history, future, music, sensitivity."
Some of Strom's other compositions include music for the Denver Cen­ter production of Tony Kushner's The Dybbuk and the National Public Radio series Fiddlers, Philosophers & Fools: Jewish Short Stories From the Old World to the New.
From early childhood, Strom was surrounded by Hasidic melodies. His paternal great-grandparents were followers of the Stoliner Rebbe. The sect was known for beautiful niggunim and for emotional, fiery davening.
Strom, the eldest of eight siblings, was raised with Orthodox and Conservative traditions as well as left-wing politics. He learned Yiddish early on from his parents—David and Phyllis Strom—his grandmother and from children on the street outside synagogue; he later perfected it in Europe (he also speaks Swedish). Today, Strom says his religious observance is "a cholent composed of a mixture of traditional and Yiddish secularism with a pinch of Hasidism for spice."
Conversing only in Yiddish with his daughter, Strom has raised her with "an understanding of Yiddishkeit," Schwartz says. "Not just the language, but the culture and 'pintele yid': what it means to be a Jew, how she's responsible to the world."
Strom began playing classical music at age 8. Years later, after graduating from San Diego State University, he heard a klezmer band in San Diego and was so moved that he decided to forgo plans to attend law school and form his own band. His idea was to find undiscovered klezmer music by going to the source. And so began his first trip to Eastern Europe.
"Jews after the Holocaust say their grandparents speak Yiddish, but they don't know much," Strom says. "For many Jews who are estranged, Yiddish culture is…a way for them to get in touch with their Jewishness.
"Klezmer celebrates Yiddish culture," he continues. "We don't want to only remember the sadness…."
Sara Trappler Spielman is a freelance writer living in New York