Cut & Post: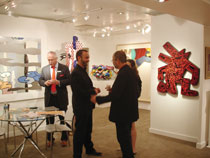 Art Ahoy! Galleys of Taste and Distinction
On the heels of the wildly successful Art Basel show in Miami Beach, David and Lee Ann Lester are starting Haute Miami, what they call an "uber-luxe" fair with 160 exhibitors of contemporary and vintage fashion, jewelry, art and antiques, yachts, airplanes and personal helicopters.
The fair, from January 8 to 11 at the Miami Beach Convention Center, will run concurrently with a visit to Miami by SeaFair (www.expoships.com), the Lesters' 228-foot megayacht (above) featuring 5 decks, 28 custom-designed galleries with international exhibitors and major art-world names, gourmet restaurants and a Champagne and caviar lounge. The floating boatload of art will be docked on Collins Avenue in front of the Fontainebleau Hotel.
The Lesters, founders of Beit HaYam, or Temple by the Sea, in Stuart, Florida, have organized more than 45 international expositions since they started their first fine-art fair in South Florida in 1991.
Next month, the couple will travel north to Palm Beach for the American International Fine Art and Antiques Fair, an expo they founded 12 years ago.
Picassos, anyone?—Stewart Kampel
Dig This: Gems of Antiquity Unearthed in Israel
A stunning 2,000-year-old drop earring has been discovered in excavations in a parking lot next to the City of David in Jerusalem. The Roman-era piece of jewelry features a coiled gold hoop and pendants replete with pearls and emeralds.
The condition of the earring has archaeologists buzzing: "The earring was astonishingly well preserved, so much so that it seems it was manufactured only yesterday," said Doron Ben-Ami, a director of the dig. It is rare to find intact jewelry from the Roman period in Israel, since precious metals were often sold or melted down during the subsequent takeovers of Jerusalem.
Similar earrings have been discovered throughout European cities where Rome once ruled, but none had ever been uncovered in Israel—until now. —Libby Barnea
Touted by its discoverers as the most significant archaeological find in Israel since the Dead Sea Scrolls, 3,000-year-old Proto-Canaanite writing unearthed in an ongoing dig at the Elah Fortress in Khirbet Qeiyafa could serve as a tool to interpret all alphabetic scripts.
While the five lines of black-ink text written on a pottery shard—called an ostracon—have not been fully translated, roots for the Hebrew words judge, slave and king are evident, suggesting the writing was part of a legal text. Archaeologists suspect the message was transcribed by a trained scribe.
Khirbet Qeiyafa lies in the Valley of Elah, where David slew the giant Goliath. To find remains of a Jewish settlement dating to King David's time—which the ostracon (left) and other relics do—adds weight to the historical supposition that David ruled over a united monarchy. As lead excavator Yosef Garfinkel of the Hebrew University of Jerusalem notes, "The chronology and geography of Khirbet Qeiyafa create a unique meeting point between mythology, history, historiography and archaeology of King David." —L.B.
Stamped and Delivered—
and Reclaimed for Posterity
In 1942, a German corporal named Paul Ehrenfreund wrapped a parcel he sent home to Vienna in a fragment of handwritten biblical scroll that had been pillaged from a Russian synagogue. Sixty-five years later, at a philatelic event, collector Daniel Spungen saw the torn fragment (left) with its incongruous postal markings. Ironically, it told the story of David and Goliath.
"My life changed," says Spungen, a board member of the Florence and Laurence Spungen Family Foundation of Deerfield, Illinois (www.spungenfoundation.org). Spungen bought the fragment and about 250 other pieces of World War II-era letters, cards and postal documents that writer, civil rights activist and philatelist Ken Lawrence had painstakingly gathered over the past 30 years to counter the claims of Holocaust deniers.
Now Spungen travels to schools with pieces from the collection. "The Nazi Scourge: Postal Evidence of the Holocaust and the Devastation of Europe" is available to educational institutions and museums around the world and will have its home base at the Illinois Holocaust Museum and Education Center, scheduled to open in 2009 in Skokie.
The collection is insured for $1 million, but, says Spungen, "the educational value to future generations is incalculable." —Rahel Musleah
Split Decision Wins Unified Support in Knesset
Israeli lawmakers have taken a step toward equality between men and women in Jewish divorce proceedings in Israel. A new amendment to the Spouses (Property Relations) Law of 1973 stipulates that a couple's joint property can be divided one year after divorce proceedings begin, or even sooner in cases of domestic violence.
Jewish divorce in Israel is under the jurisdiction of the religious courts and, previously, joint property was divided only after the husband granted the wife a get. That often led to extortion, usually by the husband; until the woman forfeited her rights to the assets, he could withhold the get, thus making her an aguna, a woman chained in marriage.
Seven years after the amendment was formulated by the International Council on Agunah Rights, it passed with a large majority, despite opposition from many religious Knesset members.
But complete equality in divorce is still distant. Child custody and child support remain bases for extortion, said Robyn Shames, executive director of ICAR. —Esther Hecht
Mood Tune-ups

It turns out there is a beat for every mood, or a binaural beat, to be precise.
Keinan Goichman, a 32-year-old Israeli Internet entrepreneur, has created a Web site, www.i-dose.us, where users—for free—can choose and tune into a series of mood-altering or enhancing tracks of binaural beats. Some offer an energy boost, others relaxation or stimulation of creative juices, and there is even one that has had success in providing relief from pain. Each "dose" lasts for 15 minutes, the maximum amount of time it takes for the brain to adjust to the sound, and listeners are advised to wear earphones.
Aural therapy operates on the theory that the brain picks up on even the slightest differences in frequencies of sound tones in each ear. As the brain tries to process and then synchronize that difference, a new sound is created called the binaural beat, which has been found to affect and even change the state of a person's mood.
"Even insomniacs put on their earphones and listen and within half an hour or even 20 minutes they are sleeping," Goichman said. "I'm getting feedback from people all over the world, and everyone is skeptical at first but it works." —Dina Kraft