Medicine: Eco-Friendly Hospitals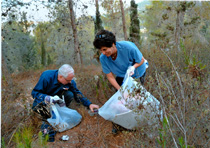 In recent years, Hadassah has become increasingly green, initiating programs on and around its hospital campuses that protect and enhance the environment.
Blue and white since its creation, the Hadassah Medical Organization has added a widening swathe of green to its color band.
"As a hospital, we use a lot of water and energy, create a lot of waste and handle many hazardous and toxic materials, from pharmaceuticals through to radiation," says Yaacov Schreibman, associate director general of the Hadassah–Hebrew University Medical Center. "Our patients harbor many different microbes and, in our research labs, we study many kinds of harmful organisms. All this makes our potential to damage the environment high, so we take very great care to operate in the safest ways possible—and then try to do yet more to protect and enhance our surroundings."
Hadassah is going steadily greener, outside the boundaries of its two large campuses as well as inside. Greening the surrounding area "wasn't a formal decision," says Ehud Ziv, Ph.D., a senior researcher in Hadassah's diabetes unit and head of the Jerusalem branch of the Society for the Protection of Nature in Israel. "There were simply growing numbers of people at Hadassah who agreed this should be done."
It began in the late 1990s. hadassah personnel driving through the Judean Hills to the hospital along the winding Henrietta Szold Road were distressed at the amount of trash they saw along the way. "We wanted our city to be clean and we wanted to show this is a road that leads to a place that maintains high standards," says Ziv.
Hadassah turned to Israel's Parks Authority for help. "Their response was that they have no responsibility for the country's roads, but why don't we adopt a national park!" says Ziv.
The result was that Hadassah put up Keep Israel Tidy signs to spearhead a successful cleanup of the Henrietta Szold Road and shouldered the upkeep of a nearby nature reserve. Groups of up to 20 medical center staffers began going to the nearby Khirbet Se'adim Reserve ("It is a particular favorite among our lab technicians," says Ziv) to clean and maintain pathways and picnic areas. Hadassah provided food, transportation and pay for the day.
Eighteen months ago, Hadassah took on a second outdoor area, this one much closer to home—a trail that leads from the medical campus to the village of Ein Kerem in one direction and to a spring near Moshav Even Sapir in the other.
"The trail was built by Hadassah volunteers together with the Jewish National Fund and the Society for the Protection of Nature," says Ziv. "It was not as straightforward as you may think: We took it on ourselves to create an accessible, easily negotiable trail lined with benches while preserving the area's ancient terraces and not cutting down a single tree. So although the path is on the edge of the city, it feels like it's deep in nature. It forms part of the Jerusalem Trail, which is itself part of the Israel Trail."
This one-mile pathway makes an important statement, adds Ziv. It reinforces the message that exercise is a key component of a healthy lifestyle. To encourage hospital staff, patients and the general public to use the trail, he is among those who lead 40-minute walks along the pathway twice a week. Upkeep of the trail remains with Hadassah.
As well as encouraging its staff and patients to lead a healthful lifestyle, Hadassah also seeks to protect them. The medical center bristles with phones, mobiles, beepers, intercoms, public call and address systems, sophisticated medical scanners, linear accelerators and other radiation machines, many of which emit harmful rays.
"Our responsibility is to reduce exposure to ionizing radiation in the medical center to its absolute minimum," says engineer Mati Magen, deputy director of Hadassah's Information System Division and director of its communications department.
One source of damaging radiation that is easily handled is malfunctioning medical equipment. "We check all relevant equipment regularly to ensure against leakages," says Magen.
It is mobile phones, however, that are the major radiation offenders, especially when they are held close to the ear. "Initially, hospitals did not allow mobiles onto their campuses," he explains. "But they have proved unstoppable…. Their use is still expanding, with physicians now using mobiles to pick up test results and access the Internet. Our job is to make their use as safe as possible inside Hadassah."
One way of minimizing radiation exposure is through the antenna on Hadassah's roof. "We've built it very tall, [164 feet] high, more than 7 times taller than regulations demand, for extra safety," says Magen. "We also check its function regularly. As well as that, we've ensured good reception for mobile phones in every part of the medical center, so that they work at their lowest power and transmit minimal radiation."
Safe disposal of biological waste is a known science (Hadassah uses autoclaves that are 249°F at their coolest). But wherever possible, recycling is the name of the game. Hadassah's first recycling program was launched in 1993, when teams of mentally challenged young men and women were hired to collect the hospital's many tons of wastepaper. Buoyed by their success, the youngsters expanded their efforts to collecting cardboard, glass, plastic bottles, cans and used batteries—and they are the proud recipients of a recent award from Israel's Ministry for the Protection of the Environment.
"Recycling is an ongoing focus at Hadassah," says Ziv. "Old metal beds, machines and computers are collected and sent to a special recycling unit. We have green bins in the parking lots, with staff encouraged to bring in recycling materials from home rather than throw them out. And in the Sarah Wetsman Davidson Tower, the new inpatient center now under construction, there will be recycling collection areas on every level."
Hadassah is also reducing the demands it makes on the environment. One key area in this increasingly thirsty part of the world is its water consumption.
"Since 1989, a period during which Hadassah has grown considerably in physical size, we have reduced our water usage by a third," says Beli Deutsch, deputy director of building and maintenance. "We have come down from an annual [4,414,000 gallons of water to 2,992,000], largely by preventing waste and leakage through constant upkeep of water piping and air conditioning systems."
Reduction in oil use has been even greater. "In the past 15 years, we've brought this down by half, from 4,000 tons a year to 2,000," says Deutsch. "This was achieved through significant investment in new and better boilers and better insulation. We are also addressing our use of electricity: We have installed more efficient lighting elements as well as automated systems that turn off unused computer screens and heating and cooling."
With energy both a major polluter and a major expense, there are further changes ahead for the way power is generated in the medical center. One is switching from heavy oil to the more environmentally friendly light oil, something that requires new, safe storage tanks. The application for the building license has been filed.
Another is insulation as a major element in cutting down the energy used for heating and cooling. "Wherever we renovate or rebuild—the central laboratory and the Center for Emergency Medicine and the new inpatient center are examples—windows are double-glazed with vacuum insulation between the panes of glass," says Deutsch. "This pushes up the initial investment, but it pays off hugely."
Hadassah is also making all possible use of solar energy. The sun, for example, heats the water in the nurses' dormitories, and solar-power generation will be incorporated into the new inpatient center.
Climate control at the medical center, which complies with United States indoor air quality standards, uses as much fresh air as possible.
"In the new inpatient center, we plan to use air even more efficiently than we do now," says Deutsch. "We hope to have air-handling units that extract energy from the stale, outgoing air and transfer it to the incoming fresh air. This is important in a building measuring some [969,000 square feet], where we will be using a lot of energy simply keeping the air fresh."
Water in the new building will be recycled as fully as the Environmental Protection Ministry allows. "Their regulations are stringent, so we will be limited to collecting condensed water from the air conditioning units," says Deutsch. "We'll use it in the building's enormous cooling tower."
The height of the sarah wetsman Davidson Tower initially worried some environmentalists. "But we managed to convince the building's opponents that environmental welfare is built into the tower at every level, and not a single objection has been registered with the planning authority," says Ziv. Although it will be the tallest structure in the area, the tower will rise from its triangular plot as a graceful three-cornered edifice, its bulk softened by glass-enclosed healing gardens every three stories.
The new building's environmental friendliness began with demolition of the old five-story structure that it will replace. All the old masonry and material excavated for the new, deeper foundations were pulverized, with the resulting gravel being used to build new roads in Israel's north. Wherever possible, trees that had to be uprooted were replanted. For every tree destroyed, two new trees were planted.
"'Greenness' begins with a belief, a certain approach and perspective," explains Schreibman. "Those who understand it contribute in their own way—whether it is through parks or through high tech.
"As a health center, as a major influence in Jerusalem and as the project of an environmentally active American women's organization, the Hadassah Medical Organization is naturally green," he adds. "And having been a flagship institution on Israel's health scene for so long, we have no problem filling a similar role in the environment as well." H