Brief Reviews: Remembering Sorrow, Horror—and Heroism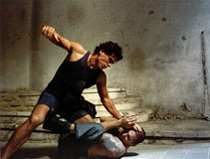 Dateline 09 Series
Adi Nes: Bible Stories
Israeli photographer Adi Nes depicts biblical characters—Cain and Abel, Job and more—at low points in their lives and in contemporary settings. Each of the 12 large compositions is influenced by a master: Cain and Abel's picture reminds us of a painting by Titian; Hagar is derived from Dorothea Lange's Migrant Mother. Homelessness is among Nes's themes. Until March 17 at the Contemporary Jewish Museum in San Francisco (www.thejcm.org). —Renata Polt
Yael Bartana: Short Memory
Yael Bartana's videos focus on Israel's rituals and politics. Six short films range from King of the Hill, which documents the Friday night Tel Aviv custom of racing SUVs over the city's sand dunes, to Summer Camp + Avodah, a complex film on two screens juxtaposing a volunteer effort to rebuild a West Bank house demolished by the Israeli Army with Helmar Lerski's 1935 Zionist propaganda film Avodah. Through March 17 at the Contemporary Jewish Museum in San Francisco (www.thecjm.org). —R.P.
Inner East:
Illuminated Poetry and Blessings
Poet and artist Marcia Falk's exhibit of 32 mizrahs—decorative plaques hung on the eastern wall to indicate the direction for prayer—accompany texts from Falk's The Book of Blessings. Textured oil pastels of a fruit bowl illustrate the Blessing After the Meal; a windswept field accompanies the Blessing Before the Meal. Through June at the Hebrew Union College in Los Angeles (www.huc.edu). —Marci Lehrer
I Remember Purim
The story of Esther is on colorful display in the paintings of Molly J. Schiff. The 16 oil, acrylic and watercolor works give vibrancy to the graceful images of the heroic queen, her devoted uncle Mordecai and evil Haman (above in Refusal). Until April 30 at Temple Israel, West Bloomfield, Michigan (www.temple-israel.org). —Susan Adler
The Birth of Christianity:
A Jewish Story
The exhibit's concept is that Christianity grew from a Jewish sect during the turmoil of Roman rule over first-century Palestine. Of the more than 200 artifacts on display, the most intriguing is the unprovenanced Jeselsohn Stone, which has Hebrew writing in ink that may be evidence of a Jewish precedent of a slain human redeemer. Through April 12 at the Houston Museum of Natural Science (www.hmns.org).
—Aaron Howard
Web Sighting
With the expanding numbers of audiobooks—and the leaps in quality of voice talents who read them—it is hardly surprising that sites for downloading those novels are also growing. And atwww.audible.com and www.simplyaudiobooks.com (as well as iTunes), Jewish- and Israel-related titles—from Philip Roth's Indignation to Josephus's The Jewish War—are more available than ever. Audible has the larger selection and other media, such as radio programs and speeches, while Simply Audiobooks includes CD rentals. —Leah F. Finkelshteyn
Film
The Monster Among Us
It's one thing to read about anti-Semitic violence in Europe; it is quite another to see radical Islamist and right-wing gangs wildly demonstrating or the bruised victims of attacks. But that is what Allen Mondell and Cynthia Salzman Mondell present in this film about smashed headstones in England, exhortations from mullahs to kill Jews in Belgium and similar incidents in the Netherlands and France. British journalist Melanie Phillips says it is open season on Jews; other observers say they fear another Holocaust. Media Projects (www.mediaprojects.org). —Zelda Shluker
The Quest for the Missing Piece
Israeli writer-director Oded Lotan is seeking the meaning behind brit mila. Using old photographs, drawings and interviews (with his mother, a mohel and a psychologist, among others), Lotan explores the cultural and religious—but not the medical—reasons for the "most common surgical procedure on earth." At the same time, and never dropping his witty, ironic tone, Lotan tries to resolve the three parts of his own identity—man, Jew and homosexual (www.go2films.com). —R.P.
Goodbye Mothers
The surprising aspect of this Moroccan film is its focus on the close friendship between a Jewish and Muslim family. Together, Henry and Brahim own a failing Casablanca sawmill in 1960, when many Jews clandestinely made their way to Israel in defiance of a government ban. Director Mohamed Ismail portrays both families with equal sympathy (the only shady character is an Israeli emissary sent to spur the exodus to the Jewish state). There are some awkward subtitles and wild overacting, but it's nice to see Jews portrayed as good guys. Maya Films (www.adieumeres.com).—Tom Tugend
DVD
The Ritchie Boys
If you missed Christian Bauer's documentary when it first appeared, you can now view the dramatic story of a group of unlikely heroes on DVD. The Ritchie Boys were young Jewish men who, after escaping the Nazis, were trained in intelligence at Camp Ritchie, Maryland, and then returned to Europe to help defeat the enemy. The now 80-year-olds describe how they used their knowledge of German language and culture on the front lines, worked for the Nuremberg Trials, determined German denazification policy and liberated concentration camps. Tangram (www.ritchieboys.com). —S.A.
Recordings
The Rough Guide to Klezmer Revolution
This collection shows how far klezmer's contemporary practitioners have taken the genre. The sounds are exhilarating and the messages are sometimes pointedly current. The Klezmatics sing of religion as bigotry in "I Ain't Afraid." Even Theodore Bikel shares a track with rapper SoCalled to create "(Rock the) Belz." Songs go from fun to heartfelt, from Michael Alpert to David Krakauer to Michael Winograd, from jazz to hip-hop, clarinet to modern electronica. World Music Network (www.worldmusic.net). —Z.S.
The Klez Dispensers:
Say You'll Understand
The eight-member band gives a fresh take on danceable Yiddish music, from cha-cha-ing to "Papirosn" to horas, freylakhs and the Charleston, the kind of music that was popular in the 1950s. Thus, "Sheyn vi di Levone" is transformed into a torch song with haunting horns; "Joseph, Joseph" changes from plaintive English to jazzed-up Yiddish; Alex Kontorovich's clarinet gives German Goldenshteyn's sirba its due. The Klez Dispensers (www.klezdispensers.com). —S.A.