Commentary: Passing Over Metaphor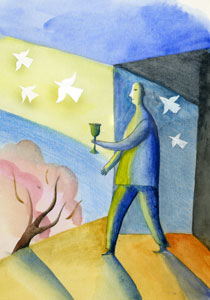 My cousin David was exercised. At the Seder, I had introduced the Hasidic idea that mitzrayim, Egypt, could be read asmetzarim, straits or narrowing. In this interpretation, Passover releases us from the narrowing of despair, the oppression of those psychic constraints that
impede us from being truly free.
David objected profoundly. He believed in necessary distinctions as only a former liberal—and a Jew who had, in adulthood, reembraced the rigor of his heritage—could. A superb sparring partner, he argued that physical enslavement could not, ought not ever be compared to even the most grievous psychological affliction. Egypt then and Auschwitz in our day are the sole measure of slavery. What we celebrate around the Seder table is the miraculous emancipation of Israel from the body's torture, from day-and-night subjugation. Slavery, he proclaimed, is no metaphor.
Yes, I conceded. I would not compare physical captivity to the most egregious suffering of the spirit. And yet no. The Hasidim—no strangers to persecution—were not trivializing the great salvation of our people and God's outstretched arm when they extended the idea of yetziat mitzrayim, the Exodus, to the inner prisons in which we mindlessly dwell, enslaved by a past or by our choices or by our inability to live in true awareness of the Divine.
The debate was memorable and unresolved. We agreed to disagree—until Elijah's arrival, for in messianic days, according to tradition, the prophet will resolve all outstanding questions and dilemmas.
Although older than I, David was a new cousin, recently married to Lisa, whom we could not stop commending for her addition to the clan. Brilliant, a bon vivant, expert in unexpected realms, fascinated by Jewish history, a successful businessman (believe me, a rarity in my family) with the most infectious basso laugh, David was irresistible. You might contend with him, but you could not help being expanded by knowing him.
On a bleak December day, a mere five years after his and Lisa's exuberant wedding, David was gone, felled by an illness so swift and intractable that before it 21st-century medicine could only wring its helpless hands. David fought disease the way he undertook any project, with meticulous research, analyzing all evidence anew, not accepting sacred cows or platitudes, traveling long distances to a doctor with impeccable medical credentials but an unconventional approach that respected David's body and honored his intelligence.
Death was meant to be imminent, and yet David won two years, with many festivities along the way. No matter how deeply beneath the surface joy retreated, David found it and, like a dowser of precious water, shared it lavishly with the rest of us.
In the eternal present of Sinai, we recite at every Seder, all of us stand together. Each year, David is with me as I revive the argument. I pray for the release of Gilad Shalit, a captive enslaved as surely as our ancestors were—and all too close to Egypt—and for the liberation of those helplessly tortured and caged around the world. But in our evergreen debate, I hedge my bets, asking freedom on behalf of those I love from whatever anguish steals their spirit, for agony and desolation are also worthy of religious attention.
David, your ardor, your ebullient gusto for life's savor, your fierce insistence on the essential Jewish idea of immutable differences—darkness and light, this world and any other, the final, catastrophic plague and midnight's glorious redemption—will be our companions at this Seder, as they are whenever we invoke your unyielding claim.H
© 2009 by Nessa Rapoport, whose most recent book is House on the River: A Summer Journey (Harmony).