Cut & Post: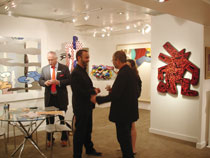 Do-It-Yourself Designs Delight in New Book
Busy with Pesah cleaning? Rivky Koenig, author of Crafting Jewish (Mesorah;www.craftingjewish.com), suggests taking a break to create a family arts project.
"Forty-five minutes can result in a gorgeous Seder plate and still leave time to scrub the fridge!" Koenig writes in her new book.
The fun, modern and attractive pages follow the Jewish calendar year (including Shabbat, holidays and every day), offering pretty projects, traditional menus and ideas for entertaining (think Susie Fishbein meets Martha Stewart).
Divided by Jewish holiday, each page contains instructions, a tool or ingredients list, a photo of the craft or recipe and some anecdotes.
Personalize your Seder table with a sea-glass Seder plate, no-sew jeweled monogrammed pillow and matching afikoman bag.
Koenig, a mother and teacher from Monsey, New York, has used crafting as a teaching tool in her classes. She also directs a crafts workshop at a Catskills summer camp and runs Scrapabilities, a company that brings scrapbooking and crafting to children's birthday parties and rehabilitation and senior centers.
"I saw kids get turned on by the idea of handmade traditional crafts they could make at home with family and friends," says Koenig. "As we created, we'd discuss the significance of the project to Jewish values and practices. These lessons stay with them for life."
—Sara Trappler Spielman
Gender Rabbinics
When Elliot Kukla, the first openly transgender rabbi, was a student at Hebrew Union College–Jewish Institute of Religion in New York, he "fell in love" with Jewish texts that discuss the androgynim and the tumtumim—categories of people who are neither distinctly male nor female.
"When you look at mainstream 21st-century North America, it can seem as if the only two ways of being human are male and female," said Kukla, 34. "For people who fall in between, or transition, the fact that there are 2,000-year-old texts [that] see us is extremely validating."
In recent months, Kukla, now a rabbi at San Francisco's Bay Area Healing Center, helped launch TransTexts. Cocreated with Reuben Zellman (above)—a 30-year-old transgender rabbinic intern in San Francisco—TransTexts (www.jewishmosaic.org/verses) culls passages from Jewish sources that mention gender and includes corresponding rabbinic interpretations.
The project is one example of how the Jewish community is addressing transgender issues. Keshet (www.keshetonline.org), a group that promotes the acceptance of gay, lesbian, bisexual and transgender people in the Jewish world, is spearheading an interfaith coalition to pass a transgender rights bill in Massachusetts. —Rebecca Spence
Israel by the Numbers
Though results of Israel's population census—taken every 10 years with the latest being conducted over 2008-2009—will not be available for several months, the country's Central Bureau of Statistics (www.cbs.gov.il) has released key data for the year ending last December:
Israel's population grew by 1.8 percent—a growth rate maintained over the last six years.
The total population is 7.37 million; 75.5 percent Jewish, 20.2 percent Arab. Ten years ago, Israel's population was 79.2 percent Jewish.
Though the number of new immigrants—13,500—has dropped due to shrinking aliya of Russian and Ethiopian Jews, immigration from English-speaking countries has increased.
—Libby Barnea
Courtesy of Oded Shoham
Happy Trails!
By the end of the year, mountain bike enthusiasts will be able to enjoy a world-class riding trail completely circling the Sea of Galilee. For those who can't wait to jump on their bikes, the first leg of the path is already open.
The 18.6-mile trail (right) that starts at Arbel National Park and ends at Kibbutz Kinneret in the north of Israel traverses dirt roads and parallels the Israel National Trail (www.israelnationaltrail.com). Starting at an elevation of 625 feet above sea level, riders descend to 734 feet below sea level. Bikers can stop to rest by Ein Poriya, a small spring and pool surrounded by palm trees where the Jewish National Fund has built a camping area.
One tour company specializing in mountain biking trips is Oded Shoham's Galgalil tours (www.galgalil.com). —Michael Brown
Recipes for Life—and Lockjaw
Published in 1871, Mrs. Esther Levy's Jewish Cookery Book, orPrinciples of Economy, Adapted for Jewish Housekeepers, With the Addition of Many Useful Medicinal Recipes… is America's first Jewish cookbook. Last December, an original copy of Levy's opus sold at Sotheby's for $18,000. The book is both rare—only five copies reportedly exist—and charismatic, with recipes for "Coogle" and "Luxion," cures for leg cramps and lockjaw and an elaborate Sunday dinner for "the lords of the household," many of whom apparently worked on Saturday.
Sharon Liberman Mintz, senior consultant of Judaica at Sotheby's, said, "We see Rashi all the time—but not cookbooks!"
Intrigued? Dover Publications has produced a paperback version of Levy's classic (www.doverpublications.com). —Elin Schoen Brockman
An Instrumental Effort
What did the music played by the Levites in the ancient Temple sound like? What instruments were used? Ilan Green thinks he has an answer.
Founder of the popular Israeli rock group The Tractor's Revenge, Green (www.greenet.co.il) has reconstructed 16 of the 30 Temple instruments mentioned in Jewish texts. His re-creations include a triangular harp with a dove carved into its base (above), a percussion instrument shaped like a Star of David and wooden rattles fashioned after the seven species of grains and fruits. A line from Psalms referring to King David playing a gittit resulted in a small ukulele.
Green's Temple music is an anachronistic mix of jazzy funk, chants and rap, with a pinch of anthem rock. He plans to take his band, Voices of the Levites, on the road and is finishing up a CD. —Brian Blum
Rearview Camera
In "Of Life and Loss," a photographic exhibit opening at the Detroit Institute of Arts on April 15 (www.dia.org), the images taken by Roman Vishniac in 1930s' Poland are a bold and poignant counterpoint to those shot there by Jeffrey Gusky in 1999 and 2001. Vishniac's pictures are full of people at prayer, in the market, on the street and at home; Gusky's depict the same places, but now with deserted thoroughfares, empty staircases and ruined synagogues.
Mara Vishniac Kohn, Vishniac's daughter and champion of his work, has been involved with numerous exhibits of her father's photos but notes that these images have never been seen "in this context, where we get a sense of the loss of people, culture and songs, of lives cut short in an insane series of actions."
The exhibit is not just a look back, Kohn emphasizes, but also heightens awareness of the genocides around us. "The sin of the bystanders at the Holocaust was silence," she says. "We know and can see what's happening in other parts of the world. We have an obligation." —Joan Tapper