Interview: Bernard Lewis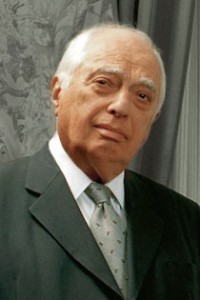 Bernard Lewis, 92, is arguably the most influential post-World War II expert on Islam and the Middle East, having written seminal works and advised presidents and prime ministers. Born and educated in London, he moved to the United States in the 1970s, becoming a Middle East scholar at Princeton University, where he is today Cleve­land E. Dodge Professor Emeritus of Near Eastern Studies. Among his recent books are Islam: The Religion and the People (Wharton School Publishing), cowritten with Bunt­zie Ellis Churchill, and From Babel to Dragomans: Interpreting the Middle East(Oxford University Press).
Q. Do you believe there is a culture clash between Jews and Christians on one side and Muslims on the other, or just a pendulum swing of historically shifting forces?
A. It is certainly part of a major collision, one that has been building up for some time. Ironically, one side is aware of it while the other is not. Our own side is largely the unaware party, and this places us in danger.
Q. Can you describe the key forces at work today?
A. Islam was born in the early seventh century. There have been many struggles in the world, but this one is different in that both Christians and Muslims regard their truths as universal and exclusive. Jewish tradition in the Talmud clearly states that the righteous of all peoples have a place in heaven…and most other religions, such as the Hindus, tend to be regional or ethnic. Only Christianity and Islam proclaim their message to all humanity, while also believing they are the fortunate recipients of God's final message to humanity, which [it] is their duty not to keep selfishly to themselves. When you have two religions sharing this self-perception…conflict is inevitable.
Q. What has changed over the centuries?
A. The Christian or post-Christian West is at the beginning of the 21st century while the Muslim world is largely stuck in the early 15th…. Another crucial difference is that the Muslim world lives and breathes its history. In the West, particularly the United States, knowledge of history is abysmally low. I am not saying [Muslims have] an accurate perception, but they do feel themselves a part of historical continuity. During the [Iran-Iraq] war in the 1980s, there was a tremendous amount of radio propaganda broadcast by both sides…full of references to Islam's early period.
Q. Are the world's two billion Christians and one billion Muslims destined to be global antagonists?
A. Let's clarify two concepts. Christianity is a religion, a system of belief and worship. Christendom refers to the whole civilization which surrounds this faith. For Islam there is no such division. The same word is used for both. From the very beginning, [there was] an Islamic state. The prophet was also the head of state. He headed a government, he commanded armies…he made war and peace. There is no such paradigm in the West.
Q. Why is the Muslim world unable to accept the concept, much less the reality, of Israel?
A. In a word, humiliation. In 1948, when Israel proclaimed statehood, the Arab world launched an attack that they assumed would be over within hours. In the West, the Jew is caricatured as a sort of evil, scheming monster. In the East, he is regarded rather as a ridiculous, incompetent coward. In 1948, the Arabs were so confident of victory, they didn't even bother to collect intelligence…. They were convinced they would drive this miserable gang of Jews into the sea. To be conquered and ruled by the mighty British and French empires was bad enough, but to be conquered and ruled by a bunch of Jewish weaklings—what could be more degrading?
Q. Is this attitude reversible?
A. Some people in the Middle East have concluded that Israel isn't their largest problem. [They] believe that is the threat from Iran and the Shia Muslims [and] are willing to look in a more accommodating way on Israel. In the war with Hezbollah in Lebanon in 2006, they were hoping Israel would do the job. They…were actually disappointed Israel didn't finish the task. Many hold similar thoughts now with Israel's attack on Hamas in Gaza. For Jordan, Egypt, Saudi Arabia, the obliteration of the Hamas center in Gaza would not be a bad thing, but of course they have to be very careful and can't come out and say that.
Q. So the hatred between Sunni and Shia Islam runs even deeper than hatred of Israel?
A. The chasm goes back to the beginnings of Islam…. The Shiites historically were resigned to an inferior, subordinate position in the Sunni-dominated countries…. Shiite populations are now approaching a majority in some of the Gulf states. Precisely at this time, you see the Shiite revolution in Iran. This wields a tremendous impact on the nearby Shiite populations. The Shiites may have been skillfully co-opted in Iraq, where they are the largest group, but in Kuwait, Bahrain and above all in Saudi Arabia this is perceived as a real, even mortal threat.
Q. So the Iranian or Shiite threat could help jolt the Sunni Arab nations to rethink their anti-Israel policies?
A. It actually might. Also, there are beginnings of democratic thought and feelings in the Arab world. I have met a number of people who speak with admiration of Israel's democracy. I sat with the president of Jordan watching Israeli television news, and he saw how an Arab Knesset member publicly denounced Israel's government and its policies and then went safely home…. Arabs watch Israeli TV in many places…. They see argument, free and lively debate. Arab TV always presents only one point of view…. I am an historian, my business is the past not the future, but I see a ray of hope in all this…. An example: In the past, there was a suggestion that the triangle, a concentration of Arabs in Israel's northern region, should be handed over to the new Arab state that might emerge through peace. The Arabs there objected furiously. They didn't want to be handed over as they would lose their social benefits, high education and standard of living and most everything that mattered for them.
Q. Is the oppression of women part of these changes?
A. Yes. There is much agonized discussion in the Muslim world: Why do they keep falling behind? Why are they at the end of the line rather than leading civilization? Many Muslim thinkers believe a major cause is the way their women are downtrodden and persecuted.
Q. Is there any difference between a Pakistani Muslim nuclear bomb and an Iranian nuclear bomb?
A. The Pakistani is less dangerous than an Iranian one might be. Even a Pakistani bomb is dangerous, and a large part of the country…is not controlled by the central government. But [Iranian President Mahmoud] Ahmadinejad seems quite ready to share his knowledge, once attained. In the cold war, mutual deterrence worked, but some Iranian leaders have a mindset that paints an entirely different kind of situation. The current leadership is a small, powerful group with a genuinely apocalyptic view [and for whom] mass destruction is not necessarily the worst thing that can happen. Fortunately, there is a powerful bloc in Iran that sees things more rationally, and I think we should do much more to contact and help them.
Q. Do moderates carry any weight in the Arab and Muslim worlds today?
A. It's difficult to measure because Islamic society has so little freedom of expression. People can get into deep trouble even from a private conversation. My impression over many years of firsthand experience is there is a significant change. People are willing to say things and consider views they never before would have. A man named Farid Ghadry, who lives in Washington, has been actively trying to form a reform opposition inside Syria. He publicly visited Israel. If he does this with full press coverage, he obviously feels that this is not going to bring him any harm. It is one of many signs I have observed. H
.