The Jewish Traveler: Charlotte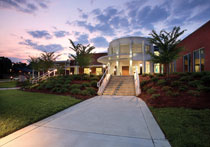 Jews in North Carolina's largest city are intent on strengthening their numbers and presence, reversing a centuries-long trend of a small—though committed—community. 
According to the most recent United States census, Charlotte—population 715,000—along with its surrounding metro area in North Carolina's Piedmont is one of the fastest-growing cities in the country. That's clear when you contemplate the new corporate complexes and towers, renovated buildings and construction sites dotting the skyline.
The city's Fortune 500 banking giants are the lifeblood of the community, fueling population growth, the expansion of arts organizations and the transformation of the city's downtown, ironically known as Uptown.
In recent years, the local Jewish population, largely made up of young professionals working in the banking and financial industries in Uptown, has surged. Estimated to be around 14,000, it has nearly doubled in the past 10 years. Its center, however, lies in a unique wooded suburban retreat, known as Shalom Park, a 15-minute drive from downtown.
History 
While Charlotte, named for Queen Charlotte of Britain, was incorporated in 1768, its Jewish population has been miniscule until recently. The official census for 1850 recorded nine Jewish families with German surnames such as Rosenthal, Springer and Baruch. When the Civil War broke out in 1861, Charlotte was part of the Confederacy and its Jewish citizens lent their support. Historian Morris Speizman notes in The Jews of Charlotte that Jewish women raised $150 to "assist Confederate volunteers" and Jewish men, including German immigrant Louis Leon, enlisted. Leon, captured at the Battle of the Wilderness and released from a Yankee prison camp in 1865, recorded his experiences in Diary of a Tar Heel Confederate Soldier (BiblioBazaar).
Louisiana's Judah Philip Benjamin, the Confederacy's most renowned Jew who served in President Jefferson Davis's cabinet, was in Charlotte in 1865 for the cabinet's final meetings. A plaque at 227 South Tryon Street, where Benjamin lodged with his friend Abram Weil, pays homage to him, while another, at 700 North Tryon Street, denotes where one cabinet meeting took place.
Charlotte's observant Jews formed the Hebrew Benevolent Society in 1867 and purchased land for the Hebrew cemetery (1801 Statesville Avenue; www.hebrewcemetery.org), which features a monument honoring the 13 Jewish Johnny Rebs buried there.
During the 19th century, Jews worshiped privately in homes. The forerunner of today's Conservative Temple Israel was organized in 1895, following the arrival of East European Jews, under the name Agudath Achim with 35 members. It wasn't until 1916 that the then-Orthodox synagogue built a house of worship at 413 West 7th Street between North Pine and North Graham Streets. As Jewish families moved to eastern and southern Charlotte in the 1930s and 1940s, the congregation relocated in 1949 to 1014 Dilworth Road; it moved to its current home in 1992.
A Reform synagogue, Temple Beth El, was formed in 1943; its first home opened in 1949 at 1727 Providence Road (now the Dore Academy), and the congregation, which today is the largest Reform congregation in the Carolinas with more than 1,000 families, relocated to Shalom Park in 1992. Another Reform congregation, Temple Beth Shalom, existed from 1970 to 1987 and then merged with Beth El.
As late as 1948, Charlotte's Jewish population numbered less than 800 in a total population of 134,000. Jewish soldiers temporarily stationed at Camp Greene during World War I and at Morris Field and Camp Sutton in nearby Union County during World War II worshiped with the local community. In the 1960s, some Cuban Jews, leaving the country after Castro took power, moved to Charlotte. But the real growth began in the 1970s as Charlotte rapidly expanded.
Community
Shalom Park's 54-acre wooded campus (4901 Providence Road) southeast of Uptown is home to the Sandra and Leon Levine Jewish Community Center (704-366-5007; www.charlottejcc.org), Temple Israel (704-362-2796; www.templeisraelnc.com), Beth El (704-366-1948; www.beth-el.com), Charlotte Jewish Day School (704-366-4558; www.cjdschool.org), the Jewish Federation of Greater Charlotte (704-944-6757; www.jewishcharlotte.org) and the JCC's Camp Mindy.
Several prominent members of the community had bought the land with the idea of physically bringing together various Jewish constituencies into one suburban setting. While organizations run their own programs, there are many joint ventures, including the Charlotte Jewish Preschool (704-944-6777; www.cjpkids.org), Consolidated High School of Jewish Studies (704-944-6782;www.hebrewhigh.org) and Purim and Yom Hashoah observance.
Down the road at 5824 Providence Road is the Charlotte Torah Center (704-367-1225), which focuses on traditional Jewish education and practices. Some four miles away is the Chabad synagogue Ohr HaTorah (6619 Sardis Road; 704-366-3984;www.ohrhatorahnc.org). Gleiberman's Kosher Mart & Restaurant (5668-D International Drive; 704-563-8288; www.gleibermans.com) is also nearby.
The Charlotte Chapter of Hadassah publishes an annual community directory of Jewish organizations and over 3,500 individuals who identify as Jewish (704-542-9402; www.charlot tehadassah.org).
The majority of Jews live within 15 miles of Shalom Park. The community stretches south through the Lansdowne and Ballantyne areas and across the South Carolina border into Rock Hill and Fort Mill in Lancaster County. Closer to the city center, the Reconstructionist Havurat Tikvah congregation (877-203-5848;www.havurattikvah.org) leases space in a church in the historic Dilworth neighborhood.
Some 25 miles north of Charlotte are the Reform Lake Norman Jewish Congregation (704-987-9980; www.lakenormanjc.org) and the Conservative Beth Shalom of Lake Norman (704-896-6556;www.bslkn.org), the latter affiliated with Temple Israel. Both hold services in local churches.
To read about Jewish activities, pick up the federation's monthly Charlotte Jewish News at the JCC.
Sights
Plan on spending several hours at Shalom Park. Start by driving slowly around for a sense of this unusual campus. Red brick, sometimes supplemented with white concrete panels, is the basic building block knitting the complex together. Then park and walk to various buildings. (For an online tour, go to www.charlottejcc.com.)
The Levine-Sklut Judaic Library and Resource Center (704-944-6763; www.levine-sklutjudaiclibrary.org) contains more than 12,750 titles—books, DVDs, CDs and videos—and is the repository of the Charlotte Jewish Archives. "From Seventh Street to Shalom Park" is the center's small permanent photo exhibit on Charlotte's Jewish history. On display is an 1890 view of the dry-goods store at 8-10 West Trade Street owned by Samuel Wittkowsky, the first president of Charlotte's Chamber of Commerce.
From the library, walk through to the JCC, which displays several modern glass art pieces donated by the Luski family, including Blue Swallow Tail by Stephen Dee Edwards and ROC by Michael Taylor. The Cuban-immigrant brothers Isaac and Abraham Luski settled in Charlotte in the 1960s and are avid art collectors. The center also has fitness facilities and offers activities for all age groups.
It's a short walk across the road to the dramatic, modern Temple Israel with its semicircular sanctuary and magnificent floor-to-ceiling stained-glass windows. The windows—donated by the Bill and Shelton Gorelick families, longtime congregants, Luski cousins and major philanthropists—depict the biblical narrative from the Creation to the entry into the Promised Land. Pick up a sheet in the lobby for the full tale. Another striking feature of the sanctuary is that the bima is connected directly by stairs to the balcony so everyone can easily be called to the Torah. The wooden Ark and the large stained-glass Star of David window from the Dilworth Road synagogue are preserved in the Mindy E. Levine Chapel. The building is also filled with numerous glass cases containing menoras, Kiddush cups and other Jewish memorabilia donated by temple members.
On the other side of the campus, Beth El has outgrown its current home and is in the process of expanding its facilities, which are soon to close for renovation. In the interim, services will be held at the Sam Lerner Cultural Center of the JCC. Beth El streams its Rosh Hashana and Yom Kippur evening services on Jewish Internet TV (www.jewishinternet.tv).
In Charlotte's Uptown, spend some time at the Levine Museum of the New South (200 East 7th Street; 704-333-1887;www.museumofthenewsouth.org), focusing on the post-Civil War social history of greater Charlotte. Its permanent interactive exhibit, "Cotton Fields to Skyscrapers," takes you into the one-room home of a tenant farmer, down Main Street and into an early Belk department store. Find out about key desegregation efforts including an explanation of the Golden Vertical Integration Plan proposed by local Jewish humorist Harry Golden; he observed that whites and blacks didn't mind standing together, so he suggested removing seats from all restaurants and public schools.
A few blocks away, the Mint Museum of Craft & Design (220 North Tryon Street; 704-337-2000; www.mintmuseum.org) showcases contemporary crafts including ceramics, fiber, glass, metal and wood. On display through June 7 is "From the Melting Pot Into the Fire: Contemporary Ceramics in Israel," which features work by Israeli artists, including Noa Holzshtein, Sara Shuraki, Avner Singer, Varda Bar Shamai and Yael Novak.
On the next block is the North Carolina Blumenthal Performing Arts Center (130 North Tryon Street; 704-372-1000;www.blumenthalcenter.org). The center has three performance spaces and is home to the Charlotte Symphony, Opera North Carolina and other arts organizations.
A fascinating outdoor work of art is Jewish environmental designer Ned Kahn's 80-by-150-foot stainless-steel Wind Silos. The sculpture's undulating metal screens evocative of grain silos—along with 18,500 polished, stainless-steel disks set in motion by the wind—cover the side of the International Trade Center's parking garage (200 North College Street).
For more details on touring Uptown, contact the Visitor Info Center (330 South Tryon Street; 800-231-4636;www.charlottesgotalot.com) and ask about their Charlotte Walking Tour and Public Art Walking Tour.
Side Trip 
Three hours northwest of Charlotte is Asheville. Nestled in the Blue Ridge Mountains, Ashville is known for its scenic views, Victorian and arts-and-crafts houses, folk art and the Biltmore, America's largest private residence.
Asheville is also home to 1,300 Jewish families, two synagogues, a JCC, Maccabi Academy day school, Chabad, University of North Carolina Hillel and an annual Jewish food festival—HardLox (www.hardlox.com)—held during the fall foliage season.
Jewish peddlers and later merchants came to Asheville in the 19th century; by 1900, its two synagogues, Beth HaTephila and Beth Israel, had been founded. Stories and photos showing Asheville's Jewish merchants and their stores are in a small exhibit at the downtown Pack Place Education, Arts, & Science Center (2 South Pack Square; 828-257-4500; www.packplace.org).
At the Reform Beth HaTephila (43 North Liberty Street; 828-253-4911; https://bethhatephila.org), the Ark, in the shape of a Torah, is flanked on nearby walls by a metal tree of life and menora. At the building's entrance are wooden figures representing Holocaust victims, each wearing Jewish stars and carrying the Torah.
A mile away is egalitarian Conservative Beth Israel (229 Murdock Avenue; 828-252-8431; www.bethisraelnc.org), originally the Orthodox Bikur Cholim Synagogue.
Nearby is the Asheville Jewish Community Center (236 Charlotte Street; 828-253-0701; www.jcc-asheville.org), whose services range from toddler and preschool programs to elder day care. Visit the noteworthy Educational Children's Garden, designed to teach how the agricultural cycle is tied to the Jewish calendar.
The 250-room Biltmore House (877-BILTMORE;www.biltmore.com) was the creation of 19th-century tycoon George W. Vanderbilt II. Boasting 33 bedrooms, 43 bathrooms, 65 fireplaces, an indoor swimming pool, bowling alley, winery and working farm, the estate, which features a luxurious inn, is a short drive from downtown. As you walk through the house admiring the priceless art and furnishings, look in the Sheraton Room for the portrait of the three Vanderbilt children painted by Jewish artist Jacob Hart Lazarus.
Personalities
Samuel Wittkowsky, a founder of the Mechanics Perpetual Building and Loan Association (later Home Federal Savings), was an early Charlotte booster whose motto was "Push, Pluck and Perseverance."
Harry Golden (born Herschel Goldhirsch) came to Charlotte in 1941 and started the Carolina Israelite in 1942, which addressed political issues and people's daily lives from the perspective of an American Jew. An outspoken supporter of civil and individual rights, Golden wrote the best-selling Only in America (Permabooks).
In 1959, Leon Levine opened his first Family Dollar Store: There are now more than 6,600 in the United States. The Fortune 500 company is headquartered in nearby Matthews; in Charlotte, the Levine name is ubiquitous.
Federal Reserve Board Chairman Ben S. Bernanke grew up in Dillon, South Carolina, 125 miles away. His maternal grandparents, however, lived in Charlotte when he was a child and his parents and brother are now Charlotte residents, so he refers to himself as an "honorary Charlottean."
Reading and Recommendations 
The Civil War experiences of Louis Leon are chronicled in Robert N. Rosen's The Jewish Confederates (University of South Carolina Press).
Judy Goldman's novel The Slow Way Back (Harper Perennial) touches on growing up in the Carolinas.
Though the stories are not Jewish-focused, crime novelist Kathy Reichs sets many of her "Bones" titles around Charlotte, where her alter ego, forensic anthropologist Temperance Brennan, works for the Office of the Chief Medical Examiner (as does Reichs).
There is no hotel within walking distance of Shalom Park, but Ohr HaTorah runs a bed-and-breakfast within walking distance of the shul.
A 10-minute drive from Shalom Park is the luxury shopping complex SouthPark Mall (4400 Sharon Road; 704-364-4411), with adjacent hotel chains including the Marriott and DoubleTree.
For Southern ambiance, try the Colonial Revival bed-and-breakfast Duke Mansion (400 Hermitage Road; 704-714-4400;www.dukemansion.com) in Myers Park, a short drive north to Uptown and south to Shalom Park.
In Asheville, lodging ranges from the boutique Princess Anne Hotel (301 East Chestnut Street; 828-258-0986) to the historic Grove Park Inn Resort & Spa (290 Macon Avenue; 800-438-5800;www.groveparkinn.com).
Now's the time to discover what has lured the new Jewish Charlotteans south. H