Letters to the Editor: On Ethical and Environmental Concerns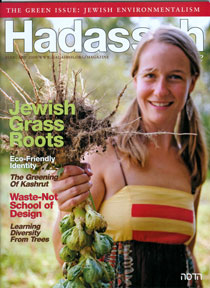 Humane Slaughter?
As an animal welfare advocate, I was sickened by "The Greening of Kashrut" (February issue).
Humane slaughter is an oxymoron. If you wouldn't offer up your own child for slaughter then you shouldn't be offering someone else's. Do goats suffer less than humans? Do mother goats miss their offspring less than humans? It is time to stop hiding under the cloak of religion in order to justify these ungodly acts.
A vegetarian diet benefits both human and animal alike.
Sherry Fudim
Palm Beach Gardens, FL
Green Issues
The admonition to shop locally to reduce our carbon footprint and gain understanding of seasonal produce, repeated throughout the February issue, seems inappropriate as the Midwest lies under a blanket of snow. I remember a cross-country auto trip in the winter of 1956 when the "salad" in a small-town restaurant in Kansas consisted of cottage cheese and canned peaches, nary a green leaf in sight.
Now my local store has shelves bursting with the delightful colors of every imaginable fruit and vegetable. These are flown in from Mexico and South America, providing my family with a healthy diet and the workers there with a livelihood. Rational weighing of the costs and benefits of a carbon footprint seems called for.
Sylvia Telser
Chicago, IL
Isn't it ironic that Hadassah would mail out an 80-page publication about green issues? Wouldn't it be more environmentally friendly to offer the magazine online?
Ruth G. Radin
Waterford, CT
No Place for Politics
I was under the impression that Hadassah was a non-partisan organization. I was therefore surprised to see the blantantly adu-
latory "Last Look" featuring then-President-elect Barack Obama (January issue).
In my opinion, such phrases as "America finally ordered a wake-up call" and "a new dawning of freedom" belie any neutrality whatsoever. Would Hadassah Magazine have featured similar laudatory comments had Senator John McCain been elected?
Jerry Smilack
Scottsdale, AZ
Not Our Problem
The January issue featured the awful problems of Darfur and African Christians seeking asylum in Israel. How is Darfur a Jewish issue?
Israel is suffering from the constant barrage of rockets from Gaza. Yet, we are trying to resolve the horrendous problems that African Christians face from these Muslim terrorists! Yes, I know we are to be a light unto the world. Yes, these unfortunate people need help. Here's a wonderful arena for the U.N., the pope, Christian churches, the E.U., to do good in the world.
How do we have the wherewithal to absorb over 13,000 refugees, so far? Jews, and particularly Israelis, have an exalted view of their potential to solve the world's problems.
I'm alarmed that Israel is being inundated by the most serious threat to its survival. Let's not become enmeshed in a battle that is not ours.
Tiby Eilen
Monroe Township, NJ
Corrections
KOL Foods, mentioned in "The Greening of Kashrut" in the February issue, offers only grass-fed beef and lamb, not grain-fed.
The 78 people murdered in the Hadassah convoy attack, cited in "President's Column" in the January issue, were not only medical personnel; the victims included Hebrew University of Jerusalem staff and visitors to Hadassah Hospital.