Medicine: King of Hearts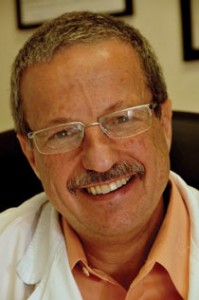 Israeli native Dr. Oz Shapira had a successful 16-year career in the United States. Today, he is back in Israel as director of cardiothoracic surgery at Hadassah Hospital.
On a chilly January day in Boston, Dr. Oz Shapira scrubbed up in the city's University Hospital, his mind on the complex surgery ahead.
"An aortal tear is tough to get as the first [surgery] you're doing independently," commented the anesthesiologist scrubbing up next to Dr. Shapira, then a newly minted cardiothoracic surgeon. "I am surprised you are so calm."
Israeli-born Dr. Shapira turned to his American colleague and
smiled. "The first surgery I did alone was an emergency field tracheotomy in the middle of a war," he said. "It was pitch dark, my patient was on the ground, and the night was filled with gunfire. Today, I am in a fully equipped OR with a highly qualified team under bright lights, my patient sedated on an operating table and no one shooting at any of us. Why shouldn't I be calm?"
That was in 1995. the surgery went well, the patient recovered, and Dr. Oz Shapira went on to become professor of cardiothoracic surgery at Boston University School of Medicine, clinical director of cardiothoracic surgery and associate director of the medical school's cardiothoracic surgery training program, collecting on his way a string of honors and awards. In January 2008, he ended a 16-year career in Boston to direct cardiothoracic surgery at the Hadassah–Hebrew University Medical Center in Jerusalem.
Despite his long sojourn and prominence in the United States, Dr. Shapira has not had a moment's regret about coming home. "Hadassah's cardiothoracic department is clearly Israel's leading department in the field," he says. "It's built on strong foundations, with outstanding surgeons who are excellent clinicians and academics."
But, he adds, there is work to be done. "I came to the department after several years of short tenures by heads and acting heads," he notes. "This has had an impact. The department tended to work as a group of talented individuals rather than as a team. Goals were unclear and the Hadassah administration was understandably reluctant to allocate major resources until there was a permanent head."
Dr. Shapira came into the job with very clear goals. "First is that we remain the leading clinical cardiothoracic department in Israel," he says. "Second is providing our patients with the best care, the most advanced technologies and unparalleled outcomes. Third is to increase our referral volume by developing relationships with primary care physicians and cardiologists. Fourth is to give referring physicians prompt feedback on every patient they send us. Fifth is recruiting, training and retaining talented surgeons. And sixth is high quality and relevant research."
Change is already visible after just one year with Dr. Shapira as head of the department. Hadassah has invested $1.8 million in upgrading its equipment, and the scope and mix of patients have also changed radically.
"The heavy focus on bypass grafts has shifted to repair of structural heart disease," he says. "We are performing far more heart-valve surgeries and treating a wider range of conditions, such as aortic disease and arrhythmia problems. This year, we implanted Hadassah's first artificial heart, in a 40-year-old mother of 6 who is doing very well. Only half of our patients are now elective, compared with 80 to 90 percent before I came. We are also operating more on older patients: 30 percent are over 75. Overall, we have increased the volume of adult cardiac surgery at Hadassah by 50 percent."
With quality assessment integral to advanced surgery, Dr. Shapira has assembled a database team to collect information on patients treated in the department, detailing their outcomes, complications and mortality. Figures are analyzed monthly and compared with those recorded by the Society of Thoracic Surgeons in the United States.
Dr. Shapira is also focusing on education and team-building. "On my first day in the job, I recruited a Hadassah resident for training," he recalls. "A second Hadassah graduate is scheduled to start residency this year, and we already have another three interested in joining the U.S.-style training program we have introduced."
In research, the stress is heavily on the clinically relevant. "We have a lab run by a Ph.D. with two technicians and a clinical research nurse where we investigate what we practice and see," says Dr. Shapira. "In one study, for example, we are examining the impact of air pollution on the heart. In another, we're looking at the interaction between the immune system and lung cancer."
Israel, he says, a small country with a homogenous population, provides an outstanding platform for studying genetic cardiac disease, and Hadassah is currently conducting a large collaborative study on the genetics of mitral-valve disease with cardiology sections at Hadassah and at Massachusetts General Hospital in Boston.
Hadassah was, for Dr. Shapira, in many ways a homecoming. "Twenty years earlier, as a trainee in general surgery, I'd done a rotation there under then-cardiothoracic surgery head Prof. Joe Borman," he says. "After a month, Joe had said to me in his courteous South African way: 'You must give up general surgery. You'll make a very fine cardiac surgeon.' But I'd told him, 'No, it's not for me.'"
When Dr. Shapira's rotation ended, Dr. Borman tried again. Presciently, he said: "You're destined to be a cardiac surgeon, Oz. You should reconsider."
"Again, I rejected his advice," says Dr. Shapira. "At the time, I was excited about general surgery. My residency was at a Hadassah Medical School affiliate, Kaplan Hospital, under its outstanding general surgery head, Prof. Reuven Pfeffermann, who had done Israel's first kidney transplantation. It was only at the end of my residency that I thought of specializing in chest surgery—though the noncardiac kind. When I asked Joe Borman for a recommendation, he said: 'You're getting closer!'"
Dr. Shapira was born in 1955 in Ramat Gan near Tel Aviv, the youngest of three sons. His parents had fled Poland as children. A few years later, when his father became administrative director of Kaplan Hospital in Rehovot, the family moved. It was in his Rehovot elementary school that he met his "only sweetheart, Etti," when he was 14 and she 15, Dr. Shapira recalls: "We married six years later."
By that time, Dr. Shapira was already a battlefield veteran. Upon graduating from high school, he had been about to start medical school at Hadassah when the Yom Kippur War broke out in 1973.
"I enlisted as a paramedic and was posted to a field hospital on the Egyptian front, west of Suez," he says.
When Israel fought its next war, in 1982, Dr. Shapira was a father and a physician doing five years military service in the highly decorated Israel Defense Forces's Golani Brigade. It was in Lebanon that he operated on the soldier whom he recalled in the Boston OR 13 years later.
"Golani got the toughest missions, and I got a wealth of experience," he says. "When the Lebanon war ended, I volunteered for the IDF's air rescue team…."
In 1985, his military service complete, Dr. Shapira began specializing in general surgery and then sought a one-year fellowship program in chest surgery in the United States. With Dr. Borman's recommendation, he was accepted at Boston University Hospital. "I went for a year and ended up staying for 16!" he says, smiling.
The long stay was unplanned. "The fellowship became a three-and-a-half-year residency in cardiothoracic surgery," he says. "When that ended in 1995 and we were set to come back to Israel, I was offered a faculty position at Boston University. The offer was, in many ways, a dream come true. But because the U.S. wasn't home, it was a difficult choice—and it became more difficult as time went on. The higher I climbed in the U.S., the fewer were the comparable positions back home."
Dr. Shapira went on to become attending cardiothoracic surgeon at Boston Medical Center and Boston Veterans Administration Hospital. Then, in July 2002, he was made clinical director of Boston Medical Center's Department of Cardiothoracic Surgery.
Settled though the Shapiras were in Boston, they remained thoroughly Israeli. Etti, an 11th-generation Israeli who came to the United States with degrees in literature and education from Hebrew University of Jerusalem, received a master's in education management in Boston and served as principal of the Israeli Complementary School of Brookline for nearly a decade. Their son, Yoav, 30, is vice president of a Cambridge computer company.
Yoav's sisters, however, are back in Israel. Noa, 25, who was in 3rd grade when the family moved to Boston, had declared she would "go home" as soon as she could. At 18, she did exactly that, first serving in the IDF as an infantry instructor and later as an officer; she recently graduated from Bar-Ilan University in Ramat Gan with a degree in psychology.
Ayelet, 20, followed her. Now completing IDF service, she is considering studying medicine at the Hadassah– Hebrew University Medical School.
"In terms of career and lifestyle, we were very happy in Boston," says Dr. Shapira. "I was performing 250 to 300 cardiac surgeries a year, I was teaching, I was researching and I was publishing a lot."
Dr. Shapira had become, in fact, one of the youngest associate professors in the history of Boston University. He had a two-month waiting list of patients, recruited for fellowships and was the only full professor on staff who taught first-year medical students, one on one, which he did for 16 years. Top job offers regularly came his way—he was a candidate for chief of cardiothoracic surgery at Boston University, at Tufts Medical Center, also in Boston, and at the Warren Alpert Medical School at Brown University in Rhode Island. By the time he left, his total research grant support, including National Institutes of Health funding, was close to $2 million.
"I was at the top of my career," he says. "But however well I was doing, Israel was always in the picture. I'm an Israeli and I need to be in my own country. I wanted to use the experience, knowledge and expertise I was acquiring to care for Israelis of all ethnicities and faiths. When Shlomo Mor-Yosef approached me in November 2005, I was ready to listen."
Dr. Shapira had known Dr. Mor-Yosef, director general of Hadassah Medical Center, since their IDF days.
"The negotiations began and, although they took some time to conclude, I saw very quickly that our vision was aligned," Dr. Mor-Yosef says. "Oz Shapira described his goals as clinical, educational and research. Hadassah's words are healing, teaching and research, but the meaning is the same."
More than a year into the job, Dr. Shapira finds himself as busy and challenged as ever. "To run a department, you must be far more than a good surgeon," he notes. "I find myself dedicating large chunks of time to matters far outside the OR—from seminars for family physicians to a new departmental logo, budgets, staffing, looking down a microscope, training the leading surgeons of the next generation and identifying fields in which to excel.
"But I have no regrets," he adds. "The move to Hadassah is the wisest decision I've ever made. It has closed the loop and is a deeply satisfying way to continue my career." H